Why Clarence Gilyard Jr.'s Walker, Texas Ranger Character Was A Perfect Fit For Him
The devastating death of Clarence Gilayrd Jr. has caused fans of "Walker, Texas Ranger" to take a look back at his iconic eight-year run in the action crime series alongside Hollywood legend Chuck Norris. What many people don't realize when watching "Walker, Texas Ranger" is just how perfect of a fit Gilyard was for Ranger Jimmy Trivette — and why.
"Rest In Peace to a legend," wrote @BigKountry_KB on Twitter. "You'll always be Jimmy Trivette to me," they said. Meanwhile, @WillieUnKool tweeted: "One of the baddest sidekicks ever ... Jimmy Trivette was the man."
Gilyard may have been well-known to movie and television fans for popular roles in things like "Matlock," "Die Hard," and "Top Gun," but it was ultimately "Walker, Texas Ranger" that helped cement his acting legacy with most of the mainstream public. Gilyard played Ranger Trivette for eight seasons between 1993 and 2001, and much like Norris, got to put actual fighting and cowboy skills that he had at the time on full display while wrangling the show's phony bad guys. According to Gilyard, the entire thing couldn't have been a better fit for him.
'I was pretty much a cowboy back then'
When it came time for Clarence Gilyard Jr. to immerse himself into the world of "Walker, Texas Ranger" as Jimmy Trivette, it didn't take long for the Washington-state native to realize just how perfect the role really was for him.
"I was pretty much a cowboy back then," Gilyard told Get TV in a 2018 interview. "When I looked at the breakdown for the character [of Ranger Jimmy Trivette], it was pretty obvious. And because I knew all my competition in town [of other actors auditioning for the part], it was pretty obvious that I was really the only person that could fit that character. You need to fit a character in a television series." Asked what he thought made him such a great fit, Gilyard told Get TV: "Because of the physicality — because I was a martial artist, because I rodeoed, because I played college football. All those things that was what the character was."
After "Walker, Texas Ranger," Gilyard took a professional sabbatical before deciding to earn his MFA from Southern Methodist University (via The Dallas Morning News). He went on to become an associate professor at the University of Nevada, Las Vegas' College of Fine Arts, and was teaching acting at the time of his death. 
When Gilyard wasn't teaching, he reportedly chose to use his free time and cowboy skills to make a difference in another big way, which sounds like a page out of Ranger Trivette's book. 
Gilyard devoted his free time to celebrity rodeos for children's charities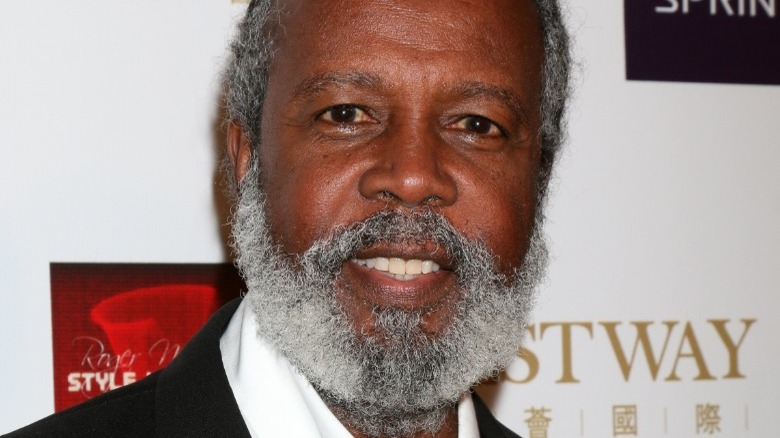 Kathy Hutchins/Shutterstock
Throughout his life, Clarence Gilyard Jr. reportedly made sure to put his cowboy skills and celebrity status to good use — becoming honorary chairman and celebrity spokesman for the Arizona-based nonprofit group Cowboys for Kids (via National Catholic Register). According to its website, the group has donated more than $95,000 in monetary funds to Phoenix area children and given individuals a chance to experience what it's like to be a "cowboy for a day." Gilyard was known to ride and rope regularly in celebrity rodeos to benefit children's charities.
As he got older, Gilyard eventually decided to put up the saddle for good and make a difference in the classroom (via Las Vegas Review-Journal). And much like Ranger Trivette, Gilyard liked to take a more hands-on, cowboy approach to his lessons. 
"I'm not a classic academician," he told the Review-Journal in 2017. "I work professionally — heavily," he said. "I tell them at the beginning of the semester, 'I will be working on a project this semester. You can walk along with me. You can be part of me developing my characters and I can be a part of yours, in real-time." It was this exact attitude that made him such a hit with the UNLV film crowd, per UNLV officials. 
"We love you and will miss you dearly, Professor G!" said UNLV film chair Heather Addison (via CNN).