Baz Luhrmann Says There's Footage Of Austin Butler Doing Entire Elvis Concerts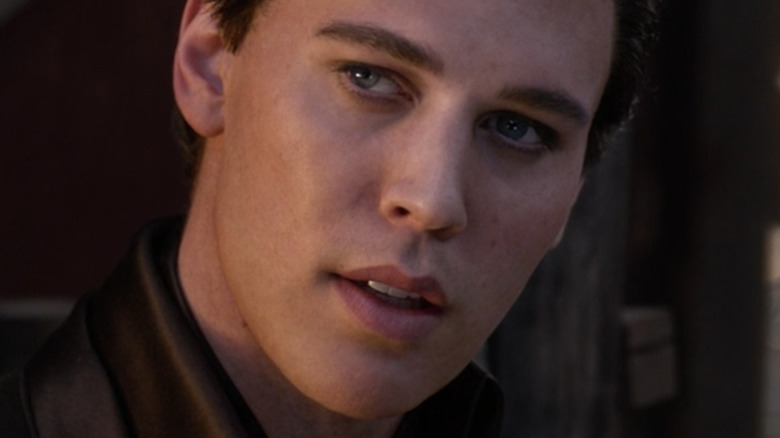 Warner Bros. Pictures
One of the most impressive aspects of Baz Luhrmann's 2022 biopic "Elvis" is the spectacular way Austin Butler inhabits the film's titular role. Filling the shoes of perhaps the most legendary musical figure in history is no small feat, yet Butler manages to bring Elvis Presley back to life through his speech, mannerisms, and a heavy amount of prosthetic makeup. On top of that, Butler is the one really singing all of the early Elvis songs within the film — something that seems hard to believe, considering just how fantastic those performances are.
Indeed, there are times when it's almost hard to believe you're not actually watching the real Elvis on screen, a fact that becomes all the more obvious when the film cuts between footage of Butler and footage between the real-life Elvis Presley near the end of the film. It's an incredibly emotional moment that juxtaposes real-life footage of Elvis' final concert with Luhrmann's dramatized portrayal of that same concert, and it's undeniably one of the most tragic scenes in the entire film. That said, this particular scene is also just a glimpse of the immense dedication it took to recreate those emotional moments from Elvis' history — as Austin Butler actually went out of his way to perform entire concerts while in character as Elvis.
Baz Luhrmann plans to someday release all of Austin Butler's full length concerts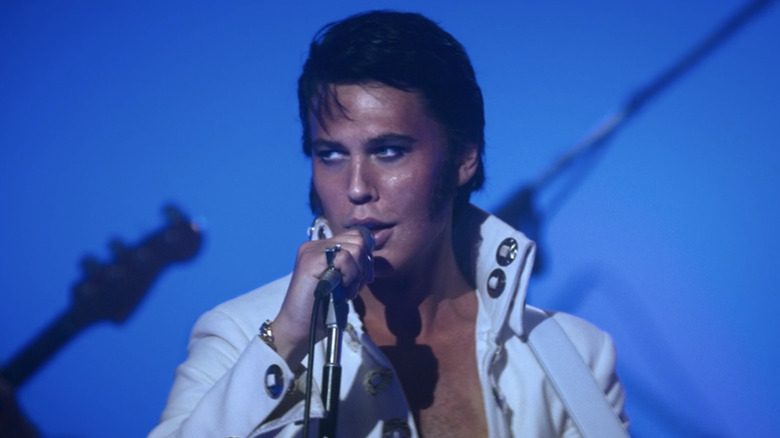 Warner Bros. Pictures / HBO Max
While speaking to IndieWire about Austin Butler's immense dedication to his role as Elvis Presley, director Baz Luhrmann revealed that he still has footage of Butler performing entire concerts as Elvis.
"There's a whole lot of material that adds up to four hours," Luhrmann said. "Because Austin did his concerts full out. He did all the numbers. Austin just did it and it was an out of body experience to watch him do those full concerts." Luhrmann went on to say that those full-concert performances are so incredible that he plans to one day compile all of them into a "director's assembly" — a compilation of Butler's impressive and lengthy concerts for audiences to enjoy.
Knowing that all of these incredible performances are on their way is surely exciting news for fans of "Elvis," especially since those same fans have been clamoring for Luhrmann to release his 4-hour director's cut for some time now. In any case, the fact that Butler performed full-length concerts while in character as Elvis Presly shows an extraordinary amount of commitment to his role, and we can't wait to see what those performances look like when they're finally released.