The Understandable Reason Why Baz Luhrmann Isn't In A Hurry To Edit That 4-Hour Elvis Cut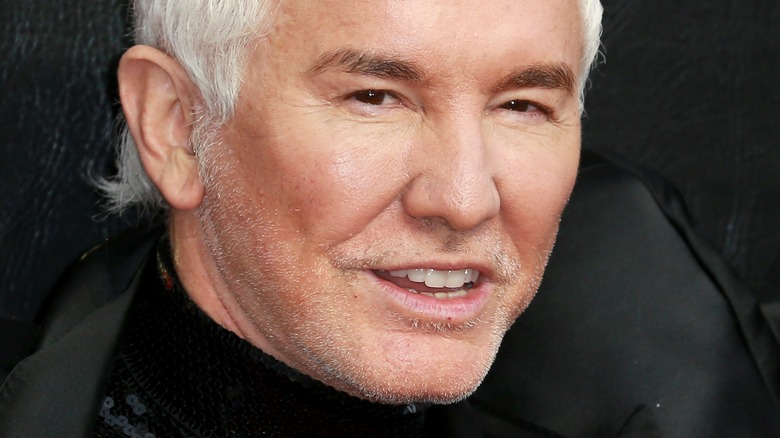 Fred Duval/Shutterstock
From "Moulin Rouge" to "The Great Gatsby," writer-director Baz Luhrmann has been known to pour his heart and soul — and in the case of his movie debut "Strictly Ballroom," the soles of his shoes — into every film he makes. Most recently, the filmmaker showed he was as fearless as ever with his energetic Elvis Presley biopic, "Elvis."
"Elvis," of course, stars Austin Butler in the titular role of the film, a visually stunning look at the life of The King of Rock 'n' Roll — mostly in his last 20 years of life under the suspicious guidance of Colonel Tom Parker (Tom Hanks). Butler not only looks like the real King; he also sounds like him in voice and song, has his mannerisms down pat, and perhaps most importantly, possesses the legendary singer's bad boy charisma. And while the film was 2 hours and 39 minutes long, fans were left wanting more, especially when Luhrmann noted in June that his first cut of "Elvis" was 4 hours long. Among the scenes that were cut, Luhrmann noted, was the infamous meeting between Elvis and then-President Richard M. Nixon at the White House in 1970 (via Smithsonian Magazine).
Lucky for Luhrmann, "Elvis" was a smashing success at the worldwide box office, earning more than $284 million in ticket sales against an $85 million production budget (via The Numbers). Now, as "Elvis" makes its push into awards season, the film has made its streaming debut on HBO Max, where many more viewers are bound to hail The King. Meanwhile, the faithful fans who supported the film during its theatrical run are waiting for the four-hour cut of the film that Luhrmann teased, but the filmmaker just explained why it won't be happening anytime soon.
Luhrmann says the extended Elvis version needs a lot of work
Warner Bros.
In an interview with Screen Rant, Baz Luhrmann said he's been probed about the extended "Elvis" cut by fans on Twitter. "All my tweets are nothing but, 'We want the four-hour version! We want the four-hour version!' I think people are at my gates with pitchforks saying, 'We want the four-hour version!'" While Luhrmann told the site that he won't write off the idea of an extended cut of "Elvis," he doesn't see it coming out anytime soon.
"Because it isn't just like I've got it, and you just put it out there. Every minute in post-production, you have to do visual effects, grading, cutting, refining, and ADR sound. It's not like it's just sitting there finished, and I can just push a button and it comes out," Luhrmann told Screen Rant. "You'd have to get back in and work on it. To do an extended cut, you'd be working on it for another four or six months something. I'm not closed to it, but not now. I'm a little bit on the tired side."
Luhrmann likely won't be resting for long. In all likelihood, Warner Bros. will be running an awards season campaign for "Elvis," which means Luhrmann and Austin Butler will be hitting the interview and special screening circuit to raise awareness of the film as critics and industry voters begin mulling their nominations.
If and when Luhrmann assembles his four-hour cut of "Elvis," it won't mark the first time a filmmaker has gone the extra mile in such a way. After stepping away from "Justice League" following a family tragedy, writer-director Zack Snyder eventually retooled the two-hour version of the film released by his replacement director, Joss Whedon, in 2017. Four years later — with new effects and added scenes — "Zack Snyder's Justice League" made its long-awaited debut on HBO Max.