Is Austin Butler Really Singing In Elvis?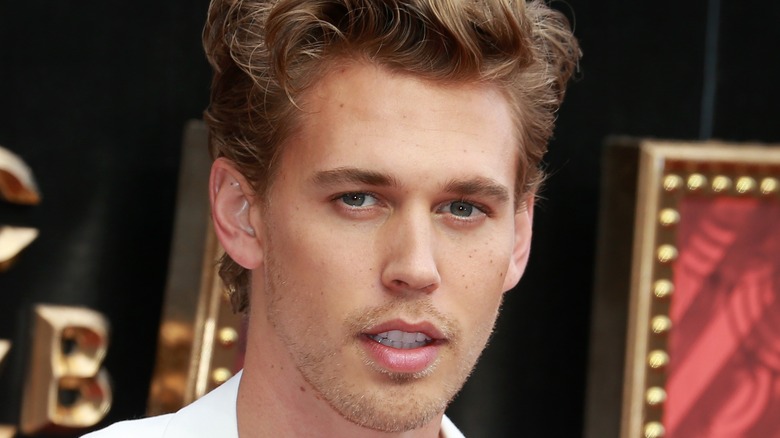 Cubankite/Shutterstock
Actor Austin Butler has not left the building but rather stepped up to the mic in undoubtedly the biggest role of his career playing the title character in "Elvis" — director Baz Luhrmann's musical biopic that chronicles the life and legendary career of the King of Rock 'n' Roll.
One of the biggest questions audiences will surely ask after seeing "Elvis" is whether Butler is lip-syncing the King's tunes or actually performing them throughout the film. After all, the idea of a singer performing the tunes for another actor in a film isn't a tale too unfamiliar in Hollywood. It's a well-known fact that Marni Nixon performed the singing voice of Eliza Doolittle for Audrey Hepburn in "My Fair Lady," while Bill Lee sang on behalf of Christopher Plummer's Captain Von Trapp — most famously "Edelweiss"— opposite Julie Andrews in "The Sound of Music."
In both those instances, though, neither Hepburn nor Plummer was burdened with mimicking the voice of a well-known, real-life individual like Queen singer Freddie Mercury. With the near-impossible task of replicating Mercury's unique singing voice, Rami Malek deferred to the late music icon's actual vocal tracks to aid his performance in "Bohemian Rhapsody." On the flip side, however, Taron Egerton daringly took on Elton John's vocals in the singer-songwriter's musical biopic "Rocketman," which impressed John so much that he and Egerton even sang a duet for the song "(I'm Gonna) Love Me Again," which played over the film's closing credits.
But in a world overrun with Presley impersonators, Butler had to make the decision of lip-synching the King's song's in "Elvis" or going for broke and facing potential ridicule from fans and critics if he fell short of expectations.
Luhrmann confirmed that Butler performs the young Elvis' songs in the movie
Knowing moviegoers would likely be questioning whether it's Austin Butler is actually performing Elvis Presley's songs in "Elvis," Baz Luhrmann made a big reveal on social media about the authenticity of Butler's singing. In an Instagram post accompanied by test footage of the song "That's All Right Mama" early in the production process, Luhrmann confirmed that Butler sings the young Presley's songs in the movie.
"The response to Austin's version of Trouble has been tremendous but so many of you still ask, 'is it Austin singing?' I feel I haven't been clear enough in conveying that Austin sings all of the young Elvis in the movie, so forgive me," Luhrmann said in the post. "I thought you might find this very early camera (2019) test fascinating as Austin and the guys are just jamming while we test our lenses." The director expressed that even before he took two years of vocal lessons, Butler was already capable of capturing Elvis' distinctive style as a singer. Luhrmann wrapped up his post by thanking Butler for allowing him to share the clip.
As it turned out, Luhrmann wasn't the only person Butler impressed with his singing.
Elvis Presley's granddaughter posted an emotional reaction to Butler's singing video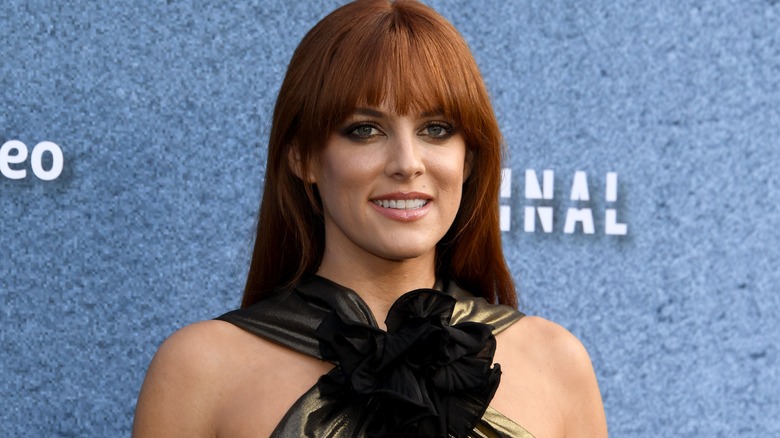 Jon Kopaloff/Getty Images
The clip of Austin Butler singing "Trouble" was so moving to Elvis Presley's granddaughter, actress Riley Keough — the daughter of Elvis and Priscilla Presley's only child, Lisa Marie Presley — that she reposted Baz Luhrmann's video to her own Instagram account. "@bazluhrmann shared this clip today from an early screen test of Austin that I wanted to repost because what he was able to do is just so beautiful," Keough wrote."One of the most remarkable parts to me about @elvismovie that people may not know (because he's done such a fantastic job) is that @austinbutler is singing all of the early Elvis vocals himself."
Apart from the singing, Luhrmann was stunned by how Butler perfectly realized all things Elvis for the film, as if he were destined to play the role."The thing about Austin was that he will tell you himself, I didn't pick him: It's as if he was drawn, like the role drew him in, because he was almost born to play it," he told Collider. Luhrmann pointed out that there are parallels between Presley and Butler, such as the fact they both lost their mothers when they were in their early 20s, and went on to reveal that the actor spent about two years seriously immersing himself in his role as the rock 'n' roll icon. "He's now going through a sort of, it's like, deprogramming thing because [it has] been a long time since he's known who he was," the director added.
"Elvis," which co-stars Tom Hanks as Presley's longtime manager Col. Tom Parker, premiered in theaters on June 23, 2022.