Luke Grimes Weighs In On The Possibility Of Kayce Singing In Yellowstone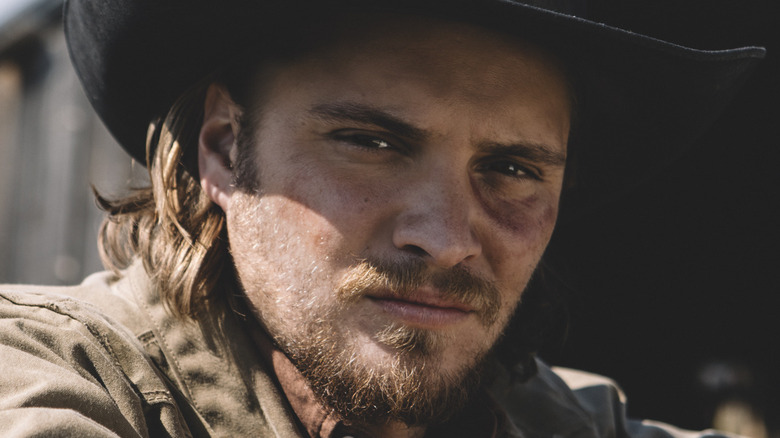 Paramount Network
This season of "Yellowstone" may be full of bar brawls and blackmail, but that doesn't mean that Paramount Network's smash success doesn't have time for more wholesome moments. When Kelly Reilly isn't delivering Emmy-worthy performances as Beth, the series shines a spotlight on its country music stars. Lainey Wilson made her television debut during the season premiere as performer Abby, a traveling musician. She showcased her singing voice on screen, debuting her song "New Friends" during a classic scene of Jamie (Wes Bentley) making bad decisions. Musical talent seems to run in the cast. In addition to Wilson's contribution, cast member Luke Grimes can also boast some experience in the country genre. While drumming for a Los Angeles band, the actor also assisted in writing songs.
"It was around that time when the alt-country thing was really going on. Wilco and Ryan Adams were really big then and we were kind of like that," Grimes told Rolling Stone. Recently, Grimes has even been working on music with country music star Jessi Alexander. The musician posted an update on her Instagram, alluding to the music they were making together. Since Grimes' music career seems to be on an upswing, it is only natural to wonder if he will also make his own debut on "Yellowstone."
Leave the singing to the professionals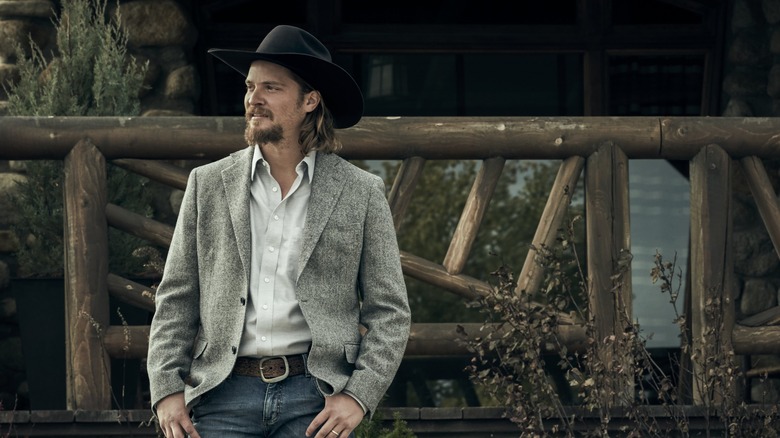 Paramount Network
Luke Grimes' love for music may be well documented, but that doesn't necessarily translate to the character he portrays onscreen (via YouTube). The "Fifty Shades of Grey" actor understands that there is a difference between the two, and Kayce singing onscreen may disrupt the magic of the character he has shaped for four years.
"I think that would be weird if Kayce started singing," Grimes confessed to Entertainment Tonight. Kayce is one of the more reserved characters. While Beth releases fire and brimstone toward anyone who crosses her path, Kayce longs for stability. His family is the most important thing to him and his main concern is protecting Monica (Kelsey Asbille). Adding the devastating loss of their son to the most recent development on a long list of losses, singing would undoubtedly be out of the question. But while Grimes maintains integrity when it comes to the character he plays, he did hint that singing wasn't completely off the table for him.
"I think here pretty soon you'll see Luke singing," Grimes teased. Actors lending musical talents to the shows they star in isn't unheard of. On fellow outlaw show "Sons of Anarchy," Katey Sagal's vocal talent accompanying the twangy rock soundtrack is a treasured hallmark of the series. With any luck, Grimes will be putting his spin on the soundtrack of "Yellowstone" shortly.