The Blacklist's Ryan Eggold Admits He Had To Think Of James Spader As 'Just A Dude' To Make Filming Easier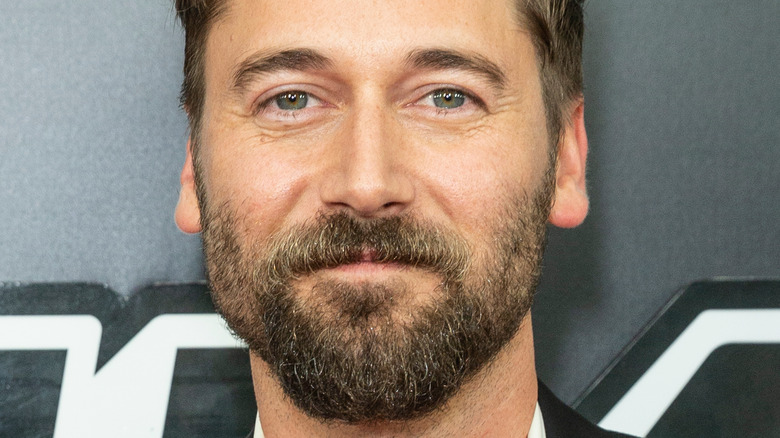 lev radin/Shutterstock
Ryan Eggold's professional acting career launched in 2006, and he spent his early days in Hollywood honing his craft while making guest appearances on TV shows like "Veronica Mars," "The Young and the Restless," and "Entourage" (per IMDb). However, Eggold tackled his big break and one of the television roles he is best known for, as Ryan Matthews on "90210" after only a couple of years in the business. Fast forward just two years after completing his three-season run on "90210," and Eggold landed the role of Tom Keen on "The Blacklist."
Eggold portrayed Elizabeth Keen's (Megan Boone) husband, Tom, and from his very first episode in "The Pilot," Eggold's character is shrouded in mystery. Tom is a seemingly doting and devoted husband who is eager to adopt a little girl with Lizzy. However, once he's hospitalized and put in a coma by Zamani (Jamie Jackson), the façade of Tom's seemingly everyday life begins to crack, and the untold truth seeps toward the surface.
"I knew that he was going to go somewhere interesting," Eggold discussed Tom's character development during a "The Blacklist" panel (via YouTube). "It was not everything that he appeared to be, but I didn't know exactly what." Eggold may have known a little bit about the part he was going to portray, but he was way more familiar with "The Blacklist's" iconic star and acting talent, James Spader. But did you know Eggold approached working with the Emmy-Award winning thespian as just another co-worker?
Eggold approached acting with Spader as 'just a dude'
Working with a thespian the caliber of James Spader could feel imposing, even seem daunting. Still, Ryan Eggold had a straightforward and honest appraisal of his co-star, and his approach to working alongside Spader isn't rocket science. "He's awesome," Eggold said of Spader during an interview with the BUILD Series. "I think, you know what I will say, that you do have to try to get over that with James, or with any actor that you admired that has a long career, that you respect. Otherwise, it's just very difficult to work with them. You know what I mean? But you have to find how to relate to them as just a dude, as just a person, you know."
After Tom's storyline was wrapped up in Season 5 of the series, Eggold found a new home as Dr. Max Goodwin on "New Amsterdam." However, "The Blacklist" continues to endure and successfully marches on even without a deeply sophisticated character like Tom Keen. And the four seasons following Tom's departure don't seem to be in any hurry to wrap up the overall story arc of the lead protagonist, Red (Spader). Even Spader himself isn't sure what lies ahead for Red or how "The Blacklist" will draw to a close once the show has run its due course. "The lifespan of the show dictates how things are going to unfold," Spader said during a "Blacklist" panel (via YouTube).