What Is The Song In Marshall's Born To Hustle Commercial?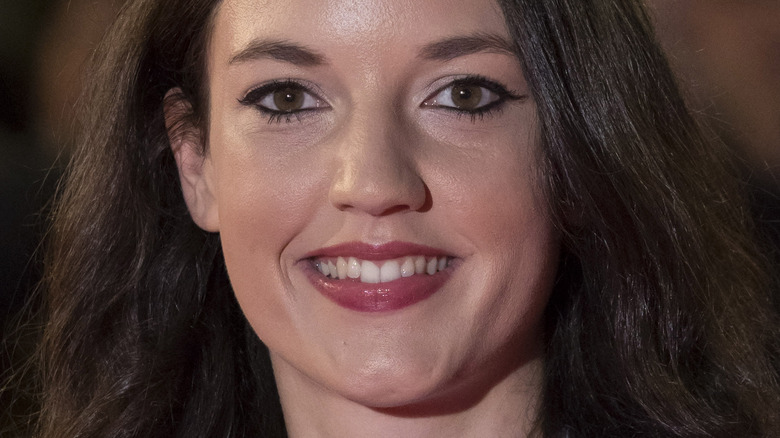 Arnold Jerocki/Getty Images
Certain commercials are notorious for getting stuck in viewers' heads long after they have aired, and part of that is presumably thanks to whatever song plays in the background. Many people may have experienced this after grooving to the beat of the Marshalls commercial "Born to Hustle" (via YouTube), which features a catchy tune some might want to know more about.
Many people will arguably agree that stunning visuals and an intriguing concept can sometimes not be enough to garner today's viewers' attention. And suppose celebrities or death-defying stunts aren't on the agenda. In that case, the last ray of hope to get through to home audiences in an oversaturated market is probably going to be the music, which would presumably have to be chosen very carefully. Some commercials choose their track with a similar name or theme to the product to get people excited, like how the Cadillac Red LYRIQ promo used the Labyrinth single "Lift Off (Red Remix)" to help launch the company's new electric car or how the Google Security commercial appropriately utilized the classic Etta James song "Security." And it makes perfect sense that Lil' Baby and his track "All In" would end up in a wild Axe commercial complete with talking bunnies and giant floating diamonds.
There is no denying there is rarely a dull moment when certain commercials aren't skipped over, and Marshall's "Born to Hustle" spot is no different, featuring an excellent one-title soundtrack.
The song in the Marshall's commercial is Makeba by Jain
The "Born to Hustle" ad exaggerates in spectacular fashion the dedication the store's buyers take in ensuring they keep the shelves stacked with products customers love, finding the best deals so patrons get their favorite items for a great price. According to a study from The Association of Consumer Research, music in commercials can improve how effective an advertisement can be on consumers, which is why it makes perfect sense that the song "Makeba" by Jain would be featured in the Marshalls commercial (via Ispot.tv).
The song was released on November 6, 2015, as part of artist Jain's debut studio album titled "Zanaka." "Makeba" peaked at the Top Ten of the French Singles Charts, and on November 30, 2016, a music video was released that would later receive a nomination for Best Music Video from the Grammys (via Billboard). Its metrics are also rather impressive, as it has 150 million views and over 1 million likes. The song was also used in the Levi's Circles commercial.
"Makeba" from Jain was definitely a solid choice, given how well it resonated with fans, and many would agree that it fits perfectly in Marshall's "Born to Hustle" ad.