What Is The Song In Axe's Fresh As Fr*sh Commercial?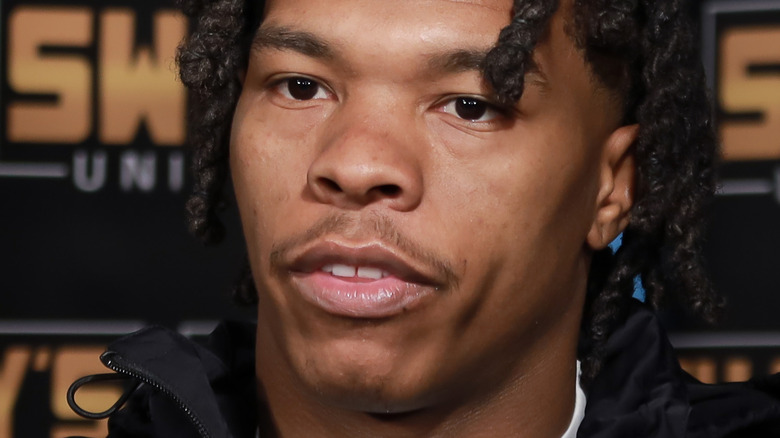 Jason Mendez/Getty Images
If you've ever had the pleasure of seeing a commercial for Axe products, then you know that they tend to be a bit outlandish. One commercial from 2021 even features a lively animated segment that looks like it came straight out of a comic book, while another ad shows an Axe body wash user gaining the power to control water after using the product. Older advertisements for Axe products hone in on the sensuality of scent and how having the right odor is a key factor in making men irresistible (via The Seattle Times). Overall, it's a pretty straightforward premise: If you use Axe products, good times and romance are sure to follow.
One strategy marketing teams employ to draw the attention of potential customers is using popular music in their promotional materials, like when Logitech used a Lil Nas X song in their Defy Logic commercial. Axe recently employed this tactic for their Fresh as Fr*sh campaign, which promotes a new line of products that were designed in tandem with a famous rapper. A new commercial for the company, which heavily features the singer-songwriter in question, revels in the confidence that comes with smelling good. In case you didn't recognize the chart-topping hit that plays throughout the advertisement, we've got you covered.
Keep it fresh to the sound of an autobiographical Lil Baby track
The song featured in Axe's Fresh as Fr*sh commercial is "All In" by Lil Baby (via YouTube). In the song, Lil Baby talks about his past dealing illegal substances and the time he spent in prison, and his rise to stardom (via Rolling Stone). However, the rapper doesn't linger on the more troubling aspects of his past. Instead, he focuses on how far he's come and the incredible experiences he's been able to have since his career took off. The track comes off the album "My Turn," which remained at the top 10 of Billboard's Top R&B/Hip-Hop Albums chart for over 100 weeks (via Billboard).
Although the tune covers dark subject matter, the song reflects the upbeat, triumphant energy that dominates the atmosphere of the Axe commercial. It starts with a man getting ready for a summer day out on the town, being surprised by the sudden appearance of an animated bunny in his cuckoo clock. The anthropomorphic rabbit gives the man anti-sweat deodorant, just one of the products in the WHAXE line. The product seems to make the day impeccable, complete with diamonds that blow up like balloons, Lil Baby relaxing in the passenger's seat of a convertible, and even more bunnies. It's everything you expect from an Axe commercial, with the addition of a great soundtrack. According to Hype Beast, the collaboration between Axe and Lil Baby includes body wash, a toothbrush, and deodorant.