Why The Legend Of Vox Machina Cast Sounds So Familiar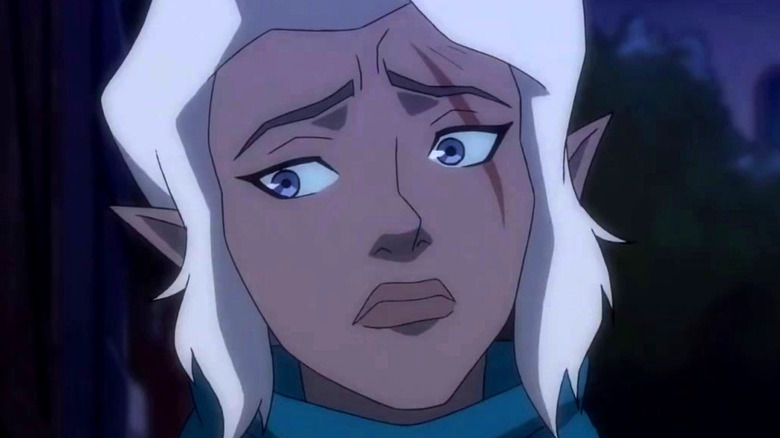 Prime Video
After branching out into comic books and live streams, the "Dungeons & Dragons" fantasy world from Critical Role Productions made the leap to scripted television in 2022 with the popular Prime Video animated series, "The Legend of Vox Machina." Adapting the first campaign of Critical Role's publicly streamed "Dungeons & Dragons" story, the show follows a misfit mercenary troupe known as Vox Machina as they defend the medieval fantasy realm of Exandria. The production company founders reprise their fan-favorite roles from the campaign and are joined by an impressive all-star cast to fill out the colorful world of myths and monsters.
With many of the cast prolific in voiceover and live-action roles, sharp-eared listeners have certainly heard many of "The Legend of Vox Machina" Season 1's cast in other prominent roles. Here are all the major characters in the inaugural season of the hit animated series and other iconic roles they've played in television, film, and video games.
Matthew Mercer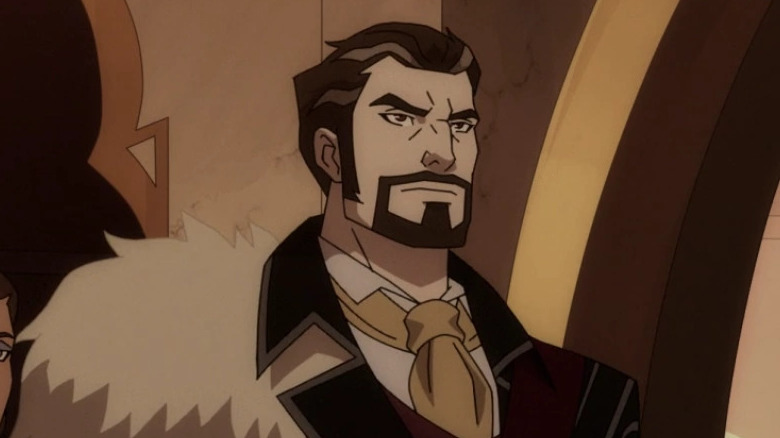 Prime Video
The Critical Role campaigns are hosted by Matthew Mercer, who serves as the Dungeon Master across the various fantasy stories. Throughout "The Legend of Vox Machina" Season 1, Mercer voices a number of characters, most notably as the season's primary antagonist, Lord Sylas Briarwood, a vampire lord who conquered the city of Whitestone. In addition to Briarwood, Mercer voices Vex's bear familiar Trinket, the shadow demon Orthax, and various background characters in the first season.
Mercer is one of the most prolific voice actors in North America, taking on prominent parts in both Western and Japanese animation along with a number of major video game roles. Among Mercer's biggest fan-favorite anime roles are as Hit in "Dragon Ball Super," Levi Ackerman in "Attack on Titan," Trafalgar Law in "One Piece," and Jotaro Kujo in "Jojo's Bizarre Adventure." Mercer's popular video game characters include Leon Kennedy in "Resident Evil 6," Stryker in "Mortal Kombat," Chrom in "Fire Emblem," and Cole Cassidy in "Overwatch."
Laura Bailey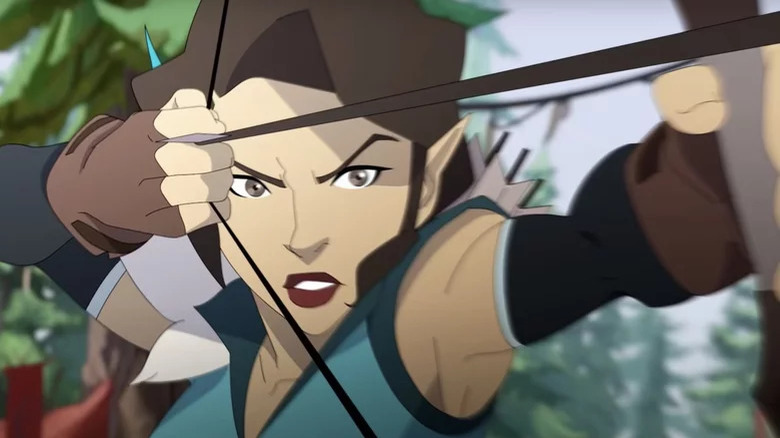 Prime Video
Perhaps the most lethally efficient member of the Vox Machina ensemble is the half-elf rogue Vex Vessar — the twin sibling to her brother Vax — played by Laura Bailey, who also serves as an executive producer on the show. After her mother was killed by a dragon when she and Vax were children, Vex has obsessively dedicated her life to studying dragons in the hopes of slaying the beast that murdered their mother. Skilled with a variety of hand-to-hand weapons, Vex is particularly deadly with a bow and arrow, while possessing the strongest tracking abilities of the group.
Bailey has provided a staggering number of voiceover and motion-capture performances in Western and Japanese animation, along with an impressive list of high-profile video game projects. Among Bailey's most notable voiceover roles are young Trunks in "Dragon Ball Z," Tier Halibel in "Bleach," and Gwen Stacy in the 2017 "Spider-Man" animated series. Bailey's video game career includes voicing Chun-Li in a number of "Street Fighter" games, Mary Jane Watson in "Marvel's Spider-Man," and Abby in "The Last of Us II," with Bailey also providing motion-capture.
Taliesin Jaffe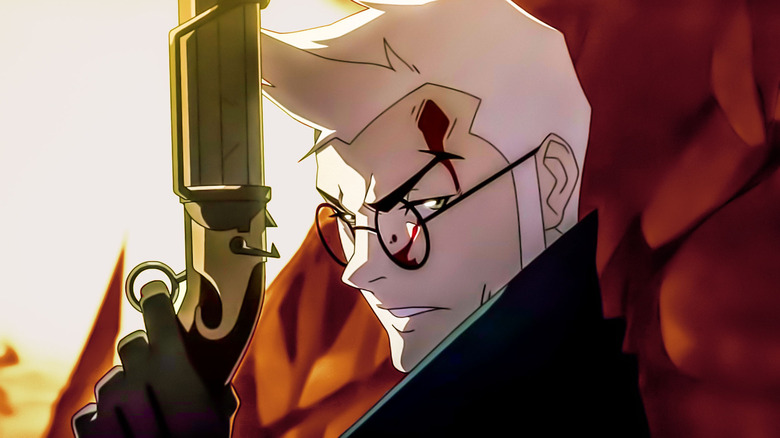 Prime Video
The most tragic figure in the Vox Machina crew in Season 1 is Percy Fredrickstein Von Musel Klossowski de Rollo III, played by Taliesin Jaffe. Percy's family and home are targeted by the vampiric Briarwoods years before the start of the animated series, with Percy returning home to liberate Whitestone and rescue his younger sister Cassandra. Jaffe has worked extensively not just as an actor, but as a voice director and localization screenwriter for the North American releases of anime and video games.
Jaffe's more famous voice roles include Basil Hawkins from the anime series "One Piece," Blanka in "Street Fighter", and Navarre in the "Fire Emblem" Nintendo games. On the production side, Jaffe has served as voice director for the localization of the "Hellsing" anime, the fourth and fifth installments of "Street Fighter," and 2011's  "Marvel vs. Capcom 3." Beyond acting and voice directing, Jaffe has penned localized scripts as head writer for the anime series "Hellsing," "Hell Girl," and "Romeo x Juliet." Jaffe also serves as an executive producer on "The Legend of Vox Machina."
Ashley Johnson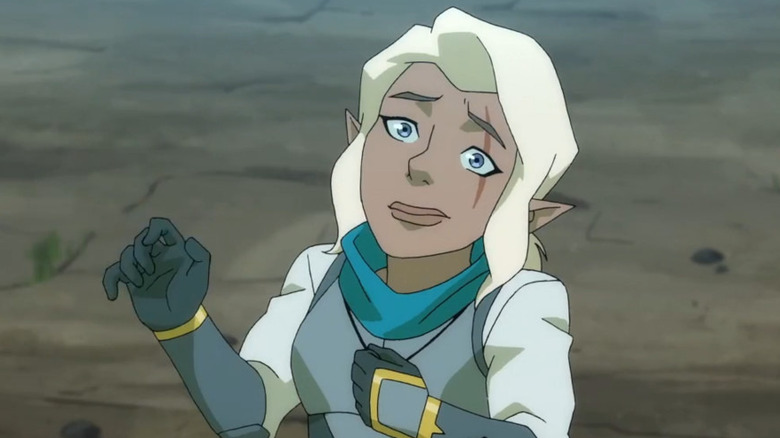 Prime Video
Every good dungeon-crawling group needs a healer if they hope to survive their deadly journeys and Vox Machina is saved on a constant basis by its cleric and empath Pike Trickfoot. Played by Ashley Johnson, Pike brings some much-needed compassion and humanity to the ensemble of mercenaries along with further gnome representation of Exandria. In addition to serving as an executive producer on "The Legend of Vox Machina," Johnson is an accomplished actor with both live-action and voiceover work in television, film, and video games.
Among Johnson's live-action performances include an early starring role in "Growing Pains" as Chrissy Seaver in Seasons 6 and 7, and a memorable appearance as a server saved by Captain America in "The Avengers." Johnson has had a prolific voiceover career, with starring roles in long-running animated franchises like "Recess" (Gretchen Grundler), "Ben 10" (Gwen Tennyson), and "Infinity Train" (Tulip Olsen). In the gaming community, Johnson is perhaps best known for voicing and providing motion-capture work for Ellie in the universally acclaimed "The Last of Us" video game series.
Liam O'Brien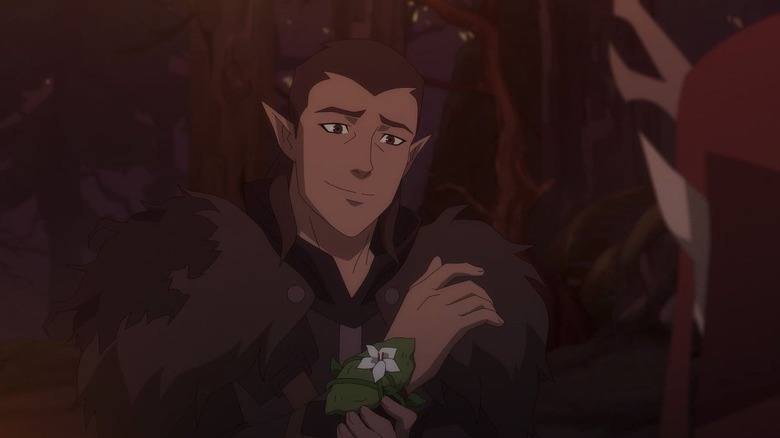 Prime Video
Matching Vex is her equally stoic and lethally effective twin brother Vax Vessar, who uses his finely honed skills as a half-elf rogue to infiltrate enemy compounds and boasts supreme dexterity. Vax is played by veteran voice actor Liam O'Brien who, like much of the Critical Role cast, serves as an executive producer on "The Legend of Vox Machina." Prolific within Western and Japanese animation as well as video games, O'Brien has been steadily working in the voiceover industry since the '90s (per IMDb).
O'Brien has voiced several Marvel characters across a variety of animated projects and video games, including Angel and Nightcrawler in "Wolverine and the X-Men," as well as Red Skull in "Avengers Assemble" and "Hulk and the Agents of S.M.A.S.H." In video games, O'Brien has notably voiced the villainous Illidan Stormrage in "World of Warcraft" and Gill in "Street Fighter V." O'Brien has a penchant for portraying evil geniuses across his performances, with Vax offering him a more noble role throughout his body of work.
Marisha Ray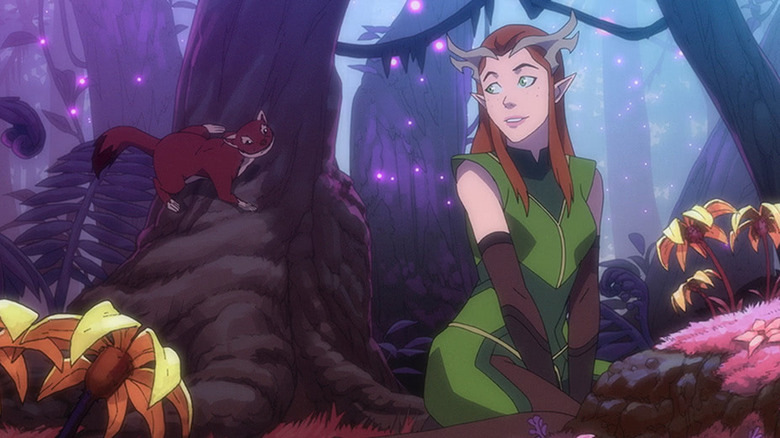 Prime Video
One of the more innocent figures among the Vox Machina mercenaries is the half-elf druid Keyleth, played by Marisha Ray, who is also an executive producer on the animated series. Keyleth is introduced undergoing the process of Aramente, a ritual among the elves to be proven worthy to take on major leadership positions within their society. Despite this added responsibility, Keyleth is reluctant to tap into the full extent of her magical abilities at the start of the series until she and her friends are faced with insurmountable odds.
Ray has taken on plenty of supporting voiceover roles in the video game industry, with voice work in everything from "Fallout" and "Persona" to "Metal Gear Solid" and "Fire Emblem." Behind the scenes, Ray works as the creative director for Critical Role Productions and has appeared across much of Critical Role and Geek & Sundry's online programming, including "Super Power Beat Down" and "Pub Draw."
Sam Riegel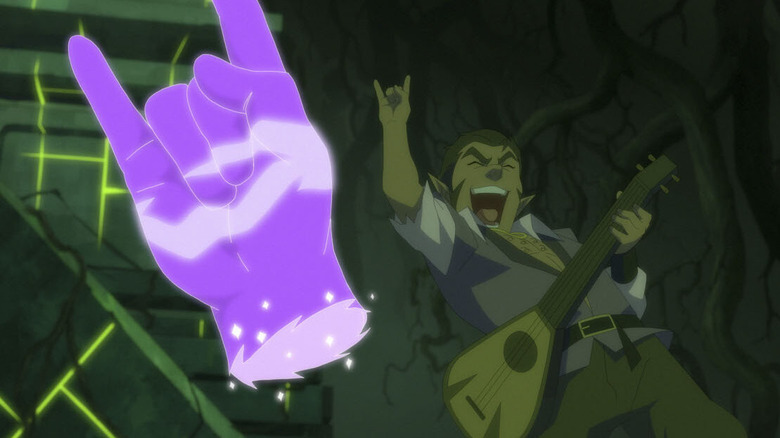 Prime Video
The sauciest member of the Vox Machina crew is Scanlan Shorthalt, a gnome bard who constantly finds himself indulging in the pleasures of wine, women, and song throughout the mercenaries' adventures. Played by Sam Riegel, Scanlan provides much of the levity to the animated series, occasionally breaking out into song and dance to keep the rest of the troupe's spirits up. In addition to portraying some of the most iconic roles in pop culture, Riegel has also worked as a voice and casting director in a number of prominent animation projects.
Riegel's biggest fan-favorite role is as Donatello in the 2003 animated iteration of "Teenage Mutant Ninja Turtles," including its associated video games and television film. Riegel has also played Phoenix Wright in Capcom's "Ace Attorney" video games, Starscream in the 2012 game "Transformers: Fall of Cybertron," and Peter Parker and Spider-Man in the video game adaptations of "The Amazing Spider-Man" and its 2014 sequel. Riegel serves as the casting director and executive producer on "The Legend of Vox Machina," as well as voice director on "Moon Girl and Devil Dinosaur" and the 2017 "DuckTales" reboot which he also voiced a number of characters for.
Travis Willingham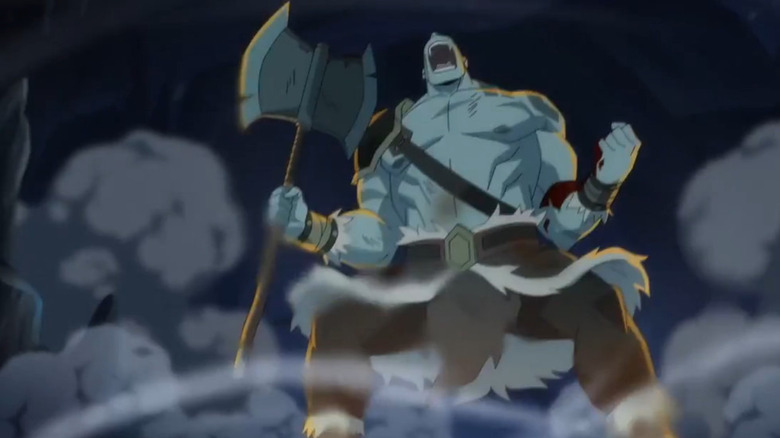 Prime Video
The undisputed muscle of Vox Machina is Grog Strongjaw, a goliath barbarian who loves the heat of battle and is astonishingly good at fighting, if perhaps a bit inelegant about his handling of it. However, while Grog may be the least articulate of his friends (and a bit boorish), there is a surprisingly innocent and insightful side to the warrior under his gruff exterior. Grog is played by executive producer and prolific voice actor Travis Willingham who is also the CEO of Critical Role Productions.
One of Willingham's biggest voiceover roles is as Roy Mustang in the anime series "Fullmetal Alchemist," which he reprised for the 2010 reboot, "Fullmetal Alchemist: Brotherhood." Willingham has also played Thor in a number of Marvel animated and video game projects, including the "Disney Infinity" series, as well as Knuckles the Echidna across various "Sonic the Hedgehog" projects. Among Willingham's highest profile video game roles are Kingpin in "Marvel's Spider-Man" and its sequel, and Guile in the fourth and fifth "Street Fighter" installments.
Stephanie Beatriz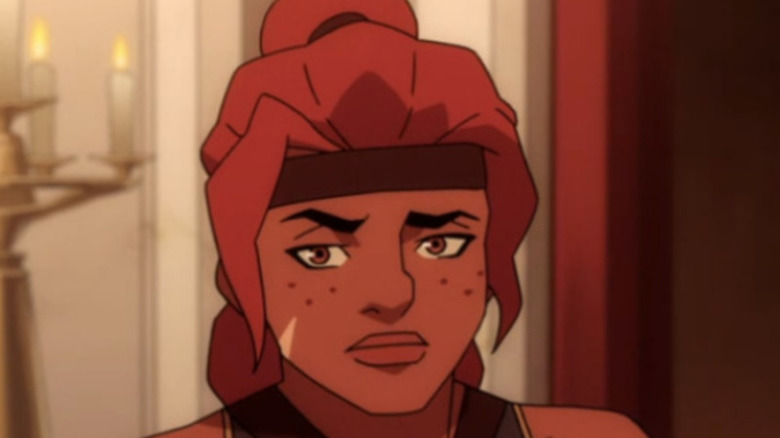 Prime Video
"The Legend of Vox Machina" has quite a few colorful characters beyond its eponymous mercenary crew, including Lady Kima of Vord, played by Stephanie Beatriz. A halfling paladin in service to the platinum dragon Bahamut, Kima is a prominent member of the Tal'Dorei Council overseeing Exandria. Kima is introduced at the start of the series, hiring Vox Machina to stop a dragon from devastating villages but is initially skeptical of their competence.
Beatriz is an accomplished voiceover and live-action actor in television and film, and a Billboard-charting musical artist with her soundtrack work, earning RIAA certifications for a number of singles. Beatriz's most notable role to date is starring as Rosa Diaz in the Emmy Award-winning comedy series "Brooklyn Nine-Nine," with other prominent live-action roles including appearing as Carla in "In the Heights." Beatriz's most popular voiceover work includes starring as Mirabel Madrigal in "Encanto," Chloe Barbash in "Bob's Burgers," and Gina Cazador in "Bojack Horseman."
Khary Payton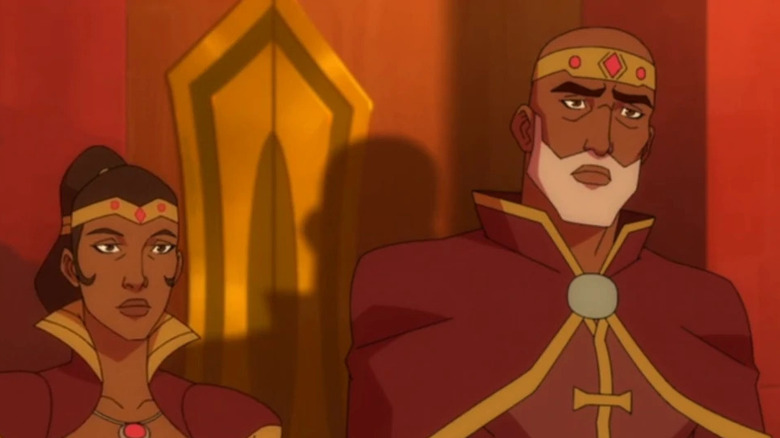 Prime Video
Presiding over the Republic of Tal'Dorei and its largest human kingdom is Sovereign Uriel Tal'Dorei II, with his domain and its council named after his family. Reigning from the capital city of Emon, Uriel finds his authority over Exandria challenged by both outside and internal threats within his own inner circle. Played by Khary Payton, Uriel decides the republic is better left under the command of the Tal'Dorei Council and willingly cedes control by the end of Season 1.
Payton has worked steadily as a live-action and voiceover actor in film, television, and video games for over 20 years and is particularly known for taking on a number of comic book roles. Payton's most notable live-action part to date is playing King Ezekiel Sutton on "The Walking Dead," a grizzled survivor who commands a formidable pet tiger. Payton has also starred in an impressive list of comic book adaptations beyond "The Walking Dead," including as Cyborg in "Teen Titans," Aqualad in "Young Justice," and Black Samson in Prime Video's 2021 series, "Invincible."
David Tennant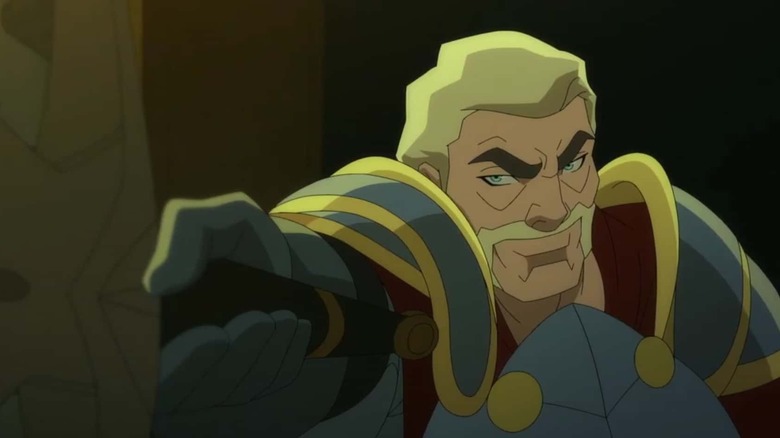 Prime Video
The most duplicitous and perhaps the most evil figure on the Tal'Dorei Council is General Krieg, one of Uriel's trusted advisors who is secretly the blue dragon Brimscythe in a magical disguise. In his true form, Brimscythe devastated villages outside of Emon and, as Krieg, implored Uriel to dispatch the kingdom's armies to deal with the dragon. Brimscythe intended to trick Uriel into leaving the capital city defenseless with this strategy and leave Exandria at the mercy of dragons only for Vox Machina to expose and defeat him.
General Krieg is played by celebrated Scottish actor David Tennant, a bonafide geek icon who has starred in high-profile film, television, and stage productions on both sides of the Atlantic. Most famously, Tennant is known for starring as the tenth iteration of the Doctor on the long-running British science fiction series "Doctor Who," reprising the role as the 14th Doctor in 2022 and 2023 (via BBC). Tennant's other popular roles include Kilgrave in the Marvel series "Jessica Jones," the demon Crowley in the Prime Video series "Good Omens," and voicing Scrooge McDuck in the 2017 "DuckTales" reboot.
Indira Varma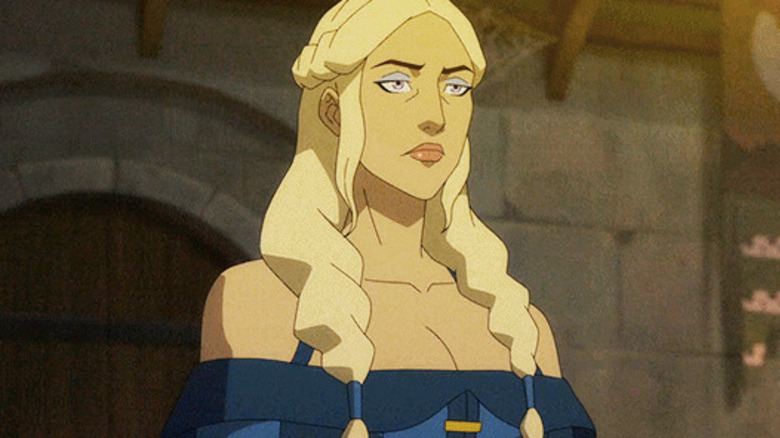 Prime Video
Among the powerful figures on the Tal'Dorei Council is Lady Allura Vysoren, a powerful wizard with formidable mastery over sorcery and a supporter of Vox Machina. Voiced by British actor Indira Varma, Allura has a quiet history with Lady Kima and largely represents the voice of the Republic's magical community. By the end of the first season, Allura is among those chosen to lead Exandria after Uriel cedes his authoritative power to the Tal'Dorei Council.
Varma has been working prolifically in television, film, and theater productions for over 25 years, often bringing a sense of calculated regality and understated grace to her roles. Some of Varma's most famous roles are as the deadly Ellaria Sand in "Game of Thrones" and Tala Durith in the 2022 Disney+ series, "Obi-Wan Kenobi." Varma is confirmed to star as Empress Natalya in the HBO Max original series "Dune: The Sisterhood," a prequel to the 2021 film "Dune" (per Deadline).
Grey DeLisle
When Sylas Briarwood conquered Whitestone and murdered Percy's parents, the vampire was not operating alone but accompanied and assisted by his wife Lady Delilah Briarwood. After seizing control of Whitestone and enforcing their rule with a small army of monsters and cruel loyalists, Delilah and Sylas raised Percy's younger sister Cassandra as their own. After reuniting with her long-lost brother, Cassandra regained her memories and avenged her parents by killing Delilah herself while Sylas was destroyed by Keyleth.
Delilah is played by veteran voice actor Grey DeLisle, occasionally credited as Grey Griffin, whose voiceover career spans over 25 years. DeLisle has worked extensively in animation, taking on many fan-favorite roles, including voicing Scooby-Doo supporting character Daphne Blake since 2001, along with a multitude of comic book characters. Among DeLisle's celebrated accomplishments is originating the vocal role of "Star Wars" villain Asajj Ventress, starring in the original 2003 "Star Wars: Clone Wars" animated series, bringing the Sith warrior to life. Since 2019, DeLisle has also voiced the characters of Martin Prince and Sherri and Terri on "The Simpsons."
Dominic Monaghan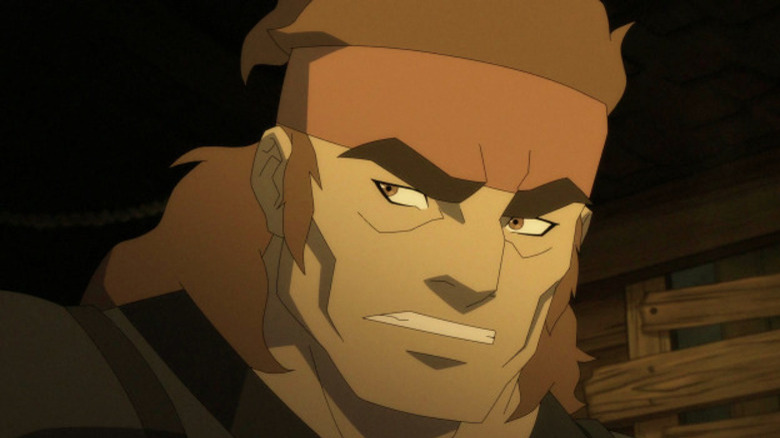 Prime Video
Beyond Cassandra, not everyone Percy knew before fleeing Whitestone was killed by the Briarwoods and their monsters when they seized power over the city. Percy's childhood friend Archibald Desnay leads the desperate resistance effort against the Briarwoods from the shadows of Whitestone, seeking to overthrow the evil couple by any means necessary. Voiced by Dominic Monaghan, Archibald is rescued from imprisonment by Vox Machina and helps reunite Percy with his sister before sacrificing his life to save Scanlan from the twisted Goran Vedmire.
Monaghan is a British actor who has appeared in several major high-profile television projects throughout his career, largely in live-action performances. Monaghan's most iconic role is as the mischievous Hobbit Merry Brandybuck in "The Lord of the Rings" trilogy helmed by New Zealand filmmaker Peter Jackson. Monaghan has since starred as Charlie Pace in the popular ABC television series "Lost" and appeared in a supporting role as Beaumont Kin in 2019's "Star Wars: The Rise of Skywalker."
Gina Torres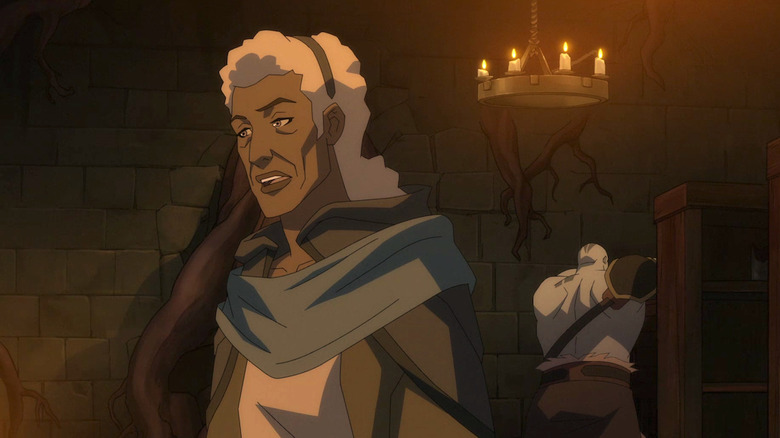 Prime Video
Outside of Archibald, one of the most important figures in the resistance against the Briarwoods' rule over Whitestone is Keeper Yennen. A religious leader within the community, Yennen's support for the rebellion is largely a secret, publicly urging the townspeople to avoid taking up arms though tacitly helping Vox Machina stage a jailbreak. Played by Gina Torres, Yennen plays a pivotal role in the season's climactic battle, revealing her true allegiance and rallying the townspeople to overthrow the Briarwoods' cronies.
Torres has worked in television and film for over 30 years, primarily in live-action roles, but with a number of voiceover roles including several DC Comics superheroes. One of Torres' most notable roles is as spacefarer Zoe Washburne in the television series "Firefly," and its 2005 film "Serenity," as well as attorney Jessica Pearson in the television series "Suits" and short-lived 2019 spinoff, "Pearson." Among Torres' notable voiceover performances are as Wonder Woman in the popular MMO "DC Universe Online" and the sci-fi hero Ikora Rey in the "Destiny" video game franchise.