Wakanda Forever Completely Whiffed On The Obvious Choice For The Next Black Panther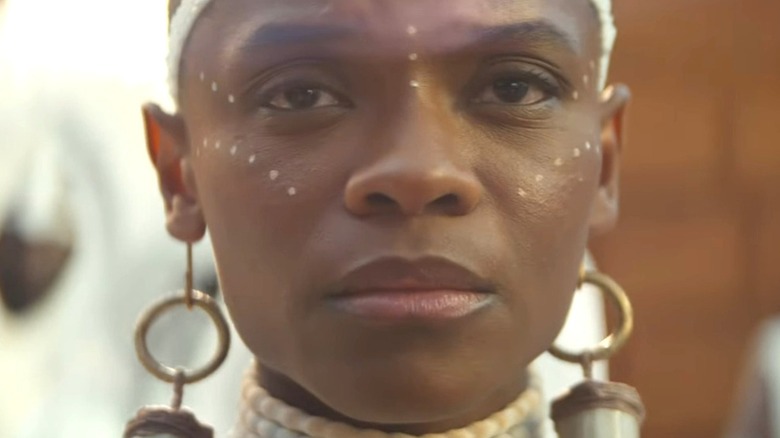 Marvel Studios/Disney
Contains spoilers for "Black Panther: Wakanda Forever"
There's an incredibly heartwarming reason why Ryan Coogler focused "Black Panther: Wakanda Forever" around Shuri (Letitia Wright) after "Black Panther" star Chadwick Boseman's tragic death. After all, Boseman himself was extremely fond of Wright, and their brother-sister chemistry as T'Challa and Shuri is palpable. Likewise, Wright herself gave the movie her all in Boseman's honor (via Variety). 
"Letitia was hired because she, No. 1, was a great actor, but No. 2, she provided a levity to the film," Kevin Feige described the evolution of Shuri's role in an interview with Variety. "Now the entire weight of the movie and of the kingdom of Wakanda was on her shoulders in the next movie in a way that obviously no one expected."
It's powerful stuff, but there are many ways to put a character in the spotlight. The decision to make Shuri the new Black Panther has comic book precedent, and she certainly makes an impact in her new role as she manages to stop Namor's (Tenoch Huerta) plans to obliterate Wakanda. Still, while there's no denying that Shuri needed to have a central role in "Wakanda Forever," the superhero aspect about said role wasn't always certain. In fact, "Wakanda Forever" co-screenwriter Joe Robert Cole has revealed that both Nakia (Lupita Nyong'o) and M'Baku (Winston Duke) were in contention to become Black Panther before Shuri emerged as the winning candidate. 
Could either Nakia or M'Baku have been a better fit for the Black Panther role than Shuri? The answer, in both cases, is yes — not because Shuri's a bad Black Panther, but because their characters would have benefitted much more from the mantle.
Nakia is the most natural choice for Wakanda's protector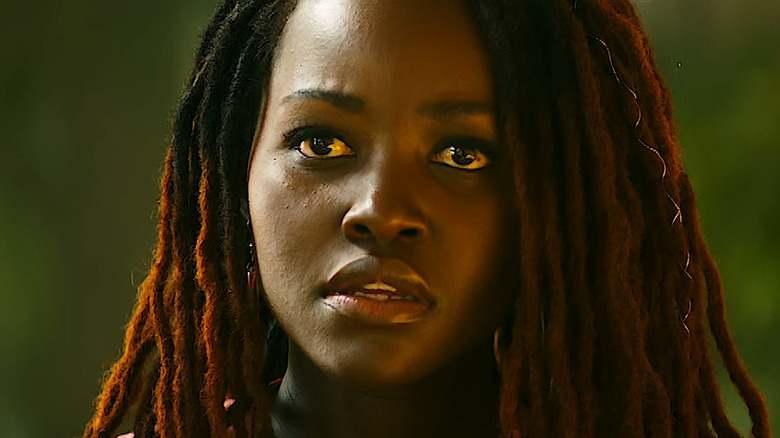 Marvel Studios/Disney
It's quite possible that no active, adult MCU character would make a better Black Panther than Nakia. She shares T'Challa's mischeivous streak, and her history as a War Dog and a covert operator means that she's a powerful and stealthy warrior even without ingesting the Heart-Shaped Herb. As T'Challa lover and the mother of his child, she knows him at least as well as his immediate family does. She's far more in tune with her country's traditions and mystical side than Shuri. Most importantly, Nakia is basically an outsider in "Black Panther" and especially "Wakanda Forever." While always connected to Wakanda, and ready to embark on a dangerous mission when the going gets adequately tough, the capable Nakia tends to do her own thing for much of the time, remaining a mystery to many of her friends ... and an extreme danger to the ones she deems her enemies. 
Thanks to her training, abilities, and access to some of the best Wakandan technology, Nakia is basically already a superhero, not to mention a protector of Wakanda. These two things, you might remember, are more or less the job description of a Black Panther. Combine this with her relative detachment from Wakanda's day-to-day affairs and her close connection to T'Challa, and she would have been the perfect choice for his successor — a stealthier Black Panther who's operating in the shadows to keep Wakanda safe, allowing Shuri to focus on her inventions and the throne.
As it stands, the ending of "Wakanda Forever" leaves Shuri where she's been for much of her MCU run: On the very outskirts of the mega-franchise, in a plot spot where it's unclear whether we'll ever see her again. Doesn't it seem like a tragic waste of Lupita Nyong'o, an actor who's proved many times that she can play a charismatic main character like no one's business?
M'Baku is T'Challa's clear spiritual successor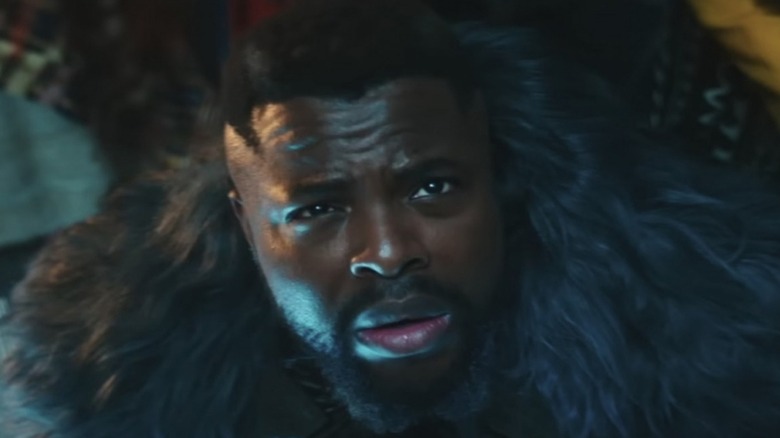 Marvel Studios/Disney
M'Baku's claim to Black Panther fame isn't quite up there with Nakia's, but he's still a worthy candidate. Quick: Which MCU character is a somewhat aloof and grumpy Wakandan leader who's hostile to established main characters, but turns out to have a heart of gold and a cutting sense of humor? That, of course, was a trick question, as that exact same sentence can be used to describe T'Challa in "Captain America: Civil War," and M'Baku in "Black Panther." Though the former is decidedly more regal than the latter, both have excellent reasons for their introductory hostility. T'Challa's inaugural appearance puts him is on a quest for revenge after the death of his father (John Kani), while M'Baku genuinely believes that T'Challa is unfit to rule Wakanda at first, and goes for the king in order to protect the people. Both prove to be able to adjust their views over time, and by "Avengers: Infinity War," M'Baku has no problem calling T'Challa his brother.   
"Wakanda Forever" further underlines the similarities between the two, as we find out that T'Challa has entrusted M'Baku to watch over Shuri and advise her when necessary — a duty that the Jabari leader fulfills with tact and wisdom, while also committing brave and honorable acts throughout the movie. At the end of the film, he arrives to challenge for the throne in the royal airship, which implies that Shuri's in on the plot, and he's gained her respect as well. 
Duke has confirmed that M'Baku is the new king of Wakanda, which should be a fascinating development for both Wakanda and the viewers who get to see him throw his weight around. However, M'Baku is still a mighty warrior, and since his character development has mirrored T'Challa pretty faithfully, he would probably have been even better as the new Black Panther. How magnificent would it have been to see the hulking Jabari bouncing around in a Panther costume?
Shuri is a much better character as a sarcastic tech genius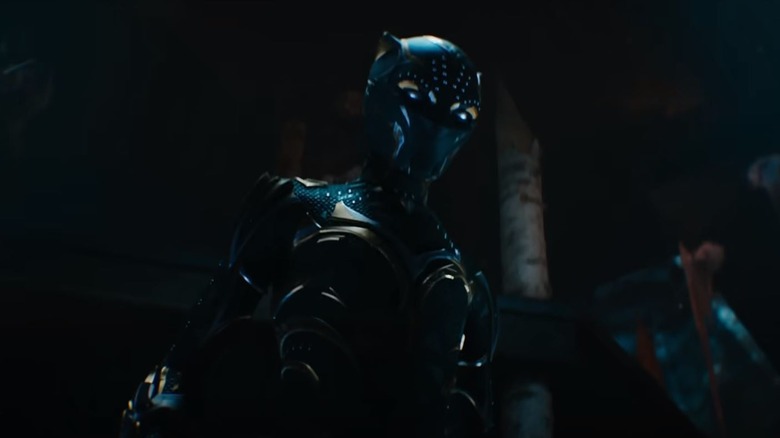 Marvel Studios/Disney
Don't take the argument that Shuri is the wrong choice for the Black Panther role to mean that she's a bad character, or that Letitia Wright is a bad actor. Such statements couldn't be further from the truth. "Black Panther" is a movie full of breakout supporting character performances, yet Shuri shines through as the happy-go-lucky young supergenius who eschews tradition in favor of cutting-edge science. She's a delightful presence throughout the movie, and while it's clear that losing multiple family members in "Wakanda Forever" isn't easy on her, the grief storyline could have been more than compelling enough on its own without having her to deal with becoming the next Black Panther — a duty she clearly neither wants nor particularly appreciates. 
While it was never in doubt that T'Challa's departure from the franchise would change Shuri, the decision to give her the Black Panther mantle arguably changes her too much. The responsibilities that come with the Black Panther role require far more gravitas than Shuri's displayed before, and by moving her character in that direction, "Wakanda Forever" shifts her away from the core aspects of what endeared us to her character in the first place. Until "Wakanda Forever," Shuri has been exclusively presented as a witty supporting character. Placing her front and center as the new Black Panther not only takes this role from her, but it also takes away from other characters who would benefit far more from a Black Panther promotion.