Ryan Coogler Focused Wakanda Forever On Shuri Based On A Chadwick Boseman Comment
When "Black Panther" was released in 2018, audiences were treated to something a bit more meaningful than your average Marvel movie. Rather than a simple tale of good and evil, the film embodies so much of the Black experience and the many nuances that come with it, both good and bad, while still succeeding at introducing a new fantastically vibrant corner of the Marvel Cinematic Universe. And heading this rich, thrilling movie experience is none other than Chadwick Boseman.
As King T'Challa, Boseman brought an incomparable level of grace, strength, and dignity to the character that helped elevate the hero to iconic status following the film's monumental release (via Forbes). "Black Panther" wasn't simply another superhero blockbuster; it was a cultural phenomenon, in no small part due to Boseman's compelling performance.
Following the actor's untimely death in 2020 (via The New York Times), the world was devastated by not only the loss of such a wonderful human being but also the fact that we would never see him don the black cat outfit ever again. As difficult as it would be for director and co-writer Ryan Coogler to continue work on the ambitious sequel, "Black Panther: Wakanda Forever," he took it on nonetheless with everything he had. And when it came to who would receive most of the film's focus in Boseman's absence, Coogler was informed by a warm comment from the late actor himself.
Chadwick couldn't get enough of Letitia Wright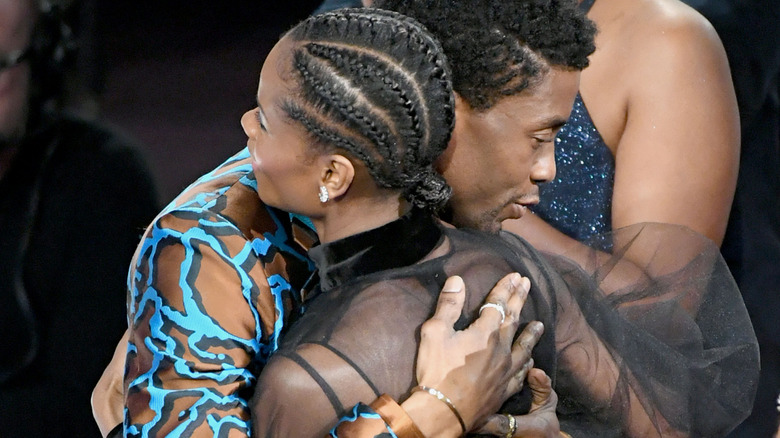 Kevin Winter/Getty Images
Chadwick Boseman's loss was especially painful to those who knew him best. Ryan Coogler went through countless hurdles during the production of "Black Panther: Wakanda Forever," one of them being who to have the film center around. With Marvel refusing to recast the role (via /Film), it was a sentiment from Boseman himself that helped inform the director who the sequel's star would be.
On the Korean talk show V Live Movie Talk, Chadwick Boseman, Lupita Nyong'o, and Michael B. Jordan were asked whether their "Black Panther" characters are the best ones in the movie, and Boseman couldn't help breaking out into a smile when he gushed, "I love my little sister, man. I've loved my little sister from the day I met her." When Coogler came across the interview following Boseman's death, he realized that it would only be right to have Letitia Wright's Shuri take on the mantle in honor of the relationship the actors shared (via The Hollywood Reporter).
"I was looking at that and I remembered the conversations Chadwick and I would have about Letitia all the way back when we were doing chemistry reads with actresses," Coogler said "He really responded to her. And I realized that maybe we could build a film around her character since that was his favorite character." As obvious as a direction it seems, the reality of taking on the role saw great challenges for Wright and the team.
Letitia Wright did it all for Chadwick
The immense task of taking on the main role in "Black Panther: Wakanda Forever" was not one that Letitia Wright took lightly, especially given her and the late Chadwick Boseman's close bond (via Variety). Wright recalled the unexpected and crushing moment when she discovered Boseman's passing, even trying to contact Boseman to be certain that it was true.
Once the time came to begin work on the film, however, Wright ensured director Ryan Coogler that she was on board for whatever was to come. "He found me and said, 'We have to talk about this,'" Wright explained. "It was a gentle conversation. I said, 'I'm going to dedicate this movie to Chad and to God, and I'm going to give my all. Whatever you need from me, I'll do it.' I just trusted him all the way. He believed in me all the way."
And that trust certainly went a long way. Wright was not only challenged emotionally in grappling with the tragic loss but came across multiple physical obstacles as well that complicated the production. Most notably, Wright suffered a major injury during the filming of an action scene involving a special stunt rig that halted production for several months in the process. Despite coming back to set, Wright admits to still feeling shaken up by the event, telling Variety, "I'm still working through it in therapy. It was really traumatic."