Winston Duke Confirms M'Baku Is The New King Of Wakanda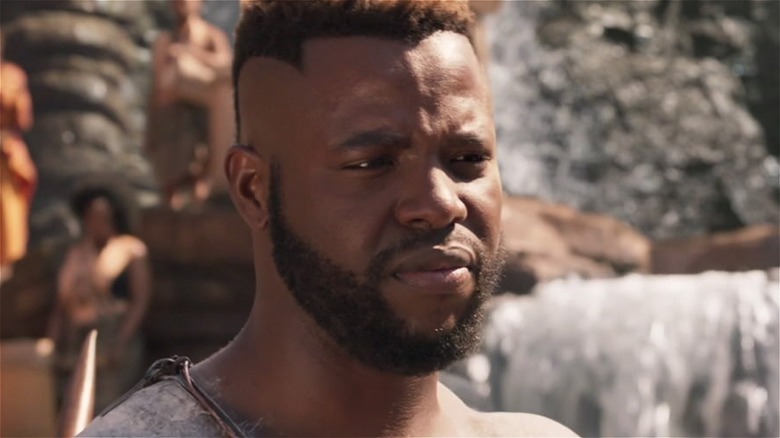 Marvel Studios/Disney+
Warning: This article contains spoilers for "Black Panther: Wakanda Forever."
Wakanda undergoes a lot of changes during "Black Panther: Wakanda Forever," the latest installment in the Marvel Cinematic Universe. The film begins with the passing of T'Challa (played by the late Chadwick Boseman). M'Baku (Winston Duke) becomes an advisor to Wakanda, helping Shuri (Letitia Wright) as she grieves. Queen Ramonda (Angela Bassett) takes the throne and takes away Okoye's (Danai Gurira) title as General of the Dora Milaje, claiming that Okoye is failing in her role as protector. Queen Ramonda is then killed during an attack waged by Talokan. As Shuri struggles with the sudden deaths of her brother and mother, she decides to step into the suit of the Black Panther, becoming the ultimate protector of Wakanda.
It's a lot to pack into two hours and 41 minutes, but the movie still has room for more storylines. As the film continues to add depth to the characters established in 2018's "Black Panther," the MCU works to introduce several new characters into the fold. That includes MIT student — and future Ironheart — Riri Williams (Dominique Thorne) and aquatic villain Namor (Tenoch Huerta).
By the end of the movie, Shuri has donned the role of Black Panther, and become the official protector of Wakanda. However, unlike her brother, she appears to opt out of becoming Wakanda's ruler — and recently, the actor behind M'Baku has confirmed what the end of the movie appeared to suggest about his new role.
The scene that makes M'Baku king is actually a throwback to the first Black Panther film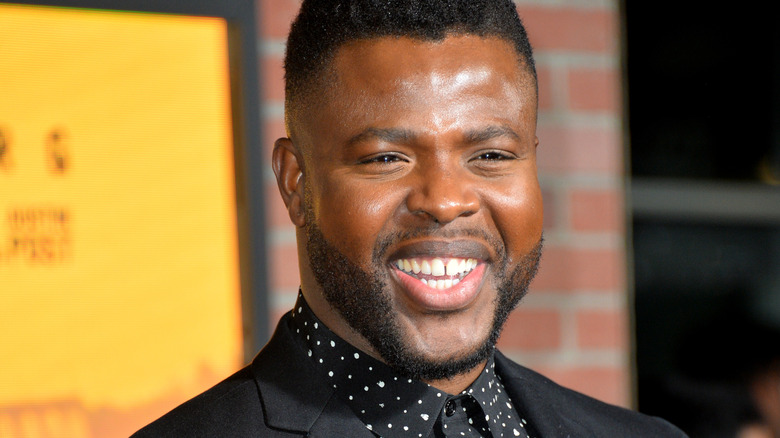 Featureflash Photo Agency/Shutterstock
While Shuri may be the new Black Panther, Winston Duke has confirmed that he is, in fact, the new king of Wakanda. "Yeah, it's kind of cool though being revealed as the king of Wakanda at the end of the movie," he recently told Esquire. M'Baku was first introduced in "Black Panther" as the leader of the Jabari Tribe who challenges T'Challa for the throne of Wakanda following the death of T'Challa's father T'Chaka (John Kani). However, T'Challa defeats M'Baku, replacing his father as king (he was already the Black Panther, which is a separate title, as seen in "Captain America: Civil War").
There is a callback to this duel at the end of "Black Panther: Wakanda Forever." The ceremony to make Shuri queen of Wakanda has begun, but Shuri is nowhere to be seen: In fact, she has decided to forsake the throne, and is instead seen visiting Nakia and meeting her nephew. So instead of Shuri arriving at Warrior Falls, the title of king instead appears to be up for claiming by M'Baku, with no visible challengers.
It is not clear whether or not Shuri knew that M'Baku would challenge her for the throne, or if she made an agreement with him in advance, but her absence at the ceremony should nonetheless be interpreted as a clear forfeit, making M'Baku the new king of Wakanda. Regardless, Duke called the moment huge. "So whatever that entails, that's gonna be a fun one," he teased.
Duke is planning the future of Wakanda and the Black Panther saga
So what does it take to be king of Wakanda? According to Winston Duke, it's all about putting others first. "I think any power of authority and leadership is gonna be defined by their willingness to think of the greater good for everyone, instead of their own personal needs and agendas," he told Esquire.
As Wakanda enters this new era, Duke noted that there are still more stories to tell in this part of the MCU. Of course, that could include his potential reign in Wakanda. While Duke said he would love to see at least four more movies in the Black Panther saga, he also brought up the idea of a possible spin-off for his character and the Jabari Tribe. "They are an entity unto themselves in the mountains," he said. "We did a lot of work to ground it in specifically Igbo culture... And I feel like if you got a spin-off, that we get to learn what things mean, and why, and why they're special, and dive into that culture, it would be something really special." 
"Black Panther: Wakanda Forever" is currently playing in theaters.