Indie Movies From 2022 That Should Be On Your Must-Watch List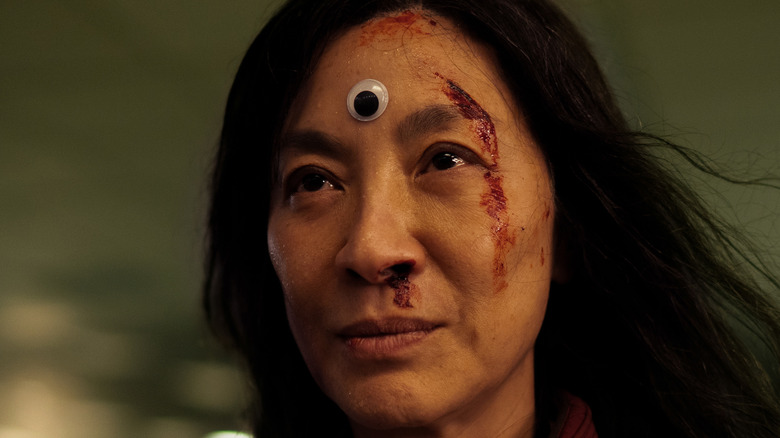 A24
After two years of pandemic-hobbled box office slumps, 2022 roared back with a number of sizable hits. The "Top Gun" sequel "Top Gun: Maverick" and the final entry in the "Jurassic World" trilogy, "Jurassic World: Dominion," both grossed over $1 billion worldwide. Increasingly-risky genres like musical biopics and non-IP-driven horror found financial success in the form of the Baz Luhrmann biopic "Elvis" and the low-budget nightmare fuel "Smile."
Although the box office trends may suggest otherwise, not all cinematic heroes wear capes. With a seemingly never-ending deluge of comic book and franchise movies elbowing each other at multiplexes and streamers each weekend, it could be easy to neglect some of the excellent indie fair 2022 delivered. From art-house auteur offerings like David Cronenberg's "Crimes of the Future" to provocative comedy like Lena Dunham's controversial "Sharp Stick" to surprise hits like "Everything Everywhere All At Once" and awards season players such as "Tár" and "Women Talking," here are a dozen indie movies from 2022 that deserve a spot on your must-watch list.
Aftersun
The atmospheric Charlotte Wells drama "Aftersun" is one of the most impressive, assured directorial debuts in recent years. The late 1990s-set film follows young single father Calum (an Oscar-worthy Paul Mescal) and his 11-year-old daughter Sophie (Frankie Corio) as they vacation at a resort in Turkey before she returns to school in Scotland, where she resides with her mother. Over the course of a few languid days of poolside lounging and local seaside excursions, Wells immerses the viewer into Calum and Sophie's loving but slightly fractured relationship, as Calum and Sophie reconnect.
"Aftersun" is cleverly bookended with a narrative framing device that finds Adult Sophie (Celia Rowlson-Hall) watching footage from the trip with her father on an old video camera, conjuring the sensation of stumbling upon someone else's time capsule. Adult Sophie tries to reach Calum in dream sequences set at a strobe-lit rave in a liminal space, but he is untenable. Wells amasses a heartbreaking, melancholy portrait of how memory fades by fusing past memories, the present, and an imagined dimension of time. "Aftersun" is so subtle and gentle that when it reaches its overwhelming, emotional final ten minutes, it will leave you floored.
Tár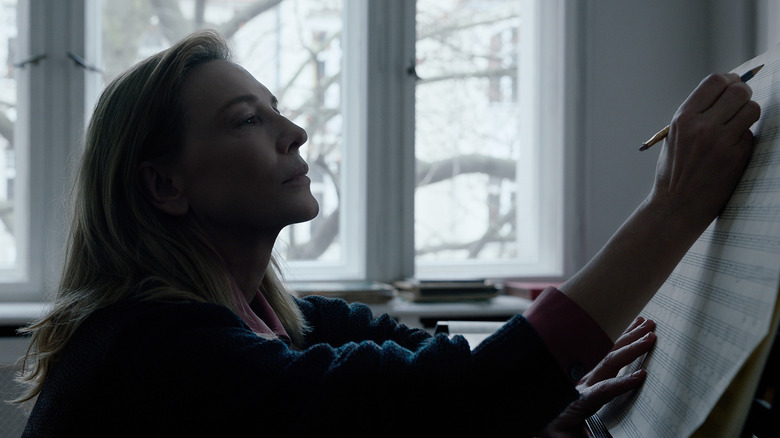 Focus Features
Set within the cutthroat, high-stakes field of international classical music, Todd Fields' "Tár" is a searing send-up of art, celebrity, and power — and how all three forces conspire to destroy one another. The film begins with the display of its full production credits, an acknowledgment of all the hands that collaborate to make a film and are often overshadowed.
Lydia Tár (Cate Blanchett in a career apex turn) is a powerhouse, the first female conductor of the Berlin Philharmonic, who is preparing to conduct a recording of composer Gustav Mahler's sprawling "Symphony No. 5." Lydia is ensconced in a world of privilege surrounded by people who enable her self-aggrandizing, narcissistic tendencies, including her doting assistant Francesca Lentini (Noémie Merlant) and devoted wife Sharon Goodnow (Nina Hoss). When allegations of past grooming and sexual misconduct surface, Lydia experiences a seismic reckoning that sends her career and reputation into free fall. "Tár" is one of the first films to tackle cancel culture in the post-#MeToo era, and it does so with an exacting opaqueness, leaving viewers to make their own deductions of Fields' intent.
If you or anyone you know has been a victim of sexual assault, help is available. Visit the Rape, Abuse & Incest National Network website or contact RAINN's National Helpline at 1-800-656-HOPE (4673).
Bones and All
The year's most surprisingly tender love story centers on the unlikeliest of couples: two young cannibals on the run in the 1980s American heartland. Luca Guadagnino's "Bones and All" follows Maren Yearly (Taylor Russell), abandoned by her father (André Holland) in Virginia after she succumbs to her cannibalistic desires and attacks a friend at a sleepover.
With no money or belongings to her name beyond her birth certificate, Maren boards a Greyhound bus headed west to track down her mother Janelle (Chloë Sevigny). Along her travels, she meets an older cannibal named Sully (Mark Rylance) and they feed together, but she is unsettled by his smothering behavior and continues on her journey. She later crosses paths with Lee (Timothée Chalamet), another cannibal on the run, who teaches her to accept her hunger for human flesh — and how to survive living on the outskirts of society. As they fall in love, Sully rears his ugly head, threatening to ruin everything for Maren. "Bones and All" is an electrifying film that is utterly uninhibited and unafraid to portray the graphic nature of cannibalism, but its depiction never feels sensationalistic. Guadagnino renders Maren and Lee's unnatural appetite, however vile, achingly human.
Women Talking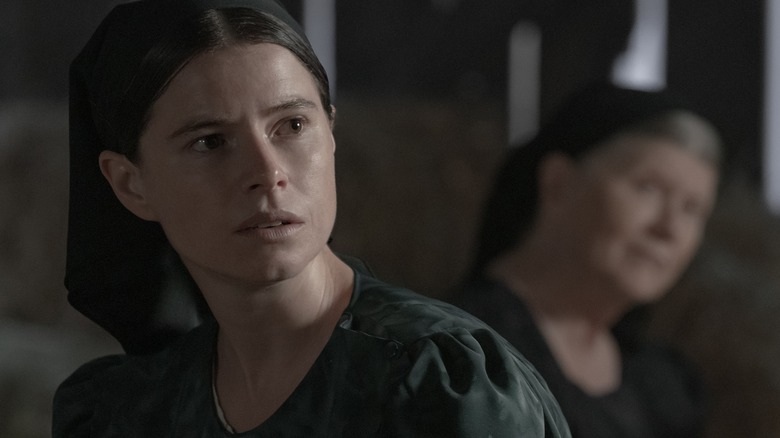 MGM
Boasting one of the strongest ensemble casts of the year, writer/director Sarah Polley's "Women Talking" is the harrowing tale of an outbreak of sexual abuse in an isolated patriarchal Mennonite community. The colony's female elders, Agata (Judith Ivey), Scarface Janz (Frances McDormand), and Greta (Sheila McCarthy) join their daughters Ona (Rooney Mara), Salome (Claire Foy) and Mariche (Jessie Buckley) to discuss how they will move forward.
Over an exhausting debate recorded on paper by August Epp (Ben Whishaw), the women try to determine if they should do nothing, take action and flee the colony, or stay and fight against the men who are harming the women. What may seem like an obvious decision to some poses a much more complicated question to others, as they must reconcile how their decision will impact their faith and the consequences awaiting them in the afterlife. Artfully directed with rich, empathetic writing, Polley's "Women Talking" is a soulful look at how a community of women relies upon the power of solidarity to grapple with unfathomable trauma, finding hope within the most dire of circumstances.
If you or anyone you know has been a victim of sexual assault, help is available. Visit the Rape, Abuse & Incest National Network website or contact RAINN's National Helpline at 1-800-656-HOPE (4673).
Sharp Stick
Twelve years after her directorial debut "Tiny Furniture" catapulted her to fame (and the launch of her zeitgeist-shaping, endlessly controversial HBO series "Girls"), writer/director Lena Dunham returns with her sophomore film "Sharp Stick." The offbeat coming-of-age comedy centers on sheltered 26-year-old Sarah Jo (Kristine Froseth), who lives in a cramped Hollywood apartment with her embittered mother Marilyn (Jennifer Jason Leigh) and sister Treina (Taylour Paige). Sarah Jo works as a caregiver and helps assist families of children with special needs, including husband and wife Heather (played by Dunham herself) and Josh (Jon Bernthal) and their son Zach (Liam Michel Saux), who has Down's Syndrome.
When flirtation between Sarah Jo and Josh leads to a sexual affair, Josh eventfully rebuffs and fires her in order to protect his marriage. But the physical experiences spark an awakening in Sarah Jo, who sets off to explore all the facets of her sexuality — by partaking in every sex act known to man. "Sharp Stick" is a challenging, divisive film, but those who appreciate the comedic brutality of filmmakers like Todd Solondz or Terry Zwigoff will find a similar bold, unapologetic vision here.
Barbarian
One of the year's biggest critical and commercial surprise hits was "Barbarian," comedian-turned-filmmaker Zach Cregger's first feature. Although the horror thriller was distributed by 20th Century Studios, it retains its indie credibility thanks to a $4.5 billion budget, which Cregger and his crew artfully stretched to the gills.
When Georgina Campbell (Tess Marshall) travels to Detroit for a job interview, she is dismayed to find that her Airbnb in a dodgy, run-down neighborhood is occupied by another tenant, Keith Toshko (Bill Skarsgård). Keith claims the house has been double booked on different homestay apps, so they agree to share the space. When Georgina explores the house alone, she discovers a dark, twisted secret in the basement.
Meanwhile, the house's owner, a Hollywood actor played by Justin Long, has recently been canceled for sexual misconduct with a co-star and fired from his job on a sitcom. With mounting legal fees on the horizon, AJ returns to Detroit to sell the house. "Barbarian" is equal parts eerie and unsettlingly amusing, rewarding the viewer who goes in unaware of its various twists and turns. It's a rollercoaster ride, for sure.
Everything Everywhere All At Once
Written and directed by creative partners Daniel Kwan and Daniel Scheinert, perhaps the year's biggest surprise indie hit is science fiction/action/adventure comedy (among many other genres) "Everything Everywhere All at Once." The absurdist film centers on Evelyn Quan Wang (Michelle Yeoh), an exhausted Chinese American immigrant who runs a fledging laundromat with her sweet, timid husband (Ke Huy Quan) and struggles to accept the queer sexuality of her daughter (Stephanie Hsu).
Evelyn's life is turned upside down when she learns the IRS is going to audit the laundromat, leaving her with no option other than to plead her case to an IRS inspector and ruthless bureaucrat played by Jamie Lee Curtis. But these become the least of Evelyn's worries when she is transported into a series of alternate universes, given the herculean task of saving all reality. "Everything Everywhere" is a frenetic, mind-bending trip with dazzling special effects and choreographed fight sequences. But the highlight is Evelyn and Joy's relationship and where they arrive in the madcap film's final, quieter scenes.
Crimes of the Future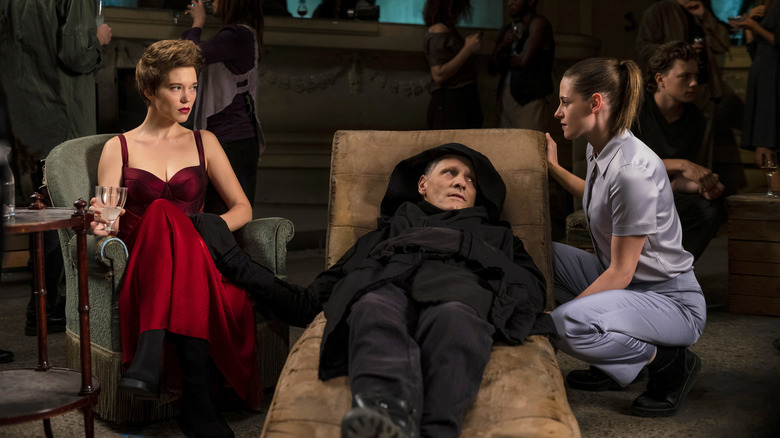 Neon
From the sci-fi metamorphosis of his "The Fly" remake to his nauseatingly repulsive "Videodrome," Canadian auteur David Cronenberg is the irrefutable master of body horror. After an early-'00s detour with such acclaimed films as "Eastern Promises" and "A History of Violence," his one-of-a-kind visual crown returns with pride in "Crimes of the Future," which finds him turning to an art world in the not-too-distant tomorrow. Here, artists have churned through so many sensationalist ideas that they have begun to render their own bodies as literal canvases.
The film centers on performance artist couple Saul Tenser (Cronenberg regular Viggo Mortensen) and Caprice (Léa Seydoux), who have attained international reverence for their daring live performances in which Caprice, or, sometimes a robot, conducts surgical procedures on Saul. Saul is plagued with a rare condition called Accelerated Evolution Syndrome, which gives him the ability to grow new organs but keeps him in a constant state of immense pain. Saul and Caprice's career is jeopardized when a National Organ Registry investigator named Timlin (Kristen Stewart) takes an obsessive interest in their work.
The graphic surgical scenes are nightmare-inducing, and the futuristic tone of "Crimes of the Future" may not be for everyone. But Cronenberg's willingness to really go there, then take a few more steps over the line, is audacious and commendable.
Jethica
Directed by Pete Ohs, the atmospheric thriller "Jethica" is a frighteningly original, darkly comedic take on the zombie genre. Elena (Callie Hernandez) lives in her late grandmother's home, leading a solitary existence in an austere, rural New Mexico town where the only human interaction is with lowly vagabond Benny (Andy Faulkner).
Some excitement finally arrives in Elena's life when she runs into old acquaintance Jessica (Ashley Denise Robinson), back in town from Los Angeles and hiding out from her stalker Kevin (Will Madden). Jessica is so upset that Elena offers to let her hide out at her grandmother's house while she plots her next move. To Jessica and Elena's dismay, Kevin has clandestinely followed Jessica ever since she left California and tracks her down to the house belonging to Elena's grandmother. The two women are even more unsettled when they discover that Kevin (who has a lisp) is only able to say "Jethica" and demonstrates supernatural zombie-like behavior. As grim as the premise may seem, "Jethica" never takes itself too seriously, gleefully toying with horror touchstones while maintaining an artistic aesthetic.
Bodies, Bodies, Bodies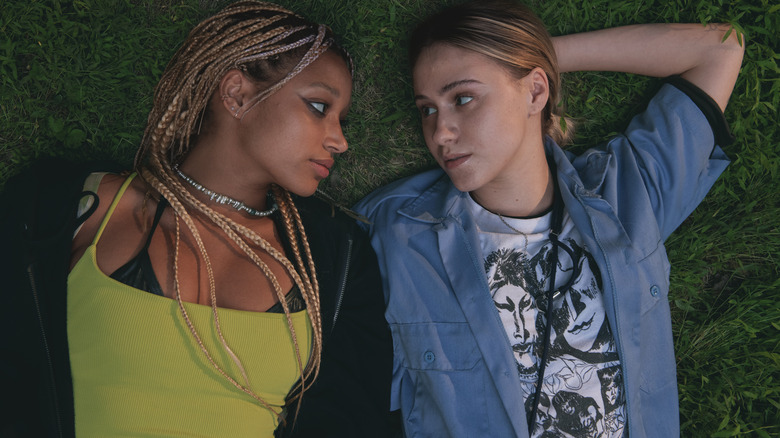 A24
Halina Reijn's comedic horror flick was a wickedly gory surprise when it premiered at the 2022 South by Southwest Film Festival. The slasher film follows shy Bee (Maria Bakalova) as she accompanies her wealthy girlfriend Sophie (Amandla Stenberg) on a trip to her friend David's (Pete Davidson) ornate family estate for a party as a strong hurricane approaches. 
They are joined by David's girlfriend (Chase Sui Wonders) and Sophie's childhood friends (Myha'la Herrold and a scene-stealing Rachel Sennott), plus Alice's older new boyfriend (Lee Pace). As the storm forces this motley crew to shelter in place, turning to drugs, booze, and a party game called "Bodies, Bodies, Bodies" — a twist on a murder mystery — the game starts to yield real blood. It all descends into madness, pitting lifelong friends against one another to survive.
With hyper-specific comedic takedowns on cancel culture, privilege, podcasting, and TikTok, "Bodies, Bodies, Bodies" could not be more 2022; seek it out and enjoy while you can before the jokes inevitably age.
Causeway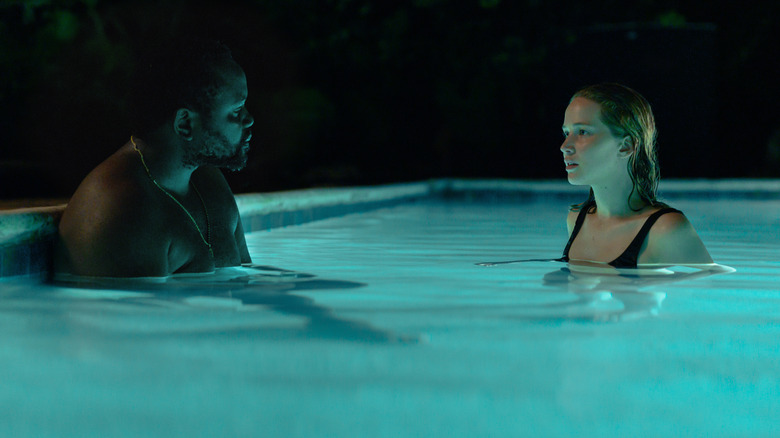 A24
Lila Neugebauer's understated drama "Causeway" marks a return to indie form for Jennifer Lawrence, who stars as a U.S. soldier recently returned to the United States after a tour in Afghanistan. While overseas, her character suffered a traumatic brain injury that requires her to undergo intensive therapy to regain her physical and mental faculties, initially monitored by a caregiver (played by Jayne Houdyshell).
Eventually, Lawrence's Lynsey is transferred home to New Orleans where she moves in with her estranged mother (Linda Emond), but their reunion dredges up past conflicts. She finds purpose by working a pool cleaning job and befriending a car mechanic named James (Brian Tyree Henry), with whom she develops a touching friendship based on their mutual struggles with grief and trauma. 
Following a series of bombastic performances in films like "Silver Linings Playbook," "American Hustle," and "Don't Look Up," it's refreshing to once again see Lawrence return to the subdued, introspective acting exhibited in her breakthrough performance, "Winter's Bone." She and Henry share an effortlessly lived-in chemistry that makes "Causeway" worth seeing.
A Love Song
Written and directed by Max Walker-Silverman, the sparse drama "A Love Song" shines a spotlight on two widowed, middle-aged friends, Faye (Dale Dickey) and Lito (Wes Studi), who reconnect after not having seen each other in decades.
Both Faye and Lito have led nomadic lifestyles in the years they have spent apart, finding solace by traveling and reconnecting with nature after losing their significant others. As Faye waits for Lito to join her at a campground in Colorado, she spends the time birdwatching during the day, then star-gazing at night. When Lito finally arrives, the two old friends catch up, play music together, and bicker about old feelings and missed opportunities. The film's plot is paper thin, which is all it needs to be, as this is an acting showcase first and foremost. 
Seeing characters like Faye and Lito center stage is so rare in a romance, and Walker-Silverman's delicate, observational approach to their reconnection is nothing short of poetic. A quiet, simple love story set against the visually arresting Colorado Mountains, "A Love Song" is a rustic hidden gem.