12 Great Movies Like Bones And All To Watch Next
Warning: The following article includes descriptions of graphic violence.
Luca Guadagnino's "Bones and All," a love story about two cannibals on the run in 1980s America's heartland, is as beautiful as it is grotesque.18-year-old high school student Maren Yearly's (Taylor Russell) life unravels when she succumbs to her cannibalistic desires at a sleepover and bites her friend's finger off. Her single father Frank Yearly (André Holland) gathers their spare belongings, and they skip town before the police can find them. Maren's cannibalism has obviously forced them to upend their lives before, but this time, Frank abandons her, leaving her to fend for herself with nothing but her birth certificate.
Maren sets out on the road to track down her estranged mother Janelle Kearns (Chloë Sevigny), attracting the attention of a disturbing older cannibal Sully (Mark Rylance). When Sully grows possessive over Maren after they feed together, she flees and continues on, crossing paths with Lee (Timothée Chalamet), another young cannibal. Lee accompanies Maren on her journey and they fall in love while trying to find their place on the fringes of society.
Adapted from Camille DeAngelis' young adult novel of the same name, "Bones and All" is virtually peerless, as it effortlessly blends gruesome horror, heartbreaking romance, and the blackest of comedy. But here are 12 more great movies like Luca Guadagnino's film to watch next. Warning: spoilers ahead.
Badlands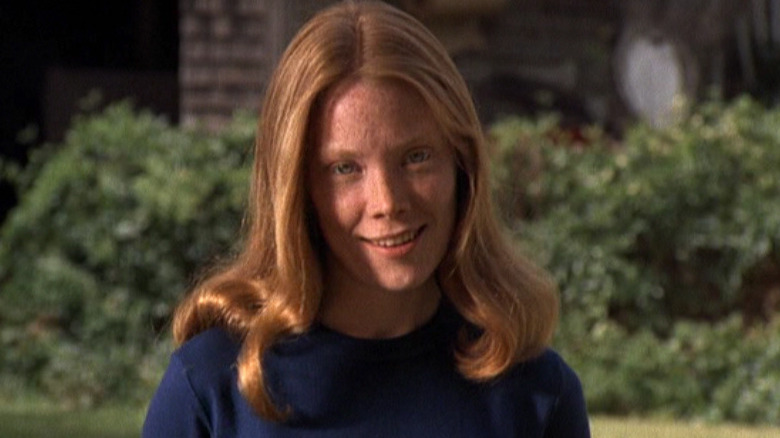 Warner Bros.
Prior to the finger incident, it had been years since Maren attacked another human to feed. But her experiences with seasoned veteran cannibals Sully and Lee embolden her to make herself culpable in various murders. The same sort of indoctrination unfolds in Terrence Malick's "Badlands," a period crime drama inspired by the true murder spree committed by Charles Starkweather and his younger girlfriend Caril Ann Fugate between Nebraska and Wyoming in 1957 and 1958.
15-year-old Holly Sargis (Sissy Spacek) lives with her father (Warren Oates) in a sleepy town in 1950s North Dakota where she yearns for excitement. Her prayers are answered when she meets rebellious trash collector and James Dean lookalike Kit Carruthers (Martin Sheen), who seduces her, much to the chagrin of her father. When Holly's father punishes her for being in a relationship with an older man, Kit murders him and takes Holly on the road, making her an accomplice to all the murders he commits. Maren and Holly both share a distinct naiveté that makes them fall prey to lonely older men like Sully and Kit, but while Maren ultimately takes control of her life, Holly is never afforded such agency.
Titane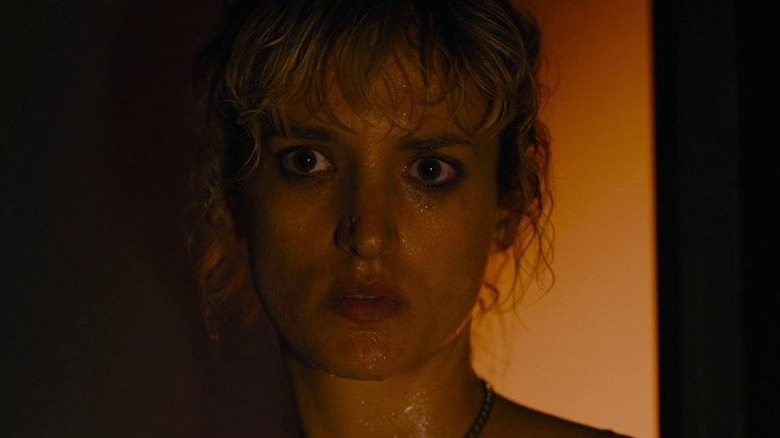 Neon
While "Bones and All" tackles the taboo subject of cannibalism, Julia Ducournau's Palme d'Or-winning body horror thriller "Titane" ups the provocative ante and explores sexual relations between humans and automobiles. As a child, Alexia was in a terrible car accident as a child that fractured her skull, leaving doctors to implant a titanium plate in her head. Now all grown up, Alexia (Agathe Rousselle) lives with her parents and works as a dancer and performer at an auto show, but she has a dark secret: She is a serial killer who has sex with cars.
When she discovers she is pregnant with something that is making her leak motor oil, she goes on a murder spree, eventually killing her parents. To avoid arrest, she poses as Adrien Legrand, a young boy who disappeared a decade prior, and turns herself in to the police. Alexia, now Adrien, moves home with "father" Vincent (Vincent Lindon) where she struggles to conceal her increasingly apparent pregnancy, but finds a surprising new home with the man she deceives. Like Luca Guadagnino with Maren and Lee, Ducournau finds humanity in Alexia, despite her heinous actions.
My Own Private Idaho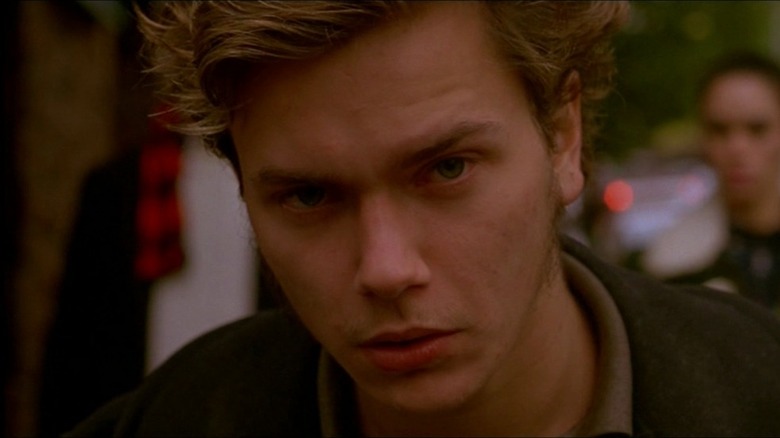 Fine Line Features
After attacking her friend at the sleepover, Maren is perfectly comfortable starting over in another town with her father. She has grown accustomed to their nomadic lifestyle. It is not until her father abandons her and leaves her with a copy of her birth certificate that she sets out on her journey to find her mother.
Michael "Mikey" Waters (River Phoenix), the sex worker protagonist of Gus Van Sant's "My Own Private Idaho" also wages a quest to track down his mother. It is unclear as to what both Maren and Mikey want from their estranged mothers beyond comfort. But by giving themselves permission to find out, they imbue their adventures with an emotional resonance beyond sheer curiosity and a chance to explore their own identities. Mikey is accompanied by a fellow sex worker, the self-imposed disenfranchised son of Portland mayor Scott Favor (Keanu Reeves), whom he has strong feelings for. Mikey's unrequited love for Scott and his severe narcolepsy thwart his object much in the way that Maren's cannibalism prohibits her from ever living a normal life.
Pierrot le Fou
Ferdinand "Pierrot" Griffon (Jean-Paul Belmondo) is miserable in his stagnant lifestyle, his passionless marriage with Maria Griffon (Graziella Galvani), and their bourgeoisie Parisian social sphere. When he falls in love with his children's babysitter, Marianne Renoir (Anna Karina), they decide to upend their lives and take to the road to head to the south of France. What starts out as romantic self-imposed exile quickly proves dangerous, as the aloof Marianne has a checkered past with mobsters from a far-right paramilitary group chasing her tail. Ferdinand and Marianne evade the police and the mob, going on a crime spree until they reach the French Riviera.
"Bones and All" is a cinematic sibling of Jean Godard's classic French New Wave film "Pierrot le Fou," from both a narrative and, especially, aesthetic standpoint. Godard adorns "Pierrot le Fou" with experimental flourishes to express the runaway lovers' emotional states, including spontaneous musical sequences and fourth-wall-breaking direct address. Although Maren and Lee find a semblance of peace living away from everyone they know in Michigan, the more time Marianne and Ferdinand spend together, the further they grow apart.
The Killing of a Sacred Deer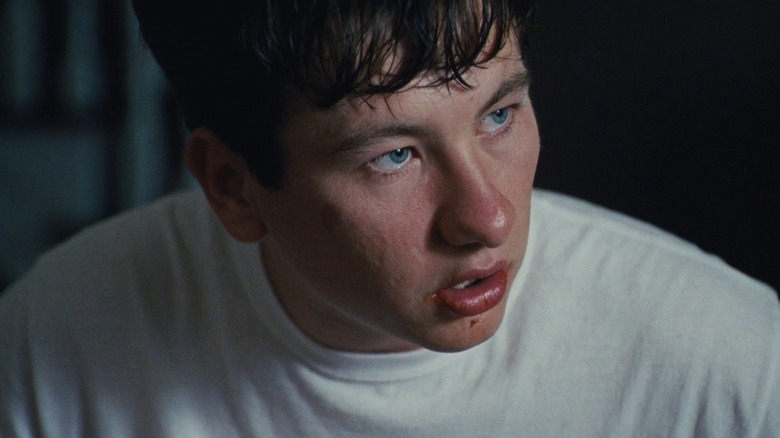 Curzon Artificial Eye
One of the most impressive achievements of "Bones and All" is how Luca Guadagnino infuses a palpable sense of dread within every frame of the film. Once Maren abandons Sully after they feed together early on in her trek, Maren seems doomed by fate to face karmic retribution. The same foreboding sense of tragic inevitability infects Yorgos Lanthimos's chilling medical horror drama "The Killing of a Sacred Deer."
Steven Murphy (Colin Farrell) is a successful cardiothoracic surgeon living in suburban Ohio with his wife Anna (Nicole Kidman), daughter Kim (Raffey Cassidy), and son Bob (Sunny Suljic). The Murphy family leads a peaceful existence until Steven starts to help a wayward young man, Martin (Barry Keoghan), who is struggling with the death of his father. Martin integrates himself into the Murphy family's lives in increasingly insidious methods, eventually revealing to Steven that he was the surgeon who operated on his father and was unable to save his life following a car accident. As revenge, Martin instructs Steven to kill a member of his own family, or Anna, Kim, and Bob will all fall ill and die. Steven ignores Martin's orders, but the strange prophecy begins to take shape and one by one the Murphy family becomes afflicted by undiagnosable ailments.
Raw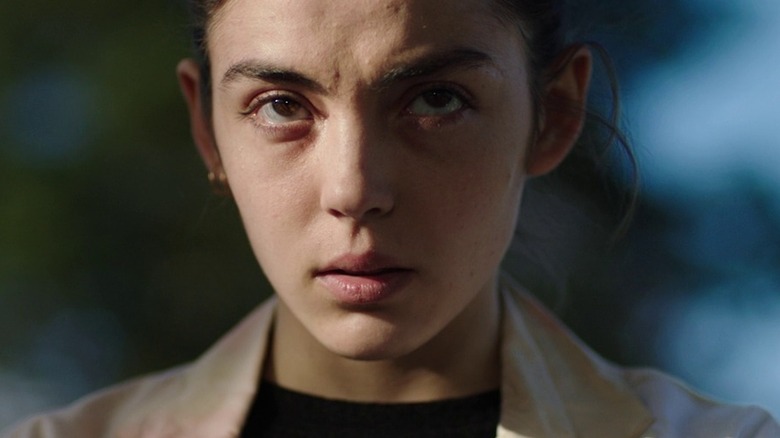 Wild Bunch/Focus World
One of the most interesting elements we learn about Maren's cannibalism is that it was an inherited trait from her mother. Julia Ducournau also explores the hereditary potential of cannibalism in her shocking horror film "Raw," which follows devout vegetarian Justine (Garance Marillier) as she navigates her first year at a prestigious veterinary school. Justine's older sister Alexia (Ella Rumpf) also attends the same school and their mother (Joana Preiss) and father (Laurent Lucas) are proud alumni.
When Justine is forced to eat a rabbit kidney as part of a freshman hazing ritual, she suffers intense food poisoning and awakens a ravenous hunger for meat. She is initially mortified to violate the vegetarian practices she abided by her entire life, but her cravings prove insatiable and she begins eating raw chicken. When Alexia accidentally cuts off her finger and faints, Justine starts to eat it but is caught by Alexia as she regains consciousness. Alexia shows Justine that she is more than okay with her sister's peculiar hunger when she takes her to a remote area where she distracts a driver, prompting them to crash their car. To Justine's horror, Alexia then precedes to eat the dead passengers. Later, Justine learns from her father that her mother has a history of cannibalism too.
Call Me By Your Name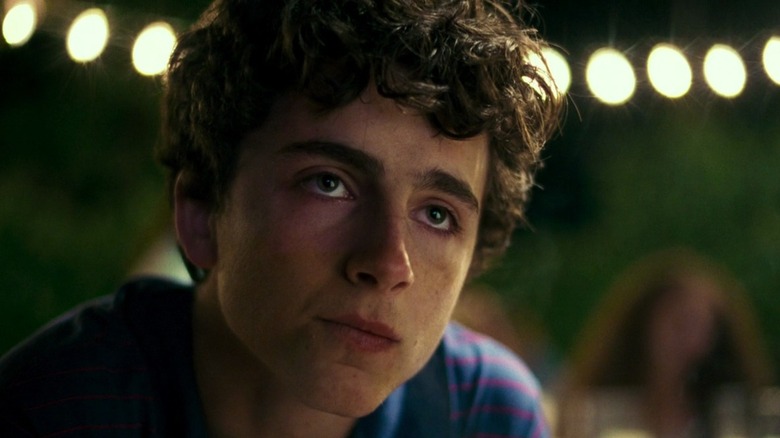 Sony Pictures Classic
Based on André Aciman's novel of the same name, "Call Me By Your Name" is the story of teenage Elio Perlman (Oscar nominee Timothée Chalamet) and his summer of 1983 at his family's home in Northern Italy. Elio's tranquil vacation is disrupted by the arrival of American doctoral student Oliver (Armie Hammer) who works as an intern for his academic father Mr. Perlman (Michael Stuhlbarg). Over the course of lost moments of desire and sexually charged flirtation, a romance between Elio and Oliver blooms. But it is too late for Elio, as Oliver is set to return to the United States.
Although Guadagnino's "Bones and All" and his Oscar-winning romantic drama "Call Me By Your Name" may seem diametrically opposed in terms of story and tone, they share a commonality in their portrayal of first love. Cannibal or not, it is brutal. Like Maren and Lee, Elio and Oliver grow closer in their shared surroundings, united by the attributes that make them societal outsiders — for "Call Me By Your Name," homosexuality in the pre-AIDS Regan era 1980s. In both films, Guadagnino makes each couple feel like they exist in their own little universe.
Dogtooth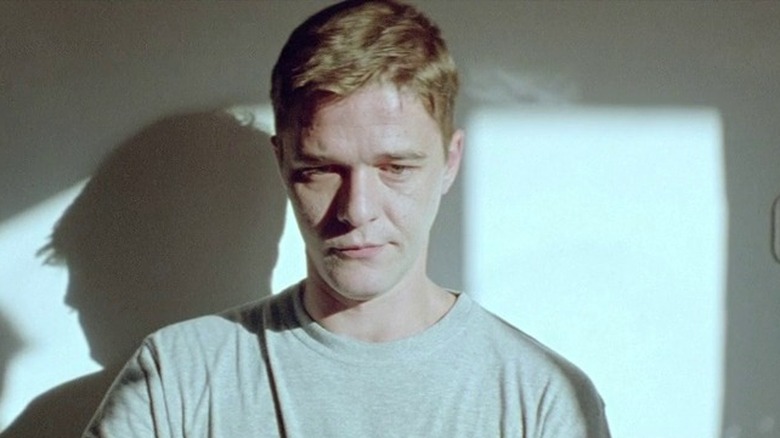 Feelgood Entertainment
When Maren and Lee hit the road together, he shows her the ropes on how to exist in an off-the-grid cannibalistic society. Although they traffic supermarkets, diners, and carnivals among non-feeders, Maren and Lee seem to exist on a different plane. Greek auteur Yorgos Lanthimos explores a similar thematic dynamic in his Oscar-nominated black comedy "Dogtooth," which centers on Father (Christos Stergioglou) and Mother (Michelle Valley), who raise their adult children — Older Daughter (Angeliki Papoulia), Younger Daughter (Mary Tsoni), and Son (Christos Passalis) — in captivity.
The parents gaslight the children into thinking innocuous things such as a stray cat pose a grave danger to their safety and the children believe them wholeheartedly, as they have lived their entire lives on the family's compound property with no knowledge of the outside world. But when the sex worker Christina (Anna Kalaitzidou) whom Father hires to stimulate the Son begins to corrupt the daughters with items from the outside, chaos infects the family and all chaos breaks loose. The central characters of "Dogtooth" and "Bones in All" operate in their own dimensions, rendered with commanding vision by Lanthimos and Luca Guadagnino.
Midnight Cowboy
Adapted from James Leo Herlihy's novel of the same title, John Schlesinger's best picture Oscar-winning drama "Midnight Cowboy" is a tragic meditation on loneliness. When Joe Buck (Oscar nominee Jon Voight) quits his job washing dishes in a Texas restaurant, he moves up north to New York City with hopes of becoming a successful sex worker. Now a small fish in a big pond, Joe is seduced by the bustle and romantic grandeur of the city but he struggles to gain traction while hustling on the streets until he meets Enrico Salvatore "Ratso" Rizzo (Oscar nominee Dustin Hoffman).
Ratso becomes Joe's mentor of sorts, managing his sex work career and letting him move in with him in the condemned apartment where he squats. Like Lee and Maren, Ratso and Joe are two lost souls who stumble upon a loving bond — romantic for the former, more friendship for the latter. Even as Joe's life spiral into bleak hopelessness and Ratso's health rapidly deteriorates, their kinship keeps them motivated to make good on their shared dream of moving to Florida.
No Country for Old Men
Joel and Ethan Coen's "No Country for Old Men" shares much in common with "Bones and All" — from its '80s period placement to its bleak nihilism — but the most pronounced similarity can be found in each film's central villain.
The Coen brothers' best picture Oscar-winning western follows Llewelyn Moss (Josh Brolin) as he happens upon two million dollars left behind in a briefcase when a drug deal goes awry. Llewelyn is forced to go on the run when he is pursued by a sociopathic hitman Anton Chigurh (Oscar-winner Javier Bardem), who has been hired to retrieve the stolen money. Like Sully in his dogged pursuit of Maren, Anton is practically a heat-seeking missile. He is so ruthless in his determination to hunt down Llewelyn and deploy brutal violence whenever anyone interferes with his mission that he comes off as supernatural — a harbinger of death. In the same way that Maren is incapable of evading Sully or her cannibalistic impulses, Anton forces Llewelyn to play a thrilling game of cat-and-mouse until the film arrives at its enigmatic ending.
The House that Jack Built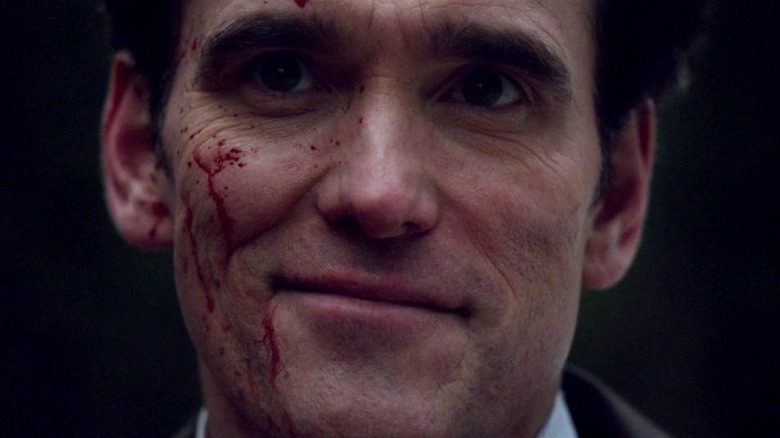 TrustNordisk/Les films du losange
Early on in her travels, Maren naively declares that she does not want to hurt anyone. Lee finds this amusing, responding, "famous last words." He knows that hurting people is essential to their survival as cannibals. In Lars Von Trier's "The House That Jack Built," troubled sociopath Jack (Matt Dillon) is similarly bound to his compulsion to kill. The Danish auteur is no stranger to brutal storytelling and controversy and this may be the most merciless film in his oeuvre.
After a failed career in architecture, troubled sociopath Jack indulges in his violent fantasies by going on a killing spree in 1980s Washington state. "The House That Jack Built" is divided into five segments narrated by Jack in the afterlife as he recounts each of his grisly murders to a man named Verge (Bruno Ganz), who is leading him through the nine circles of Hell. Jack describes his murders as an art project, detailing his evolution as a killer who initially slays in retaliation when "Lady 1" (Uma Thurman) berates him for being weak, but his motivation grows indiscernible and random. Just like Maren and Lee cannot help but feed, Jack is only able to stop killing when he finds himself in Hell.
Only Lovers Left Alive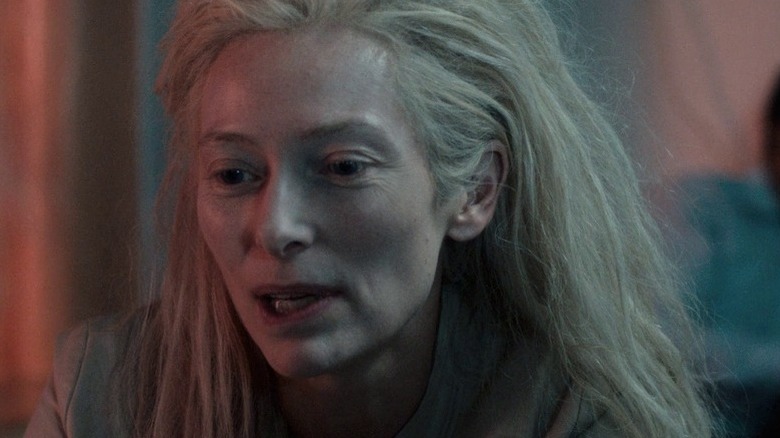 Soda Pictures
Jim Jarmusch's fantasy drama "Only Lovers Left Alive" is a surprisingly tender, soulful portrayal of married vampires Adam (Tom Hiddleston) and Eve (Tilda Swinton) living across the world from one another in Detroit and Tangier, respectively. Most films about vampires tend to characterize them as ruthless, blood-hungry hedonists. But Adam and Eve are worldly intellectuals and voracious consumers of music and literature who mindfully procure their "food" from blood banks that specialize in fluids siphoned before the 21st century. Jarmusch pays particular attention to Adam's waning mental health and suicidal thoughts, which drives Eve to travel to Detroit to try and bring him back from the brink.
Luca Guadagnino treats Maren and Lee with similar decency, delving into the complex emotional undercurrents coursing below their ghastly behavior. Like Sully in "Bones and All," Adam and Eve's reunion is complicated by the arrival of Eve's sister Ava (Mia Wasikowska) in Detroit, whose presence sows chaos for everyone. By tapping into their monsters' psychological interiors, Guadagnino and Jarmusch create dimensional characters that feel like outliers in their individual genres.
If you or anyone you know is having suicidal thoughts, please call the National Suicide Prevention Lifeline​ by dialing 988 or by calling 1-800-273-TALK (8255)​.
If you or someone you know needs help with mental health, please contact the Crisis Text Line by texting HOME to 741741, call the National Alliance on Mental Illness helpline at 1-800-950-NAMI (6264), or visit the National Institute of Mental Health website.