COVID-19 Gave Glass Onion A Unique Way To Define The Characters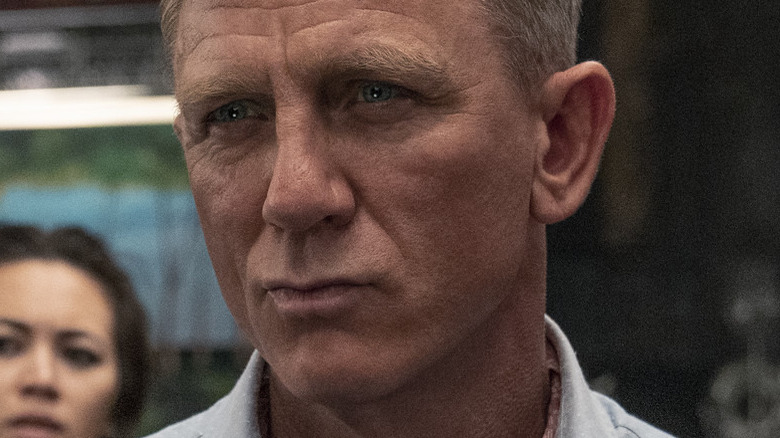 John Wilson/Netflix
Director Rian Johnson's "Knives Out" was a breath of fresh air when it debuted in 2019, a new twist on the classic whodunnit featuring a cavalcade of talented actors and led by Daniel Craig as detective extraordinaire Benoit Blanc. Not only was the film a tightly told mystery in the vein of Agatha Christie, it spoke directly to its politically fraught time. The protagonist of the film is an undocumented migrant played by Ana de Armas, who finds herself entrusted with the fortunes of a wealthy white family, themselves a gaggle of do-nothing dilettantes more than eager to throw their foreign housemaid under the bus in order to hold onto their unearned riches.
Now, Johnson returns with a sequel, "Glass Onion: A Knives Out Mystery." This time around, Craig's Benoit Blanc is joined by Kate Hudson as Birdie Jay, Edward Norton as Miles Bron, Kathryn Hahn as Claire Debella, Leslie Odom Jr. as Lionel Toussaint, and singer Janelle Monáe as Cassandra Brand, among others. "Glass Onion" is seeing a one-week limited theatrical release beginning November 23 before debuting on Netflix December 23.
Like its predecessor, "Glass Onion" purports to address timely issues. Only three years after "Knives Out" was released, the world has changed irrevocably thanks to the COVID-19 pandemic, giving Johnson a trove of new issues to address. According to both Johnson and his cast, the film will tackle the pandemic era with gusto. And in a new round table interview, "Glass Onion" actor Kate Hudson revealed one unique way the film uses the trappings of pandemic-era life to define its characters.
The way Glass Onion's characters wear their masks says a lot about them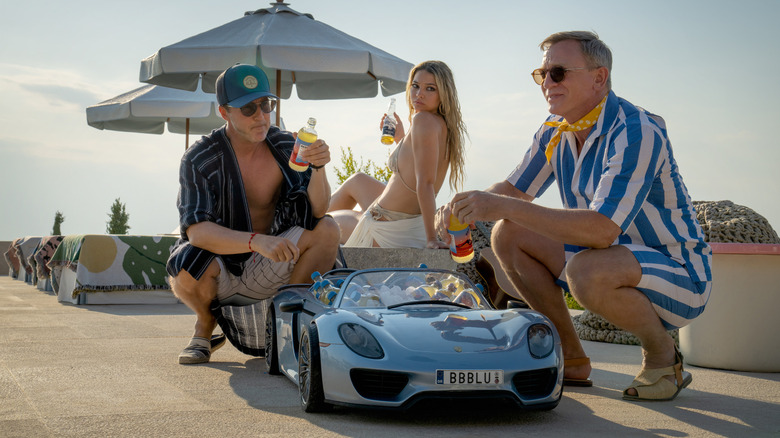 John Wilson/Netflix
Speaking to Entertainment Weekly, "Glass Onion" actor Kate Hudson revealed that the way each of the film's characters chooses to wear their COVID-19 masks says a lot about their personalities. Throughout the global pandemic, masking has become a cultural and political flashpoint, with some refusing to mask up and others doing so even without a government mandate. Along with the prominence of masks came a set of judgmental opinions based on how people choose to wear them. Personal and political beliefs are often projected onto anyone eschewing a mask, while the opposite is assumed of someone who wears their mask vigilantly. Which values are projected onto someone's masking presentation depends entirely on the beliefs of the person doing the projecting.
According to Hudson, this dynamic became a useful shorthand to define the characters of "Glass Onion," who, much like those of the original "Knives Out," fall out at different points across the political spectrum. Said Hudson, "The great reference in this is how we all wear masks. You got Lionel [the scientist] showing up double-masked. I'm showing up with, like, a lace or mesh mask. Claire is showing up with it hanging down like a chin strap. Benoit Blanc has a very chic and tight mask."
Few films have yet addressed the horrors of the COVID-19 pandemic explicitly. Perhaps the most potent offering so far has been Steven Soderbergh's "Kimi," a "Rear Window"-style thriller defined by the claustrophobia of lockdowns. Furthermore, many projects have been inspired by the pandemic, even if not addressing it directly, with the most prominent examples being "The White Lotus" and "Only Murders in the Building," both of which were designed to be shot around Hollywood's COVID-19 safety protocols. But "Glass Onion" may yet be the defining movie of these strange times.