12 Clever Whodunnits Like Glass Onion That Fans Should Check Out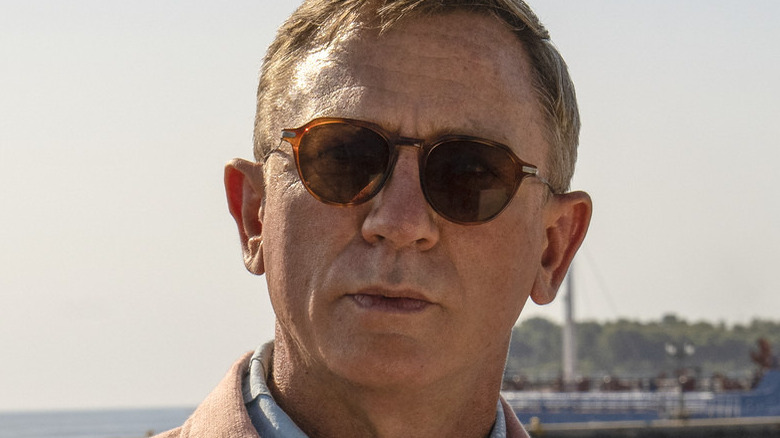 John Wilson/Netflix
Gentleman detective Benoit Blanc is back in action this holiday season. Writer-director Rian Johnson and star Daniel Craig have reunited for "Glass Onion," the first of two announced sequels to their 2019 smash hit mystery "Knives Out," with Craig's dapper southern-fried investigator once again surrounded by an all-star cast of suspects. But where "Knives Out" took place amongst the bickering heirs of a New England mystery writer, "Glass Onion" sends Blanc to the sun-baked shores of Greece, where the new tycoons of the 21st century — tech moguls and influencers played by Edward Norton, Janelle Monáe, Kathryn Hahn, and more — prove that they have the same murderous intent as their old-money counterparts, and the same ego that makes them think they can get away with it.
Johnson's Benoit Blanc series is both a loving send-up of the Agatha Christie-style cozy murder mystery and an extremely clever execution of the same. The Hollywood whodunnit is a sturdy, versatile genre; it can be funny, thrilling, clever, biting — or all of the above, just as long as you have a dead body, a gaggle of suspects, and a dedicated detective. Here are 12 mysteries for fans of "Glass Onion" to check out next, everything from classics of the genre to brand new hit releases. And not to worry: No killers will be revealed here.
Clue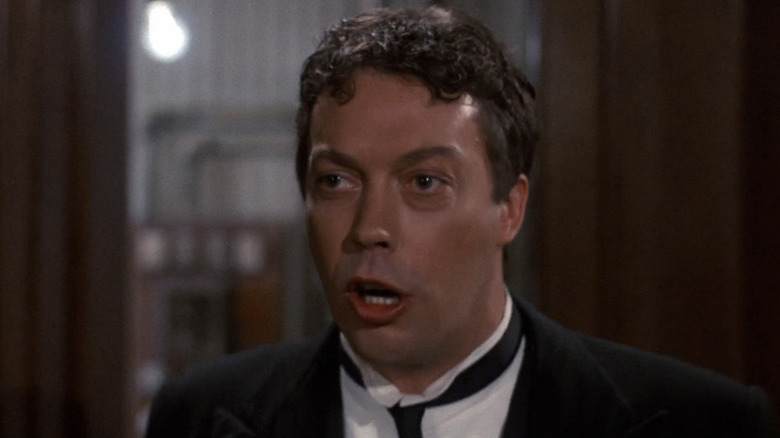 Paramount Pictures
Jonathan Lynn's "Clue," an adaptation of the classic board game, was not terribly well reviewed or attended when it was released in theaters in 1985. But like many underappreciated comedies, the film found a second life on home video and cable TV over the decades, and even a third life on stage; a 2020 theatrical version written by Sandy Rustin was one of the most produced American plays of 2022 (per American Theatre). Set in the 1950s, the film follows a colorful cast of characters at a formal dinner hosted by the obnoxious Mr. Boddy (Lee Ving). But when Boddy ends up dead — seemingly twice — everyone must figure out who killed him, where, and with what weapon.
The cast is a murderer's row (so to speak) of comic talent, including Christopher Lloyd as Professor Plum, Michael McKean as Mr. Green, the great Madeline Kahn as Mrs. White, and Tim Curry as Wadsworth, Mr. Boddy's butler, who acts as a kind of surrogate for the players of the game, moving the pieces along toward a shocking conclusion. Or rather, three shocking conclusions; when the film was released in theaters, each print had one of three different endings, in an effort to mimic the experience of playing the game and to get audiences to see it multiple times. When it was released on home video, all three endings were presented together (via Polygon).
Confess, Fletch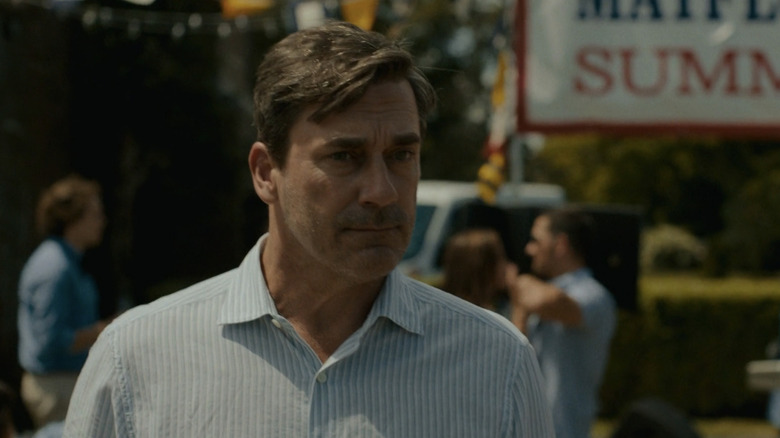 Miramax
Gregory McDonald's bestselling Fletch novels, about an investigative journalist with multiple aliases who finds himself in one life-threatening mystery after another, have had a long journey to the silver screen. After a pair of adaptations in the 1980s starring Chevy Chase (one beloved, the other less so), the franchise spent decades cycling through different directors and stars. At one time or another, Ben Affleck, Jason Lee, Zach Braff, and Ryan Reynolds were all on the hook to play Fletch in projects that never panned out (via Entertainment Weekly). Finally, in 2022 Miramax released "Confess, Fletch," directed by Greg Mattola and starring Jon Hamm in the title role. Despite earning solid reviews, the film was poorly marketed and only given a cursory theatrical release before premiering on Showtime in November (via Uproxx).
Hamm plays an older (but not wiser) Fletch, navigating a 21st century media landscape that has devalued his brand of journalism; he makes more money these days writing about art history for in-flight magazines. A zippy prologue featuring Fletch tooling around Rome on a Vespa ends up being something of a red herring, as most of the film takes place in the tiny Boston neighborhoods of Back Bay and South End, where he deals with three mysteries at once. There's the theft of priceless artworks from the father of his beautiful Italian girlfriend (Lorenza Izzo), the kidnapping and ransom of said father, and the murder of a young woman in the townhouse that he's renting. Could it be that someone wants Fletch out of the picture and is willing to kill for that to happen?
Death on the Nile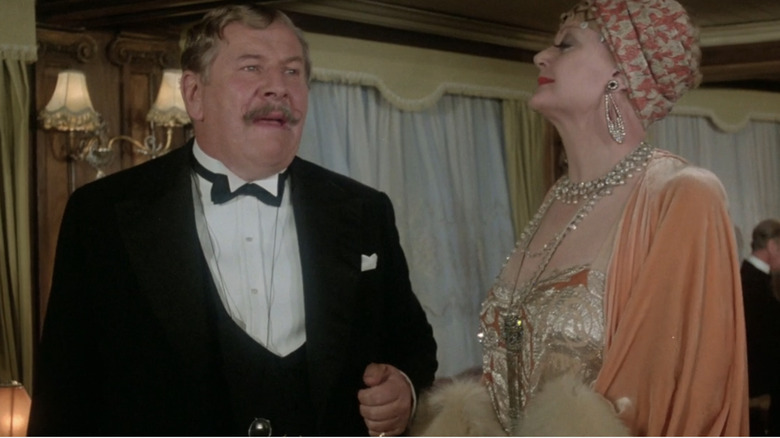 Paramount Pictures
Though the murder mystery genre as we know it has existed since at least Edgar Allan Poe, its most influential author is arguably Dame Agatha Christie, whose novels and short stories introduced the world to unconventional detectives like Hercule Poirot and Miss Marple, and have fueled film and television adaptations for decades. "Glass Onion" is clearly indebted to Christie's work, and with its eccentric cast of characters and Mediterranean locale, its main influence is her 1937 novel "Death on the Nile," which has been adapted for film twice: a troubled 2022 production by Kenneth Branagh, and a much more successful version from 1978.
British actor Peter Ustinov dons the moustache and Belgian accent of Poirot, whose Egyptian riverboat vacation is interrupted by the murder of a wealthy young bride. He took the role over for Albert Finney, who had starred in Sidney Lumet's 1974 adaptation of "Murder on the Orient Express." Like that previous film, this is a star-studded affair, with nearly every speaking role filled by a famous face from either Old Hollywood (David Niven, Jack Warden, Bette Davis) or New (Olivia Hussey, Mia Farrow, Lois Chiles). Ustinov would come to be closely associated with the role, playing Poirot several more times on film and TV for the next decade.
Game Night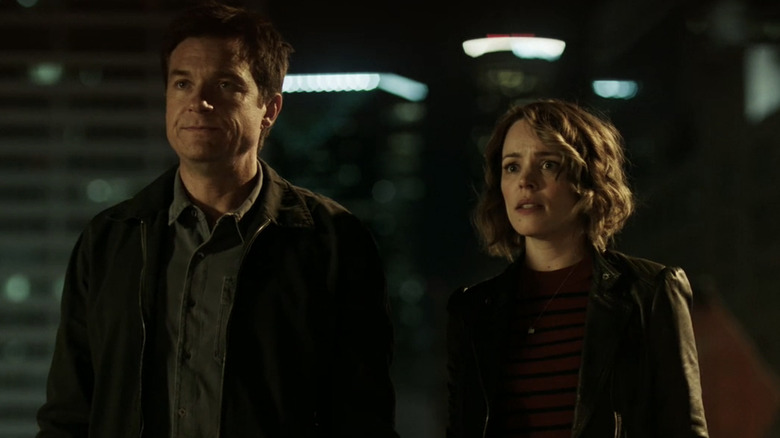 Warner Bros.
There is often a competitive angle to murder mysteries, whether it's the killer trying to outsmart the detective, the reader/viewer trying to figure out who the killer is before the big reveal, or the author trying to keep one step ahead of everyone. That competition is taken to its natural conclusion in the 2018 black comedy "Game Night." Max (Jason Bateman) and Annie (Rachel McAdams) are a fiercely competitive couple whose game nights are the envy of their friends and neighbors. But when Max's high-roller older brother Brooks (Kyle Chandler) invites them to an interactive role-playing competition with a Corvette as the grand prize, they may be in over their heads — especially when Brooks is kidnapped and his fake gun turns out to have very real bullets inside.
The basic plot is a riff on David Fincher's 1997 thriller "The Game," and the film mines a lot of dark laughs from Max and Annie never being entirely sure if what they're going through is real or still part of Brooks' elaborate role play adventure. Directors John Francis Daley and Jonathan Goldstein don't shy away from violence, either, showing off the kinds of grisly scenes that most cozy murder mysteries gloss over. Like many of the films on this list, "Game Night" boasts a great supporting cast, including Chandler, Lamorne Morris from "New Girl," and Jesse Plemons as Max and Annie's sad sack neighbor. But the true MVP is McAdams, who dives headfirst into every scene and has vast reserves of comic energy that go mostly untapped when she's stuck playing time travelers' wives.
Gosford Park
2001's "Gosford Park" takes the quintessential murder mystery setup — a wealthy aristocrat (Michael Gambon) is murdered during a weekend in the country, and everyone is a suspect — and filters it through the sensibility of its celebrated director, Robert Altman. Like his 1975 masterpiece "Nashville," the film's cast is massive, including Gambon, Kristin Scott Thomas, Helen Mirren, Maggie Smith, Clive Owen, Kelly McDonald, Ryan Phillippe, and Bob Balaban (who developed the story along with Altman). The camera is almost always moving, capturing the labor that keeps a great English home going and the ways that communities come together and enforce their own rules; the upstairs lords and ladies are bound by duty just as the downstairs servants are. When a hapless inspector (Stephen Fry) arrives to investigate the murder, the outcome is almost an afterthought.
But as much as the film reflects Altman's style and thematic concerns, it also bears the mark of its screenwriter, Julian Fellowes, who a decade later would create the BBC series "Downton Abbey." Fellowes and Altman share a sensitivity to class dynamics and how distinctions are enforced in ways both subtle and explicit, but fans of "Downton Abbey" will no doubt find many of Fellowes' pet interests here, from his encyclopedic knowledge of Britain between the wars, to the way his characters view America (and Hollywood specifically) with a mixture of awe and disdain, to giving Maggie Smith only the most cutting, hilarious lines he can think of.
Knives Out
Rian Johnson's "Knives Out" is a rare thing, a relentlessly self-aware genre exercise that manages to be not just clever, but also funny (if not downright goofy at times) and even a little heartfelt. When rich and famous mystery writer Harlan Thrombey (Christopher Plummer) apparently dies by suicide on the night of his 85th birthday, his suspicious grandson Ransom (Chris Evans) hires private detective Benoit Blanc (Daniel Craig), the subject of a recent New Yorker profile, to investigate. What Blanc and a local plainclothes cop (LaKeith Stanfield) discover is that everyone in Harlan's house that night, from Ransom's awful parents (Jamie Lee Curtis and Don Johnson) to the widow (Toni Collette) of Harlan's son and her terrible children, had reason to want him dead — everyone, that is, except his live-in nurse Marta (Ana de Armas in her breakthrough role).
Class solidarity is a common theme throughout the murder mystery genre, and Johnson effectively skewers the politics and privilege of one-percenters, from Don Johnson obliviously quoting "Hamilton" to the alt-right trolling of Collette's son (Jaeden Martell). But despite those modern day flourishes, the film mostly exists in an out-of-time movie-land as apart from the real world as Harlan's gothic mansion, sitting alone in the foggy Massachusetts woods. Every member of the Thrombey family sports an outré, 1970s-style wardrobe courtesy of costume designer Jenny Eagan, whose cable-knit sweaters turned Chris Evans into a style icon overnight (via The New York Post). At the center of it all, though, is Craig, chewing up every line (and most of the scenery) with a honeydripper Southern accent. No wonder Netflix forked over $450 million for two more sequels (per Variety).
The Last of Sheila
Johnson's films are always very cinema-literate (just see Slate's breakdown of his references in "The Last Jedi"), and while "Glass Onion" obviously owes a lot to Agatha Christie and the works of playwright-screenwriter Anthony Schaffer, one of his most interesting influences is the little-known 1973 whodunnit "The Last of Sheila." Starring James Coburn, Raquel Welch, Richard Benjamin, James Mason, and future "Deadwood" star Ian McShane, the film is not so much about the eponymous Sheila's (Yvonne Romain) death under mysterious circumstances, but what happens afterward. A year after her death by hit-and-run, Sheila's wealthy husband Clinton (Coburn) gathers a small group of "friends" on his yacht in the south of France for a weekend of fun and games. Those games, however, have an ulterior motive: to find Sheila's killer. But Sheila's killer doesn't want to be found, and is willing to do whatever it takes to keep that from happening.
As eclectic as the collection of actors on screen is, the star power behind the scenes is even more interesting. The film was directed by Herbert Ross ("Norma Rae") but written by "Psycho" star Anthony Perkins and musical theatre icon Stephen Sondheim, who apparently based the whole thing on "murder" party games they would play with their showbiz friends (via Pervasive Games). Appropriate for a murder mystery involving Hollywood types, this is a bracingly cynical film, and one that doesn't always play by the rules of the genre.
Murder by Death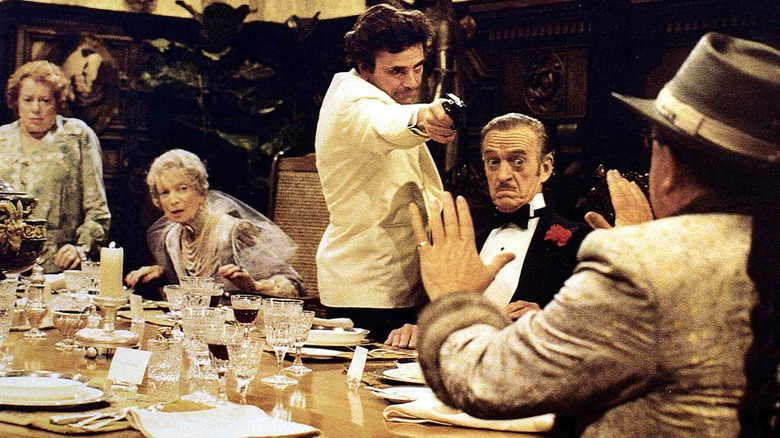 United Archives/Getty Images
A mysterious man gathers a group of strangers to his country home and announces that there will be a murder by the end of the night, and whoever solves it will go home with a million dollars. While this sounds like it could be the setup for any number of drawing room mysteries, it's actually Neil Simon's 1976 spoof "Murder by Death." The wealthy, mysterious man is Lionel Twain, played by author Truman Capote in his film debut, and the gathered guests are all broad parodies of famous cinematic detectives. There's little old English lady Miss Marbles, played by the bride of Frankenstein herself, Elsa Lanchester; rotund Belgian detective Milo Perrier (James Coco); half-soused Jazz Age couple Dick and Dora Charleston (David Niven and Maggie Smith); hardboiled San Francisco private eye Sam Diamond (Peter Falk); and Chinese master detective Sidney Wang, unfortunately played by Peter Sellers in yellowface. Rounding out the cast are Alec Guinness as Twain's blind butler and Nancy Walker as his deaf cook.
The humor is often of the "spot the reference" variety, assuming that the audience will have just recently watched "The Maltese Falcon" or "The Thin Man" or have fond memories of the Charlie Chan series. Simon can't help but rib the authors who created these characters for their various structural cheats, like saving a key piece of information for the very end or nonsensical twists that make it impossible for the audience and/or reader to solve the mystery — while also blatantly doing all of those things.
See How They Run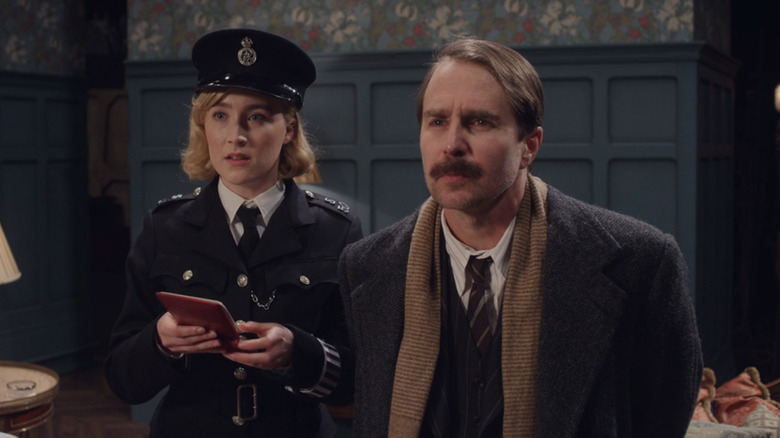 Searchlight Pictures/HBO Max
Fact meets fiction in the 2022 murder-mystery-within-a-murder-mystery "See How They Run." It's 1950s London, and Agatha Christie's play "The Mousetrap" starring Richard Attenborough (Harris Dickinson) and his wife Sheila Sim (Pearl Chanda) is going strong in the West End until the backstage murder of a visiting Hollywood director (Adrien Brody). Enter cynical Inspector Stoppard (Sam Rockwell) and his eager protégé Constable Stalker (Saoirse Ronan) to investigate, but in true Christie fashion, nearly everyone involved with the play, from the stars to the stagehands, had a good reason to kill the sleazy American — including Stoppard himself.
Director Tom George and writer Mark Chappell are working somewhere between the homage of "Knives Out" and the outright parody of "Murder by Death," using Christie's own life and work as source material and peppering in references to other writers like Tom Stoppard and Julian Fellowes. But without giving anything away, the film also delves into the way that "cozy" mysteries of this sort elide the often grisly and traumatic reality of murder cases; in real life, a dead body is not a puzzle to be solved for entertainment, but the remains of a person whose life was snuffed out cruelly and violently, and who had a family that must now somehow carry on in their absence.
Sleuth (1972)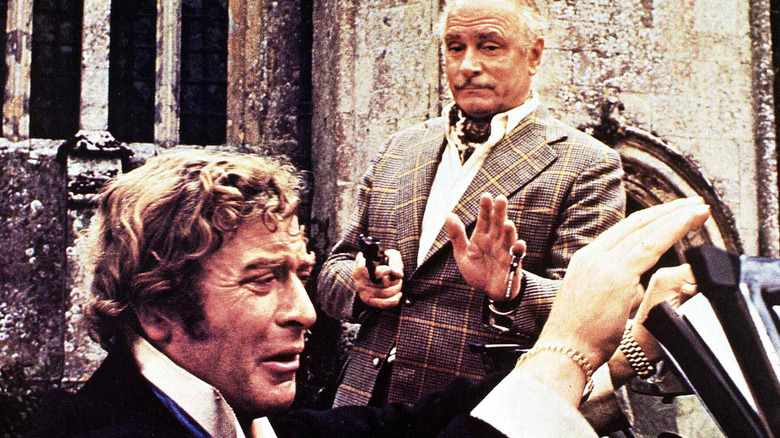 United Archives/Getty Images
According to IMDb, Joseph L. Mankewicz's 1972 whodunnit "Sleuth" has a cast of just six actors. But a closer look reveals something strange. Of those six, four of them have no picture on their profile and just one film credit: "Sleuth." The other two actors are screen titans Laurence Olivier and Michael Caine. Could it be that Mankewicz cast four non-actors to appear in the film alongside these two very theatrical movie stars? Or is there a different game afoot?
Adapted by Anthony Schaffer from his Tony Award-winning play, Olivier stars as Andrew Wyke, a best-selling mystery author whose obsession with games was inspired by Schaffer's friend and "The Last of Sheila" writer Stephen Sondheim (via The New York Times). Caine is Milo Trimble, the younger man who is having an affair with Andrew's wife and has come to their massive country estate to ask Andrew to grant a divorce. Any further description of the action would constitute a spoiler, as the film is a non-stop parade of twists, turns, and revelations leading to a deadly climax. A self-serious 2007 remake starring Caine as Andrew and Jude Law as Milo was adapted by playwright Harold Pinter and directed by Kenneth Branagh; it heightens the psychological underpinnings of Schaffer's script and both its leads are perfectly fine, but as in most things, the original is best.
And Then There Were None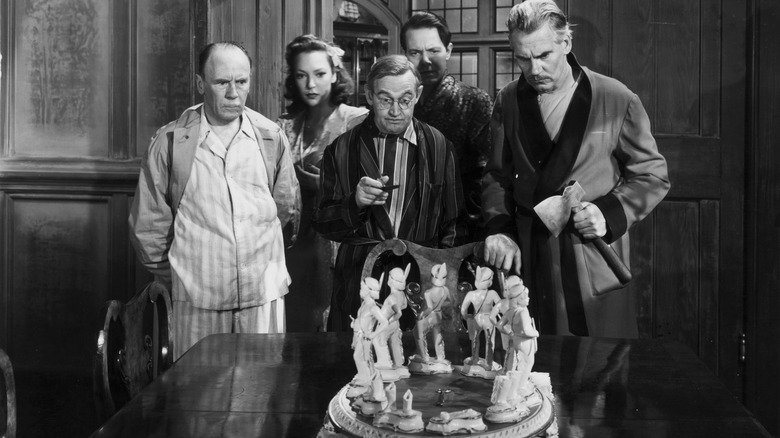 Hulton Archive/Getty Images
Perhaps even more so than her Poirot and Marple mysteries, "And Then There Were None" is the quintessential Agatha Christie story, a shockingly violent yet morally rigid world where the wicked are punished for their crimes one way or another. On a dark and stormy Friday night, eight strangers meet at an estate on a remote island off the English coast, but their hosts are absent. A servant plays a gramophone recording made by the estate's owner, one U.N. Owen, that accuses the gathered guests of each being responsible for someone's death, either through neglect, betrayal, wartime atrocity, or outright murder. They have been called to the island to face their ultimate punishment, and there is no escape until the ferry returns on Monday morning. The guests quickly deduce that "U.N. Owen" (or "unknown") must be hidden among them, and as paranoia spreads, bodies start dropping in increasingly grisly ways.
The novel has been adapted for stage and screen a number of times, either as "And Then There Were None" or "Ten Little Indians," the revised title of Christie's novel; her original title was too offensive to be published. A 2015 BBC adaptation was well-regarded, but it's best to begin with René Clair's 1945 original, which has a spooky, proto-slasher film atmosphere and fun performances from Walter Huston as an alcoholic doctor accused of killing a patient and Barry Fitzgerald as a judge who sent an innocent man to the gallows.
The Thin Man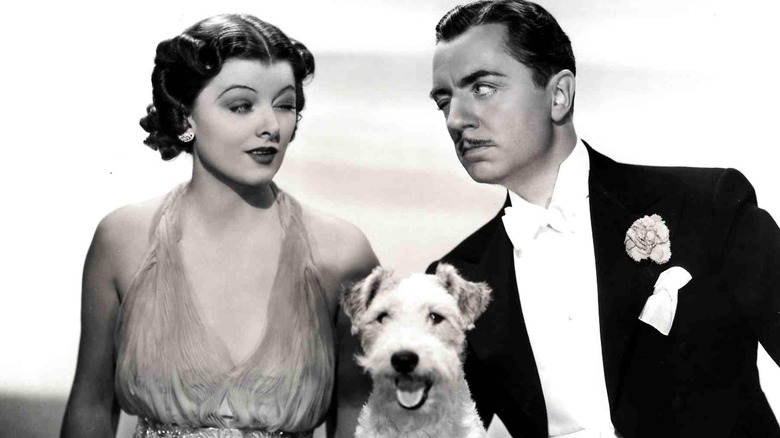 United Archives/Getty Images
Author Dashiell Hammett may be one of the fathers of hardboiled detective fiction, but his novel "The Thin Man" and its 1934 film adaptation are as light as a glass of champagne. Former detective Nick Charles (William Powell) gave up his profession after marrying wealthy socialite Nora (Myrna Loy), preferring instead to wile his time away drinking cocktails with their little dog Asta. But upon returning to New York after a years-long absence, he is drawn back into his old life by the alluring Dorothy Wynant (Maureen O'Sullivan), whose father has been accused of murder. Nick agrees to investigate the case, mostly at the insistence of Nora, who finds it all very exciting.
Nick and Nora were instantly iconic (as was Asta, who became a celebrity in his own right, per The Star Tribune), perennially buzzed detectives who did it not for money or even justice, but for love of the game. Powell and Loy went on to make five "Thin Man" sequels together, though the first one was the only mystery to explicitly involve a thin man. In each case, the audience was not there to puzzle out the whodunnit before anyone else, but to spend time with Nick and Nora, as if they were our boozy, flirty, endlessly glamorous and droll friends who always had a wild time together, whether or not there was a dead body lying around.