Why Robin Knight From NCIS Looks So Familiar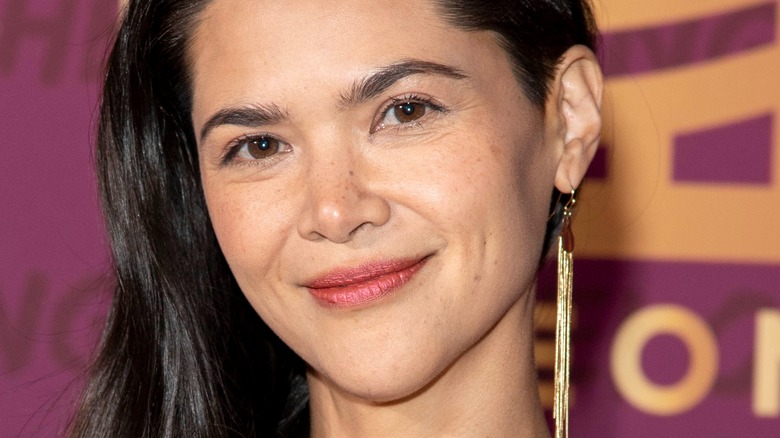 Eugene Powers/Shutterstock
It's Thanksgiving, and the "NCIS" team are just as nervous and stressed about the family get-togethers as everyone in the real world is. Timothy McGee (Sean Murray) is avoiding the extended relatives altogether and taking his family to Leon Vance's (Rocky Carroll) house, while Jimmy Palmer (Brian Dietzen) is getting together with his late wife's family, admitting to McGee that the fact his father-in-law is nicer to him since she's died hurts a little.
Jessica Knight (Katrina Law) reveals that her sister, Robin, is in town, and she's going to have a Thanksgiving lunch with her, with Kasie Hines (Diona Reasonover) tagging along as their "peacekeeper." Robin is a free spirit who is constantly changing jobs and acquiring new fiancees. The siblings constantly butt heads; as Jessica tells Kasie, "I say red, she says blue." Unfortunately, Robin's new fiancee, Charlie (David Blue), has a vendetta against Jessica and uses Robin to get close to her. While the "NCIS" team tries to figure out how to save Jessica, Kasie, and Robin, Jessica is forced to try to keep the agitated Charlie calm, while also assuring her sister that she does love her.
Lilan Bowden, who portrays Robin, is quite a prolific actress and comedian, and even if you haven't seen her comedy act, "Lilan and Wilder," there are a number of other shows you've probably seen her in.
Lilan Bowden's first major role was in a forgotten horror movie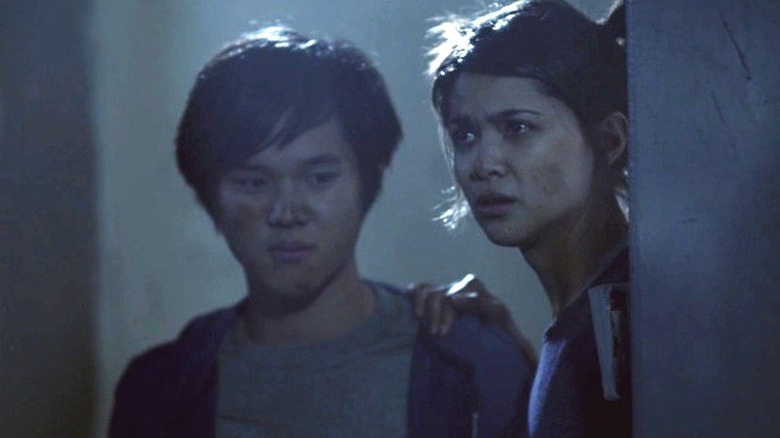 SyFy
Lilan Bowden may be best known for her comedy roles, but her first major film is actually the 2012 horror movie "Rise of the Zombies." Starring Mariel Hemingway, Levar Burton, and Danny Trejo, the film focuses on a group of people who lock themselves in Alcatraz Prison when a zombie outbreak hits San Francisco. But when the prison is overrun, they attempt to go back to the mainland. Lynn (Hemingway) and Captain Caspian (Trejo) lead the small group off the island by boat when the zombies show up, and Dr. Halpern (Burton) volunteers to stay behind and continue researching a cure.
Bowden plays Jun Nagase, who, along with her brother, Jud (Peter Ngo), are just trying to stay alive. Unfortunately for Jun, she doesn't have any lines, and her character is pulled overboard by zombies when the survivors are in the boat. We don't see her again after about 20 minutes into the film. After reaching the shore, Jud laments the loss of his sister to Lynn, telling her, "She was the last one. The only person I had left."
She had a small role in the Parks and Recreation finale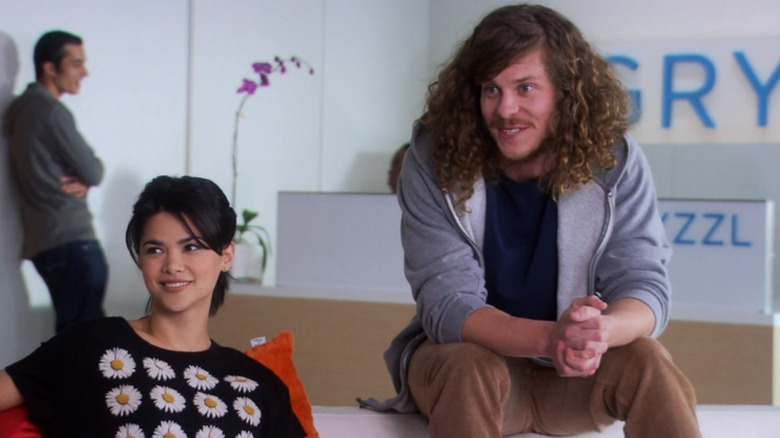 NBC/Universal Television
In 2014, Lilan Bowden played Sam Nut in the "Parks and Recreation" Season 6 finale, "Moving Up." Leslie Knope (Amy Poehler) and Ben Wyatt (Adam Scott) are trying to wrap up some loose ends before leaving Pawnee, and Ben has decided his mission is to give Pawnee free Wi-Fi as a going-away gift. Sam and Mike Bean (Blake Anderson) are co-owners of Gryzzl, an Internet company whose logo is "the cloud for your cloud." Ben Wyatt (Adam Scott) goes to them, hoping they'll give free Wi-Fi as part of a pilot program they're doing.
Gryzzl turns Ben down at their first meeting, but he gains the upper hand when he finds them playing the game he invented, the Cones of Dunshire. He makes a bet that, if he beats them at the game, they'll provide free Wi-Fi. Of course, being the designer of the game, Ben wins, and Sam admits that Pawnee does have something special in Ben, the architect of the Cones of Dunshire.
As Sam, the co-owner of the 6-month-old work collective where the employees just kind of do what they want, Bowden alternates being laid back with being snarky. She mocks the more adult-like Ben every chance she gets, and looks disappointed and surprised when he burns her back. Her character didn't have many lines, but her facial expression said everything.
She played the cool mom on Disney's Andi Mack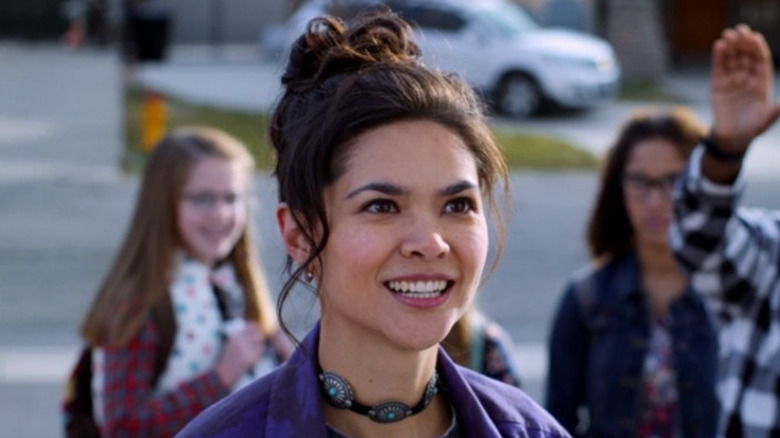 Disney
From 2017 until 2019, Lilan Bowden co-starred on the Disney Channel Original series, "Andi Mack." She played Bex Mack, the apparent older sister of the main character, Andi (Peyton Elizabeth Lee). Bex returns home on Andi's 13th birthday to inform the new teenager that she's actually her mother, not her older sister. The next three seasons focus on Andi's relationship with her mother, as well as her and her best friends, Cyrus (Joshua Rush) and Buffy (Sofia Wylie) navigating the drama and emotional hurdles associated with being a teenager. As Andi's progressive and free-spirited mother, she encourages her daughter to break the rules and push boundaries.
Bowden was in all 57 episodes of "Andi Mack," and she felt the show was a breakthrough in terms of Asian representation. She also believes her role as Bex was important for opening doors for future minorities in acting. "Now that I'm here, and because there are so few of us, it is so important to me that I do my job well," she said in an interview with Mixed Asian Media. "I feel like my performance reflects on the whole minority group I'm a part of."
She co-stars in Netflix's Murderville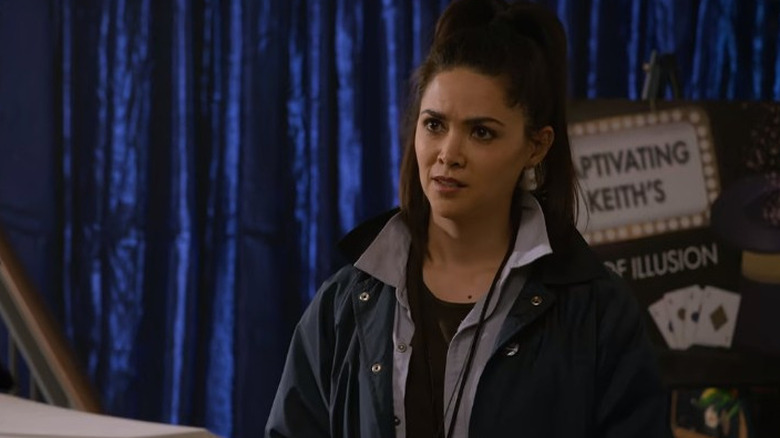 Netflix
In February 2022, Lilan Bowden was part of the cast for the new Netflix improvised crime comedy "Murderville," co-starring Will Arnett and featuring celebrity cameos by Conan O'Brien, Ken Jeong, and others. In what is considered one of the best Netflix Originals of 2022, Arnett plays Detective Terry Seattle and Bowden plays Amber Kang, the head of forensics. While the cast has scripts they follow, each episode's celebrity guest has to completely improvise their lines and acting, going off what the other characters are saying and doing to find the killer. The show is a unique concept and it's fun seeing what elements each guest brings, with different styles of humor and approaches to the often-silly lines, such as "This woman didn't consent to die today."
As Amber, Bowden plays the straight character, and except for her scenes introducing the victim and telling Terry and the guest what she's found, she doesn't have many interactions with the rest of the cast. Despite her more serious role, she infuses her scenes with some silliness, opening a cold locker in the morgue and releasing balloons and singing a song to former NFL star Marshawn Lynch that begins with, "It's your first body, congratulations!" 
Netflix hasn't announced if there will be a 2nd season of "Murderville," but we hope to see a lot more of this talented funny lady in the future.