The Best Netflix Originals You've Missed In 2022
The streaming service war is perpetual, with a seemingly new player entering the ring every year. Yet the one streamer that tends to get more and more massive -– while adding some incredible titles featuring dynamite ensemble casts –- is perhaps the one that started it all ... Netflix. Though it goes without saying, there have been a plethora of Netflix Originals released in 2022, even some that you might have missed, with many more are yet to come.
Netflix has created a dazzling library of Originals that viewers can't find anywhere else, from epic TV series to killer films. Though Netflix is a bona fide contestant during award season, some of their best titles can, at times, go under the radar. In the name of underrated –- yet not under quality -– movies and shows, we've got audience members covered.
Archive 81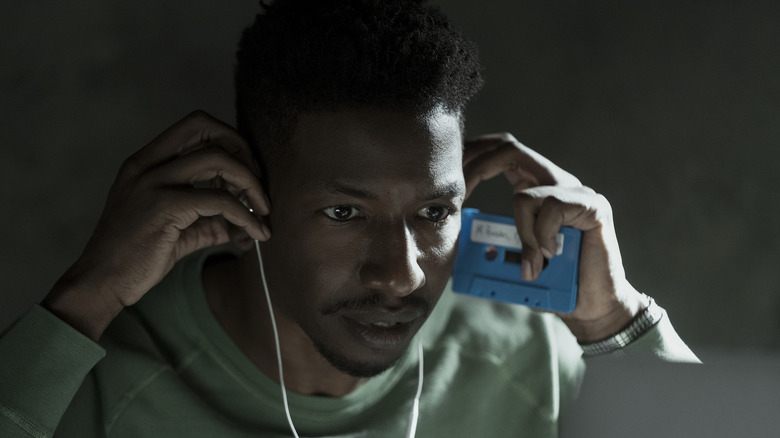 Quantrell D. Colbert/Netflix
A hair-raising horror story, the supernatural series "Archive 81" takes viewers on quite the thrill ride. The show follows archivist Dan Turner (Mamoudou Athie), who's tasked with restoring tapes that burned in an apartment fire, along with discovering any real trace of what actually happened. Yet he must complete this tall order at a specific location in the middle of nowhere –- and he was hired by a mysterious company for good measure. The footage was taken by grad student Melody Pendras (Dina Shihabi) for her project, and to say the least, the more Dan uncovers, the weirder circumstances get.
Based on the podcast of the same name that started in 2016, "Archive 81" has received high praise from critics and fans alike. Despite this success, the series was canceled after just one season, but that shouldn't take anything away from the actual production. "Archive 81" is worth the watch if you're ready to clench your teeth and be glued to the edge of your seat.
In From the Cold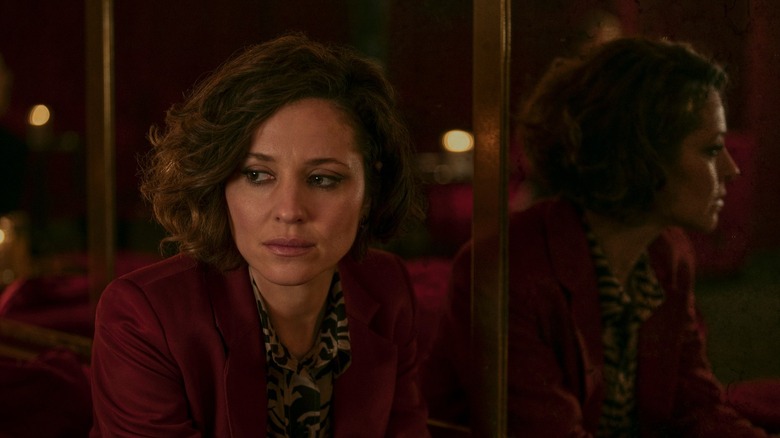 Samantha Lopez/Netflix
Jenny Franklin/Anya Petrova (Margarita Levieva) was a Russian spy known as the Whisper until she went into hiding in the United States. Unfortunately, though she's a divorced mother who wants to prioritize her family, Jenny is forced to go back into her old way of life when she's discovered, and she must uncover a series of events in Madrid.
This spy thriller proves that a work-life balance isn't always easy to achieve, especially when the work portion revolves around guns, violence, and being an all-out assassin. Though this might not be the most relatable sentiment, "In From the Cold" is an enticing spy series that adds its own spin to the well-worn genre. Most notably, Levieva shines as the single mom who moonlights as a spy, and the series itself movies at a quick pace and is full of fun twists and turns. In fact, as critic Nick Allen from Rogerebert.com puts it, "This baby exists for twists, and it is notably good at conjuring them."
Murderville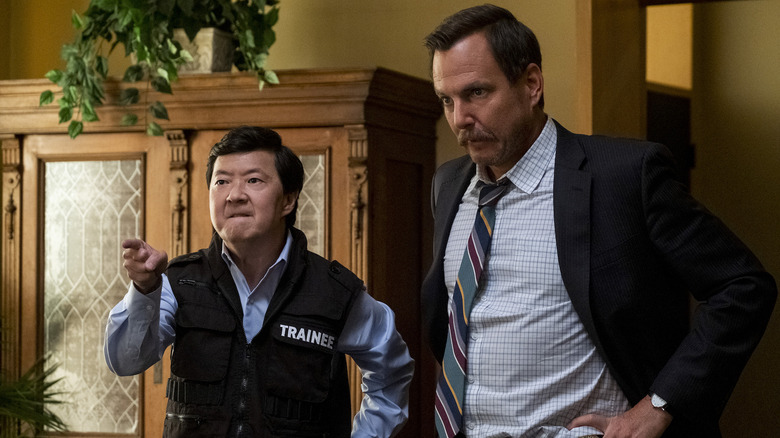 Darren Michaels/Netflix
If you're a fan of oddball murder mysteries, then "Murderville" is a must-watch. Add in the fact that mustachioed-twirling detective Terry Seattle, who's played hilariously by Will Arnett of "Arrested Development" and "Bojack Horseman" fame, solves cases alongside celebrities, and audiences will be laughing (or shaking their heads) from start to finish. 
Not to give too much away, but the celebrities who play themselves and assist Terry in bizarre detective work include Annie Murphy, Conan O'Brien, Ken Jeong, Kumail Nanjiani, Marshawn Lynch, and Sharon Stone. Not to mention, the series has unscripted elements, taking the guest celebrities on as much of a comedy-filled ride as the audience. In fact, they appear to be just as confused and entertained –- in the best way possible -– as the audience as they improvise their way through various mysteries. Each episode is as comical as the last, and the varying actors keep events fresh.
Photocopier
A crime mystery based in Indonesia, the film "Photocopier" follows Suryani, aka "Sur" (Shenina Syawalita Cinnamon), who encounters a worst-case scenario evening when a selfie begins to make its rounds after a night of drinking. The fallout is swift and severe as she loses her scholarship and faces ridicule from her parents. Perhaps worst of all? She doesn't remember the events of the night before, not to mention taking the images that are seemingly destroying her life. Sur must trace her steps to figure out what really happened, a mystery that's flooded with blurred lines and deception.
"Photocopier" has seen screaming success via reviews from critics and fans alike, and it will have viewers on the edge of their seats while they try to piece together a black-out-induced night with the main characters. Follow along as Sur discovers what really happened the night before, alongside her friend Amin (Chicco Kurniawan), who's, naturally, a photocopy worker.
The Woman in the House Across the Street from the Girl in the Window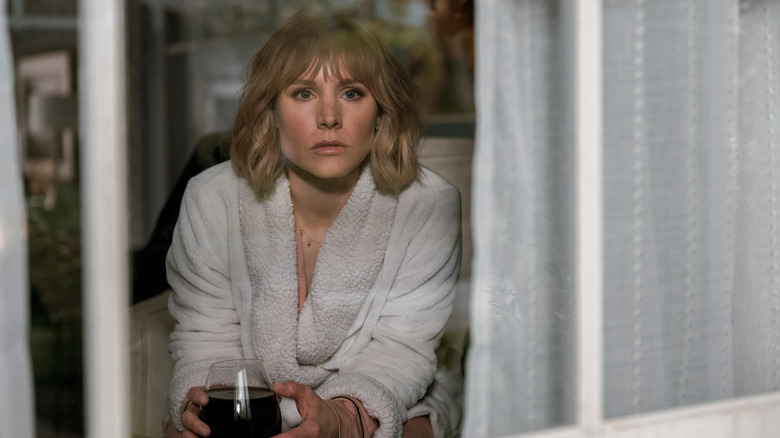 Colleen E. Hayes/Netflix
If "The Woman in the House Across the Street from the Girl in the Window" sounds familiar, it's because the series is a parody of the Netflix thriller "The Woman in the Window," as well as other mystery psychological material in the same vein. The film follows Anna (Kristen Bell), an alcoholic who believes she's witnessed a murder. Unfortunately, no one, including the authorities, take her seriously because of her condition, as she often has hallucinations. From a boring existence staring out a window to solving a possible murder case on her own, Anna's life is turned upside down in this dark comedy thriller.
Though it has received mixed reviews, "The Woman in the House Across the Street from the Girl in the Window" stays true to its source material –- albeit, with a parody spin, that is. Bell stars as the titular character and brings her comedic chops to the forefront. Though spoofs tend to be flooded with clichés, this latest parody installment is worth the watch if you're a fan of the genre.
If you or anyone you know is struggling with addiction issues, help is available. Visit the Substance Abuse and Mental Health Services Administration website or contact SAMHSA's National Helpline at 1-800-662-HELP (4357).
Windfall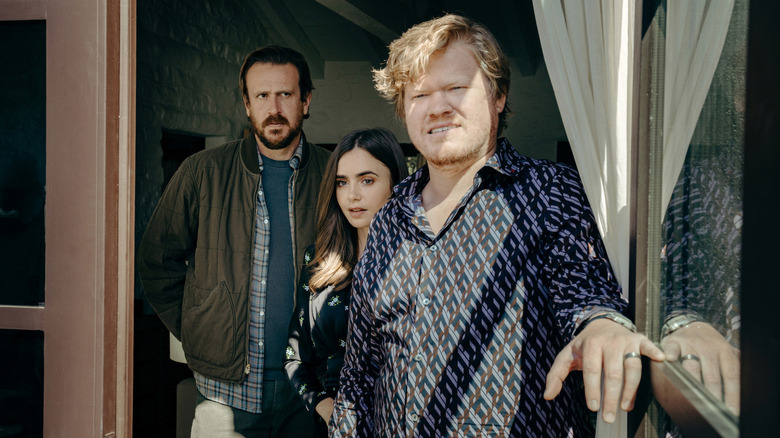 Netflix
"Windfall" follows a man, known simply as the robber, who breaks into the house of a picture-perfect couple, consisting of a wife and a CEO. When the husband and wife arrive at their getaway home, instead of fleeing the scene, the robber decides to take the two hostage inside their own house. Needless to say, things slowly fall apart from here, as we learn there are a lot of buried secrets and that the husband and wife aren't exactly living in marital bliss.
Despite the film's simplistic nature, "Windfall" is gifted with an explosive cast, featuring Jason Segel as the robber, Lily Collins as the wife, and Jesse Plemons as the CEO. The movie takes its time, and throughout this slow-burn hostage thriller, audiences are gifted with unexpected twists as the film builds towards its climax. Will the CEO and wife get out alive? Will anyone get out alive? As John Nugent of Empire Magazine puts it, "Short, sharp and mostly satisfying, this is a thriller that sticks to the stripped-back fundamentals of the genre."
Apollo 10½: A Space Age Childhood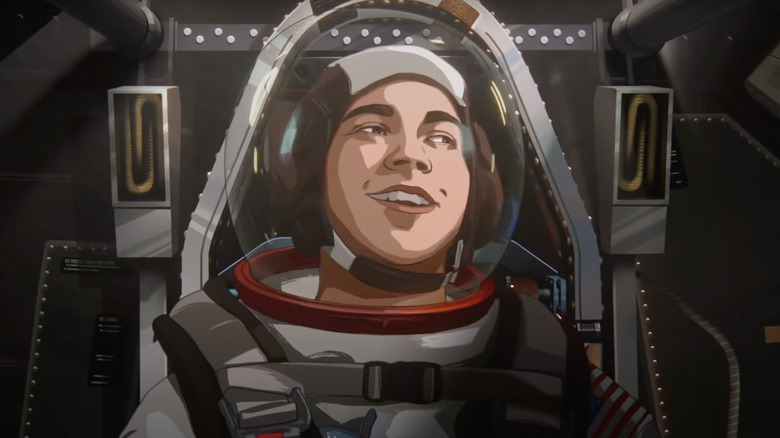 Netflix/YouTube
Picture this: You're 10 years old, and NASA calls you up to go on a secret mission to the moon. That's what happens in Richard Linklater's "Apollo 10½: A Space Age Childhood," which intertwines a nostalgic depiction of growing up in 1960s Houston with a fanciful story about becoming a kid astronaut. Add in a gifted cast featuring Glen Powell, Jack Black, and Zachary Levi, and it's no wonder why this film received high praise from audience members and critics alike.
Though "Apollo 10½: A Space Age Childhood" might be most appealing to baby boomers, its riveting animation and creative storytelling make it enjoyable viewing for all ages. Not everyone remembers the era of hippies and DDT, but we all know what it's like to be a starry-eyed kid — a truth this film nails. Above all, it succeeds by shining a light on what it was like to share a moment with the rest of the world, and how big childhood dreams can grow.
The Guardians of Justice (Will Save You)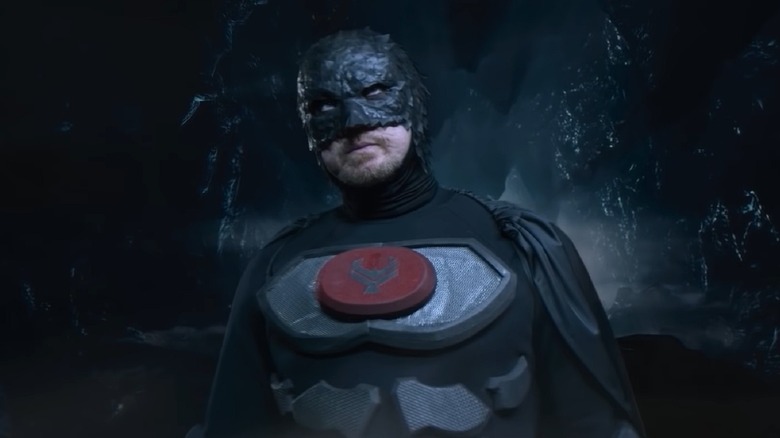 Netflix
With his unauthorized spoofs of "The Punisher" and "Power Rangers" and heading up well-received adaptations of "Dredd" and "Castlevania," Adi Shankar has breathed new, revisionist life into familiar genre fare. His latest work — the partially live-action, partially animated "The Guardians of Justice (Will Save You)" — specifically sends up and celebrates superhero stuff, particularly DC Comics and Warner Bros.' deadly serious "Justice League" franchise. 
It all begins in the late 1980s, following a prolonged period of global peace, what with extraterrestrial superhero Marvelous Man (Will Yun Lee) saving the planet from the clutches of Robo-Hitler and a deadly Third World War. But then Marvelous Man dies under mysterious circumstances, prompting an investigation by his former ally Knight Hawk (pro wrestler Diamond Dallas Page) and squeaky clean superhero The Speed (Sharni Vinson). Should they fail to rise to the challenge and fill the void left by Marvelous Man, Earth could face yet another global catastrophe.
Critics praised the seven-episode first season of "The Guardians of Justice (Will Save You)." Kevin Fox Jr. of Paste called it "magnificent trash that is highly frenetic," while Johnny Loftus of Decider appreciated how the show "gleefully snipes at all things superhero even as it riffles through 20th-century history and pop culture ephemera to concoct its absurdist world."
Metal Lords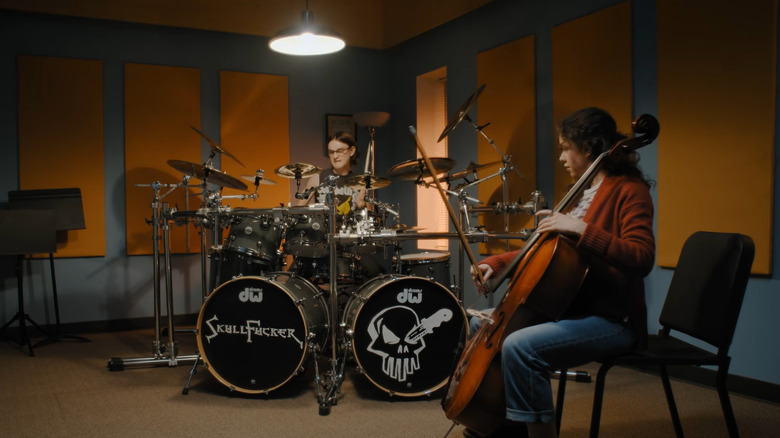 Netflix
Following his long, successful, and acclaimed run as a creator, producer, and showrunner of HBO's epic fantasy series "Game of Thrones," D.B. Weiss went the completely opposite direction with his next project — a charming, music-oriented high school-set teen comedy called "Metal Lords." 
In this Netflix movie, Hunter (Adrian Greensmith) is a devotee of the darkest and hardest heavy metal, and he desperately wants to start a band of his own. So he recruits his best friend, Kevin (Jaeden Martell), to play the drums because he's somewhat adept at percussion, as he plays the bass drum in their school's marching band. "Metal Lords" tracks their progress as they explore their art and find their sound, particularly in their difficulties finding a bassist, who just might turn out to be an overstressed orchestra cellist named Emily (Isis Hainsworth). Will all three play well enough together — and get along — for their group to emerge triumphant at an impending Battle of the Bands?
"Metal Lords" is "a romance, bromance, and good-natured send-up of teenage obsession," wrote John Anderson of The Wall Street Journal while Leah Greenblatt of Entertainment Weekly enjoyed how the film's "ramshackle comedy sweetly captures the rank anxiety, random humiliations, and undiluted hope of being young."
Uncoupled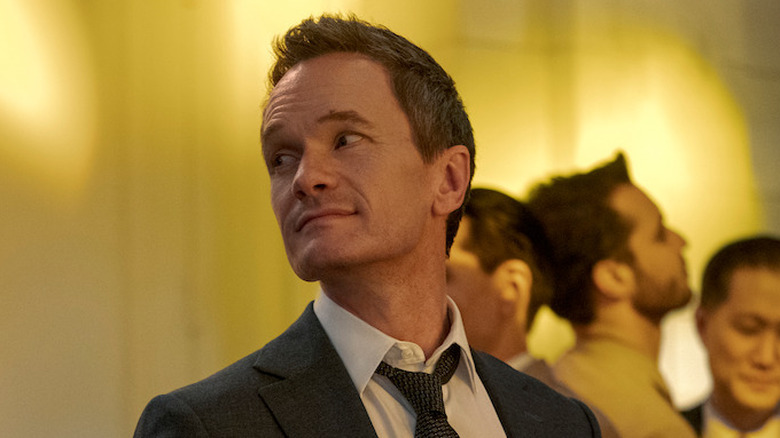 Netflix
Co-created by "Sex and the City" and "Beverly Hills, 90210" architect Darren Star, "Uncoupled" sees Neil Patrick Harris ace yet another headlining TV role. Here, following turns as a womanizing cad on "How I Met Your Mother" and a nefarious master of disguise on "A Series of Unfortunate Events," Harris plays Michael, a contented and wealthy New Yorker who is utterly blindsided when Colin (Tuc Watkins), his partner of 17 years, brings an end to their relationship. Tentatively, Michael tries to put his life back together: He adjusts to living on his own and dives into New York's gay dating scene, which has changed a lot since last he hit the clubs and bars. Putting yourself back out there is hard, but with the help of his friends, Michael embarks on a journey of self discovery disguised as a quest for romance.
As sweet, thoughtful, and complicated as the new romances it depicts, "Uncoupled" earned critical praise, particularly for its leading man. "Harris commits completely to his role, delivering a beautifully nuanced performance," said Brad Newsome of The Sydney Morning Herald.