Why David Hyde Pierce Won't Be Returning As Niles In The Frasier Revival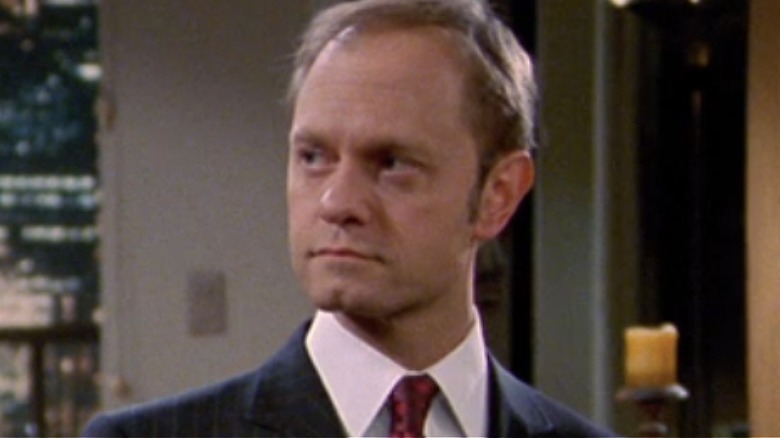 NBC
Niles Crane (David Hyde Pierce) from "Frasier" is one of the most iconic characters in the history of sitcoms. Thus far in his career, David Hyde Pierce has earned a whopping 11 Emmy nominations and four wins, and every single one of them was for playing Niles. In fact, in a Reddit poll in 2020, Niles was picked as the fan-favorite "Frasier" character in a landslide. 
Conor Heneghan, writing for Joe, gave a unique perspective on what makes Niles such a great character. He points to Niles' snobbery, his vulnerability, his hilarious ongoing feuds with his brother, Frasier (Kelsey Grammer), and Pierce's talent for physical comedy. Writing about the Season 6 episode "Three Valentines," which features a hilarious opening scene with Pierce as the only human performer, Heneghan said, "Few other actors could flourish in a six-minute scene completely on their own (or, at least, without any other human presence) and without a word of dialogue, but Hyde-Pierce ... managed to turn it into a masterclass." 
It's very hard to imagine exactly what kind of show "Frasier" would have been without Niles, but apparently not impossible. After years of speculation, the "Frasier" fandom was finally treated to the news that the iconic sitcom would be returning. While Grammer is on track to return as everyone's favorite "Cheers" character, it looks like fans shouldn't be hopeful for more Niles.
David Hyde Pierce didn't want to repeat his performance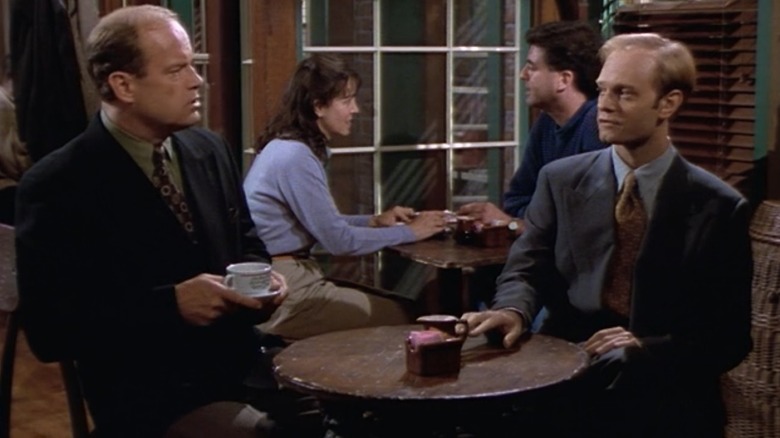 NBC
The "Frasier" reboot has been discussed for some time, and David Hyde Pierce had been very noncommittal about whether or not he would be willing to take part in it. In an interview with The Guardian in April, Pierce said, "It's happening, but I don't know in what form, and I don't know when, so I don't know where I'll be and what I'll be doing. I'm certainly interested to see what they come up with." Then in October, Deadline reported that the reboot had officially been picked up by Paramount+, with Kelsey Grammer as the only original cast member expected to return as a series regular.
In a recent interview with People, Grammer, explained why Pierce opted not to return for the show's revival. "David basically decided he wasn't really interested in repeating the performance of Niles," Grammer said. The actor also confirmed that the new series would take place in a new city and focus on new supporting characters. "In a very funny way, it just took us to a new place, which was what we originally wanted to do anyway, which was a Fraser [sic] third act. It's an entirely new life for him," Grammer said. He uses the phrase "third act" to refer to the fact that the upcoming series will be the third to feature the character of Frasier Crane, following "Cheers" and "Frasier."
David Hyde Pierce doesn't want to return as Neil for the sake of returning
Details are ultimately slim on the "Frasier" revival and it remains to be seen how the absence of David Hyde Pierce's Neil is addressed. In a June interview with Vulture, Pierce maintained that he loved his time on the series, calling it valuable, which is why he doesn't feel the need to return. "[B]ecause it's so valuable to me, I also wouldn't do it just do it," the actor said. Pierce then went on to point out how "Frasier," a spin-off of "Cheers," didn't bring back characters from the original series for the sake of it. "They didn't bring along the 'Cheers' gang to make a new show. They popped in from time to time and that was a blast," Pierce said, before saying there may (or may not) be a way to fold Neil into the revival series. 
Since wrapping up his time on "Frasier," Pierce has kept himself busy with a flurry of roles. He returned to his "Wet Hot American Summer" role for Netflix's two sequel series, and lent his talents to "The Good Wife" for a guest appearance. He was also recently seen in HBO Max's "Julia," where he played the husband of celebrity chef Julia Child. Pierce has also spent his post-"Frasier" years dominating the stage, starring in "Curtains" and the stage adaptation of "Its A Wonderful Life." Pierce has also gone on to direct several productions, including Broadway's "It Shoulda Been You." 
While it may sting fans not to see Frasier and Neil chew into one another, Pierce's decision to sit out the sequel series seems to be coming from a place of genuine respect for the series.