This Frasier Character Wins Fan Favorite By A Landslide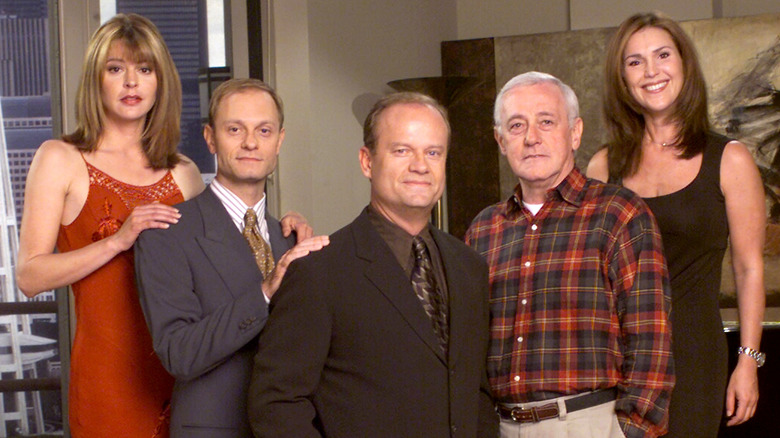 Getty Images/Getty Images
"Frasier," which has been deemed one of the most rewatchable sitcoms of all time, aired on NBC from 1993 to 2004. A spin-off of "Cheers," "Frasier" follows uppity psychiatrist Dr. Frasier Crane (Kelsey Grammer), as he moves back to his hometown of Seattle, Washington, following his divorce from Lilith (Bebe Neuwirth), and begins a new job hosting a psychology radio show.
Frasier himself may have been the initial draw for "Cheers" fans to tune into "Frasier," but it soon became very clear that the new, supporting characters were just as essential to the spin-off series. Alongside Frasier, the cast of characters includes his brother Niles (David Hyde Pierce), a fellow psychiatrist who has neurotic and fussy tendencies; their father Martin (John Mahoney), a retired police officer who moves in with Frasier following an injury while he was on the job; Daphne Moon (Jane Leeves), Martin's quirky live-in healthcare worker who claims to be psychic; and Roz Doyle (Peri Gilpin), Frasier's snarky radio show producer who is outspoken about her active dating life.
Despite each of the five characters being an essential part of the show, fans are bound to have favorites. In a poll conducted on Reddit, fans made it abundantly clear which of these characters is their favorite.
Niles is the fan favorite by a landslide
In a Reddit poll posted by u/zangoose28, fans were asked to vote for their favorite main character: Frasier, Niles, Martin, Daphne, Roz or Eddie (Martin's dog). Out of the 150 votes, Niles received 91, winning in a landslide. Frasier came in second with 30 votes, followed by Martin with 13. Finally, Roz received ten, Eddie received four and Daphne received two.
One fan, u/gchypedchick, compared the poll to asking a parent to pick a favorite child, but ultimately chose Niles. They continued, "I think the show really works because of [Niles'] character. I think his silliness balances out Frasier and keeps him from being too serious. His bit in Season 6's 'Three Valentines' is my favorite!" Similarly, u/Cadbury93 concluded, "Has to be Niles for me. They're all great though." When one fan remarked that they were a bit surprised that Niles led the poll by much, the original poster simply responded, "He's a popular boy."
Niles was loved not just by fans, but also by critics, as David Hyde Pierce received a Primetime Emmy Award nomination for every single season of "Frasier," winning the award a whole four times.
Pierce described his time on Frasier as bliss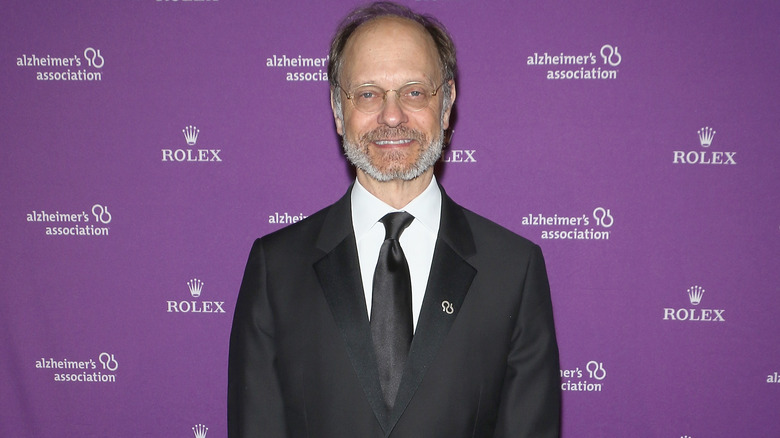 Jim Spellman/Getty Images
The character of Niles is beloved by fans and critics — and by David Hyde Pierce himself, who loved his time on "Frasier." In a 2017 interview with Vulture, Pierce reflected on his career, past and present, which, of course, led to the role that he is easily the most known for. When interviewer E. Alex Jung asked what Pierce thinks when he reflects back on his time on "Frasier," Pierce's mind immediately went to an extremely positive place.
Pierce responded, "It was bliss. That's the word I would use. It was 11 years, we had the best time, we had the best writers. We were a good cast, but it has to be good writing to all these years later see it and have it not be dated."
Further, in a 2022 interview with Parade to promote his HBO Max series, "Julia," Pierce discussed why "Frasier" has just as many fans now as it did when it was on the air. Namely, he said he came down to the talent of the writers. Pierce said, "This is really a tribute to the writing, it just holds up. It wasn't bound by its time in any meaningful way. It was just stories, stories of people, so I think that's why it continues to be seen."