Thomas Lennon Teases The Behind-The-Scenes Antics On The Set Of Reno 911: It's A Wonderful Heist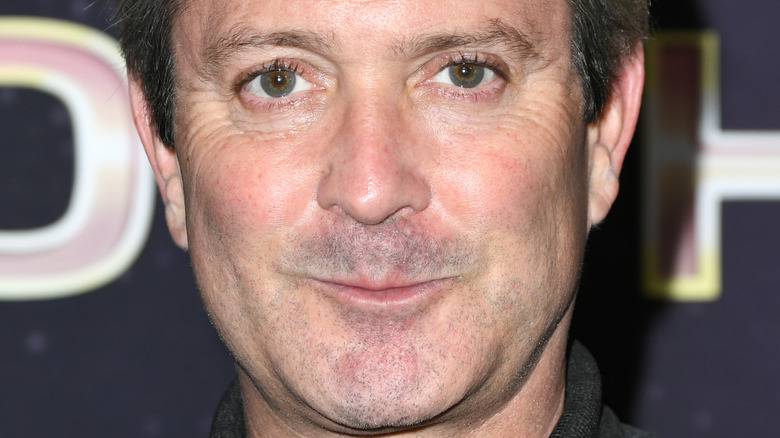 Jc Olivera/Getty Images
"Reno 911!," the comedy mockumentary series about Reno, Nevada's not-so-finest sheriff's department, has been riding a revival wave as of late. The show, which started on Comedy Central, aired six seasons before being canceled in 2009. Then in 2020, the series returned for its seventh season to the short-form streaming platform Quibi. That return almost proved brief when Quibi shut down only six months after its debut. But just as "Reno 911!" brought back some of its dead cast members, the show also survived yet another brush with TV death.
"Reno 911" continued its revival march by airing a new movie in 2021 titled "Reno: 911! The Hunt For Qanon" on Paramount+ and an eighth season on The Roku Channel the following year. By now, the cast of "Reno 911" has dealt with nearly everything from trying to catch infamous speedster Fast Eddie McLinktok, to humorously patrolling the city of Miami. But it looks like, with their upcoming film, "Reno 911!: It's Wonderful Heist," the cast aims to add the holidays to their list. The trailer suggests we are in store for wacky antics in a mall, a Reno-style parody of "It's A Wonderful Life," and Nick Swardson returning in his fan-favorite role as Terry. Honestly, it looks like the type of dysfunctional shenanigans we're used to from "Reno: 911!" And according to co-creator and star Thomas Lennon, we at least know filming also involved some behind-the-scenes antics on set.
Lennon got a mall's bouncy house dirty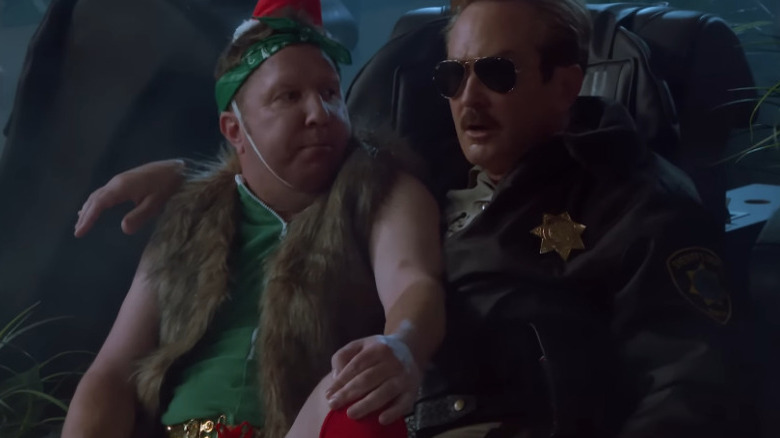 Comedy Central/YouTube
While speaking on the "Lights Camera Barstool" podcast, Thomas Lennon noted that finding an actual mall to film for "Reno 911!: It's a Wonderful Heist" was challenging due to their resurgent popularity in media. And the one the cast wound up with came off as dodgy to Lennon. But it did lead to some funny behind-the-scenes incidents, one of which involved Lennon getting a mall's bouncy playground dirty. On the podcast, Lennon detailed one scene in the film where his character, Lt. Dangle, exercises and is chased in the bouncy house wearing nothing but a headband and jockstrap. After three hours of shooting, the mall decided to use the bouncy house as usual, except they probably didn't know it could have used some disinfectant.
"... And then, you know, we wrap, and I put on some clothes, and I walked by the bouncy house a little later, and I got to hear the guy who ran it telling a group of people that were coming in that it was limpísima, it was the cleanest it could possibly be," Lennon said on the podcast. "And I was like, 'I was just in there with a jockstrap for three hours running around.' It's not limpísima. It's not limpísima. It's the opposite of limpísima.'" That feels less like an on-set story and more of a punchline from the show. In addition, three hours isn't a lot of time for a show that has a history of filming nearly a workday for the sake of a few jokes. Lennon and co-creator/co-star Robert Ben Garant told Entertainment Weekly that the show's 15-minute "Mission Briefing" scenes often came from eight hours of filming.