Vincent D'Onofrio Really, Really Wants To Take On Spider-Man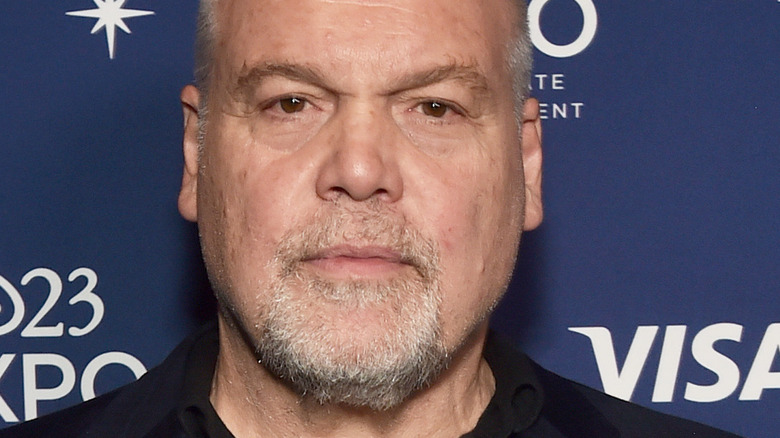 Alberto E. Rodriguez/Getty Images
Marvel Comics has a long list of rich characters that fall on the villainous side of the line. From Magneto to Dr. Doom, bad guys are what make most storylines intriguing to watch. A good hero is nothing without an engaging villain. Many of those villains have already been used in the Marvel Cinematic Universe, but one of the most dynamic villains in the comics that have made an impact in the MCU is Wilson Fisk, AKA Kingpin.
Vincent D'Onofrio appeared as Kingpin, the primary antagonist of most of Netflix's "Daredevil." While the series ran for three seasons and gave us a new version of Elektra (Elodie Yung) and Frank Castle aka The Punisher (Jon Bernthal), it also gave us arguably the definitive version of the larger-than-life villain. D'Onofrio brought depth and emotion to a character who is most often portrayed as a maniacal brute force, making him one of the most intriguing parts of the series. Disney seemed to agree.
D'Onofrio made a long-awaited return in the Disney+ series, "Hawkeye." While he was mostly relegated to being the reason behind Kate Bishop's mother's actions, he came face to face with Bishop herself in the finale. Throughout the two series, D'Onofrio's Kingpin has faced off against numerous heroes, including Daredevil (Charlie Cox), Kate Bishop (Hailee Steinfeld), Echo (Alaqua Cox), and The Punisher. However, in a recent interview, the actor himself confessed that there was another hero he wants to face off against in the future.
Spider-Man is his his ultimate enemy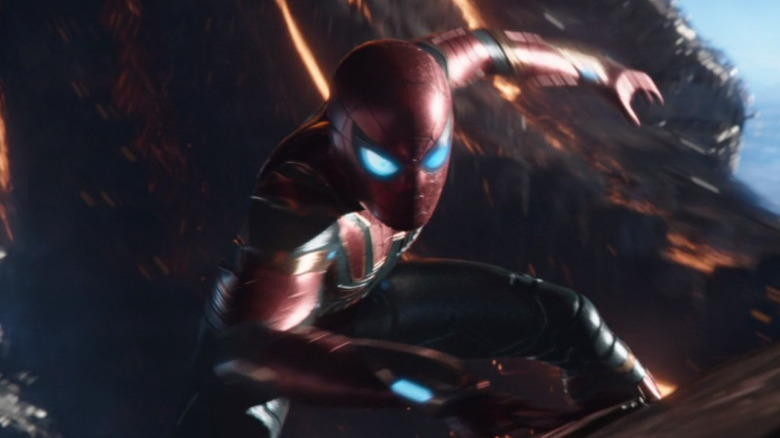 Marvel Studios/Disney
According to the Kingpin actor, when appearing at the Salt Lake Fan Expo, there is only one hero he must face off against. In a question that asked him who his dream opponent would be, he responded, "There is only one, really, end goal," and in response to a fan screaming out the name of Spider-Man, he said, "you know, and I think someone just said who that would be." While the fans began to cheer at the answer, Vincent D'Onofrio went on to talk about his other nemesis.
"But, I will say, though, see, you guys have no idea what you're in store for with 'Born Again,'" he said. "And I know a little bit more than you guys. And all I can say is, during that next series, you're not going to be thinking about anything but that next episode." Daredevil actor Charlie Cox and D'Onofrio appeared together on stage to promote the new series at D23 earlier this year, and they suggested it could be a reboot. A Twitter post by the Kingpin actor confirms they will face off against each other again when he said he is looking forward to working with Cox again.
This isn't the first time the actor confessed that Spider-Man was the end goal for who he wanted to fight. During an episode of "The Sarah O'Connell Program," D'Onofrio states who he wants to interact with. "All of them. I mean, it's obvious that Punisher, Daredevil, and Spider-Man are the ones that my character is tied to in the comic books. But there's plenty of room for others; I can just only hope that that happens. But I mean, Spider-Man, definitely. I think that would be really, really fun."
Spider-Man and Kingpin have been enemies since the beginning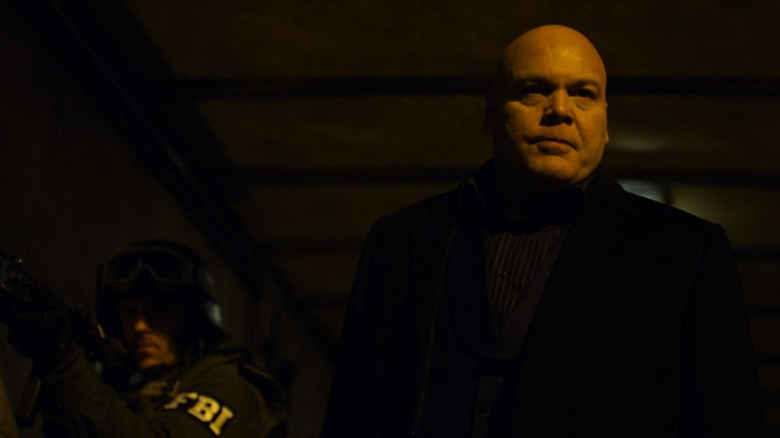 Courtesy of Marvel Studios/Disney+
Wilson Fisk first appears in the comics in 1967 in The Amazing Spider-Man #50, "Spider-Man No More." The storyline follows a similar plot line to the Tobey Maguire-led "Spider-Man 2." Peter Parker begins feeling the pressure of being the hero and gives up the costume, dumping it in a trash can and moving on. J. Jonah Jameson ends up with the costume and claims victory over the webhead. A scene in "Spider-Man 2" pays homage to this comic (see it here), with a shot pulled directly from the cover.
In the comic version of the story, Wilson Fisk uses the absence of Spider-Man to get a strong foothold in organized crime in the city. As crime rises, Peter Parker eventually dons the outfit once again and returns to stop the budding crime war and Fisk's ascension to crime boss. Of course, Kingpin became a mainstay in the comics arc and faced off against numerous heroes that made the streets of New York their battleground, including Punisher and Daredevil. Since Spider-Man was the hero of his origin story, it makes sense that the two face off on-screen.
There is no word on what will happen in "Spider-Man 4," and with Tom Holland's Peter Parker returning to his roots as a broke photographer living in the city with no one wise to his secret, there is ample opportunity. Of course, there is plenty of room for setting up the franchise's future by introducing Norman and Harry Osborn. Still, Kingpin would be the perfect villain to bridge the gap between the Avengers Spider-Man and the street-level hero he will eventually become. From what it sounds like, nobody will have to ask Vincent D'Onofrio twice.