Charlie Cox Confirms What We Suspected About How Daredevil: Born Again Fits Into The MCU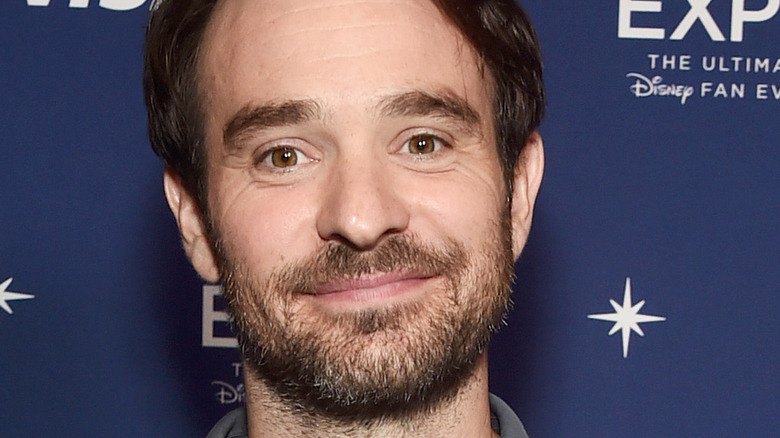 Alberto E. Rodriguez/Getty Images
Daredevil is officially on his way back to the Marvel Cinematic Universe with "Daredevil: Born Again." The Disney+ series will release in Spring 2024 and consist of 18 episodes, but Marvel Studios has yet to confirm whether their show will pick off where Netflix's "Daredevil" left off.
Since their introduction to the MCU, fans have wondered if the Matt Murdock and Kingpin (Vincent D'Onofrio) they saw in "Spider-Man: No Way Home" and "Hawkeye," respectively, were reboots, variants, or the same characters from the Netflix series. Marvel Studios has yet to confirm the status of "Daredevil" in the MCU canon, so fans are left to figure it out themselves until there's an official confirmation.
It turns out that most people at Marvel Studios are just as in the dark as the fans. Michael Crow, the costume designer for "Hawkeye" and many other Marvel projects, revealed to Gold Derby the confusion surrounding Kingpin's cameo in the series. "Plus, through the entire shooting, I wasn't — and I don't know if I still am — very clear on if it is in the same universe as that one. It's a multiverse so maybe it's a different version of that character. I don't know! It was not made clear to me as we were going."
Although Marvel Studios has yet to comment on the question surrounding "Born Again," Daredevil himself cleared things up at D23.
Daredevil: Born Again is a new beginning for the character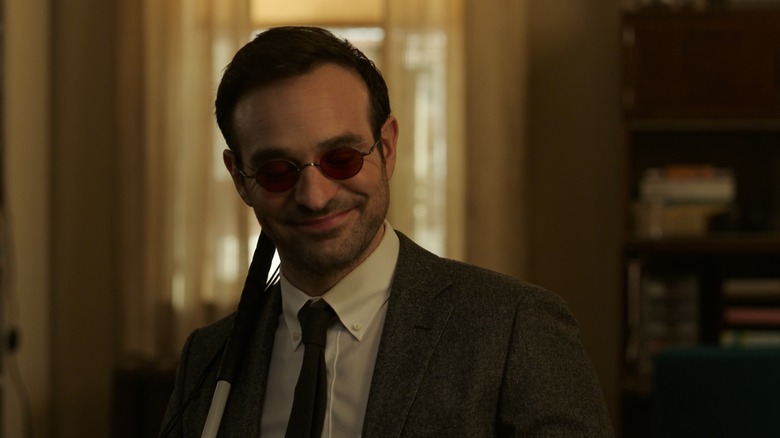 Sony Pictures
"Daredevil: Born Again" stars Charlie Cox and Vincent D'Onofrio joined Kevin Feige on stage at the D23 Expo 2022 to talk about the upcoming series. They teased what's next for the Man Without Fear, including an appearance in "She-Hulk: Attorney at Law." Cox commented on the questions surrounding the Netflix show after the presentation.
While speaking to Extra, Cox revealed that he wasn't sure if "Daredevil: Born Again" would be a continuation of the Netflix series. He has yet to see a script, but said, "My feeling is, based on the title 'Born Again,' I think that the sense is it is a new beginning, it is going to be different, it is going to be tonally different. It is going to be new stories, and new ideas." He also noted that Feige referred to "Born Again" as a Season 1, not a Season 4, and reiterated his excitement to return to the character.
Whether "Born Again" picks up where "Daredevil" left off or not, Cox understands the fans are to thank for his return. During his interview, he gave a shout-out to the SaveDaredevil community and assured them he would stay true to the character regardless of any tonal shift. Cox revealed to Variety that he had fun adjusting his Matt Murdock to fit the tone of "She-Hulk," and he isn't afraid to explore more of that if Marvel Studios decided to give the character a lighter tone in "Born Again."
D'Onofrio took to Twitter following the presentation to voice his excitement for "Daredevil: Born Again." "Truly looking forward to working with my friend Charlie again," the Kingpin actor said, "I know I can speak for Charlie as well when I say we promise to bring you [an] incredible Daredevil Born Again."