Bob Iger To Reverse Bob Chapek's Unpopular Cost-Cutting Focus At Disney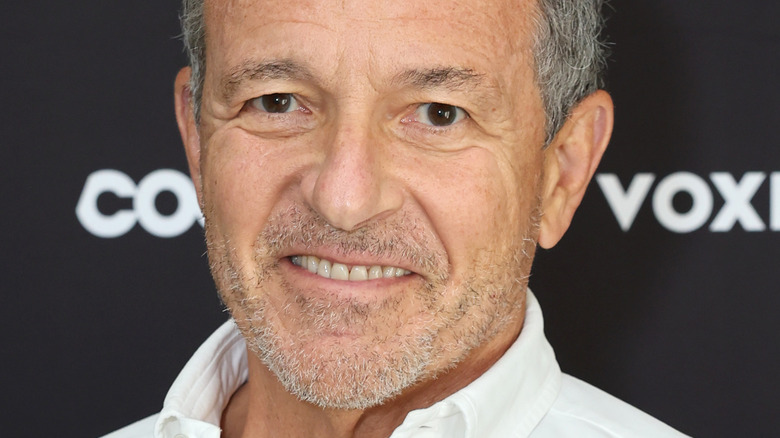 Randy Shropshire/Getty Images
Disney shook the entertainment industry with the announcement that former CEO Bob Iger has returned to that role, replacing his successor Bob Chapek, who served in that capacity starting in 2020 and was personally appointed by Iger. Making the news even more shocking is the fact that Disney renewed its contract with Chapek in June — which would otherwise have expired in July — for another three years (via CNN). Though the two men have reportedly been feuding for some time, it was hard to know exactly how which areas Iger would focus on in his initial restructuring of the media giant. Now, thanks to a new memo from Iger which was sent to Disney employees, we now know some of the course corrections the returning CEO has planned.
The internal politics at Disney are notoriously cutthroat, and it appears that the company's board was unhappy with Chapek's leadership over the past several years. His strategy entailed prioritizing data-driven solutions that removed control from the company's creatives and focused on content distribution. One example of those changes was the glut of MCU content released to Disney+ over the past two years. In his memo to employees, Iger stressed his plans to move away from Chapek's cost-cutting moves and refocus the company around its creative teams.
Iger promises to return decision making to Disney's creatives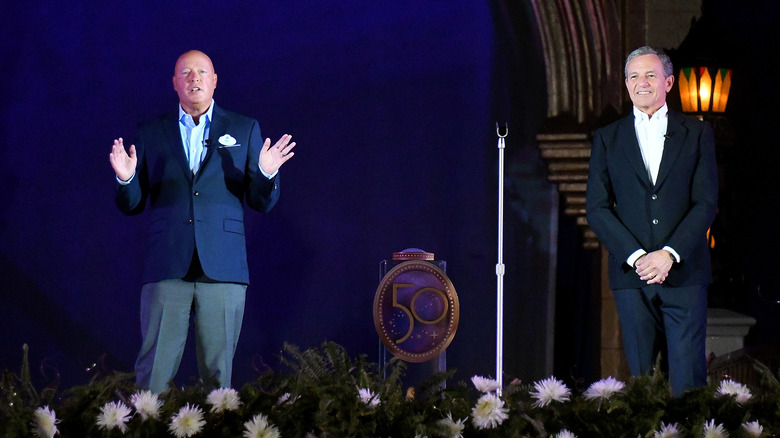 Gerardo Mora/Getty Images
In a copy of Iger's company-wide memo obtained by Collider, the returning CEO roughly outlined his ambitions for reorganization, which include moving away from data-driven decision-making and handing more control over to creatives. "I've asked Dana Walden, Alan Bergman, Jimmy Pitaro, and Christine McCarthy to work together on the design of a new structure that puts more decision-making back in the hands of our creative teams and rationalizes costs, and this will necessitate a reorganization of Disney Media & Entertainment Distribution," the memo read, in part.
Iger's style of management is a 180 from the cost-cutting of the Chapek era. Chapek's focus on budget cuts, layoffs, and distribution earned him disparaging nicknames such as "Cheap-ek" (via Disney Dining). But his austere measures did more than sow discontent. The ousted CEO's creation of a new distribution arm to place content resulted in many projects skipping a theatrical release in favor of direct-to-streaming and is largely seen as a failure. As reported by The Wall Street Journal, Disney investors and executives lost faith in Chapek following a troubling earnings report in November which revealed a $1.47 billion loss on streaming. The next day, Disney stock plummeted 13%, signaling investor skepticism.
Already, both the market and entertainment industry are reacting positively to Iger's return. Disney stock rose in the wake of the announcement, closing up at more than 6% on Monday (via CNBC). Meanwhile, The Atlantic ran a column hoping to see Iger save Disney from "the streaming death spiral." To Chapek's credit, he was successful in navigating the company through the worst of the pandemic, but it's clear that at this stage, he has few cheerleaders left in his corner.