Why Lance From Welcome To Chippendales Looks So Familiar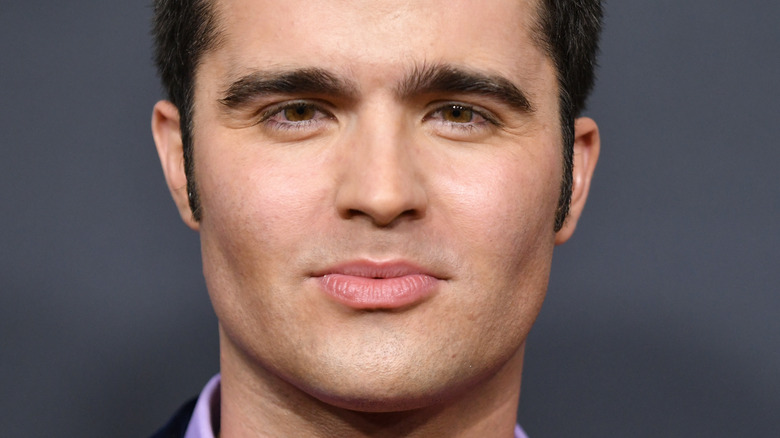 Rodin Eckenroth/Getty Images
True crime drama series have become a mainstay in the pop culture landscape in recent years with networks, and podcasters popping up fresh tales of sordid deeds on pretty much a weekly basis. It's only natural that the streaming realm would follow suit, particularly after the breakout success of Netflix's 2020 hit docudrama "Tiger King." Creators have, of course, also sought to capitalize even further on the true crime fad by dramatizing some of history's more unsettling criminal escapades with the help of Hollywood A-listers. And Hulu is doing just that with their new mini-series "Welcome to Chippendales."
The streamer's new bio-drama explores the rise of Somen "Steve" Banerjee, the Indian American entrepreneur who founded the adult, all-male dance crew of title before allegedly — and unexpectedly — becoming a criminal kingpin (via Newsweek). That role is played by Kumail Nanjiani in "Welcome to Chippendales," who's sharing the screen in the eight-part series with a stellar ensemble including Analeigh Ashford, Dan Stevens, and Juliette Lewis, among others. And it's more than likely viewers will recognize at least a few of those "others." That includes the actor who plays Lance McCrea in "Welcome to Chippendales." Here's why he looks so familiar.
Spencer Boldman played the other Peter Pan in 21 Jump Street
If you've seen "Welcome to Chippendales," you know that not only is Lance McCrea identified early on as the physical ideal for men looking to join the famous dance troupe, but that he fills the role as well as any of his counterparts. Hopefully, you also know the actor who plays him does well in making Lance more than just a pretty face and buff bod. That actor's name is Spencer Boldman. And if his chiseled jaw looks familiar to you, it's because he's been in a handful of pretty high-profile projects in the past decade.
In fact, Boldman earned his first screen credit in 2009 for a one-off appearance on the Nickelodeon teen hit "iCarly." A couple of years later, he turned up in a different sort of teen project when he scored a role in the very R-rated "21 Jump Street" remake. Based on the cult hit TV show from the late '80s and early '90s, the film found Channing Tatum and Jonah Hill playing disgraced police officers who go undercover at a local high school to bust a drug ring. In a hilarious sub-plot, one of them lands the lead in the school's production of "Peter Pan," snaking the gig from presumed star French Samuels.
That is indeed Spencer Boldman playing the other Peter Pan in "21 Jump Street." Though he doesn't have a ton of screen time, the young actor more than seizes his moments, doing so alongside the likes of Hill, Brie Larson, and "Saturday Night Live" standout Chris Parnell. 
Boldman played one of the Lab Rats on The Disney Channel
"Welcome to Chippendales" is an even more adult-oriented affair than "21 Jump Street" for Spencer Boldman. After all, many of the actor's early credits came for fare suitable for audiences of all ages. Several — including roles in The Disney Channel productions "Jack and Jill Save the Planet" and "I'm In the Band" — also came with the backing of The Walt Disney Company. In 2014, Spencer Boldman even shared the screen with Zendaya in The Disney Channel movie "Zapped." 
Boldman had already spent a couple of years fronting his very own series for the Mouse House's cable station by then. That series was the superhero hit "Lab Rats," which followed the adventures of young Leo Dooley (Tyrel Jackson Williams), a scrawny kid whose life forever changes when he discovers his inventor stepdad has a trio of bionic, super-powered teens living in a secret lab under his house. You'd better believe Boldman played one of those bionic heroes, with the young actor portraying the elder statesman of the group, Adam Davenport.
Boldman portrayed the character in 98 episodes of "Lab Rats" between 2012 and 2016, appearing alongside series regulars William Brent, Kelli Berglund, Hal Sparks, and Will Forte. While most of the original cast returned for the follow-up series "Lab Rats: Elite Force," Boldman was noticeably absent. And just given what he's been up to in the ensuing years, the actor was likely looking to shed his teen star image for more adult projects like "Welcome to Chippendales."