Kumail Nanjiani's Transformation For Welcome To Chippendales Literally Left Him Breathless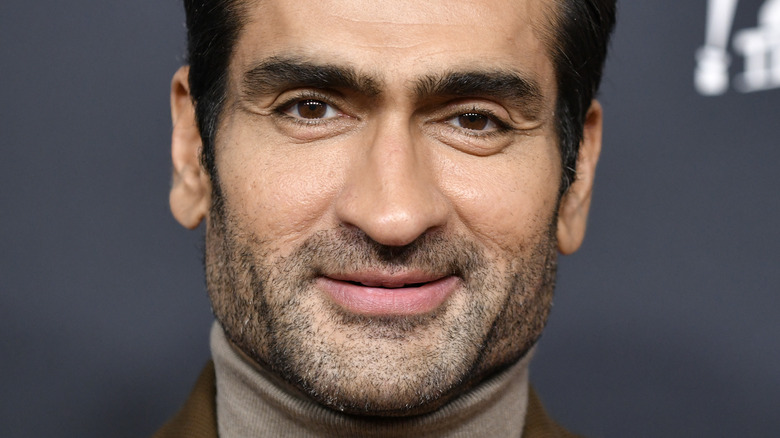 Rodin Eckenroth/Getty Images
Whether fighting monsters or running a nightclub, Kumail Nanjiani fully commits to every role he takes on. The Marvel Cinematic Universe star made headlines during the production of the ensemble superhero-epic "The Eternals" when he unveiled a truly impressive physique, sculpted for his role as the one-man Bollywood dynasty, Kingo (via GQ). Najiani was refreshingly honest about how unrealistic it was for anyone — including himself — to achieve such a form without the assistance of a multimillion-dollar studio, celebrity trainers, and top-tier nutritionists.
When it was announced that the comedian would be leading the cast of Hulu's latest real-life drama, "Welcome to Chippendales," it was easy to imagine him among Chippendales' iconically ripped male dancers. In reality, Nanjiani was to play Somen Banerjee, the founder of the Chippendales brand who was eventually charged with several crimes (via The Los Angeles Times), including the murder of producer Nick De Noia (played in the series by "The White Lotus" star Murray Bartlett).
Not only would his "Welcome to Chippendales" character have no need for the actor's muscles, but it also compelled Nanjiani to transform his body again. As he described on "Jimmy Kimmel Live," the process was much easier than his intense workout regimen for "The Eternals" — though it did cause some breathing issues.
Nanjiani's Chippendales diet gave him sleep apnea
During an appearance on "Jimmy Kimmel Live," Kumail Nanjiani described his circumstances in preparation for "Welcome to Chippendales," describing his circumstances as "a gift" (via YouTube). 
"I'm the only one who doesn't take his shirt off the entire time!" Nanjiani said. As Kimmel clarified, the role actually required Nanjiani to get out of shape, with the actor explaining, "[Banerjee] can't look like someone who could get on stage and dance with them, and for a little point in my life I did look I could." He went on to say that throughout the shooting process he would eat four large meals every day, including copious amounts of cheesecake, fried chicken, and fries. "I would get home at night and order a fried chicken sandwich with fries, eat, and go right to bed," he told Kimmel. "It was glorious!"
Though the lack of restriction on his diet was obviously relieving for the actor, his new diet negatively impacted his health. He said of his bedtime chicken sandwich meal, "I did it so much, Jimmy, I started, like, having trouble breathing in the middle of the night ... I would wake up in the middle of the night, like, gasping for breath ... like someone who just moved into a creaky old house in a horror movie."
After consulting with a doctor, Nanjiani was diagnosed with sleep apnea caused by his poor diet. According to medical professionals, the actor would stop breathing fifteen times an hour. After commiserating with Kimmel about the struggles of using a CPAP (continuous positive airway pressure) machine, Nanjiani relayed that he was fortunate enough to no longer need the device after adjusting his diet.
"Welcome to Chippendales" premieres on Hulu on November 22nd.