Black Panther: Wakanda Forever's Mid-Credits Scene Was The Film's Original Story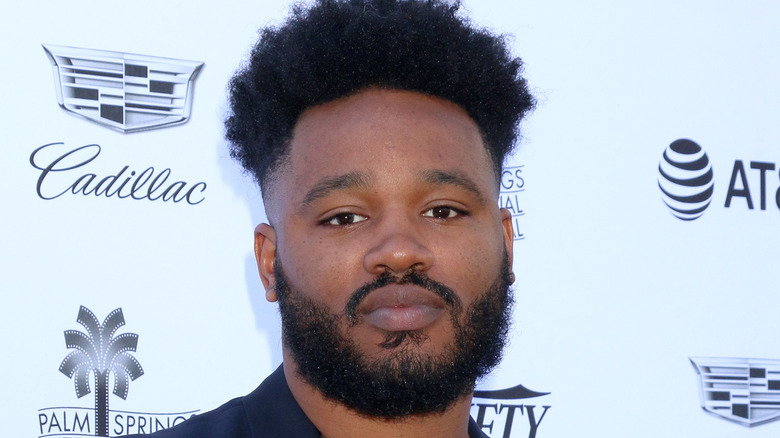 Kathy Hutchins/Shutterstock
"Black Panther: Wakanda Forever" continues to light up the box office, earning over $100 million domestically during its first weekend (via Variety). The sequel to 2018's "Black Panther" comes after a long four-year wait for fans. However, a lot has happened within the Marvel Cinematic Universe during that time, and the late Chadwick Boseman's T'Challa did appear in "Avengers: Infinity War" and "Avengers: Endgame." Then, after Boseman's tragic passing in August of 2020 (via Deadline), the original plans for the "Black Panther" sequel were left in limbo.
It would be hard for the cast to move on without their king, but after some time, more suggestions about moving forward became public. Boseman's brother Derrick told TMZ back in December of 2021 that the T'Challa actor would've supported the character being recast. Still, director Ryan Coogler and other castmates felt otherwise, leading to what we see in "Wakanda Forever."
That certainly doesn't mean that it wasn't hard for the cast and crew to make the film without Boseman there. Shuri actress Letitia Wright told Looper that on many occasions during filming, many people needed a moment to acknowledge and grieve for Boseman. "It's difficult, but we are trying to take it one day at a time. We're trying to give ourselves the healthy space to heal and grieve and to continue his legacy as best as we can," she said.
T'Challa's death is central to the plot of "Wakanda Forever" and is especially focused on during a mid-credits scene that was actually the focus of the original script.
T'Challa being a father was central to the original script for Black Panther: Wakanda Forever
While speaking with Yahoo! Entertainment correspondent Kevin Polowy during the press tour for "Black Panther: Wakanda Forever," director Ryan Coogler explained that the original focus for the film before Chadwick Boseman's passing involved him being a father (via Twitter). As we know, "Wakanda Forever" features a mid-credits scene where Nakia (Lupita Nyong'o) reveals to Shuri (Letitia Wright) that she and Boseman's T'Challa had a son together a while back — T'Challa Jr. (Divine Love Konadu-Sun). He is seen briefly earlier in the film when Queen Ramonda (Angela Bassett) goes to Haiti to get Nakia's help. During the mid-credits scene, Nakia explains to Shuri that she and T'Challa wanted to raise their son away from Wakanda and the 'pressure' that being part of the royal family brings. They also had their own funeral for him at their residence in Haiti instead of going to Wakanda for the ceremony.
"Wakanda Forever" co-screenwriter Joe Robert Cole also told Rolling Stone that T'Challa Jr. would have been way more involved before Boseman's passing in the original script. "Yeah, [in] a previous iteration, we really were more child-focused in the narrative, and his son was a part of that. Obviously, that changed, but we wanted him to exist in the film in some way. It was much more reduced," he explained. Cole continued that it was touchy figuring out the best way to still introduce T'Challa's son after they had to change the script.
Ryan Coogler was cryptic about the future of T'Challa's son
Additionally, during Ryan Coogler's conversation with Kevin Polowy, there was a follow-up question about the possible implications of Konadu-Sun's T'Challa Jr. moving forward. Polowy noted that the mid-credits scene could imply that although Boseman's T'Challa will not be re-cast, there clearly could be another King T'Challa leading Wakanda and operating as the Black Panther someday. Coogler smiled and took a sip of his drink, only replying quietly with "Yeah." Not to mention, Joe Robert Cole also revealed during his interview with Rolling Stone that two other characters aside from Wright's Shuri were "kicked around" as ideas for the new Black Panther — Nyong'o's Nakia and Winston Duke's M'Baku. Not only would either be fitting for the role given their relationship to Boseman's T'Challa, impressive skills, and love for Wakanda, but both already nearly became the Black Panther during the first movie.
In "Black Panther," when T'Challa is thought to be dead after the ritual combat with Erik Killmonger (Michael B. Jordan), Nakia grabs one heart-shaped herb with the intention to take it for M'Baku to become the Black Panther and take on Killmonger. Then, on their way to J'Abariland, Bassett's Queen Ramonda suggests that Nakia take the herb, and she refuses. As we know, they go on to find T'Challa alive, and the rest of the story has ultimately led to Shuri becoming the new Black Panther.