Chicago Fire's Main Characters Ranked Worst To Best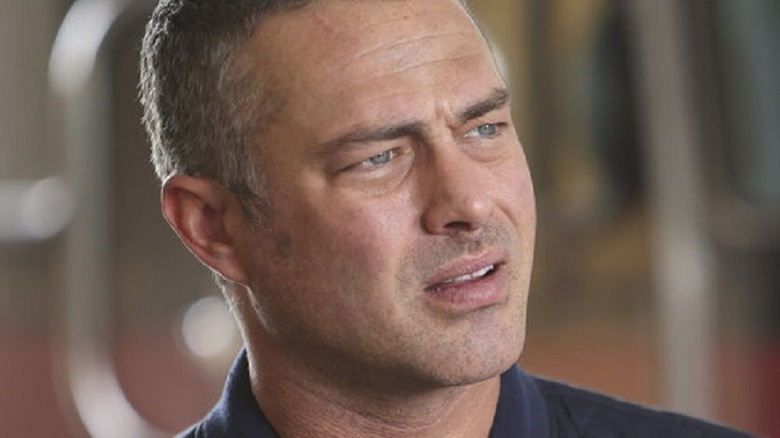 Adrian Burrows Sr/NBC
With 11 seasons and over 200 episodes under its belt, "Chicago Fire" has become one of network television's most reliably impressive shows. First premiering in October 2012, the series has enjoyed more than a decade of programming and launched the "One Chicago" universe, which includes four Chicago-themed series; "Chicago Justice" was canceled after one season, but the other three have remained favorites among viewers.
While much of the success can be attributed to creator Dick Wolf, who is also the mind behind "Law & Order," the cast of lovable characters in "Chicago Fire" is what keep audiences coming back each week. Over its entire run, many characters have cycled in and out of the main cast, including Matt Casey (Jesse Spencer), who was originally built to be the show's lead character, but the rest of the ensemble cast has more than made up for his absence.
"Chicago Fire" consistently writes strong and nuanced parts, giving even the tougher characters many redeeming factors. Still, some are definitely more lovable than others. Here are the main characters in "Chicago Fire" ranked worst to best.
14. Gabriela Dawson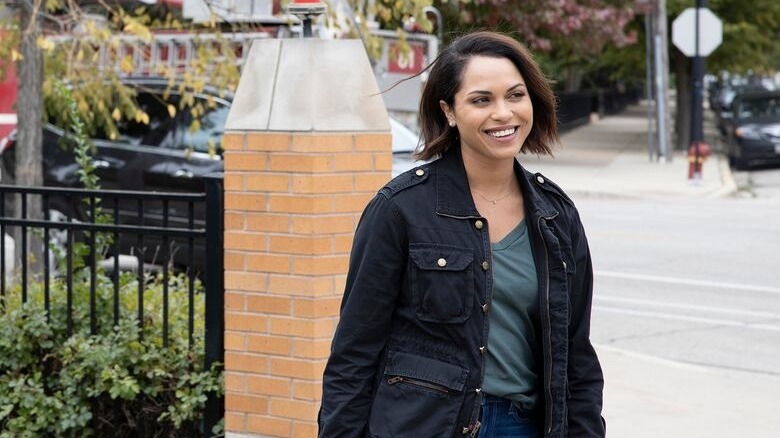 Adrian Burrows/NBC
Gabriela Dawson (Monica Raymund) was one of the main characters for the first 6 seasons of "Chicago Fire," and has returned for a few guest appearances since then. Working as the Paramedic in Charge at Firehouse 61, Dawson is regularly forced to make tough calls in the field, and she excels under pressure. Later in the show, she marries Matt Casey, until she leaves him to go work in Puerto Rico.
While Dawson's impressive drive to better herself and her firehouse is admirable, it often comes at the cost of those around her. She is constantly pushing rules and boundaries, such as secretly stalking the troubled teenager, Bria (Quinn Cooke), and entering her place of residence without permission in Season 6. In addition, while the loss of her and Casey's foster son Louie is hard on the couple, Dawson's decision to run away and leave Casey solidified why she had "Chicago Fire" fans conflicted from the very beginning.
13. Stella Kidd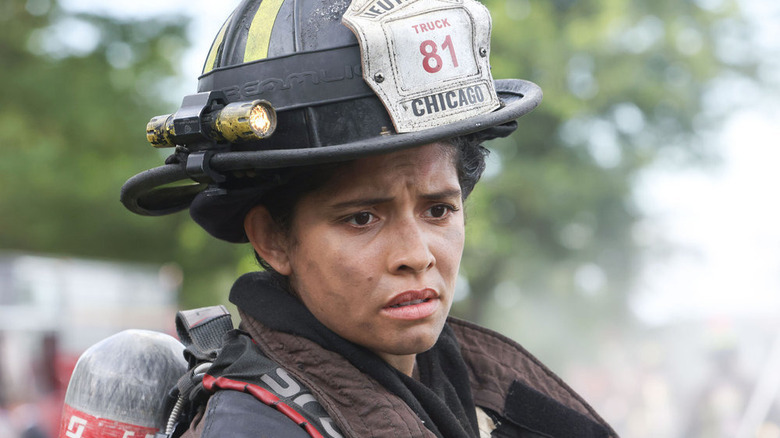 Adrian S Burrows Sr/NBC
Miranda Rae Mayo doesn't join the cast of "Chicago Fire" until Season 4, but she has quickly become one of the show's most important mainstays. Stella Kidd became an instant favorite after her introduction to the team, which famously had her declaring that she does what she wants when she wants and if they have a problem with that, too bad. She also quickly proves herself a worthy firefighter and starts a romance with Kelly Severide (Taylor Kinney) which is as fun as it is steamy. Time and again, Stella proves herself a powerful addition to the team, and it is hard not to root for her, especially during a storyline where she has to deal with a superior's sexism.
Unfortunately, the later seasons haven't been kind to Stella. In Season 10, Stella mysteriously disappears for a large chunk of the season after having a fight with Kelly. While it is later explained she left to help build her Girls on Fire program, ghosting her fiancé for months was a bad move. In addition, her mistreatment of teammate Sam Carver (Jake Lockett) in Season 11 has been a point of contention, with an incident of her threatening to kick him out of the truck unless he talked about his scar being a particularly glaring highlight.
12. Randall Mouch McHolland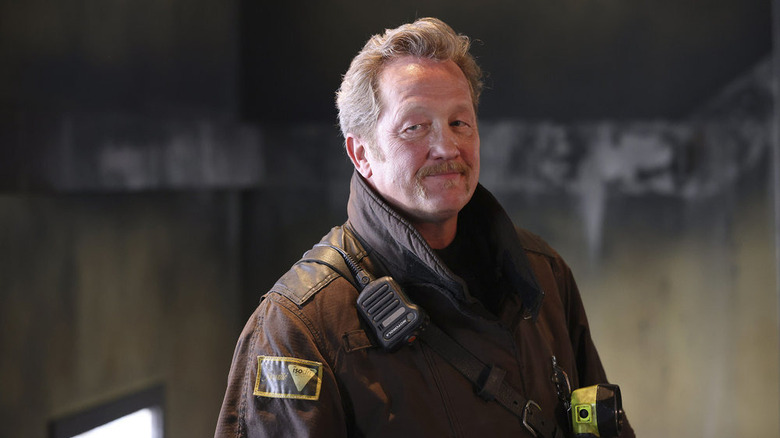 Adrian S. Burrows Sr./NBC
Randall "Mouch" McHolland (Christian Stolte) is one of the longest-serving members at Firehouse 51, alongside Wallace Boden (Eamonn Walker) and Christopher Herrmann (David Eigenberg) and is often looked at as a reliable friend and colleague. He earned the nickname "Mouch," an anagram of man and couch, as he loves watching TV at the fire station. He also has a wonderful relationship with his wife, "Chicago P.D." Seargent Trudy Platt, and his connection to her can sometimes get his coworkers the help they need from the police department that they might not otherwise get.
Unfortunately, Mouch's selfishness can get in the way of his role as a firefighter, as well as a friend and mentor. In Season 9, Episode 9 ("Double Red"), Mouch is assigned to attend training he was too lazy to finish years prior. During the class, he chooses to showboat to the younger firefighters rather than respect the program or its trainer, leading him to fail. The same goes for his childish rivalry with Chuck Rutledge (Patrick Blashill), which leads to him dragging other members of Firehouse 51 into his damaging pranks.
11. Blake Gallo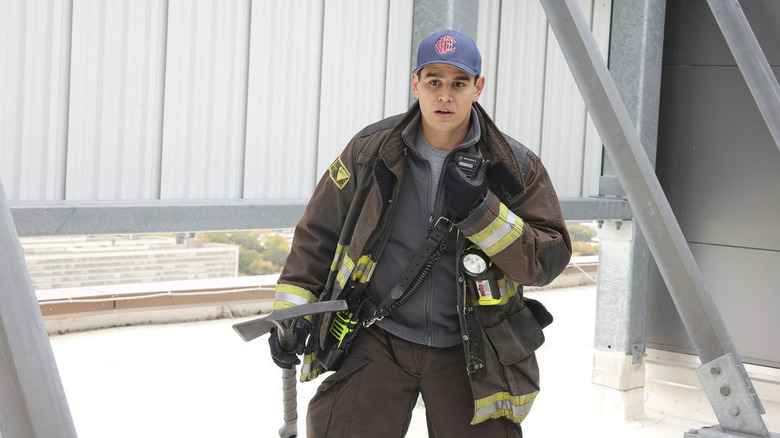 Adrian S. Burrows Sr./NBC
Blake Gallo (Alberto Rosende) joins Firehouse 51 as a replacement following the tragic death of Brian "Otis" Zvonecek (Yuriy Sardarov). Gallo is young and headstrong, but proves to be a capable firefighter and captures the attention of Matt Casey, who finds him a spot on the team. Gallo struggles with a complicated past, as his parents and sister were killed in a house fire when he was young. This trauma results in him occasionally defying orders from superiors to make dangerous rescues, especially when kids are involved. While his actions are undeniably heroic, they can cause problems as they can at times be very unsafe.
Gallo also has issues when it comes to his longtime on-and-off romance with Violet Mikami (Hanako Greensmith). While they start as rivals, their attraction for each other eventually leads to the two having a relationship, but when Violet breaks things off and begins dating Evan Hawkins (Jimmy Nicholas), Gallo's jealousy gets the better of him and he texts Violet relentlessly. With time, however, he moves on and becomes a supportive friend to Violet, and the rest of his team.
10. Kelly Severide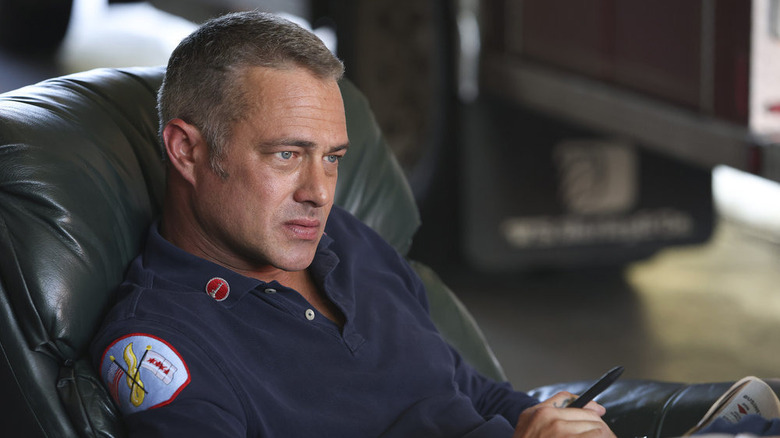 Adrian S. Burrows Sr./NBC
After Matt Casey's departure, Kelly Severide has arguably become the main character of "Chicago Fire," and his presence is one of its most important. Taylor Kinney is infinitely charming and charismatic in the role. Despite having a rocky relationship with Casey in the first season, based on the blame over the death of a mutual friend and colleague, the two grow to be the best of friends, and their friendship becomes one of the cornerstones of the cast's dynamics.
While Severide is a very likable character, he also has his negative qualities as well. For instance, in Season 1, he manipulates his roommate and close friend, Leslie Shay (Lauren German), to use her position as a paramedic to sneak him drugs that he isn't authorized to take because of his addiction. In addition, when his girlfriend (and future wife) Stella Kidd is trying to pass her lieutenant's exam, Severide avoids her for several days to try to make it seem like he isn't the reason she got into the program. Instead of communicating this, he is short with her and refuses to talk.
9. Evan Hawkins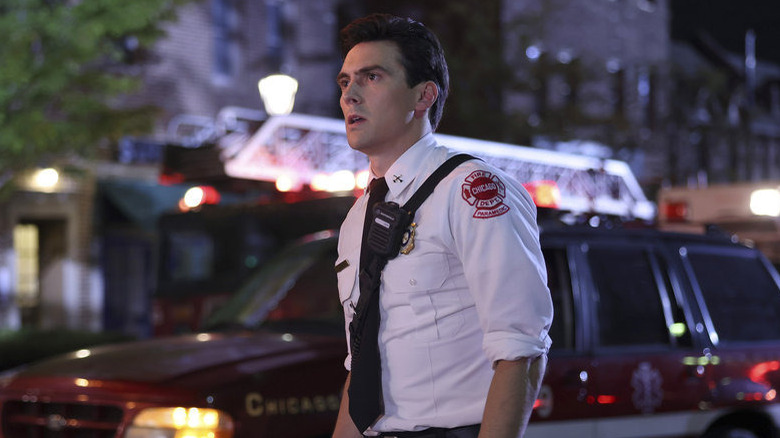 Adrian S. Burrows Sr./NBC
Of all the characters on this list, Evan Hawkins (Nicholas) has the smallest tenure as a main cast member on "Chicago Fire." Having only appeared in Seasons 10 and 11, it is a testament to his popularity that his untimely death in Season 11 is one of the most heartbreaking in the entire show's run. Hawkins is the Paramedic Field Chief of the Chicago Fire Department who is known for his honest and fair leadership. He develops an attraction for Violet Mikami and the two begin dating, which causes issues at work as his opinions as her superior is no longer impartial.
Hawkins is shown to care deeply for his paramedics on the field. In Season 10, Episode 22 ("The Magnificent City of Chicago"), when Hawkins discovers that paramedic Emma Jacobs (Caitlin Carver) left her teammate behind in a burning building, he immediately fires her, seeing her as someone who can't be trusted with the safety of the other paramedics. In Season 11, Episode 3, ("Completely Shattered"), Hawkins is killed after he tries to help a victim out of a collapsing building, but he is still regularly brought up by the rest of the team who acknowledge him as a hero.
8. Darren Ritter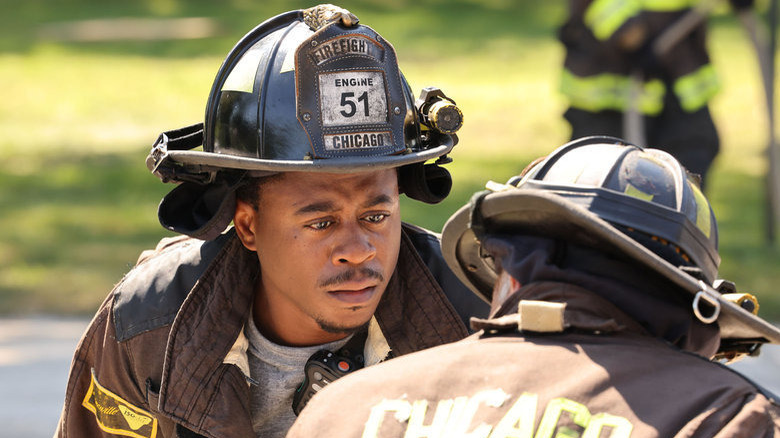 George Burns Jr/NBC
Darren Ritter (Daniel Kyri) joined the Firehouse 51 crew in Season 7 and has been a mainstay at the firehouse ever since. After making a mistake during a call while he was with Engine 37, Ritter was fired from Firehouse 37, which prompted Mouch and Herrmann to bring him over to Firehouse 51. Ritter is a kind man who is always looking out for his teammates, making him a difficult character not to love. During the mattress factory fire in Season 7, Ritter refuses to leave Herrmann behind, despite direct orders to do so.
Ritter is likely a fan favorite for animal lovers as well. He is the owner of Tuesday, a dalmatian that is a firehouse dog at Firehouse 51. She always accompanies Ritter on shifts because of her separation anxiety and seeing the way that he treats her further shows his kind heart. He also has a wonderful relationship with his boyfriend Eric (Curtis Edward Jackson) and despite their brief breakup after quarantine, the pair manage to rekindle their love.
7. Violet Mikami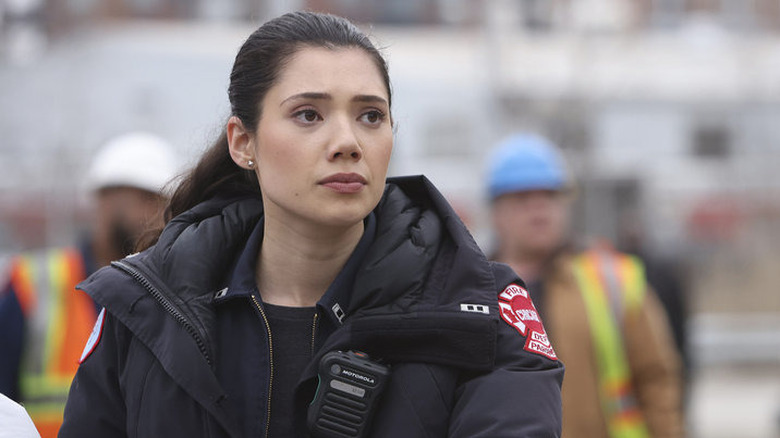 Adrian S. Burrows Sr./NBC
Violet Mikami is originally introduced as a paramedic at Firehouse 20. She has a long-standing rivalry with Firehouse 51 member Blake Gallo, but that quickly turns into a romantic relationship in Season 8, Episode 10 ("Hold Our Ground"), which also serves as the character's introduction. Mikami eventually joins Firehouse 51, filling the slot left open by Gianna Mackey (Adriyan Rae), which causes some issues with Gallo, who is embarrassed after she turns down an impromptu marriage proposal from him.
Mikami is an outstanding paramedic and friend. In Season 10, Episode 22 ("The Magnificent City of Chicago"), Mikami helps to deliver a child in a burning building, despite being left alone by her partner, Emma Jacobs. She also tries her best to maintain a friendly relationship with Gallo even while they aren't dating. In Season 11, Episode 3, ("Completely Shattered"), Mikami is present when a building collapses on her boyfriend, Evan Hawkins, and watching her try unsuccessfully to revive him is a heart-wrenching moment.
6. Matt Casey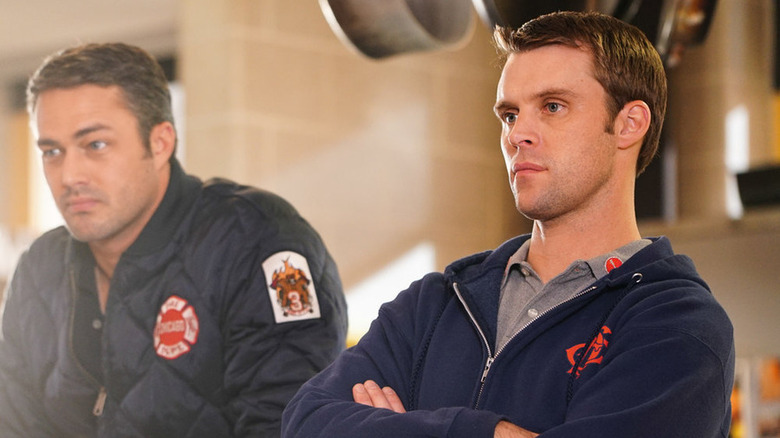 Elizabeth Morris/NBC
Matt Casey (Spencer) serves as the show's lead character until his departure in Season 10. Casey is an honest, loyal, and forthright member of Firehouse 51. While his rigid moral code can put him at odds with other firefighters or first responders, it often leads him to make tough but necessary calls. This can be seen through his longstanding feud with Hank Voight (Jason Beghe) of "Chicago P.D." where Casey looks to expose Voight's corrupt choices that helped keep his dangerous son out of prison.
Though most of Casey's colleagues regard him as a fair and patient leader, he can at times be overly strict when it comes to enforcing the rules, especially when it comes to the safety of his fellow teammates. In Season 9, Episode 3 ("Smash Therapy"), Casey hounds Mouch after he seemingly forgets to lock a ladder which nearly kills him. The issue is found to be a faulty ladder, but that doesn't spare Mouch from Casey's ire. Ultimately, Casey gives up his career to take care of fellow firefighter Andrew Darden's (Corey Sorenson) children following his death in Season 1, showing that he truly is a hero in and out of the station.
5. Wallace Boden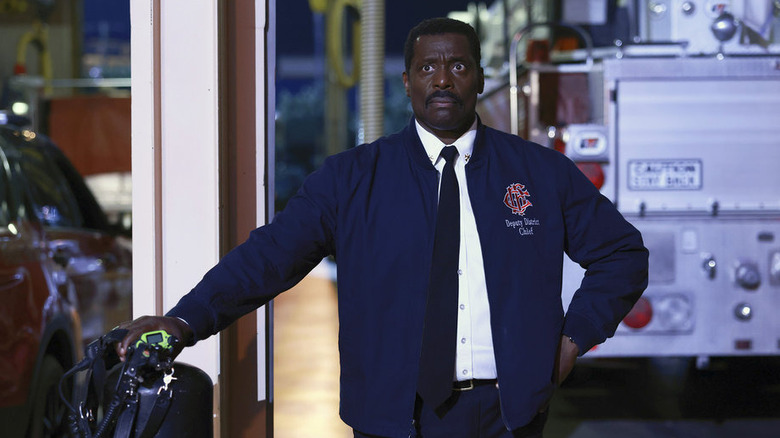 Adrian S Burrows Sr/NBC
Chief Wallace Boden (Walker) is a natural-born leader. He commands the love and respect of the firefighters under him in Firehouse 51 through his kindness and understanding, but he's also not afraid to make tough calls or be the bad guy when it's what's required of him. Finding that perfect balance might be hard for most people, but Chief Boden has mastered it during his long tenure as a first responder.
Boden's decision-making can at times get him in trouble, though he will hold firm to his beliefs. In Season 1, Episode 4 ("One Minute"), Boden is criticized after he makes the call to leave a civilian behind in a warehouse fire. Boden makes this decision knowing the man can't be saved, and that his team will likely die trying. Although this opens up a lawsuit against him and puts him under investigation, Boden holds fast to his beliefs, knowing he saved lives that day.
4. Christopher Herrmann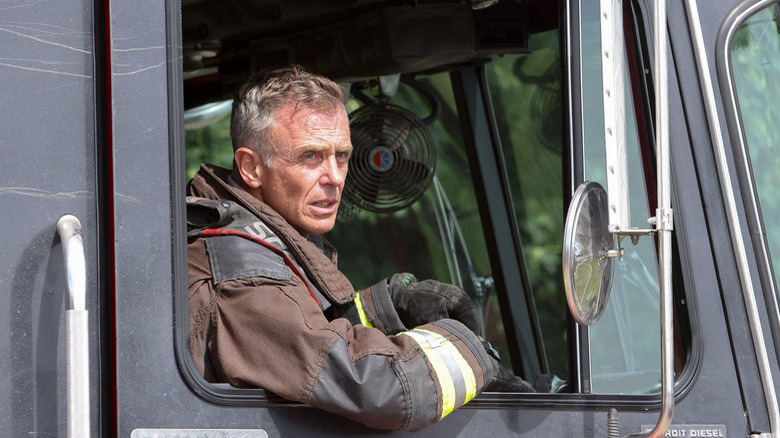 Adrian S Burrows Sr/NBC
Firehouse 51's ultimate family man, Christopher Herrmann (Eigenberg), is easily one of the most lovable cast members on "Chicago Fire." A veteran of both Firehouse 51 and the show, Herrmann is a master at not only splitting his time between the firehouse and his wife and five children but also as a co-owner of a bar, Molly's, which he takes over after Otis' death. Herrmann is also very protective of his teammates, such as in Season 10, Episode 4( "The Right Thing") when he kicks a customer out of Molly's for making homophobic remarks toward Darren.
Herrmann is also considered to be extremely trustworthy and understanding by his colleagues. In Season 2, Episode 22 ("Real Never Waits"), Herrmann happily accepts the offer to be Chief Boden's best man. He is also the first person that Matt Casey trusts with the information that he may be leaving Chicago to become the guardian of Darden's children, which Herrmann is very supportive of, despite knowing that he will miss having Casey on the team.
3. Sylvie Brett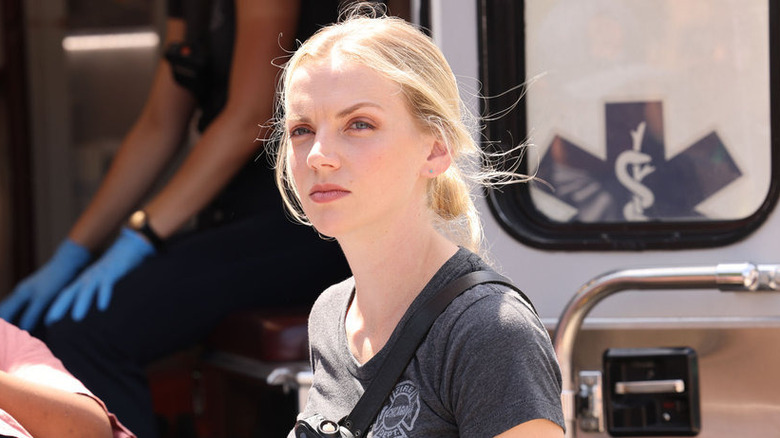 George Burns Jr/NBC
Sylvie Brett (Kara Killmer) joins Firehouse 51 in Season 3 of "Chicago Fire," and is brought in to replace paramedic Leslie Shay following her death in Season 2. It doesn't take long for Brett to prove that she is both a formidable paramedic and a true friend, and becomes one of the firehouse's most reliable presences. She eventually moves in with Otis and Cruz (Joe Minoso) and forms one part of the best trio that the show has.
Brett is also a terrific mentor to several new paramedics that cycle in and out of Firehouse 51 after Gabriela Dawson's departure from the team, especially Gianna Mackey, who she bonds with after the two destroy a drone together in Season 9, Episode 3 ("Smash Therapy"). Brett and Matt Casey also form one of the most popular romantic couples in "Chicago Fire." While she eventually breaks up with him following his departure for Oregon, her encouragement and understanding of the situation help prove that she is one of the show's most likable characters.
2. Joe Cruz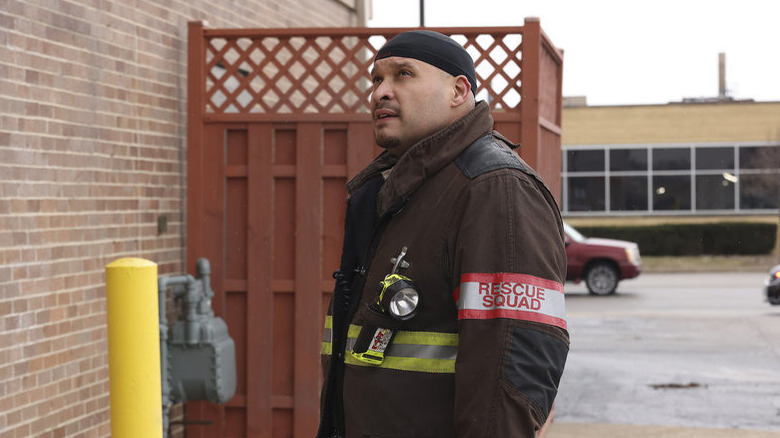 Adrian S. Burrows Sr./NBC
Joe Cruz (Minoso) is one of the kindest firefighters in Firehouse 51 and is almost impossible not to like. Having grown up in a rough neighborhood, where many of his childhood friends grew up in gangs, Cruz is always looking to help those who are less fortunate than himself. This includes his younger brother Leon (Jeff Lima), who briefly joins a gang. In order to get him out, Cruz refuses to save the gang leader during a fire, risking his own personal freedom and turning himself in, though Matt Casey never reports the incident.
Cruz also has a fantastic friendship with fellow firefighter Otis and stays by his side during his passing in Season 8, Episode 11 ("Sacred Ground"). Cruz ultimately names his son after his friend. He and his wife also take in a foster son, Javi, who he rescues on the job. Despite complications, Cruz fights to adopt Javi as the boy feels safe with his family, and the adoption is finally approved in Season 11, Episode 7 ("Angry is Easier").
1. Brian Otis Zvonecek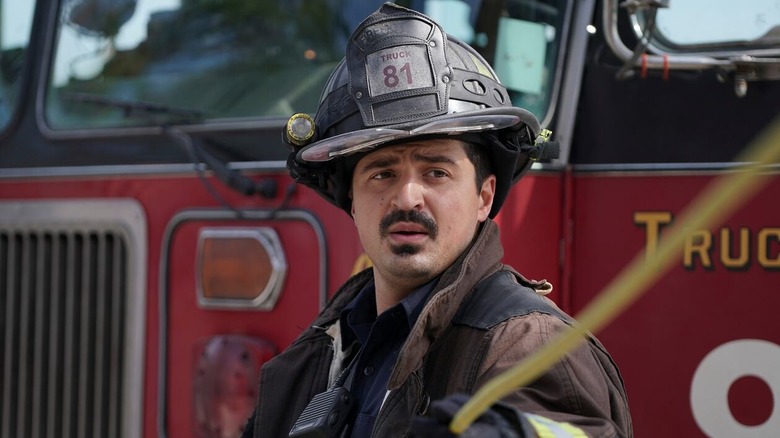 Elizabeth Morris/NBC
Brian Zvonecek (Sardarov), who is nicknamed "Otis" because he specializes in elevators, is one of the firehouse's most beloved members, both in-universe and out, despite departing "Chicago Fire" in Season 8. As somewhat of a jokester, Otis is always trying to make his friends and colleagues laugh and lift their spirits, even in the hardest moments.
His relationship with his roommate Joe Cruz also formed the show's greatest friendship. The two always have each other's backs, even at the very end of Otis' life. Despite being one of the most upbeat members of the team, Otis is often one of its unluckiest. In Season 4, Episode 19 ("I Will Be Walking"), he learns that he suffers from immune thrombocytopenic purpura, and he barely survives a shot to the neck in Season 6, Episode 15 ("The Chance to Forgive"), which is considered the ultimate Otis episode of "Chicago Fire."
Sadly, his luck finally runs out in Season 8, Episode 11 ("Sacred Ground"), when he is killed following a selfless act that saves his entire team and brings fans to tears. Otis spends his last moments with his best friend Joe, telling him "brother, I will be with you always," in Russian.