Gabby Dawson Had Chicago Fire Fans Conflicted From The Very Beginning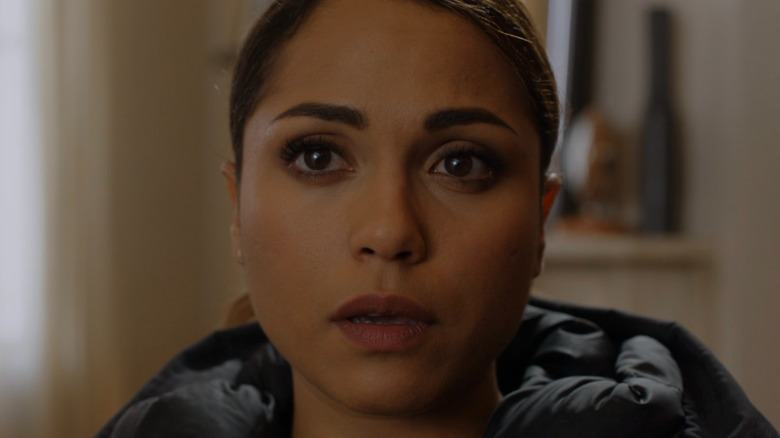 NBC
Gabby Dawson (Monica Raymund) is one of those characters that tends to divide fans. Quick to anger and opinionated, Dawson is an important part of the early seasons of "Chicago Fire," and the character appears from Seasons 1 to 6, while making guest appearances in Seasons 7 and 8 (via IMDb). Originally a paramedic on Ambulance 61, she eventually switches to Truck 81, and during her off-duty hours, she is a co-owner of the popular Molly's bar which the characters of the "One Chicago" often frequent. Dawson is also the younger sister of Antonio Dawson (Jon Seda) from "Chicago P.D.," and she is romantically connected to Matthew Casey (Jesse Spencer) until she decides to leave for Puerto Rico to help with rebuilding efforts.
When asked by the Chicago Tribune why she decided to leave the show after so many years, Raymund replied, "I'm not sure the exact moment when it happened, but I knew that my six-year contract was coming to an end and I felt like I was hungry to explore a different role, a different story." She continued, "I wanted to explore a different world. I had been in Chicago for five years and just personally where I was in my life, I was ready to create my home and kind of plant some roots in Los Angeles."
So, considering the nature of Dawson and her influence on "Chicago Fire," why are fans so divided when it comes to the character, and what are their longstanding reasons for disliking her?
Fans have varying opinions regarding Dawson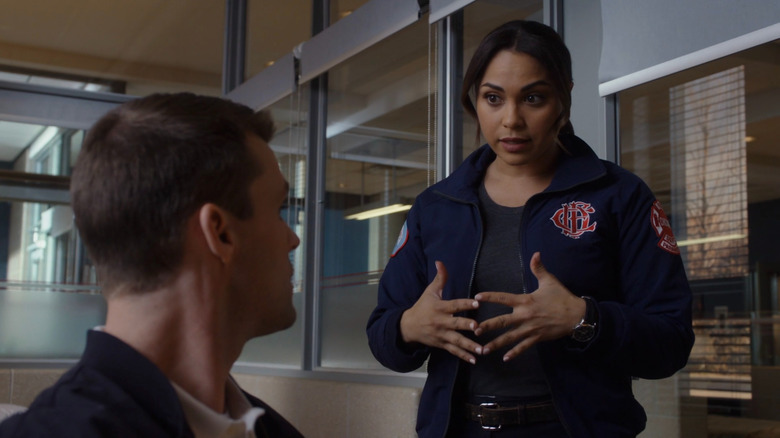 NBC
One fan discussion regarding the Gabby Dawson apprehension coalesced on the r/ChicagoFireNBC subreddit, with u/Stefan579 stating that they hate the character: "I just started season 7 where Gabby leaves the show and honestly I am so glad, I couldn't stand looking at her for another second." They added, "I love the show it's been great after finishing 'Chicago PD' and seeing all the crossovers. I just don't understand why Gabby was such a big focus in 'Chicago Fire.' The first 2 seasons it was okay, by the time season 5 rolled around with Louie I started to fast forward through episodes where Gabby is part of the scene."
This initial statement caused a deluge of comments, with u/Ta-veren- explaining that the issue they have with Dawson is that she never really suffers for her brash decisions, and because of that, never really grows as a character. They went on to say that it seems like Dawson can pretty much get away with murder on the show. Redditor u/Rebel_Yell12 agreed about Dawson getting away with everything, and noted how many times the character breaks rules and ignores orders, but is never punished. U/taymay31 commented that they use to be an avid watcher of "Chicago Fire," but found Dawson to be so annoying that they had to quit, and stated that they find the character to be one of their least favorite characters on any show. 
While these comments about Dawson are from fans who have already seen her story arc completed, it seems as if she has always struck a nerve with some viewers. 
Dawson has always divided Chicago Fire fans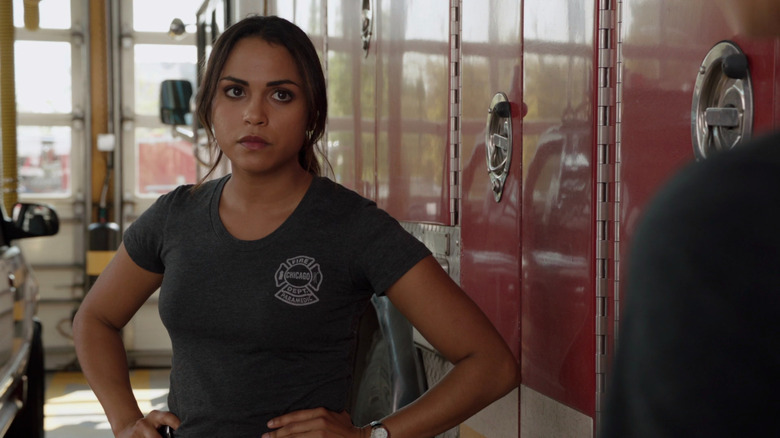 NBC
Reddit isn't the only place Gabby Dawson has been discussed, and to highlight the long-standing opinions on the character, one must look to alternate sources. In a 2014 thread on Primetimer Forums, user SnarkySheep started a conversation that asked other fans about their favorite and least favorite aspects of Dawson, and stated, "No matter what she does, it seems that viewers either love her or hate her — no middle ground." User Chas411 replied that they want to like Gabby, but her behavior often makes that tricky to accomplish. User WendyCR72 added, "I wish these writers would stop having Gabby swallow this show whole and share the wealth with Shay... and with Mouch, Hermann, etc. This is supposed to be an ensemble show, not The Perils of Greedy Gabby, yes?"
Another user named Neurochick didn't quite understand the hate Dawson gets, and said, "I don't have a problem with Gabby but she acts like a sixteen year old, someone needs to tell her to grow up." Additionally, user betsyboo pointed out an informal TVLine poll regarding Dawson, with the options regarding the character as either "Determined, loyal Firefighter" or "Overly nosey fixer," and 51% of the vote went with the first option, which highlights Dawson's divisive nature among viewers.
Judging by these comments, it looks like Dawson has always been a rather controversial figure in "Chicago Fire," and has always invoked strong feelings in fans.