What Will Kathleen Kennedy's Future Be At Lucasfilm Now That Bob Iger Is Back At Disney?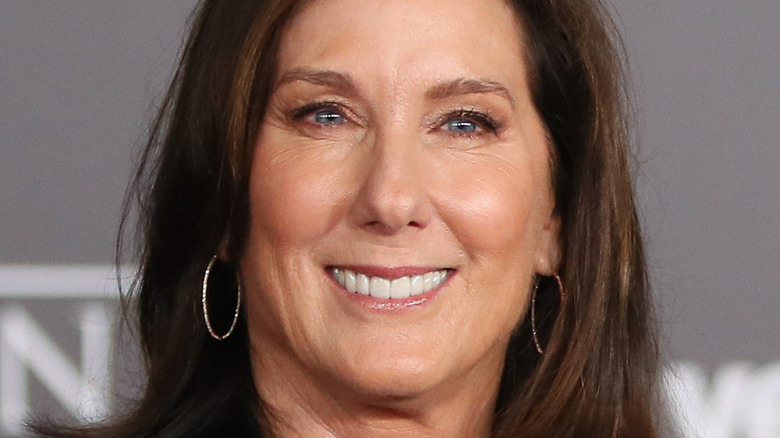 David Livingston/Getty Images
The return of Bob Iger to Disney will usher in a new age for the company throughout all its divisions — including the galaxy far, far away. When Disney acquired Lucasfilm in 2012 for $4.05 billion (via Entertainment Weekly), producer Kathleen Kennedy was named President of the company. During her time as Lucasfilm President, Kennedy has expanded the brand into different avenues, between the expansion of the "Star Wars" franchise with the sequel trilogy and television series, as well as the upcoming "Indiana Jones 5" and "Willow" Disney + TV series. 
However, her time at with the studio has also been marked with notable controversy and mixed feelings from fans. From the closing of LucasArts in 2013 to the hectic productions of "Solo: A Star Wars Story" and "The Rise of Skywalker" to the failed plans for the standalone "Star Wars" anthology films following the disappointing box office returns from "Solo," Kennedy's time at the company has seen some major challenges and debatable steps taken in solving them. 
It was announced on Sunday, November 20 that Bob Iger would be returning to the Walt Disney Company as Chief Creative Officer. Iger, who was previously the company's CEO from 2005 up until 2020 when he handed the position to Bob Chapek, had been the driving force behind the acquisition of several notable Disney-owned intellectual properties, including Lucasfilm. Now with the CEO back in the mouse house and the hectic state of Lucasfilm, what will this mean for Kathleen Kennedy moving forward? 
Bob Iger and Kathleen Kennedy have not always seen eye-to-eye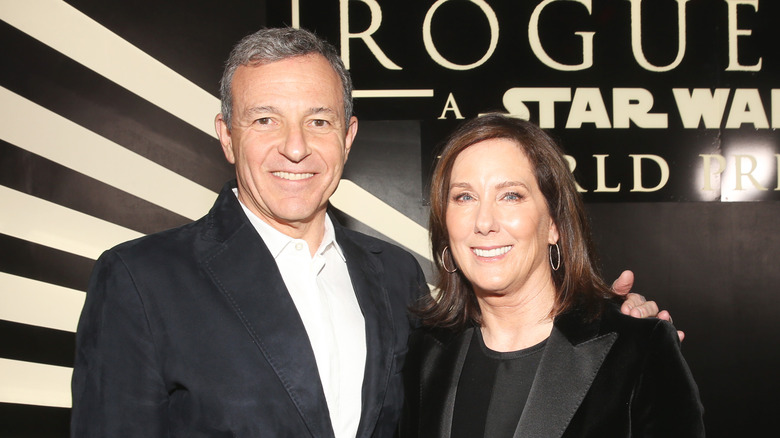 Jesse Grant/Getty Images
Bob Iger has a lot on his plate with his return to Disney as CEO, one of which is to figure out how to handle the dilemmas within the Lucasfilm division. While there's no way of knowing what his plan for Lucasfilm is yet, we do know that Iger's relationship with Lucasfilm President Kathleen Kennedy hasn't always been the smoothest. 
In 2019, at the premiere for "The Rise of Skywalker," the finale of Disney's "Star Wars" sequel trilogy that began in 2015, Iger was asked by Variety about Kennedy's plans to restructure future "Star Wars" films by no longer producing them as trilogies. "Oh, I don't know about that," he said. "She and I have said, 'Well, maybe trilogies are too hard, so maybe we'll make one film and then a sequel,' but we don't know." Iger additionally commented that despite respecting "Star Wars" fans, they chose not to overreact when receiving angry fan or troll comments. 
Shortly before Iger's return to the Disney company, Kathleen Kennedy found herself in a sarlacc pit of controversy. According to industry insider Matthew Belloni from Puck, Kennedy was allegedly advised by Disney to stop announcing new "Star Wars" projects to avoid trouble if they never come to fruition, with the uncertain releases of Rian Johnson's trilogy, Taika Waititi's unnamed "Star Wars" film and Patty Jenkins' "Rogue Squadron" (via The Hollywood Reporter) likely being the catalyst for the concern.