Spy X Family's Natalie Van Sistine Focused On Yor As A Ball Of Anxiety For The English Dub
Tatsuya Endo's best-selling manga series "Spy x Family" reached new popularity with the premiere of its anime adaptation in April 2022. Although its premise is fairly uncomplicated, something reminiscent of a Shakespearean farcical comedy in the way that it plays with the characters' knowledge — or rather, lack thereof — of each other's real identities, "Spy x Family" undoubtedly charmed its way into our hearts.
In both the English, as well as the original Japanese dub, voice actors gave their all in portraying the characters, bringing to life the unusual, fun, and entertaining family dynamic, which has viewers glued to their screens and tuning in every Saturday a new episode drops. At this year's Anime Expo, which occurred in early July, GameRant managed to interview the actresses behind Anya and Yor Forger's dubbed voices, Megan Shipman and Natalie Van Sistine. Van Sistine had some insightful comments to make about how she viewed Yor's character at first and the voice she ultimately chose to give to the 27-year-old caring mom who is secretely also a skilled assassin.
From cool assassin to anxious civilian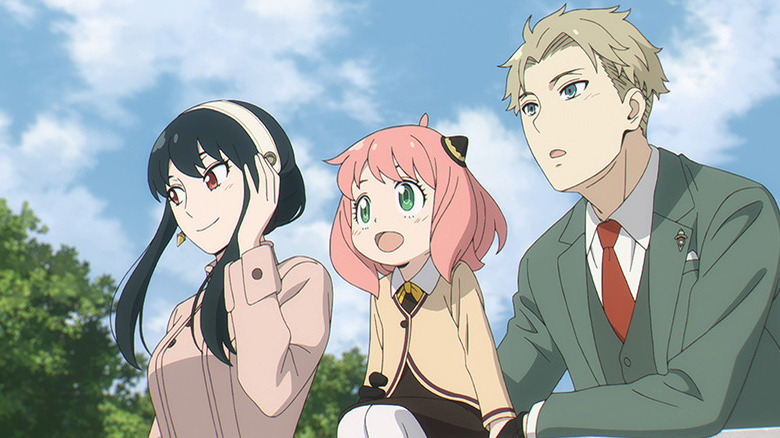 Crunchyroll
Out of the three main characters, Loid (Alex Organ), Anya (Megan Shipman), and Yor (Natalie Van Sistine), the latter is the one who suffers the most change between her civilian self and her assassin persona. While in plain clothes, Yor is not the most confident of women. In fact, she's always striving to be the best mother to Anya and best wife to Loid that she can be, which means trying to get over some of her bad habits and doing her best to learn how to do certain skills like cooking.
However, at the same time, so far in the anime series, fans don't get to see the Thorn Princess in action as much as they do Agent Twilight. This sparked a whole debate on Reddit, where a manga reader confirmed viewers likely wouldn't get to see Yor in her assassin clothes again this season, which is set to be made up of a total of 25 episodes. 
When asked about how she developed her voice for Yor, Van Sistine answered that she was focusing on Yor's identity as an assassin. However, she must have understood early on that Yor has far more to her character than her secret identity and that her everyday anxiety is a huge part of her personality. In Van Sistine's words, "I played around with that contrast between her assassin role and her sort of alter-ego as a ball of anxiety, and that really made the character click in a way both for me and for the director and the dub staff."
The second cours of "Spy x Family" Season 1 is currently airing, with a new episode being released every Saturday on Crunchyroll.