Disenchanted's Giselle Is Only The Second Disney Princess To Have A Child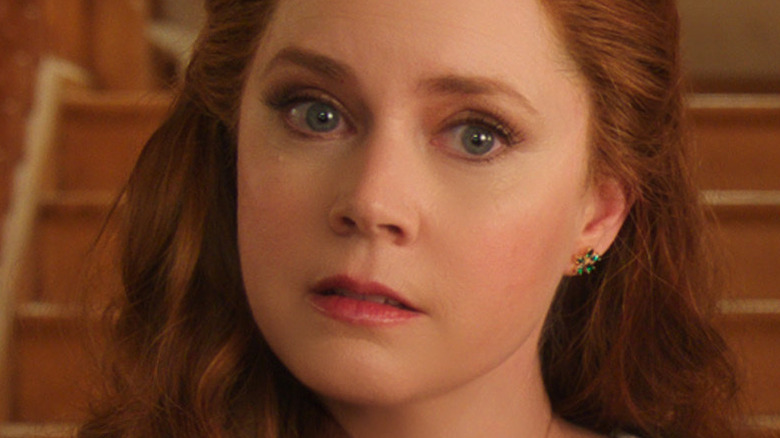 Disney+
Disney pays homage to its iconic lineup of princesses with Giselle in "Enchanted." Played to perfection by Amy Adams, Giselle has a personality that is a charming combination of the characteristics that make those characters so memorable. She's unfailingly kind, can communicate with animals, and always knows the perfect time to break out into song. With "Disenchanted," viewers get a chance to see what Giselle's life looks like after deciding to remain in New York City with Robert (Patrick Dempsey).
One of the many reasons Disney movies are great is that they're predictably saccharine. They hit the same beats over and over, but we can't help but root for those characters who dream of something more. We see the princesses' humble beginnings, as well as the hopes and dreams that carry them toward their happy endings, whatever they may be.
Thankfully, Disney has made plenty of direct-to-video sequels that delve into their lives after the screen fades to black. Cinderella (Jennifer Hale) tries to adjust to life at the palace in "Cinderella II: Dreams Come True," Mulan (Ming-Na Wen) and Shang's (BD Wong) relationship is put to the test in "Mulan II," and Belle (Paige O'Hara) plans for a fun-filled holiday in "Beauty and the Beast: The Enchanted Christmas." One such sequel, "The Little Mermaid II: Return to the Sea," demonstrates that Giselle and Ariel (Jodi Benson) are the only two Disney Princesses to have had children, however.
Ariel and Giselle both have daughters
Even though Disney could definitely work on its diversity, its films consistently show that happiness looks different for everyone. While Rapunzel (Mandy Moore) and Jasmine (Linda Larkin) want their freedom, Belle wants to protect her father, Tiana (Anika Noni Rose) wants to open up her own restaurant, and Aurora (Mary Costa) just wants to get some rest without being cursed. Whether we're rooting for Pocahontas (Irene Bedard) to triumph against injustice or Merida (Kelly Macdonald) to obtain her independence, we follow their stories with the same rapt attention. However, out of all the Disney Princesses, Giselle and Ariel are the only ones to have children.
Although "Disenchanted" shows that Giselle has fully accepted Robert's daughter Morgan (Gabriella Baldacchino) as her own, they've also expanded their family in the years since we last saw them. They have a baby named Sofia (Lara and Mila Jackson), whose presence is key to the narrative. Similarly, Ariel and Prince Eric's (Rob Paulsen) daughter, Melody (Tara Strong), is at the heart of the story in "The Little Mermaid II: Return to the Sea." Armed with her mother's rebellious streak and affinity for underwater adventures, Melody makes for a fun heroine. Since there are numerous Disney references in "Disenchanted," including several nods to Ariel, it makes sense that these two characters have more than their incredible singing voices and red hair in common.