Here Are All The Disney References In Disenchanted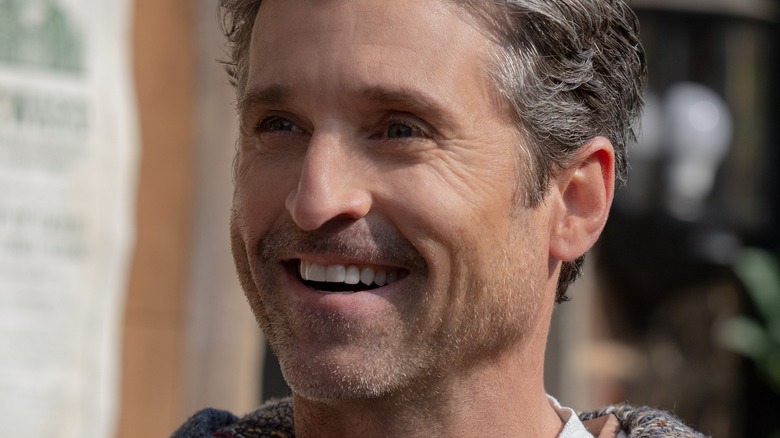 Alex Bailey/Disney Enterprises, Inc.
Warning: Contains spoilers for "Disenchanted"

The wait for "Disenchanted" is finally over, bringing viewers on an all-new adventure that's just as fun as the original. Amy Adams is back as Giselle, the spirited almost-princess who enchanted audiences when the first movie premiered back in 2007 (via IMDb). Patrick Dempsey, James Marsden, and Idina Menzel also reprise their roles from "Enchanted," allowing us to get a glimpse at what life looks like for these characters post-Happily Ever After.
The sequel follows Giselle and her family as they move to the picturesque town of Monroeville, where everyone is kept in line by busybody Malvina Monroe (Maya Rudolph). Despite this new setting, the narrative preserves the core themes that made the original so memorable. The first movie pays homage to its creator with a multitude of nods to other Disney films and the sequel is no different. Since the original had enough Disney parallels to make your head spin, the minds behind the sequel had to get creative when spinning their tale. However, the filmmakers managed to include just as many Easter eggs and then some. Without further ado, let's take a look at all the Disney references that appear in the movie.
The opening credits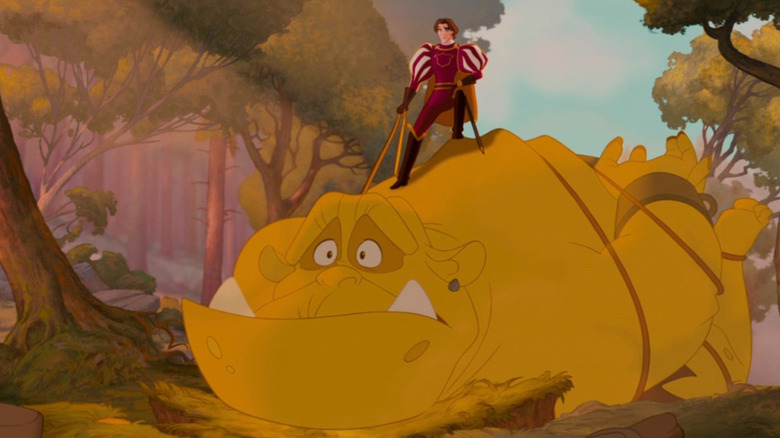 Disney
Right off the bat, the opening credits have a ton of Disney references. Some of them go by so quickly that you could blink and miss them entirely, while others are more obvious. As the classic Disney intro plays, the castle becomes an animated Andalasian palace. As we move past those familiar turrets and towers, we see what appears to be a young Prince Philip from "Sleeping Beauty" crossing a bridge with his parents. Moving further into Andalasia, we see a busy baker carrying his tray like always, a nod to "Beauty and the Beast," and a character who looks like Little Bo Peep. The troll who chased Giselle into Edward's arms in the first movie is back, too.
We see a baby warthog that looks like Pumbaa (Ernie Sabella) from "The Lion King" and a firefly that resembles Ray (Jim Cummings) from "The Princess and the Frog." The sequence also includes numerous throwbacks to the 2007 film. The voiceover at the movie's beginning explains that Giselle saw a fairytale-themed billboard advertising the town of Monroeville. The sight of it encourages her to leave Manhattan for a life in the suburbs, but it also harkens back to how Robert found Giselle on a billboard in the first movie.
Double take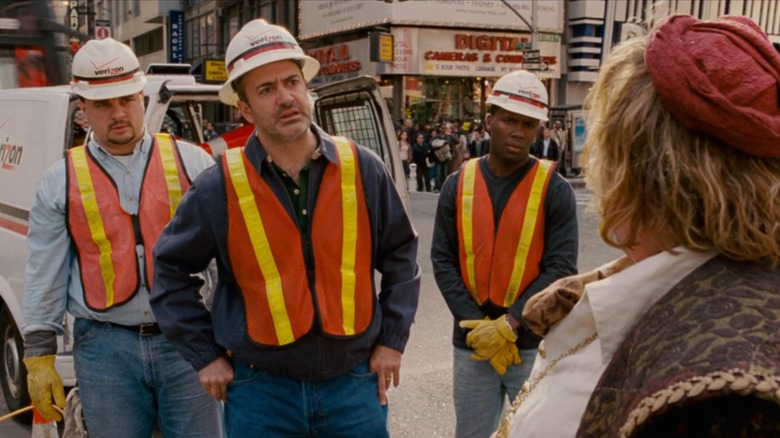 Disney
Amy Adams, Patrick Dempsey, Idina Menzel, and James Marsden aren't the only returning cast members. If you pay close attention, you'll find a familiar face in one of the first scenes. As Robert, Giselle, and Morgan prepare to leave the Big Apple for Monroeville, we see movers loading their items into a van. One of those movers is played by an actor named Matt Servitto, who also appeared in "Enchanted."
Eagle-eyed fans will recall that in the first movie, Servitto plays a construction worker. When Giselle goes through the portal from Andalasia to New York City, she arrives in Times Square through a manhole. Later, when Edward (Marsden) and Nathaniel (Timothy Spall) come through the same portal, they're greeted by a team of very confused construction workers. Servitto portrays Artie, who winds up on the wrong end of Edward's sword when he arrives in Manhattan. Although he only has a few lines, Servitto's sarcastic attitude is a great contrast to the fairytale characters' cartoonish personalities. Servitto only appears briefly in "Disenchanted," but it's great that the filmmakers were able to sneak in a quick reference to the original movie.
Welcome to Storybrooke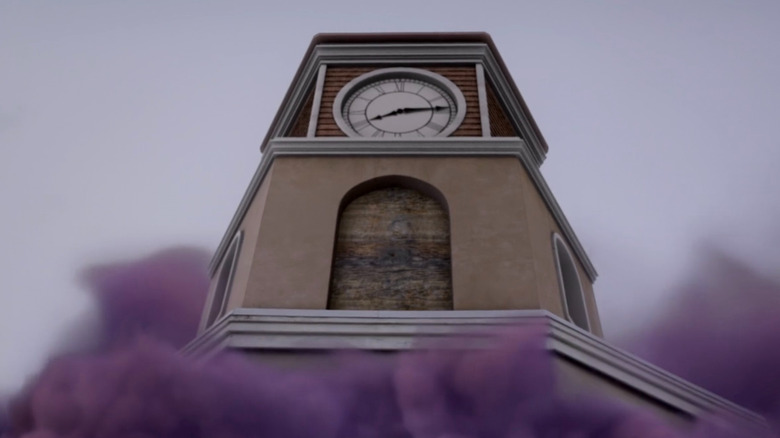 Disney–ABC Domestic Television/YouTube
When Giselle, Robert, Morgan, and little Sophia arrive in Monroeville, it's clear that they're not in Manhattan anymore. Gone are the bright lights and bustling energy of the big city, replaced by quiet streets and quaint shops. At the center of town lies an idyllic town square with a noticeable clock tower that calls to mind another story where fairytale characters are transported to the real world. In "Disenchanted," Giselle becomes more villainous every time the clock strikes. At the conclusion of the film, Robert desperately tries to stop the clock's last strike at midnight before Giselle's wish becomes permanent. As Malvina attempts to stop him, she uses her purple wisps of magic to force the clock to work.
While some seasons of the show are certainly better than others, "Once Upon a Time" is another piece of media that loves to pay homage to its Disney roots. The series, which was produced by Disney subsidiary ABC Studios, follows classic fairytale characters who are cursed to live in the seemingly perfect town of Storybrooke (via Insider). A clock tower that sits at the center of town is used in numerous storylines. When the curse is finally lifted in the Season 1 finale, the clock tower is engulfed in a wave of purple smoke as magic settles over the town. Although this could just be a coincidence, the clock tower is such an important symbol in "Once Upon a Time" that it's hard not to make the connection.
The good fairies in the garden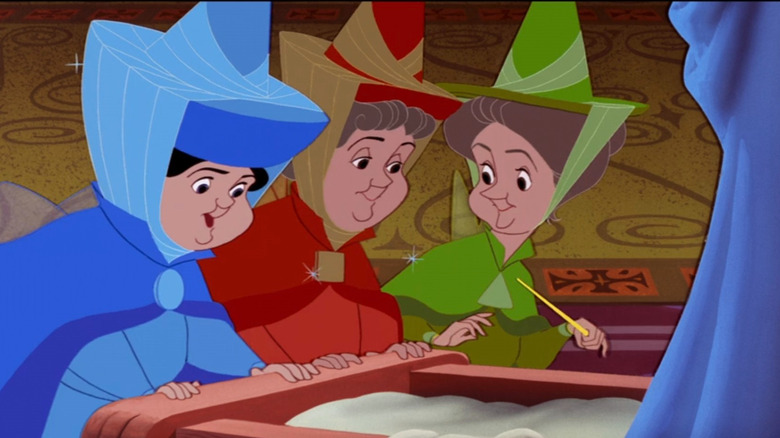 Buena Vista Distribution
When the family arrives at their new home, it's not exactly what they expected. The house itself is beautiful, but it needs a lot of work. There are carpenters, electricians, and construction workers around every corner, but three familiar figures are lurking in the garden. A trio of female gardeners greets Giselle outside the house, gushing about how cute little Sophia (played by infant twins Mila and Lara Jackson) is. The coloring of their costumes is an obvious nod to Flora, Fauna, and Merryweather, the three good fairies from "Sleeping Beauty."
Later in the movie, the trio returns wearing different outfits that are an even more blatant homage to the 1959 film's distinct visual style. They care for Sophia, similar to how Flora, Fauna, and Merryweather take charge of Aurora. Audiences might also recognize the green, pink, and blue outfits worn by the fairies Knotgrass (Imelda Staunton), Thistlewit (Juno Temple), and Flittle (Lesley Manville) in "Maleficent."
That's not the only Disney reference we get in this sequence. In the backyard, Giselle briefly plays croquet, which could be a reference to the Queen of Heart's penchant for the game in "Alice in Wonderland."
Frozen is in fashion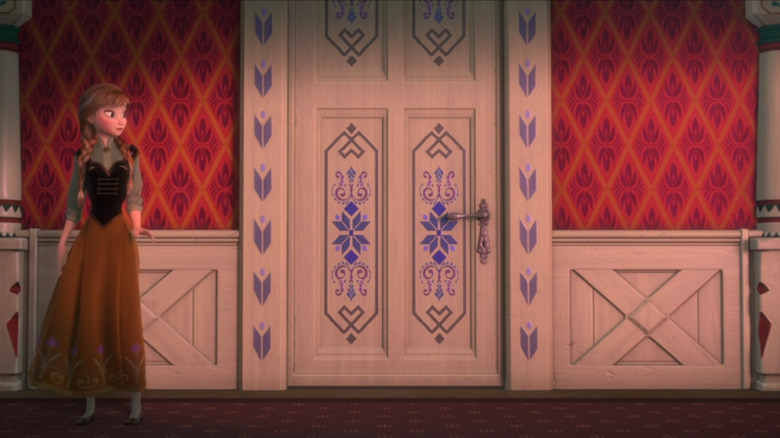 Disney
It looks like Giselle took some design inspiration from Arendelle when renovating her new home in Monroeville. Well aware that the move to the suburbs would be difficult for Morgan, Giselle makes sure that her daughter's room is perfectly decorated upon arrival to ease the transition. When Robert and Giselle show Morgan her room, it's clear that the brightly-colored, floral design painted on her doorway was inspired by "Frozen."
Every Disney movie has a distinct visual style, so it's hard to ignore how the pattern points to the way Norwegian culture inspired the aesthetics of Arendelle (via ITM). The same source reports that rosemaling, a traditional Norwegian art form, is used to adorn the characters' clothing and other objects throughout the film. Morgan's door frame in "Disenchanted" is even painted in shades of blue and white that are reminiscent of Elsa's (Idina Menzel, once again) color scheme.
Making a wish
Even though Giselle's new house has a wishing well à la "Snow White and the Seven Dwarfs," everyone is struggling with the move. Realizing that this new life might not have been the best decision for her family, Giselle decides it's time for a little magic. Conveniently enough, Edward (James Marsden) and Nancy (Idina Menzel) just dropped off an Andalasian wishing wand as a gift for baby Sophia.
The wishing wand pays homage to two iconic Disney characters: Cinderella's Fairy Godmother (Verna Felton) and the Blue Fairy (Evelyn Venable) from "Pinocchio." Although it's unique in design, its powers are overtly similar to the wands wielded by those characters. Wishing is a common occurrence in Disney movies and in fairytales in general. Snow White wishes for her Prince Charming, Cinderella wants to go to the ball, and Geppetto wants his puppet to become a real boy. Not satisfied with life after Happily Ever After, Giselle makes a wish that alters the very fabric of reality. You know what they say, Giselle: Be careful what you wish for.
Dancing in town square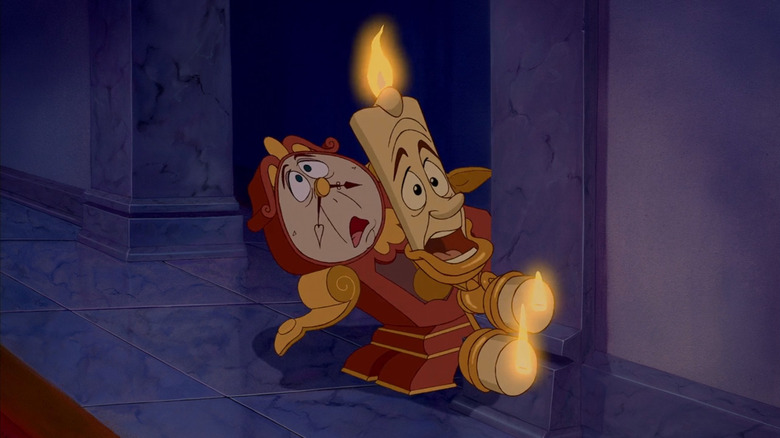 Buena Vista Pictures Distribution
The next morning, Giselle is woken up by two birds (another "Cinderella" nod) to find herself in Monrolasia, a cross between Monroeville and Andalasia where the citizens break out into song and dance like they've been rehearsing for weeks. Basically, it's Giselle's paradise. The scene depicting her initial exploration of this warped reality is jam-packed with Disney Easter eggs.
Giselle's wish has made a lot of changes, starting with the kitchen appliances. Every object in the kitchen -– from the toaster to the blender — is singing a merry tune while they whip up breakfast, the first of many "Beauty and the Beast" references. Morgan is now bright-eyed and bushy-tailed, happy to do her dance alongside a magical broom that looks suspiciously like the one from the Sorcerer's Apprentice sequence in "Fantasia." Giselle, Morgan, and baby Sophia head into the center of town, where the song injects a bit of hospitality with a few familiar notes from "Be Our Guest." This makes a lot of sense considering that "Disenchanted" composer Alan Menken also wrote the music for "Beauty and the Beast."
As we see more of Monrolasia, it's clear that the filmmakers took every opportunity to sneak in a nod to other Disney movies. If you look into the background, you'll notice that most of the shop names are Disney references. Pay close attention and you'll see Beauty and the Book, Smee's Cheese, The Royal Sip, Mary Popover's Bakery, Bibidi Bobidi Butcher's, and Lumiere's Candle Works.
Morgan gets her princess moment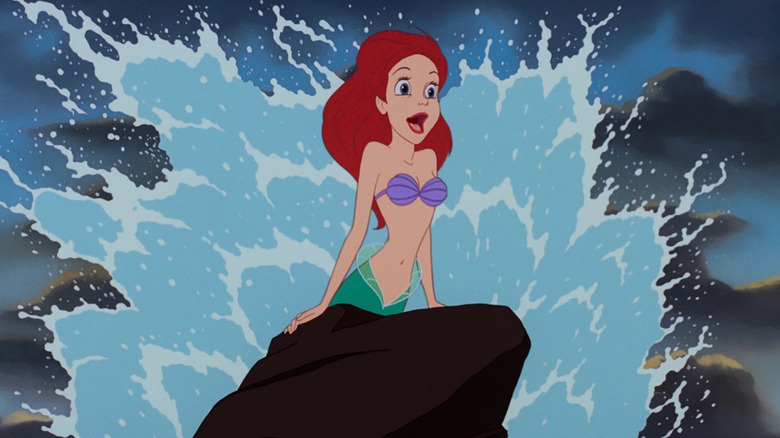 Buena Vista Pictures Distribution
Morgan was just a child in the original, awe-struck by Giselle's whimsical demeanor. Portrayed by Gabriella Baldacchino in "Disenchanted," Morgan is a teenager now and she's not enthralled by her mom's princess-like personality anymore. She just wants a chance to get comfortable at her new school, and Giselle's over-the-top gestures aren't helping. Giselle's wish gives Morgan a princess-like persona, but it's not all flowers and tiaras. Instead of the meticulously decorated room that Giselle designed for her, Morgan lives in the attic room of a tower. Her new digs are a dismal cross between Cinderella and Rapunzel's living arrangements.
However, Morgan has big dreams. She gets a new dress for the Monrolasia festival, a powder blue gown that clearly points to Cinderella's silhouette. During the shopping scene, which is a bittersweet callback to Giselle and Morgan's shopping trip in "Enchanted," you'll notice mannequins wearing the dresses of other Disney princesses. Morgan also gets a few musical numbers, solidifying her position as the heroine of this fairytale. Watch closely for the moment a bucket of water splashes behind her as she sings, a direct parallel to the waves splashing up as Ariel sings "Part of Your World" in "The Little Mermaid."
Later in the film, Morgan heads to Andalasia. She gets her big transformation moment, complete with a new and improved gown. With magic swirling in the air, the scene manages to evoke both "Cinderella" and "Beauty and the Beast" in one fell swoop.
Cat got your tongue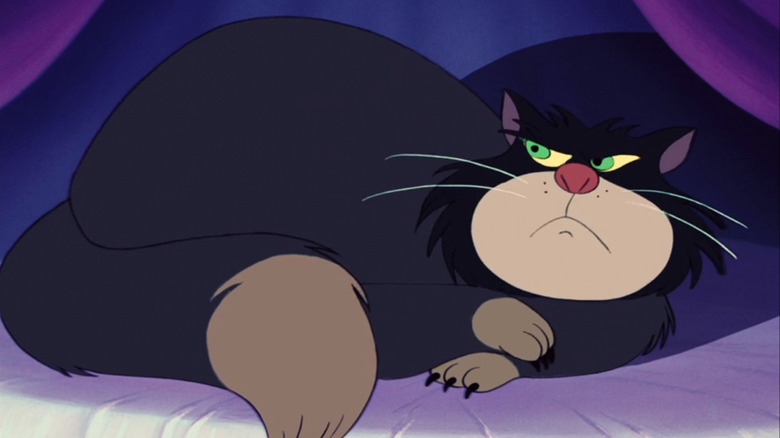 RKO Radio Pictures
After Giselle wishes for a fairytale life, she quickly realizes that she's made a terrible mistake. In this new reality, she's no longer the blushing ingénue. She's the wicked stepmother and Morgan is the innocent princess. As the curse spreads, Giselle realizes that she's developing some new and unsavory traits. She's becoming vain, cruel, and overly ambitious, all common characteristics of the Disney villains we love to hate. Giselle is transforming into a better-dressed version of Lady Tremaine (Eleanor Audley), the antagonist from the 1950 adaptation of "Cinderella." She even cuts up Morgan's new dress.
However, she isn't the only one who's got a new look. Since villains don't have cute little pets, Pip (voiced by Griffin Newman) the chipmunk turns into a mischievous cat. Just like Lady Tremaine's cat, Lucifer, Pip becomes a sneaky sidekick who helps Giselle achieve her goals. He steals back the wishing wand from Malvina so that Giselle can use it to become queen of Monroelasia, an action that sets up the film's grand finale.
Mayhem at the marketplace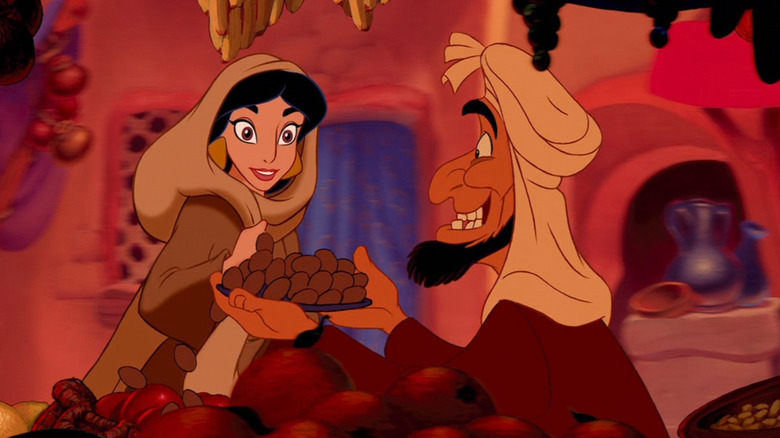 Buena Vista Pictures Distribution
Giselle is more than familiar with evil stepmothers after her experience with Queen Narcissa (Susan Sarandon) in the previous film. Once she realizes that she's turning into a villain, Giselle heads into town to find Morgan and figure out a way to reverse her wish. Shifting between her real personality and her wicked persona, she has a difficult time focusing on the task at hand. These transitions allow Amy Adams' acting skills to shine as she effortlessly transitions between the two versions of the character.
As Giselle walks through the marketplace, she's distracted by merchants flouting their wares. While she searches for answers, you can hear one vendor yelling about pistachios in the background. This moment is a direct callback to the scene in "Aladdin" when Jasmine explores the stalls on the streets of Agrabah. Giselle's outfit is even reminiscent of the disguise Jasmine dons to escape the palace.
An evil queen's arsenal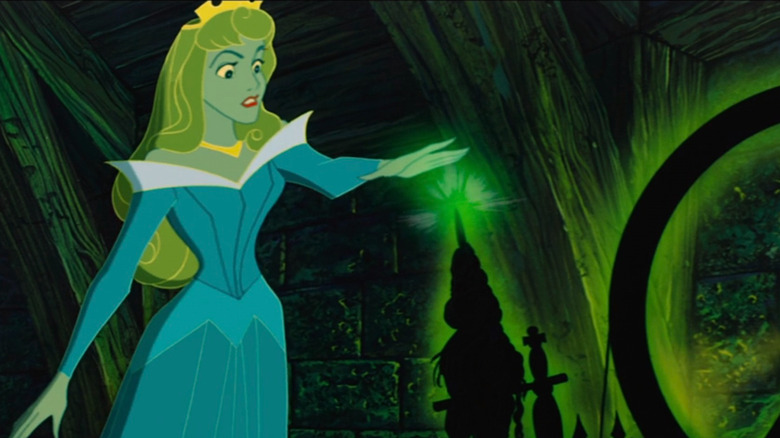 Buena Vista Distribution
Disney villains wouldn't be as threatening without their unsavory potions and cursed objects. Thankfully, the minds behind "Disenchanted" included numerous nods to Disney's formidable lineup of antagonists. Malvina even employs a magic mirror, portrayed in the film by Oscar Nuñez, just like the Evil Queen in "Snow White and the Seven Dwarfs." However, Malvina doesn't care about beauty. She cares about power, and Giselle has too much of it.
After Giselle formally challenges Malvina for the crown of Monrolasia, the two women have an epic sing-off. To combat the wishing wand, Malvina looks through a cabinet of magical items, hoping one of them will get rid of Giselle. It looks like she's got plenty of options to choose from. She's got a spinning wheel ("Sleeping Beauty"), a red rose resting under a glass dome ("Beauty and the Beast"), a poisoned apple ("Snow White and the Seven Dwarfs"), and a bottle labeled "Drink Me" ("Alice in Wonderland").
Thankfully, Morgan comes to the rescue. Saving herself from that tower room, subverting the damsel in distress trope that Giselle herself thwarts in the first movie, Morgan finds a way to set everything right before the clock strikes 12.