Why Wade From Pixar's Elemental Looks So Familiar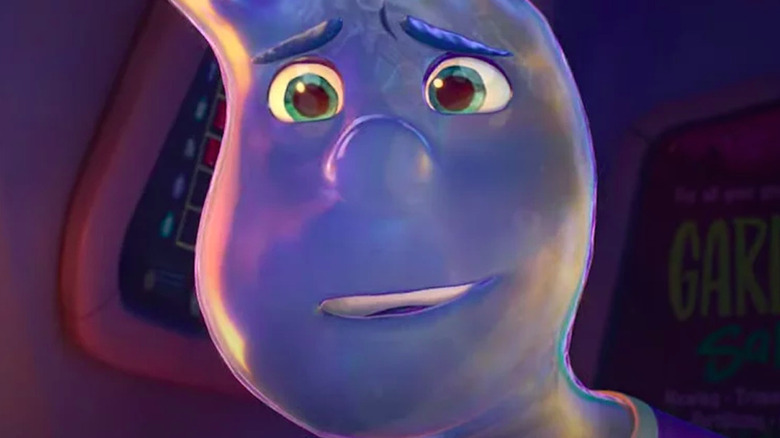 Walt Disney Studios Motion Pictures/YouTube
Pixar's "Elemental" is currently slated for release on June 16, 2023, and Disney recently released the first teaser for "Elemental." The animated film will take place in a magical world where the elements of earth, water, fire, and air live together in a large metropolis. The two main characters in the movie are Ember (Leah Lewis), who is fire, and Wade, who is water. 
Although the film takes place in a magical world, it is based on the real-world experience of the director Peter Sohn, who was part of an immigrant family in the Bronx growing up in the 1970s. In an interview with The Hollywood Reporter, Sohn said, "We were among many families who ventured to a new land with hopes and dreams — all of us mixing into one big salad bowl of cultures, languages and beautiful little neighborhoods. That's what led me to Elemental."
Based on the teaser trailer, the voice of Wade might sound quite familiar to viewers because he has appeared in other movies and shows before.
Mamoudou Athie stars as Nolan in Black Box
It turns out that the actor who voices Wade from Pixar's "Elemental" is Mamoudou Athie. Although he has not done other voice acting for animated films before, he has done quite a bit of regular acting, which may explain why his voice sounds so familiar. 
One of the movies Mamoudou Athie has starred in is the science fiction/horror film "Black Box" (2020). In the movie, Athie plays Nolan Wright, a man who survived the car crash that killed his wife, but he now experiences severe amnesia, struggling to remember his past, do his job, and complete basic tasks such as cooking and remembering to pick up his ten-year-old daughter, Ava (Amanda Christine), from school. Nolan decides to try an experimental hypnosis treatment with a neurologist, Dr. Lilian Brooks (Phylicia Rashad). Nolan starts to gain access to some memories, but also, a monster keeps appearing, causing him to panic and escape the memories. Nolan deliberates whether to continue with the treatment before making a shocking realization about his true past. 
Mamoudou Athie has a propensity for acting in science fiction/horror film projects, and "Black Box" is not the only one viewers might know him from. 
Mamoudou Athie stars as Dan Turner in Archive 81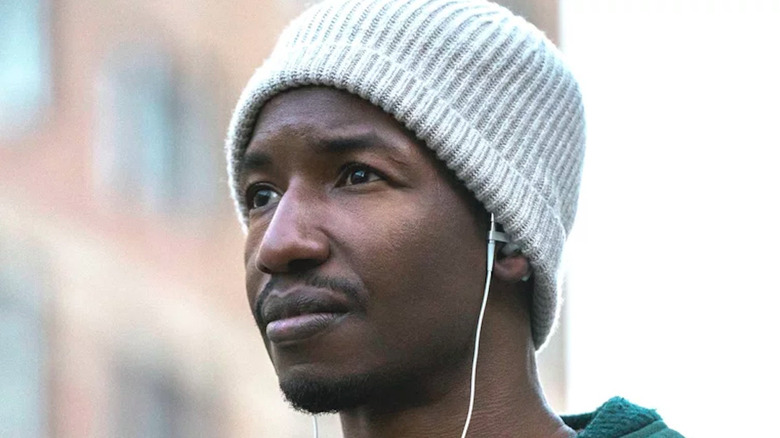 Netflix
Another project in the horror genre that Mamoudou Athie has starred in is the Netflix original television series, "Archive 81." Season 1 of the show was released on January 14, 2022, was popular amongst audiences, and the showrunners even had the rest of the story planned out. However, unfortunately, there will not be an "Archive 81" Season 2 because it was canceled after just one season.
In "Archive 81," Mamoudou Athie stars as Dan Turner, a conservator who restores old films at a museum as a job. A mysterious company reaches out to Dan and offers him a lot more money than he is used to making for a relatively short and easy project, but the catch is that he has to go live alone in the middle of nowhere while he works on it. Dan accepts the job and starts working on restoring the videos from a young woman's Ph.D. dissertation from 1994 about the history of a creepy apartment building in New York City called the Visser. At first, the videos seem normal, but then Dan sees a scene where the young woman, Melody Pendras (Dina Shihabi), is yelling at some guards and saying that Jess Lewis (Ariana Neal), a kid from the building, has been taken. Dan's own father, who is dead now, then enters and tries to calm Melody down. Dan then realizes that this company had a reason to hire him specifically to edit the tapes. The more he works on the project, the more terrifying it gets.
Mamoudou Athie plays Ramsay Cole in Jurassic World: Dominion
Another film project in the science fiction genre that Mamoudou Athie has played in is "Jurassic World: Dominion" (2022), the sixth and final installment in the "Jurassic Park" franchise. The movie brings back Laura Dern, Jeff Goldblum, and Sam Neill from the original 1993 "Jurassic Park" movie, and also stars Chris Pratt, Bryce Dallas Howard, and DeWanda Wise.
In "Jurassic World: Dominion," dinosaurs freely roam the earth, and as an invasive species, they are causing issues for other animals. Biosyn Genetics creates a dinosaur preserve in Italy, claiming they are doing genetic research for pharmaceutical purposes. However, CEO Dr. Lewis Dodgson (Campbell Scott) is actually trying to exploit dinosaurs and people. 
In the movie, Mamoudou Athie plays Ramsay Cole, the communications director for Biosyn Genetics. When Ramsay discovers Dodgson's illegal activities, he tells the other scientists about it so that they can help end the harmful actions.
Mamoudou Athie stars as Elijah in Uncorked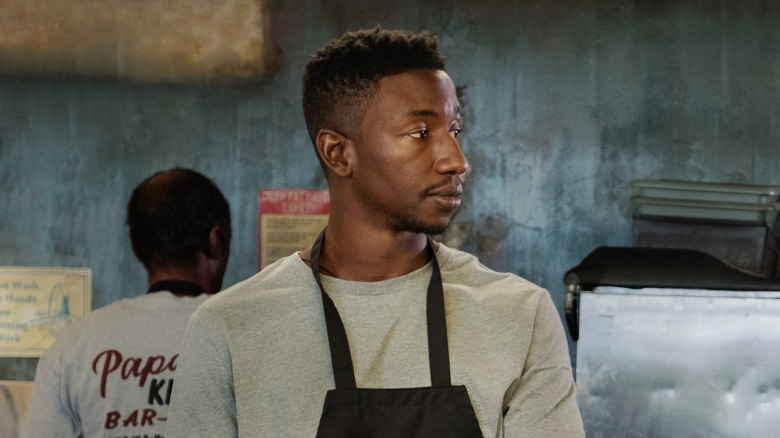 Netflix
Although Mamoudou Athie has been in a lot of horror, thriller, and science fiction projects, he has also starred in the heartwarming family-centered drama film "Uncorked" (2020) from Netflix. In the movie, Athie plays the protagonist, Elijah, who works at a wine business and also at his family's barbecue restaurant that they run. Elijah's father, Louis (Courtney B. Vance) and his mother, Sylvia (Niecy Nash), both work at the restaurant as well, and Louis expects Elijah to take over running it someday. However, Louis does not want to take over the restaurant and wants to become a master wine sommelier instead. 
Elijah takes an exam and earns admittance to a wine sommelier school. However, this is a big commitment in terms of time, money, and energy, and Elijah has to make some decisions about which aspects of his life he wants to prioritize.