Pixar's Elemental - Everything You Need To Know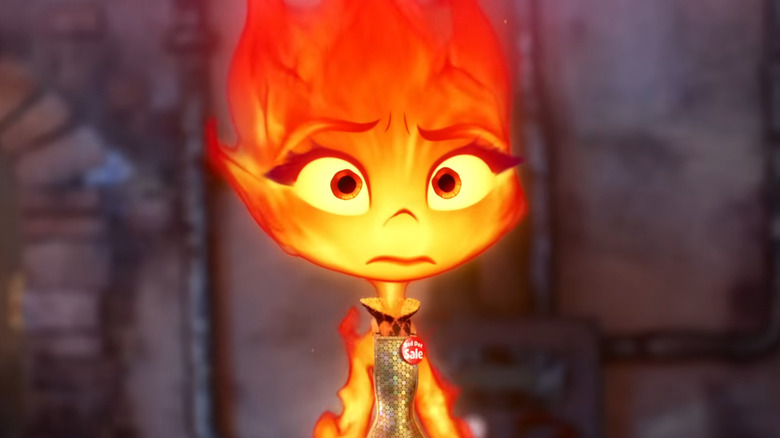 Pixar
Over the years, Pixar has taken us to some pretty imaginative places. We explored the mind of an 11-year-old girl in "Inside Out," visited a fairy tale reality in "Onward," and took a trip to the Land of the Dead in "Coco." Now, we'd like to buy a ticket to Element City — a buzzing metropolis where earth, air, fire, and water all mix in very surprising ways.
That's the setting for Pixar's latest offering, "Elemental," which uses the four traditional elements to explore themes of clashing cultures, living up to family expectations, and following your own path. The animation studio has an incredibly solid track record when it comes to blending emotions, thoughtfulness, and a whole lot of fun, and we have no doubt their 27th film will live up to expectations. If you want to know more about Pixar's newest film, read on for what we know so far about "Elemental."
When will Elemental be released?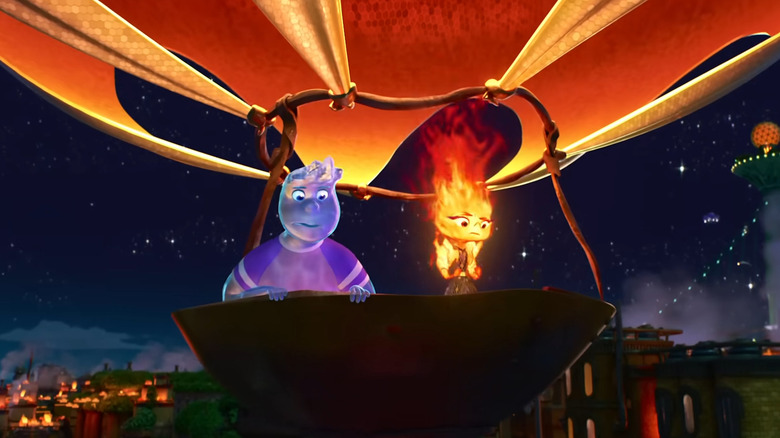 Pixar
June 2023 is going to be an amazing month for moviegoers. Optimus Prime and Optimus Primal will join forces in "Transformers: Rise of the Beasts." Harrison Ford will don his iconic fedora for "Indiana Jones and the Dial of Destiny." And "Elemental" will be burning brightly on theater screens, with a release date of June 16, 2023.
Now, that is an incredibly stacked release date, as the Pixar film will find itself competing against three pretty big titles — Netflix's "Extraction 2" for those who want to stay home and chill, Wes Anderson's "Asteroid City" for those in the mood for some quirky, stylized comedy, and Andy Muschietti's "The Flash," for those who want to check out what's likely to be the biggest superhero movie of the year. While there's probably a bit of a crossover between "The Flash's" audience and "Elemental's," they won't necessarily be competing for the same exact dollars, so we're sure the Pixar flick is going to do just fine. We're also happy they're not immediately releasing this one on Disney+, like they did with "Turning Red," "Luca," and "Soul."
What is the plot of Elemental?
Pixar
Ember is a fiery woman in every sense of the word. She's no-nonsense, she's got a razor sharp wit, and she's literally made of flames. But hey, that last part applies to everyone living in Firetown, where Ember is set to inherit her dad's shop after he retires.
Ember's whole life is already mapped out for her. She's going to run the family business, and she's dealing with the pressure of one day marrying a fellow fire person — but everything gets turned upside down when she meets Wade, a laid-back sort of dude who also happens to be made out of water. Together, the two explore Element City, a town that's home to plenty of fire folk and H20 humanoids, as well as earth and air people.
Despite their many differences, it looks like the two are going to connect in a big way, and during their time together, Ember starts to question what she wants in both her personal and professional life.
Who is starring in Elemental?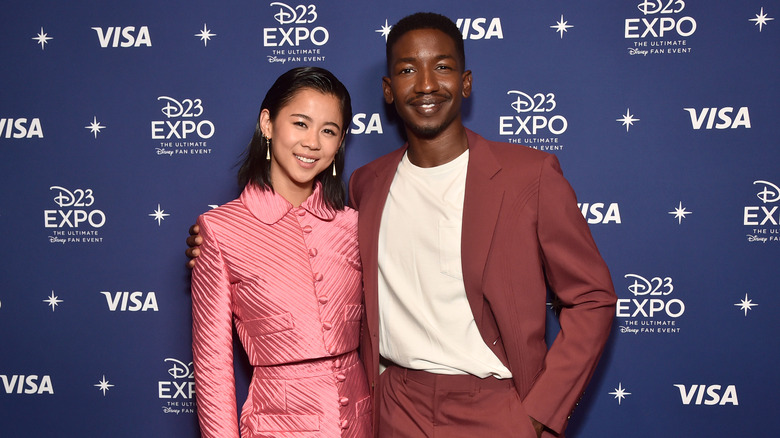 Alberto E. Rodriguez/Getty Images
Sometimes, Pixar movies boast big-deal A-listers, like Tom Hanks in "Toy Story," Chris Evans in "Lightyear," and Tom Holland in "Onward." Other times, they like to keep things a bit more simple, and that's the path they're taking with "Elemental." While you might not recognize everyone in the cast, these talented actors all possess some impressive credits and top-notch vocal skills, which will allow them to bring their respective characters to life, with or without the star power of an Ellen DeGeneres ("Finding Nemo") or a Jamie Foxx ("Soul").
Ember will be voiced by Leah Lewis, who CW fans will definitely recognize as Georgia "George" Fayne from the "Nancy Drew" series. You might also recognize her voice as Cassandra Cain from "Batwheels," or maybe you've seen her in Netflix's "The Half of It," "Charmed," or "Station 19." Ember's watery counterpart, Wade, will be portrayed by Mamoudou Athie. He played Ian Malcolm's ally Ramsay Cole in "Jurassic World," and you might also recognize him as one of the leads from Netflix's incredibly creepy "Archive 81."
As for the rest of the cast, Ronnie del Carmen will play Ember's dad, Bernie. Del Carmen isn't really an actor, but he's been an integral part of Pixar, co-writing "Inside Out," serving as a story artist on "Coco" and story supervisor on "Up," and working on projects like "Incredibles 2" and "Finding Nemo." Ember's mom will be voiced by Shila Ommi, who's best known for playing in the Apple TV+ series "Tehran." We can also expect to hear the vocal talents of Wendi McLendon-Covey, who's beloved for playing Beverly Goldberg in "The Goldbergs, Joe Pera, the hilariously earnest and deadpan comedian known for his Adult Swim series titled "Joe Pera Talks with You," and newcomer Mason Wertheimer.
By far the most famous person in the film is Catherine O'Hara, who's playing Wade's mother, Brook. O'Hara made her name playing in beloved films like "Beetlejuice," "Home Alone," and the mockumentaries of Christopher Guest. Of course, in recent years, her popularity skyrocketed thanks to "Schitt's Creek," where she played the wildly eclectic and eccentric Moira Rose.
Who is directing Elemental?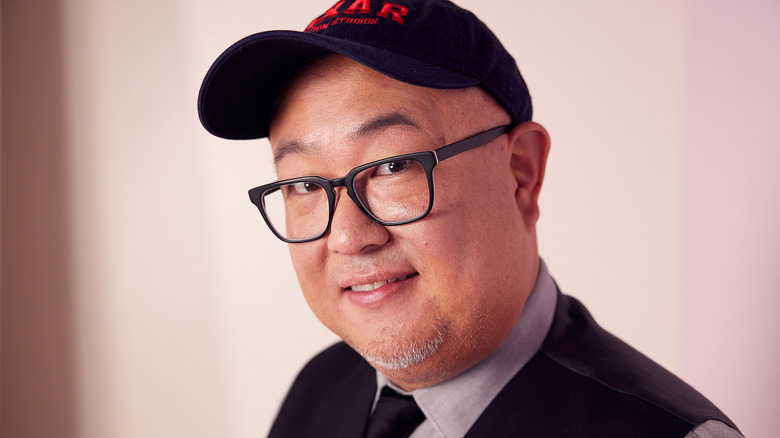 Corey Nickols/Getty Images
Peter Sohn has been in the Pixar family for quite a while. He's voiced characters like Emile the rat in "Ratatouille" and Sox the cat in "Lightyear," and he directed both the adorable Pixar short "Partly Cloudy" and the majorly underrated feature "The Good Dinosaur." Now, he's back in the director's chair, helming the upcoming "Elemental," and this is an incredibly personal film for Sohn.
In a press release, Sohn gave a little background on his connection to the film, saying, "My parents emigrated from Korea in the early 1970s and built a bustling grocery store in the Bronx. We were among many families who ventured to a new land with hopes and dreams — all of us mixing into one big salad bowl of cultures, languages, and beautiful little neighborhoods. That's what led me to 'Elemental.' Our story is based on the classic elements — fire, water, land, and air. Some elements mix with each other, and some don't. What if these elements were alive?"
As reported by CinemaBlend, Sohn has also spoken about how family pressure to marry someone Korean factors into the story (he didn't do that, by the way), and he also delved into how his childhood imagination helped create this world. As Sohn put it, "When I saw the periodic table of elements when I was a kid, all I thought about was like that these were apartment complexes and that they all lived next to each other. ... Stories of what these elements were doing in their apartments, you know, just mixing around in my head."
With all these aspects of Sohn's history mixed into the film, it sounds like "Elemental" is a labor of love for him. And with his incredible animation cred, we can't wait to see this new world that he's created.
Is there a trailer for Elemental?
The official trailer for "Elemental" introduces us to the colorful, fast-paced world of Element City, where fire, water, air, and earth people all live side by side. However, this is a pretty strange concept for Ember. She hails from Firetown, where her family lives by one simple mantra: "Elements cannot mix." So instead of ever visiting the nearby city, Ember spends her days prepping to eventually take over her dad's shop. 
However, when Wade shows up on the scene, her life is turned upside down, as she connects with this easygoing outsider and finally ventures out into a new world. "I've been trying to fill my father's shoes," we hear Ember say. "I've never once asked what I wanted to do." With Wade by her side, she just might get to figure out what her new future holds. The trailer highlights some pretty great moments, like watery fans literally doing the wave in a sports stadium or Wade trying to impress Ember's not-so-happy dad, which involves eating food that might be a tad too spicy for him. The animation here is beautiful, and the trailer is full of that Pixar charm.
What will Elemental be rated?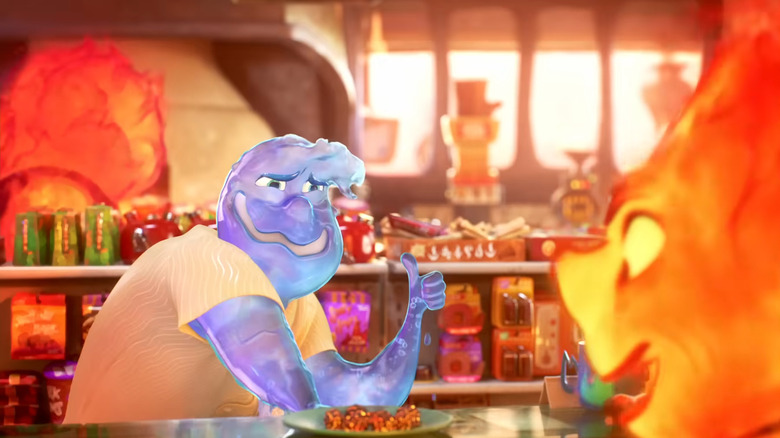 Pixar
As of the time of this writing, "Elemental" doesn't have a rating just yet. But when it finally does earn one, we have a hunch it won't be R. Instead, it'll earn either a G or PG, just depending on how much action is in the story or if there's a secret bad guy we don't know about who might be a tad scary for the youngest of children. Every Pixar movie from "Onward" to "Lightyear" has gotten a PG rating, and many of their other films have this rating as well, such as "Finding Dory," "Incredibles 2," and "Up." Of course, other recent titles like "Toy Story 4," "Monsters University," and "Cars 3" all grabbed a G, so yeah — "Elemental" will definitely be earning one of those two ratings.
Is there a Pixar short film before Elemental?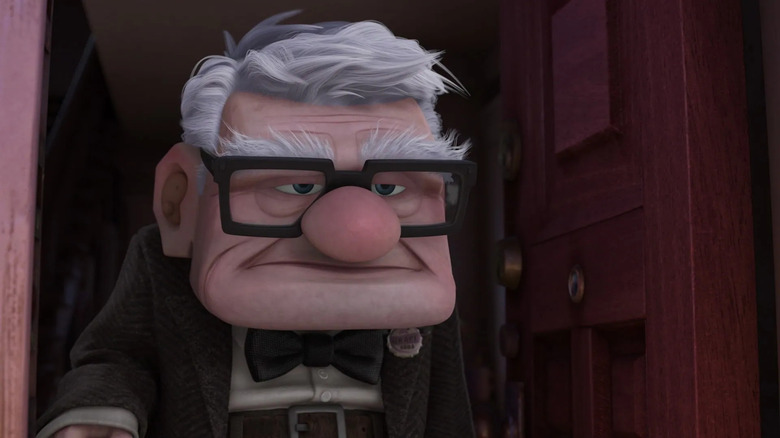 Pixar
Pixar's short films are often just as good as their feature-length work. Who can forget classics like "Geri's Game," "Bao," and "Piper?" Well, "Elemental" will be accompanied by its very own short, which will play before the movie starts. And this one features characters from one of Pixar's most beloved movies — "Up." The short is titled "Carl's Date," and it's written and directed by Bob Peterson. He's the voice of everybody's favorite talking canine, Dug, who will be one of the stars of the short film.
Here, the cranky yet lovable Carl Fredricksen will be taking a pretty big step in his life. He's going out on a date. We imagine he hasn't spent much time on the dating scene after his wife, Ellie, passed away, so he's a bit rusty when it comes to chatting with the ladies. That's where Dug comes in, who has no shortage of advice ... advice that might be a bit more helpful if you've got four legs, a tail, and are covered in fur. "No one will ever replace Ellie for Carl," Peterson said, according to Gizmodo. "This is just friendship. This is just honoring her, Ellie saying, 'Go have a new adventure.' And this really puts it to the test. Should he do this or not?"
Like "Elemental" is personal to Peter Sohn, "Carl's Date" is personal to Peterson, who said he was inspired by one of his own grandparents who tried looking for a relationship after their partner passed away. And if you're wondering, yes, Carl will be voiced by Ed Asner, who starred in the short before passing away in 2021.