Bryan Cranston And Hope Davis Get Tense In The Trailer For Your Honor Season 2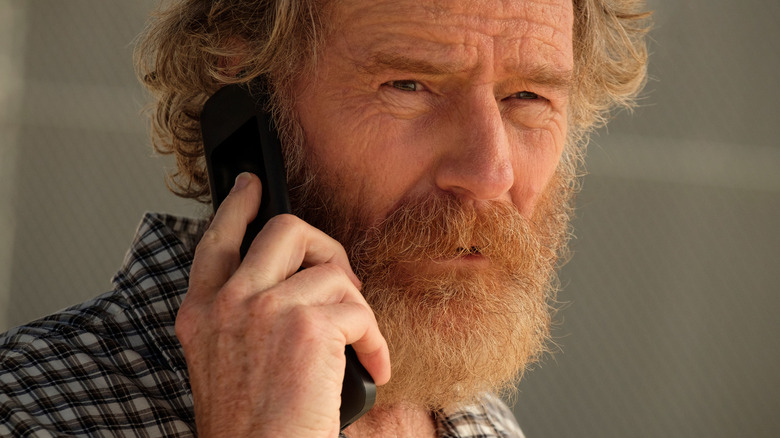 Andrew Cooper/Showtime
Among some of the biggest strengths of AMC's flagship drama "Breaking Bad" is its cast. It's unsurprising, then, that Hank Schrader actor Dean Norris claims "Breaking Bad" led to new opportunities for many of its lead actors, including star Bryan Cranston. Among his work in the wake of "Breaking Bad" is the Showtime drama "Your Honor," in which he stars as a judge named Michael Desiato.
The plot of "Your Honor" Season 1 kicks off when Michael's son Adam (Hunter Doohan) crashes into and kills a teenager that turns out to be the son of a mob boss named Jimmy Baxter (Michael Stuhlbarg). Michael, therefore, decides to do everything in his power, regardless of legality, to free his son from his unfortunate entanglement with this crime family.
When "Your Honor" Season 1 first aired, it functioned as a complete miniseries. In fact, there were once no plans for a second season of "Your Honor." Those plans have since changed, however, and "Your Honor" Season 2 is on its way. With its January 2023 season premiere fast approaching, Showtime has just released a lengthy trailer previewing what's next for Michael after the events that upended his life in Season 1.
Season 2 pits Michael Desiato and the U.S. government against Jimmy Baxter and his crime family
Upon the opening of this latest trailer for "Your Honor" Season 2, Michael Desiato appears disheveled and dejected, slumped in a hallway bouncing a ball against a wall as he implicitly reflects on some of the events of Season 1. Meanwhile, the voice of new addition Olivia Delmont (Rosie Perez) urges Michael to cooperate with an ongoing investigation against Jimmy Baxter. Michael is unwilling, but Olivia, likely leveraging knowledge of Michael's extralegal protection of his son, tells him that he has no choice in the matter.
Then, the voice of Jimmy asks someone, probably Michael, why they're visiting his hotel so frequently. Seemingly, then, Micahel is in the process of collaborating with Olivia to take down Jimmy, but struggling to appear inconspicuous in the process. All the while, allies of Jimmy's — like his wife Gina (Hope Davis) and politician Charlie Figaro (Isiah Whitlock Jr.) — are well aware that something is amiss and appear unwilling to go down without a fight. The trailer's final montage teases some ensuing violence as Michael's conflict with Jimmy heats up.
Fans of "Your Honor" can find out just how this drama plays out when "Your Honor" Season 2 premieres to Showtime on January 13.