How Sissy Spacek Really Got The Role Of Carrie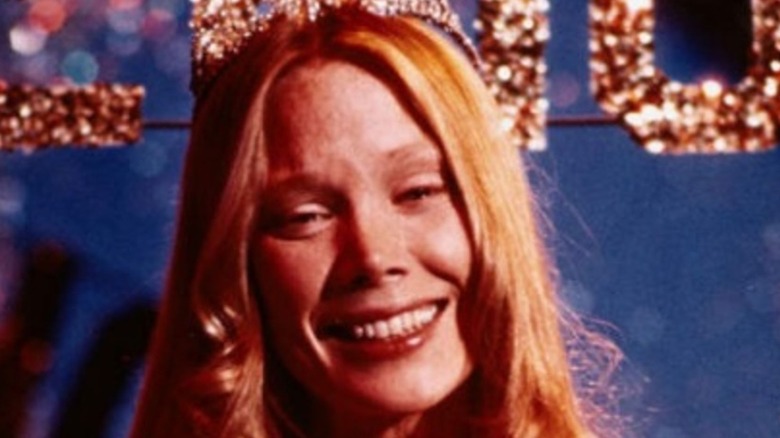 United Artists
"Carrie" is one of the most iconic horror films of all time. Everyone — even those who haven't seen the film — will certainly recognize the horrifying moment of the prom queen covered in pig's blood. Exploring complex themes such as the effects of bullying and abusive parents, the movie has been analyzed, cherished, and referenced since its 1976 premiere, including a 2013 remake of the same name. The first of Stephen King's novels to be adapted for the big screen, "Carrie" is unforgettable, due in large part to Sissy Spacek's performance as the eponymous character.
It's hard to imagine another actor in the role of Carrie White. However, Spacek has shared that she wasn't actually director Brian de Palma's first pick for the role. Though the young actor had already shown her talents in "Prime Cut," "Badlands," and "Ginger in the Morning," "Carrie" was certainly her breakout role. Spacek has revealed, though, that if it weren't for her husband, she may not have ever had the chance to audition.
Sissy Spacek was offered an audition thanks to her husband, but the talent is all hers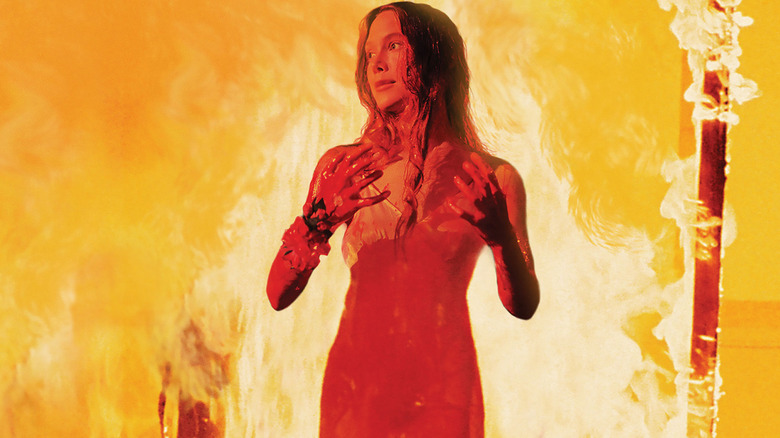 United Artists
In an October 1979 interview with Rolling Stone, Sissy Spacek shared that director Brian de Palma invited her to audition for "Carrie" only out of courtesy to her husband, Jack Fisk, who had been hired as the film's art director. She auditioned for a few parts, and de Palma initially wanted Spacek to portray Chris Hargensen, the mean-girl character whom Nancy Allen wound up playing in "Carrie." De Palma then called Spacek again — out of courtesy, according to Rolling Stone. "He told me that if I wanted to, I could try out for the part of Carrie White," said Spacek. "There was another girl that he was set on and unless he was really surprised [by my audition], she was the one. I hung up and decided to go for it." 
When it came time for her screen test for the film's lead, Spacek set out to truly embody the tortured Carrie White, wearing a dress she hadn't since childhood and coating her hair with Vaseline. She even worked to capture Carrie's thoughts, remembering a girl who was bullied at her own high school years ago. "She was beautiful, but she was poor and didn't have money for clothes. So she wore antiques, and the kids were really brutal with her," Spacek said. "I remember always loving her clothes, baggy and old-fashioned like they were. ... And in the end, it's the outsiders who become the ones you emulate."
Spacek's methods worked, and she nabbed the role. Her husband Fisk, to whom she's been married since 1974, added that "the other girl played Carrie as someone you could hate, [and] you could understand why everyone made fun of her." Fisk elaborated, "You could almost fall in love with Carrie White when [Sissy] played her, and it made the film twice as effective. De Palma said there was no contest."
We can't imagine anyone else playing the terrifying Carrie White, either. Though a lot has changed in the horror genre since the film's 1976 release, "Carrie" remains one of the creepiest and most haunting stories we've seen on screen.