Jackée Harry Imagines A Sister, Sister Reboot Where Tia And Tamera Are Parents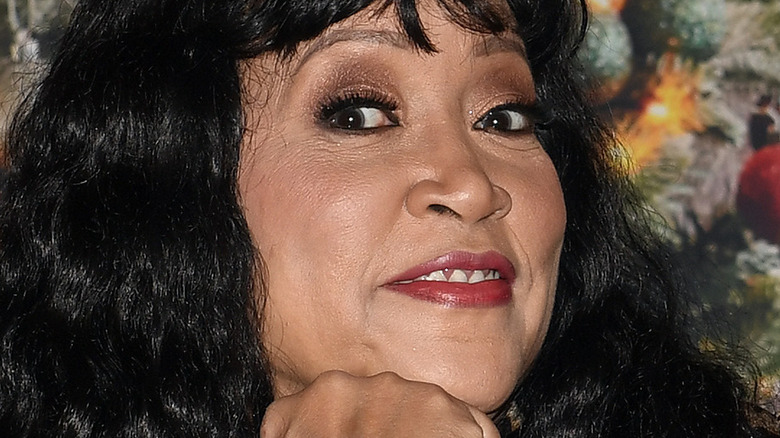 Michael S. Schwartz/Getty Images
The beloved '90s sitcom "Sister, Sister" starred real-life identical twins Tia and Tamera Mowry and ran from April 1994 to May 1999 for a total of six seasons. In the pilot episode, Tia Landry (Tia Mowry-Hardrict) goes to the mall with her adoptive mom, Lisa Landry (Jackée Harry). At the same time, Tamera Campbell (Tamera Mowry-Housley) goes to the mall with her adoptive father, Ray Campbell (Tim Reid). Their lives are forever changed when Tia and Tamera meet and discover they're identical twins. Though the reunion seems fated, it is brief since Lisa will be relocating for a new job. To prevent the twins from being separated once more, Tia and Lisa move in with Tamera and Ray, restarting their lives as a new family.
In an age where nostalgia reigns and older TV shows are making comebacks, it stands to reason that "Sister, Sister" would be a prime candidate to join the likes of "The Fresh Prince of Bel-Air," "Will & Grace," and "Roseanne." Though plans for a "Sister, Sister" reboot have been tumultuous, to say the least, one original cast member has an idea for what the show should be.
Jackée Harry thinks it would make sense for Sister, Sister to focus on the twins as parents
Tia Mowry-Hardrict has been hinting at a potential "Sister, Sister" reboot since as far back as 2017. Speaking to Entertainment Tonight, she all but confirmed that a return was on its way. At the time, Mowry-Hardrict believed the show was likely going to reflect her and her sister's current lives as parents.
"I think I would want it to pick up with where our lives are now. We're married with kids," she speculated. "But I definitely would want it to focus on the power of sisterhood. How wonderful and amazing that sisterhood and that relationship can be. How it helps you in whatever trial [sic] and tribulations you are in. When you have the sisterhood and that bond, that is so beautiful."
Unfortunately, Mowry-Hardrict broke some bad news for fans hoping for a revival in an interview with Bustle two years later, saying, "'Sister, Sister' kind of looks dead right now." However, Jackée Harry seems to have hope that the reboot is still in the works.
Speaking with Entertainment Tonight in December 2020, Harry reconfirmed the cast's excitement at the possibility of reuniting and echoed Mowry-Hardrict's initial thoughts for a potential revival. "A reboot where [the twins] have their own kids," Harry reiterated. "I mean, it makes sense." Concerning the obstacles preventing the reboot, Harry couldn't provide any concrete updates, saying, "They're the leaders. They're going to lead, and they're having meetings, so we'll see."
In the meantime, fans can continue to revisit "Sister, Sister," which is currently streaming on Amazon Prime, Hulu, Netflix, and Paramount+.