New Bel-Air Trailer Crowns A Fresh Prince For A New Generation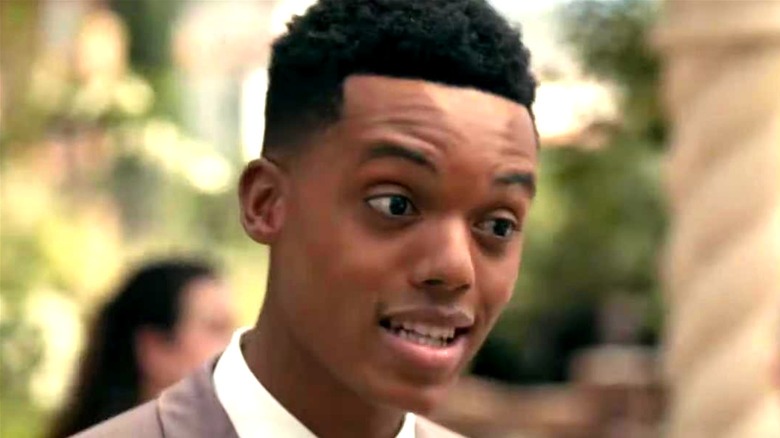 Peacock
Loyal subjects and fans of one of Will Smith's most iconic characters should pay attention. After the first teaser arrived in November debuting an all-new heir to the throne, Peacock has now given fans their best look yet at "Bel-Air," the upcoming dramatic take on the "Fresh Prince of Bel-Air," with a full trailer. 
"Bel-Air" will retell the classic story of Will, a kid from West Philadelphia (born and raised), who is sent to live with his wealthy relatives, the Banks, in Bel-Air, Los Angeles. Once there, he'll collide with a world he's never seen before to escape the one he left behind, inevitably causing friction within the Banks household along the way.
Looking to play things straight and dramatic instead of comedic like the classic sitcom that came before it, "Bel-Air" isn't without a few nods to the original. From the school blazer being worn inside out to a set of furry dice in the mirror in his ride to his new home, this fresher prince will have major shoes to fill. It's a job that may come with even more pressure, given the talent involved.
Will Smith will be watching the throne in Bel-Air
Initially brought to life through a YouTube fan film by Morgan Cooper that went viral worldwide, "Bel-Air" caught the attention of none other than the OG prince himself, Will Smith. From there, a collaboration began with Cooper, Smith, and his wife and collaborator, Jada Pinkett Smith, and the wheels started turning to revisit "Bel-Air" in a serious tone under the couple's production company, Westbrook Studios. The result is now an hour-long series that has already received the green light for a second season, and Cooper directs and executive produces the upcoming series (via Deadline).
Taking the lead in his first TV performance, Jabari Banks will play Will, appearing alongside Olly Sholotan as Carlton, Coco Jones as Hilary, and Akira Akbar as Ashley. Adrian Holmes and Cassandra Freeman are starring as the Banks power couple, Phillip and Vivian Banks, respectively, while Jimmy Akingbola will keep the kingdom in check as the loyal butler, Geoffrey. See how they all handle things when "Bel-Air" opens its doors with the first three episodes on Super Bowl Sunday, February 13, 2022.