David Harbour Gives An Update On When Thunderbolts Will Film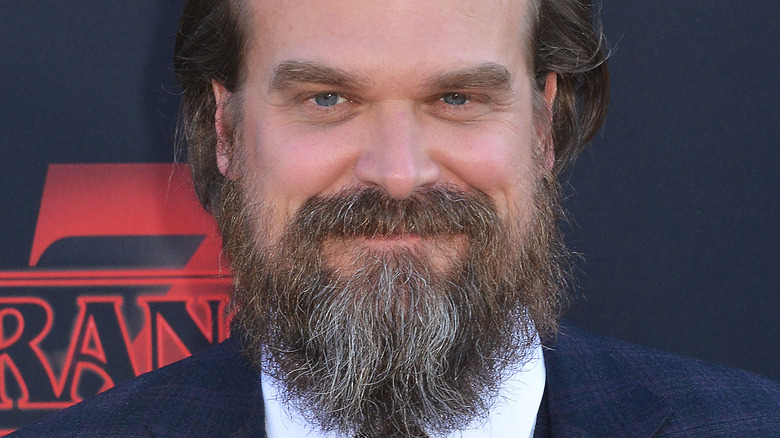 Tsuni-USA/Shutterstock
Though he's perhaps best known these days for playing Sheriff David Hopper in the Netflix series "Stranger Things," David Harbour is also a recent addition to the Marvel Cinematic Universe, first appearing as Alexei Shostako, aka Red Guardian, in the 2021 film "Black Widow." While both Hopper and Alexi have a lot in common, with both being father figures and occupants in a Russian prison at one point, the company they keep is quite different. Alexi has aligned with some shady figures in the past, and his new team of partners is not exactly known for their heroic deeds either. 
When the "Thunderbolts" film was first announced, it caused quite a stir among fans. The Thunderbolts are notorious for their lineup of antiheroes and villainous personas in the comics, offering up Marvel fans their own Suicide Squad of sorts. The MCU version of this team is set to feature Harbour's Red Guardian and his faux daughter Yelena Belova (Florence Pugh), as well as Bucky Barnes (Sebastian Stan), US Agent (Wyatt Russell), Ghost (Hannah John-Kamen), Taskmaster (Olga Kurylenko) and Valentina Allegra de Fontaine (Julia Louis-Dreyfus). That lineup probably has people pretty excited, and luckily Harbour recently revealed some hints about the production.
Harbour is shooting Thunderbolts and Stranger Things 5 at the same time
"Thunderbolts" is scheduled to release on July 26, 2024, barring any unforeseen setbacks, so filming is expected to begin in 2023. Season 5 of "Stranger Things" is also slated to have cameras rolling in 2023 as well, leading some to wonder if the actor would be able to pull off both shoots at the same time. Harbour confirmed he would be pulling double duty as Hopper and Red Guardian. "It's going to have to be a back-and-forth with me. They're going to have to sort of share me," Harbour said when he spoke with Collider. "I don't know exactly how they're working it, but it's a week on, week off, two weeks on, two weeks off, something like that where I would go back and forth." The actor went on to reveal that both productions are taking place in Atlanta and apparently within driving distance of one another. "So I can just literally shoot a scene in Stranger Things and get in my car and run over to the Marvel scene to shoot a scene there maybe."
It would appear that Harbour is very dedicated to both roles, especially Red Guardian. Not only has he mentioned he loves the fact that the character joins a team of losers and that he has been promised a new suit, but he also told /Film that an impactful event is set to go down in the film. "As it ends a big phase of Marvel, there is a big bomb that we universe-drop in the movie that's really cool." The intriguing tease, coupled with the actor's dedication to the alleged Captain America adversary, helps make a strong case for fans not to sleep on the "Thunderbolts" film.