Angela Bassett Initially Resisted Ramonda's Fate In Black Panther: Wakanda Forever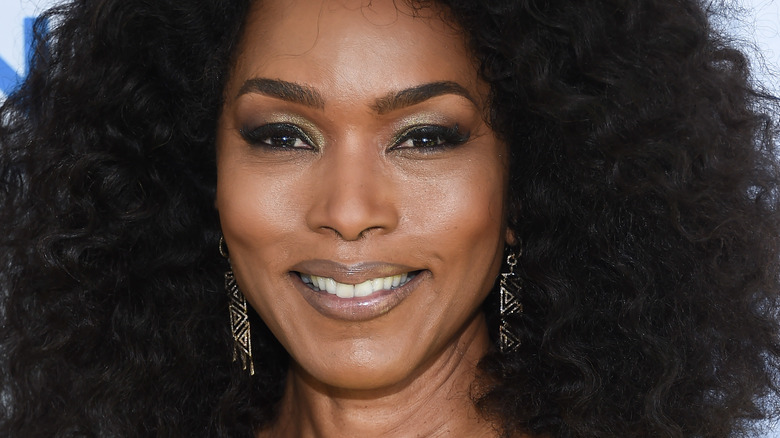 DFree/Shutterstock
Warning: This article contains spoilers for "Black Panther: Wakanda Forever."
"Black Panther: Wakanda Forever" is performing exceptionally at the box office (via Variety), which is likely no surprise to many fans of the Marvel Cinematic Universe and the character of Black Panther. The late Chadwick Boseman introduced us all to the live-action version of Black Panther and members of Wakanda during "Captain America: Civil War," and would make history soon after with 2018's "Black Panther." The latter still stands as the highest-rated movie in the MCU (via Rotten Tomatoes), showing the world the beauty and magnificence of Wakanda. Although fans witnessed T'Challa and Wakanda back the Avengers afterward in "Avengers: Infinity War" and "Avengers: Endgame," a solo sequel movie to "Black Panther" remained in Kevin Feige's plans. Director Ryan Coogler and his team of writers had a script penned soon after, to Boseman's approval, according to Coogler (via Entertainment Weekly). Still, they had to make adjustments when Boseman died suddenly in August 2020 (via Deadline).
"Wakanda Forever" sees the return of all of the characters we would expect to continue the legacy left by Boseman, including Letitia Wright's Shuri, Winston Duke's M'Baku, Danai Gurira's Okoye, Lupita Nyong'o's Nakia, and of course, Queen Ramonda (Angela Bassett). Many actors on the "Wakanda Forever" set have detailed their admiration of Bassett, including newcomer Dominique Thorne, who plays the Marvel Comics character Riri Williams, a.k.a. Ironheart.
Bassett herself has explained that Ramonda is a character that she finds extremely gratifying to play, which is part of the reason she initially resisted her fate in "Wakanda Forever."
Angela Bassett told Ryan Coogler that fans would be upset about Queen Ramonda's death
Throughout "Black Panther: Wakanda Forever," Angela Bassett's Queen Ramonda plays an essential role in the plot of the film. She is there at the funeral for T'Challa (Chadwick Boseman) in the beginning and offers crucial suggestions for overcoming grief to Letitia Wright's Shuri. She makes a stand as the ruler of Wakanda and exposes the French government for sending mercenaries to try and steal vibranium. Ramonda doesn't back down from Namor (Tenoch Huerta) either, as he has immense power and rules the vast kingdom of Talokan. However, her decision to send in Nakia (Lupita Nyong'o) to rescue Shuri from her voluntary visit to Talokan would prove fatal, as Namor later comes to Wakanda and drowns the queen.
During an interview that Bassett recently had with IndieWire to talk about "Wakanda Forever" and her role as Queen Ramonda, she explained that when Ryan Coogler told her about Ramonda's death, she was against it. "I objected," Bassett told IndieWire. "Yeah, I was like, 'Ryan, what are you doing? Why? You will rue the day! You will rue the demise of [Ramonda]. People are gonna be so upset,'" she said. However, Coogler calmed her down by explaining the nature of the MCU, where many things are possible, including a revival of the dead, as the remaining Avengers proved during "Avengers: Endgame." This certainly means there's a possibility for Ramonda's return in the future, under the right circumstances.
What Queen Ramonda's death means for Wakanda
"You're queen now." Namor said it chillingly and perfectly to Shuri after he killed Ramonda during "Wakanda Forever." It would seem that Shuri is now next in line as the royal blood of the family, and will be simultaneously Black Panther and Queen of Wakanda. Based on the clip of M'Baku near the end of the movie, however, it appears that he may get the throne as king separate from being the Black Panther. It does offer the essential spot to honor what T'Challa asked of him in protecting Shuri and offering her counsel when needed. Based on her willingness to fight for Wakanda and Shuri's faith in her, it's likely that Okoye will be reinstated as General of the Wakandan Army and Dora Milaje. However, as we know from the final scenes of "Wakanda Forever," T'Challa had a son with Nakia, making him a prince and putting him next in line for the throne. 
Ultimately, the death of Queen Ramonda means a shift in power for the throne and leaves the nation with heavy hearts, but with a new sense of unity, especially because they have the Black Panther once more in Shuri. She will certainly play a large role in upcoming conflicts in the MCU, most likely during "Avengers: The Kang Dynasty" and "Avengers: Secret Wars." Only time will tell when we see Shuri again, but given her friendship with Riri Williams, she could pop up during the upcoming "Ironheart" series in the fall of 2023 (via Marvel).