Colin Hanks Is Fine Being Known As 'The One Guy From That Thing That's Way Underrated'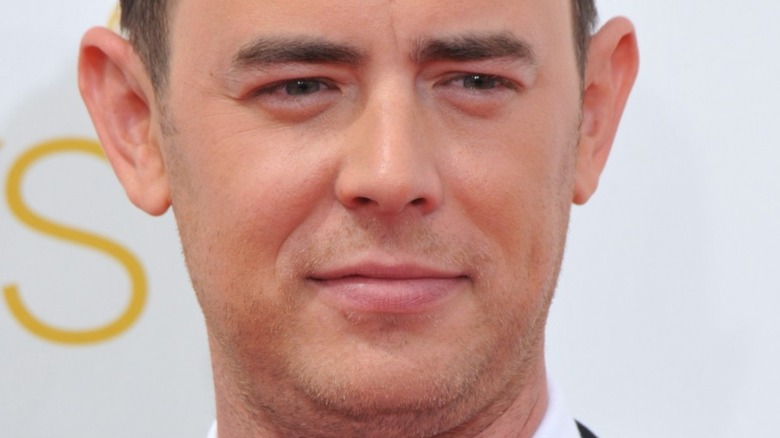 Featureflash Photo Agency/Shutterstock
Colin Hanks has made a name for himself in the past two decades as an actor of enviable talents. Of course, he may be most recognizable as part of the famous Hanks clan, but the younger Hanks has paved his own path. Starting his career in "Band of Brothers" and the Mike White film "Orange County," Hanks would go on to have fascinating roles such as a serial killer Travis Marshall on "Dexter" and even one character on NCIS.
But if you ask the "Untraceable" actor, he may disagree. Take a look at his Twitter bio and you'll see he only considers himself as: "Possibly that guy from that one thing you think is way underrated." Though he has been in one of the best miniseries of all time, Hanks has acquired a humble nature. If he's in more than one underrated project, that's fine by him. And there are quite a few to choose from.
Fargo was a standout for the actor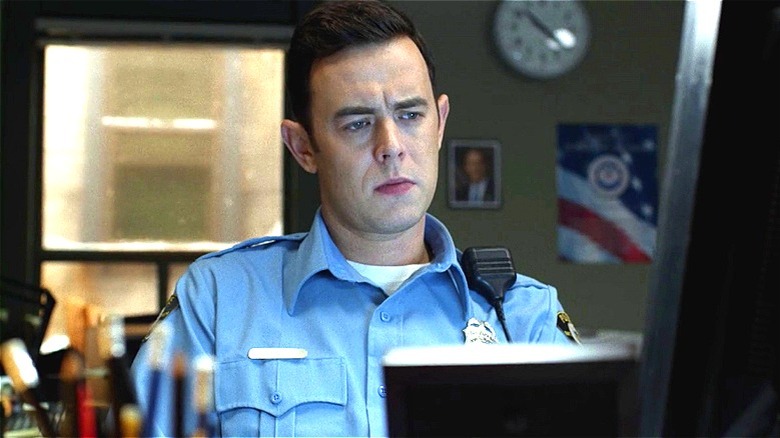 FX
While Colin Hanks may not be quick to name his credits, the same can't be said for his friends. Hanks has had a long-standing friendship with Conan O'Brien and was a guest on the podcast "Conan O'Brien Needs a Friend." The subject of Hanks' career naturally came up, to which the actor had quite an enlightened perspective.
"I never assume that anyone is going to actually know who the hell I am," Hanks confessed to O'Brien, elaborating on what drew him to acting. "The idea that someone could say, 'I remember you from something I liked, and you made an impression.' That to me struck me as like 'that's a good place to aim for.'" Instead of driving for big-budget blockbusters, Hanks seems to target limited series. O'Brien quickly points out he was devastated when he learned he would not see Hanks on "Fargo" after Season 1. Hanks appears in FX's anthology series as Gus Grimly, a less-than-capable cop whose chance encounter with madman Lorne Malvo (Billy Bob Thornton) sends him on a track from bumbling police officer to a murderer by the end of the season.
"You may see it as a victory for Gus, [but] it's also a victory for Malvo, whose driving motivation in life is to seek and turn civilized people into animals," creator Noah Hawley told Uproxx. "[H]e pushes Gus to commit murder, really." This nuanced performance has only increased Hanks' high-profile projects.
Hanks takes on dark material in A Friend of the Family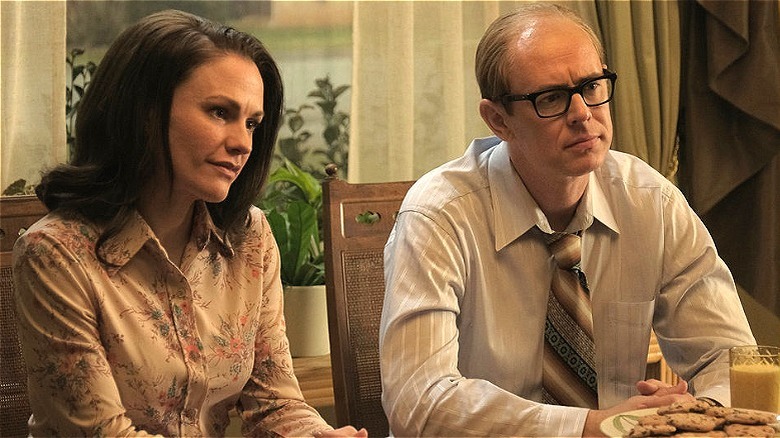 Erika Doss/Peacock
Covered in the 2017 Netflix documentary "Abducted In Plain Sight," the story of 12-year-old Jan Broberg is the newest true crime story to be adapted. Currently streaming on Peacock, "A Friend of the Family" covers Jan's disturbing experiences of being kidnapped twice by neighbor Robert "B" Berchtold (Jake Lacy). Jan's parents, Mary Ann (Anna Paquin) and Bob Broberg (Colin Hanks) trusted B implicitly, leading to the series' terrifying events. The subject material was so daunting that Hanks was hesitant to portray the patriarch. 
"This thing was so dark. It's hands down the most challenging thing that I've ever been a part of," Hanks told Variety, saying: "My head is shaved, I'm wearing glasses ... I did everything I could to not look like myself just because I was so intimidated by what it was we were trying to do." True crime stories such as "Monster: The Jeffrey Dahmer Story" encountered backlash because of the treatment of the victims. That is where "A Friend of the Family" stands apart. The real-life Jan Broberg is not only an executive producer but speaks directly to the audience right before the first episode in a moving gesture. Clearly, Hanks has again lent his name to a project that not enough people are talking about.