Why Val's Power Play In Black Panther: Wakanda Forever Makes No Sense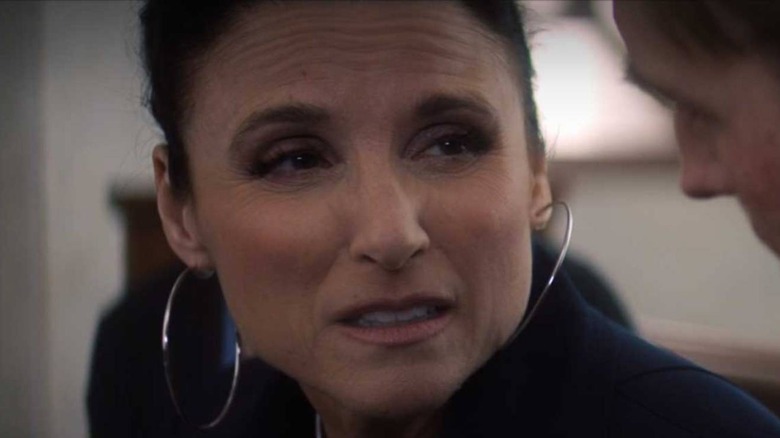 Marvel Studios/Disney+
Warning: Contains spoilers for "Black Panther: Wakanda Forever."
For the most part, audiences love "Black Panther: Wakanda Forever." It's got a 95% approval rating from audiences on Rotten Tomatoes, as well as an 84% approval rating from professional movie critics. It even earned a certified fresh rating for Marvel, which is a bit of a milestone for the MCU. The film is being praised for its acting and artistry living up to its predecessor and having a compelling new antagonist. Furthermore, it's blasting past box office records in ways that not many were expecting.
There's a lot of high praise to be found for the film, but it isn't without its critics. Viewers on Reddit like U/youandeyeinthesky thought that it was too long. U/Seasonedpro86 believed that the movie became too cringey once Shuri took on the mantle of the Black Panther and even criticized the big reveal during the credits that T'Challa had a son. But one of the most prominent bones that audiences had to pick with the film was the CIA subplot.
Lots of fans wish that the CIA subplot had been excluded altogether
In the film, MCU fans learn that since the last time they saw Valentina Allegra de Fontaine (Julia Louis Dreyfus), she's become the Director of the CIA (and divorced Ross, played by Martin Freeman). In the film, Ross infiltrates the CIA and secretly feeds information back to Queen Ramonda (Angela Bassett) about the CIA's disastrous plans for Wakanda with some bugged beads. But Valentina knew the beads were bugged and used Ross' attempts at espionage as an excuse to arrest him in her quest to take down Wakanda and secure the world's vibranium exclusively for the United States. Another way she strives to accomplish this goal is to get her hands on Riri's (Dominique Thorne) vibranium detector, drawing the ire of Namor (Tenoch Huerta) — who misdirects his anger toward trying to find and execute Riri.
On Reddit, there's some rabble-rousing going on from people who didn't like the CIA subplot at all. U/RealMrIncredible argued that it was long, pointless, and that it didn't add anything of value to the film at all, including the part that involved introducing Ironheart to MCU fans. U/Cooper15Greer thought that the CIA storyline was one of the biggest problems in the movie, adding that they "don't really care Bilbo Baggins gets arrested for committing actual crimes." And their opinions are hardly rare if you comb through the many discussion threads dedicated to the movie.
If the film existed in isolation from the rest of the MCU, they might have a point. But their view is extremely myopic in the context of the extended Marvel universe. There are two very important reasons why Valentina and Riri were included in the overall plot, even if some viewers feel that they were shoehorned in.
Other fans pointed out that the CIA storyline helps establish canon for future MCU projects
The more astute MCU fans who have been paying attention to what the studio has been doing on a grand scale were quick to jump in and set the record straight. U/Economy_Answer_7734 pointed out that "literally iron heart is the entire reason why anything happened at all. the reasons namor attacks is because iron heart created technology that found his hidden kingdom and therefore he has to kill who made the tech." U/Fyrekill also added, "I think the CIA subplot is there to establish a future storyline akin to the comics 'Siege'." And according to what we know about Marvel's upcoming plans, they aren't wrong.
We've known since July that the studio would release an "Ironheart" Disney+ series. And a few months later, in September, casting news dropped for "Thunderbolts," the anti-hero superhero movie slated to wrap up Marvel's Phase 5. Dreyfus will be back as Valentina, joining some big stars, including Sebastian Stan, Florence Pugh, and Hannah John-Kamen. Fans may not agree that inserting those characters into "Wakanda Forever" was the best way to introduce them to the MCU, and people are free to have those opinions. But establishing canon for future projects to generate hype in advance has been a staple of Marvel's marketing plan from the very beginning, so it's a little odd to get riled up about it this late in the game.