Jonathan Majors' Obsession With Batman Led To The Discovery He Can Do His Own Stunts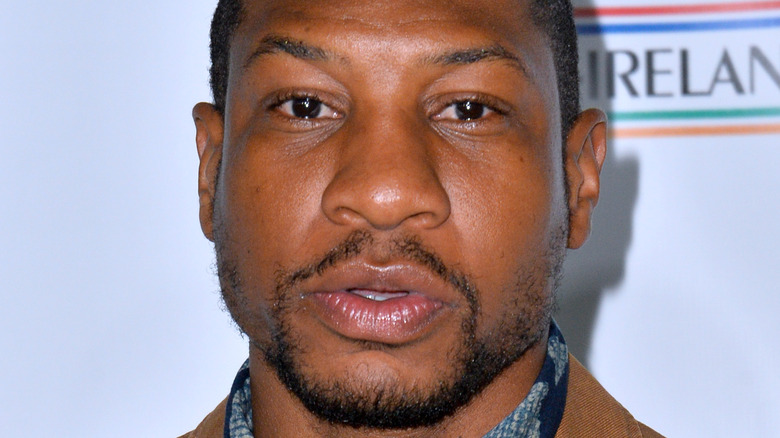 Featureflash Photo Agency/Shutterstock
If you think that Jonathan Majors' rise to fame feels especially meteoric, you're not alone. The actor is only five years out from his first on-screen roles — Gus Van Sant's miniseries "When We Rise" and the revisionist Western film "Hostiles," both in 2017. He garnered attention in the 2019 indie "The Last Black Man in San Francisco," and his star rose even more following appearances in "Da 5 Bloods," "The Harder They Fall," and HBO's "Lovecraft Country" (via IMDb).
Nothing quite catapults an actor to stardom, however, like joining the MCU ranks. In 2021, Majors landed a Marvel role as He Who Remains – a variant of the villain Kang the Conqueror — in the Disney+ series "Loki." Though Majors' resume may be filled with ongoing and future MCU projects, he admitted that his hero is, in fact, a DC character. Here's how Majors' childhood obsession paved the way for his action-packed career.
A Batman-inspired stunt at six years old scared Majors' mom to death
In an appearance on "The Late Late Show With James Corden," Jonathan Majors detailed his childhood obsession with Batman, and how it gave him the confidence to try his own stunts. "At about six years old, my mother made me a Batman-themed birthday party in which my brilliant mother made me a Batman suit," he told a panel that included Emily Blunt and Murray Bartlett. Majors proceeded to wear the costume for months until the fabric muscles eroded and all that remained was a cape.
One day while driving with his mother, the young Majors decided that dressing like his hero wasn't enough. "You always see Batman jump out of the car," said Majors. "He jumps out of the car, he rolls, he lands." The 6-year-old decided to try the maneuver out himself, much to his mom's horror. "I see the house, I go, 'This is my time. This is it. Action.' I open the door, throw myself out, roll, roll, roll, stuck it," Majors said triumphantly. "At 6 years old I learned, for a fact, I can do my own stunts."
Such acrobatics will serve him well in his increasingly action-packed roles. In 2023, Majors will make his big-screen MCU debut as Kang the Conqueror in "Ant-Man and the Wasp: Quantumania," and the character will helm his own film in 2025. According to Men's Health, Majors has spent the past year getting in shape for "Ant-Man and the Wasp: Quantumania," as well as the upcoming "Creed III" and the bodybuilding film "Magazine Dreams." The intense cardio and strength training may be new to Majors' repertoire, but the confidence in his superheroic abilities is nothing new, thanks to his love of Batman.