What Is The Song In Chevrolet's 'My Chevy Truck' Commercial With Breland?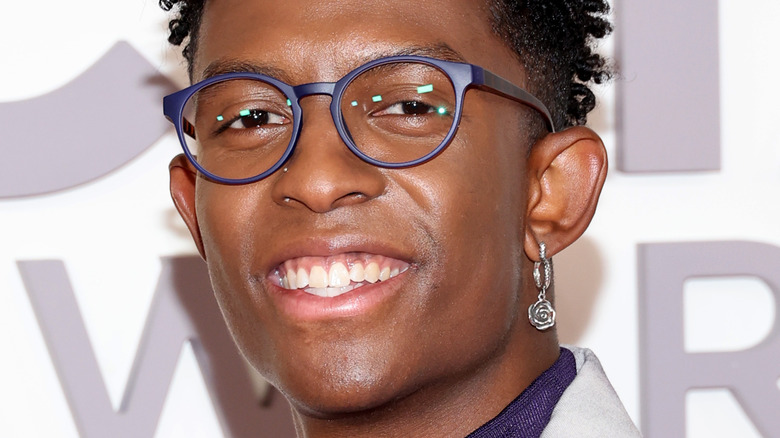 Jason Kempin/Getty Images
There are so many vehicles on the market these days that car companies have to put in some real effort to make their product memorable to consumers. Some companies prefer to bank on appearances from popular celebrities, like how Nissan has been using Brie Larson as the face of one of its latest ad campaigns.
Another tactic that's easy to employ is using a catchy song to draw interest from potential buyers. Sometimes, corporations will opt for classic rock anthems, like when Chevrolet used a recognizable Fleetwood Mac song in its "EVs for Everyone" commercial. However, it's not uncommon for brands to take a more modern approach, like the use of a futuristic Labrinth single in Cadillac's red LYRIQ commercial.
As a corporation that prides itself on having a diverse range of vehicles, it only makes sense that Chevrolet would use a wide variety of music in its ad campaigns. To promote its lineup of Silverado models in 2021, the company decided to use a bit of country rap fusion. And in case you don't recognize the tune that plays throughout the commercial, we've got you covered.
Cruise down dirt roads and park at the rodeo to a remixed Breland track
The song featured in Chevrolet's "My Chevy Truck" commercial is a remix of "My Truck" by Breland, which has been certified platinum by the Recording Industry Association of America. As the artist sings, we're shown various Silverado models driving off-road on uneven ground and unpaved plains, traversing various landscapes with ease. Truck owners young and old gather at a carnival to celebrate the freedom their vehicles allow them. With its altered lyrics, specifically changed to promote Chevy trucks, the song highlights the Silverado.
"Chevy was the perfect collaborator to breathe new life into 'My Truck' because they truly understand what makes truck culture so special," Breland said in a statement (via Chevrolet). "They appreciate that truck enthusiasts are getting younger and more diverse, and that insight was the inspiration for the original version of the song. Coming to the table with that shared perspective made the collaborative process of rewriting 'My Truck' so much fun."
The commercial was filmed in and around Nashville, Tennessee, a location that represents a new generation of truck owners, and was featured on Chevrolet's TikTok account, perhaps signaling that the company is trying to reach a younger audience as it looks to the future.