Black Panther: Wakanda Forever Still Doesn't Explain How T'Challa Passed Away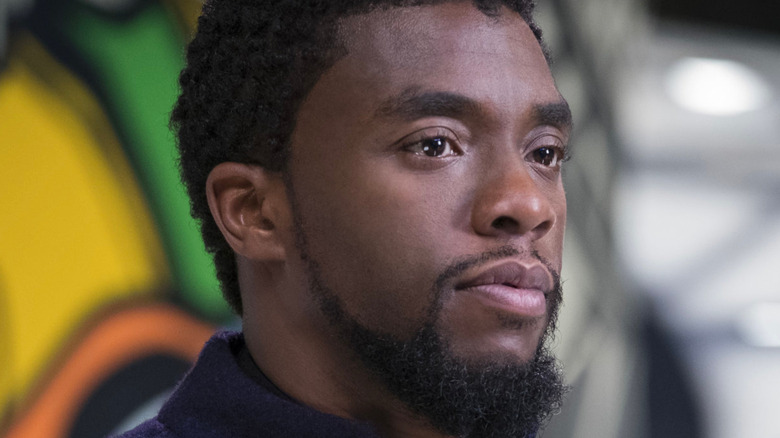 Marvel Studios
Contains spoilers for "Black Panther: Wakanda Forever"
No matter what incredible comic book elements director Ryan Coogler handled with "Black Panther: Wakanda Forever," the biggest challenge was addressing Chadwick Boseman's passing, and respectfully writing T'Challa out of the Marvel Cinematic Universe. Ever since his death in 2020, the world has been both mourning and concerned over how Marvel Studios would handle the death of one of its shining stars whose path to greatness was cut tragically short. The company's plans were clear: T'Challa would not be recast in future films, and this world of heroes and villains lost a king just as we had. The decision met a mixed reaction from some fans, including Boseman's brother (via TMZ), who believed that Boseman would want T'Challa to live on in the MCU.
That was never an option for Marvel Studios and the creative forces behind the sequel. Speaking to Total Film about "Wakanda Forever," producer Nate Moore said, "I could not imagine turning to the best young actor in the world who wasn't Chadwick, and being like, 'OK, so you're T'Challa.' I could not, and cannot, imagine that. I really couldn't." Even so, working around the loss of the big screen legend was handled all the same. While it might not necessarily cover T'Challa's death in detail, it does so with a compelling and heartfelt nature honoring the talent that turned the Black Panther into as notable a hero as Superman or the Incredible Hulk.
T'Challa dies from an illness that is never clarified in Wakanda Forever
"Wakanda Forever" begins with its hero's final moments, for which we're not present. Instead, we're with Shuri (Letitia Wright) who is trying to replicate the heart-shaped herb that was destroyed under Killmonger's (Michael B. Jordan) reign in the hope it will save her brother. The match between the new model and the original isn't of the best quality, though, and seconds fly by as she continues to check on T'Challa's heart rate before finally finishing a sample. Just before she's about to make her way to her brother, Queen Ramonda is already at the door with a look that will leave every audience member welling up. Shuri asks about her brother's heart rate only to realize it's no longer there. The king is dead. Long live the king.
As the film progresses, we learn that T'Challa died of "an unknown illness" with no further details on the cause. What we know is that as broken down by some of the characters through the film, the king kept the condition to himself until he neared his end, putting the necessary plans in place regarding Nakia (Lupita Nyong'o), who was pregnant with his son. This element of secrecy reflects the same choices made by Boseman himself, who told very few people about his battle with bowel cancer, making his death in 2020 all the more shocking and his achievements leading up to it all the more courageous. 
T'Challa's secrecy is befitting of Chadwick Boseman's legacy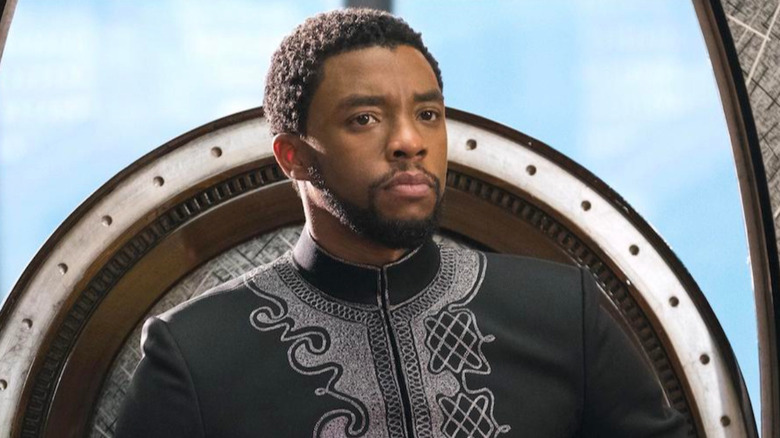 Marvel Studios
There's no implied specification of the illness that takes T'Challa from his people and the audience, which shows a decent and respectful level of understanding from the creative powers involved. It may be unexpected in the grand scheme of the MCU, but then sometimes, isn't that precisely what death is? In the official "Wakanda Forever" podcast Ryan Coogler spoke on the first episode, explaining how his perspective on the matter was approached just as he did with the loss of his friend that the rest of the cast had to endure with him. There was a truth, brutal as it was, that couldn't be ignored. As director Ryan Coogler put it, "Heroes, great men ... die." It makes sense, then, that the one we'd followed for four films in the MCU passed on the same way as the man that played him.
It may never be clarified exactly how T'Challa died, but the fact that we're led to believe it was a battle he fought privately and knew that he may lose. It's a final off-screen act that isn't just comparable in a world of daredevil lawyers and enhanced soldiers, but our own that saw a man who breathed life into one of the most iconic big-screen superheroes we were fortunate enough to see. Black Panther was always superhuman, but Chadwick Boseman was a real hero.