Black Panther: Wakanda Forever Director Ryan Coogler's Influence On Cinema Inspired 'The Coogler Effect'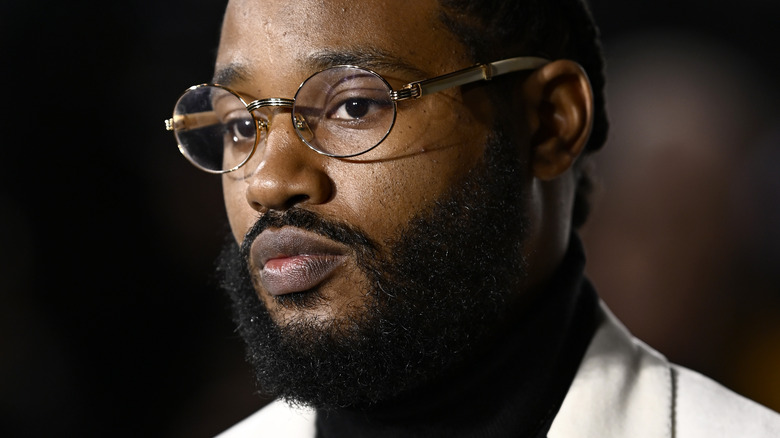 Gareth Cattermole/Getty Images
When looking at the grand scale achieved in Marvel's "Black Panther: Wakanda Forever," it can be easy to forget that the film's director, Ryan Coogler, was practically unknown a decade ago. The Oakland, California native originally attended college to play football before getting into creative writing and eventually screenwriting. After creating a number of award-winning short films and projects for his Master's Program at the USC School of Cinematic Arts, Coogler would go on to direct his feature-length debut, the 2013 film "Fruitvale Station," which went on to premiere at the Sundance Film Festival (via Filmmaker). From there, Coogler worked his way up with notable projects, including 2015's "Rocky" spinoff, "Creed," and eventually, Marvel Studios' "Black Panther" in 2018, becoming the first Black director to work in both franchises. 
"Black Panther" would go on to become one of Marvel's most successful films — which is saying a lot. It earned nearly $1.4 billion worldwide (via Box Office Mojo) and was nominated for seven Academy Awards, including the first-ever superhero movie nomination for Best Picture (via Variety). More significant than any enormous box office numbers or golden statues the film collected, however, was its cultural impact, as it gave Black audiences everywhere a hero and nation to look up to. Beyond that, however, was the ripple effect that Coogler's superhero epic had throughout the industry in seeing Black filmmakers take on more ambitious projects than ever before. 
The industry is waking up to a new era
Coined by Wired writer Jason Parhamb during the monumental release of the first "Black Panther," the Ryan Coogler Effect describes the industry shift in employing filmmakers of color to helm large-scale projects. In an interview with Vanity Fair, Emmy-winner Lena Waithe exclaimed, "These execs are all looking around and saying to themselves ... we want a 'Black Panther' ... And because we also live in a town of copycats, there are going to be a lot of bad Black superhero movies coming because everybody ain't Ryan Coogler!" While the industry still has steps to take in undoing the decades of marginalization dealt to underrepresented creators, studios are nevertheless making strides. 
The box office has flourished with films such as Nia DaCosta's "Candyman," the first film from a Black female director to top the box office on its opening weekend (via Deadline). Similar success can be found with this year's "The Woman King" helmed by director Gina Prince-Bythewood, and Jordan Peele's "Nope." Award ceremonies have also become more inclusive, with notable Oscar wins for artists such as Peter Ramsey ("Spider-Man: Into the Spiderverse"), Spike Lee ("BlacKkKlansman"), Mahershala Ali ("Green Book"), Ariana Debose ("West Side Story") and more. The Coogler Effect seems to be working its magic, as Black filmmakers come to find success helming franchises and original projects alike and hopefully we will see another "Black Panther" take the world by storm.