Ryan Coogler Shares How He Honored Chadwick Boseman In Black Panther: Wakanda Forever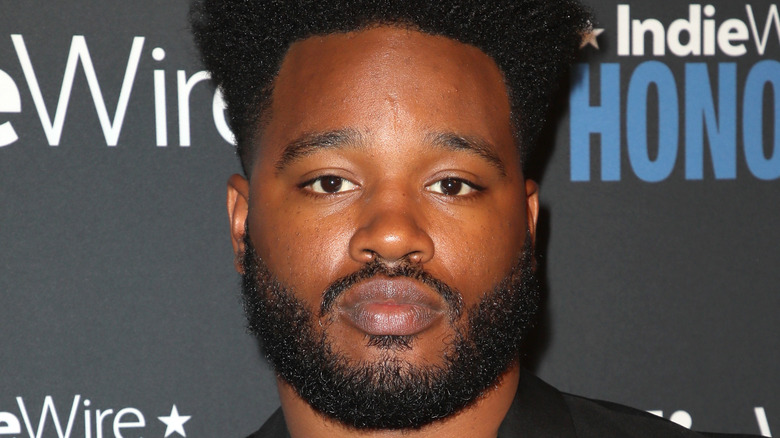 David Livingston/Getty Images
Marvel's "Black Panther: Wakanda Forever" — the sequel to 2018's "Black Panther" — will be widely released on November 11, 2022. Directed by Ryan Coogler (who co-wrote the screenplay with Joe Robert Cole), the film follows the aftermath of King T'Challa's (the late Chadwick Boseman) death in Wakanda, as leaders of the nation find themselves facing a new threat: the hidden undersea nation of Talokan ruled by Namor (Tenoch Huerta). Actors such as Letitia Wright, Lupita Nyong'o, Angela Bassett, Winston Duke, and Danai Gurira all reprised their roles from the first film. Additionally, newcomers to the sequel include Dominique Thorne and Michaela Coel, as well as Huerta.
King T'Challa's death, of course, reflects the death of Boseman, who died in August 2020 of colon cancer at the age of 43 (via The New York Times). After the actor's death, there was some discussion as to whether or not the role would be recast, but Marvel ultimately decided against it and opted to move the story in a different direction instead. In an interview with Empire Magazine, Marvel president Kevin Feige explained the decision not to recast, stating, "It just felt like it was much too soon to recast ... There's a relatable and human element to everything we do. The world is still processing the loss of Chad. And Ryan [Coogler] poured that into the story."
Thus, Coogler used "Black Panther: Wakanda Forever" to honor Boseman's legacy — here's what the writer-director has to say about how he honored the late actor.
Ryan Coogler found a way to honor Chadwick Boseman by elevating other characters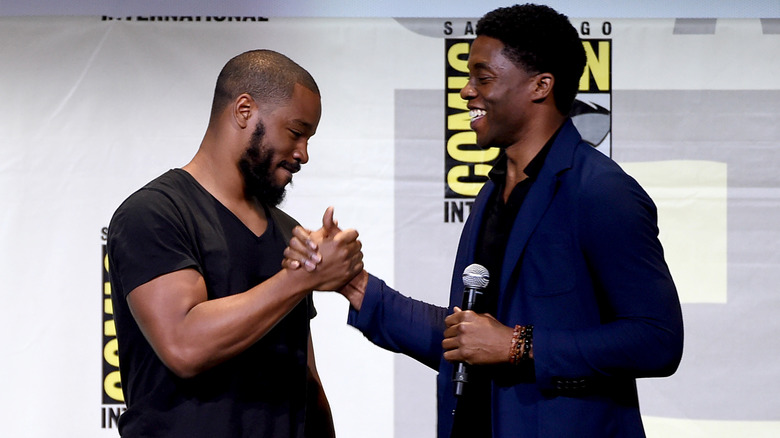 Kevin Winter/Getty Images
In an interview with Variety, director Ryan Coogler, as well as actors Letitia Wright and Angela Bassett, discussed making the sequel to "Black Panther" without the Black Panther portrayer himself, Chadwick Boseman. Coogler revealed that he realized early on that, in light of not recasting the role, the sequel was going to have to rely heavily on the other actors in the ensemble.
Focusing on how Boseman would have wanted the story to evolve past his own character, Coogler recalled how much Boseman loved the character of Shuri and working with Wright. Coogler said, "Chadwick Boseman's smile, it was big, like a Cheshire cat. But when he became T'Challa, the smile got small, you wouldn't see his teeth. [Wright] was the only actor who would get him to smile [like], 'That's Chad!' on set. He broke character. Shuri was his favorite character, I knew that Tish [Wright] was his favorite actor to work with." Thus, he put focus on elevating Shuri and Bassett's character Ramonda (T'Challa's mother).
Coogler continued, "It made a lot of sense that we would see a vast majority of the movie through Shuri's eyes."
Letitia Wright found it difficult to be in a film without her onscreen brother — but wanted to honor him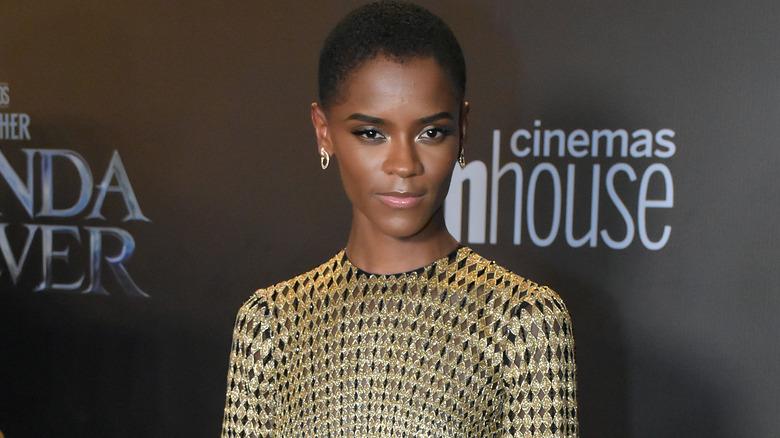 Emmanuel Obianke/Getty Images
In the same interview with Variety, Wright admitted that she had a hard time being on set without Boseman and missed their brother-sister on-screen bond.
Wright said, "The greatest challenge was seeing Shuri in a movie without her brother." The actress added that speaking with Coogler about finding ways to honor Boseman helped her move forward. She continued, "It was just about being a vessel for something that was bigger than me and joining my cast mates, joining our crew to make something that could be beautiful and honorable for my brother."
All in all, the cast found solace in one another and getting to work through the grief as a group while filming "Black Panther: Wakanda Forever." Coogler said that Boseman was the most unique person he had ever met, so he enjoyed being around other cast and crew members who had spent the same amount of time on set with Boseman while they filmed the first film. Coogler concluded, "That actually deepened perspective on just what we had lost, but also what we were so blessed to have gained in terms of the time that he spent with us."