The Best Comics Of 2022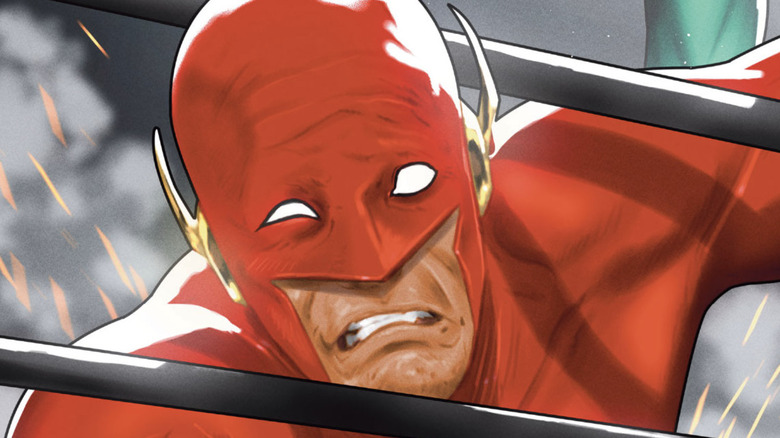 DC Comics
Comic books have become part of the lifeblood of popular culture. It seems as though everything these days is based on or inspired by some comic book. Whether it's "The Boys," "Invincible," or "The Walking Dead," or something a bit more obvious, such as the entire Marvel Cinematic Universe, it's clear that comic book-inspired media is here to stay. For many of us, that means seeing our favorite stories, our favorite heroes, and our most cherished icons come to life on the screen, big or small.
This year was an exceptional one for comic book-related media, as AMC's "The Walking Dead" finally brought its flagship series to a close, Henry Cavill returned to the cape as Superman, and a dozen Marvel films and television series took off. There's no time like the present to get into the comics these characters originated from. Whether you're a fan of superheroes, sci-fi, fantasy, or horror, there's something out there for everyone when it comes to comic books.
Of course, the big two — Marvel and DC — are generally the stars of the show, but in the past few years, Image has really caught up, producing exceptional creator-owned books that are worth checking out. At the end of the day, folks like what they like. These are some of 2022's best comic books that we are the fondest of, and if you don't happen to see your favorite comic on the list, don't fret! There are a lot of comics out there, and there's so little time to appreciate them all.
Action Comics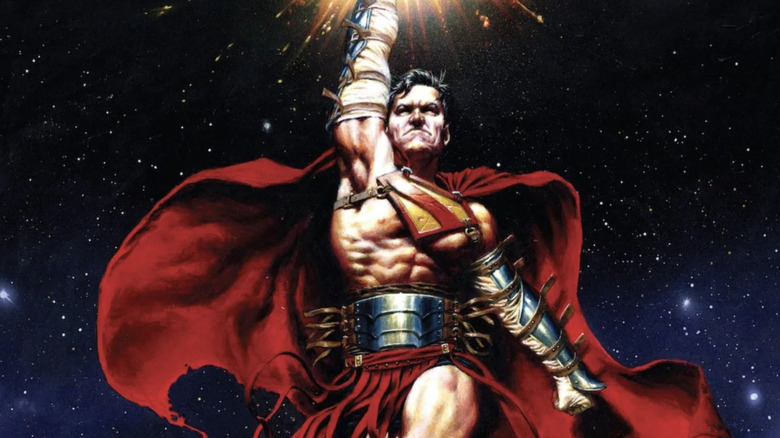 DC Comics
The original superhero comic reigns supreme here as writers Phillip Kennedy Johnson, Tom Taylor, and Sean Lewis and artists Sami Basri, Adriana Melo, and Miguel Mendoca have taken the Man of Steel back to his roots as the "champion of the oppressed." After discerning the threat that is the alien warlord Mongul, the now-grey-haired Superman travels to his battle planet of Warworld to defeat the tyrant. Fighting in gladiator battles, without his superpowers, "The Warworld Saga" no doubt puts the action back into "Action Comics."
While the "Warworld Saga" arc didn't start in 2022, it came to its natural conclusion then. Throughout this multi-issue story, the narrative has expanded into other books such as "Superman," "Superman and the Authority," and even concluded with the one-shot "Superman: Warworld Apocalypse" (see the epic cover art above). Regardless, the bulk of the arc took place across 17 issues of "Action Comics," most of which were released in 2022. After the saga ended, the "Kal-El Returns" arc began as Superman returns to his adoptive homeworld, taking back his role as Metropolis' defender.
Whether you're a Superman fan or not, the 2022 line of "Action Comics" has pushed the boundaries of what Superman stories can be and has been considered by many to be the most important arc for the character since "The Death of Superman." The superhero genre began with the first issue of "Action Comics," and now, over a thousand issues later, it still reigns as a champion among comic books.
Batman/Superman: World's Finest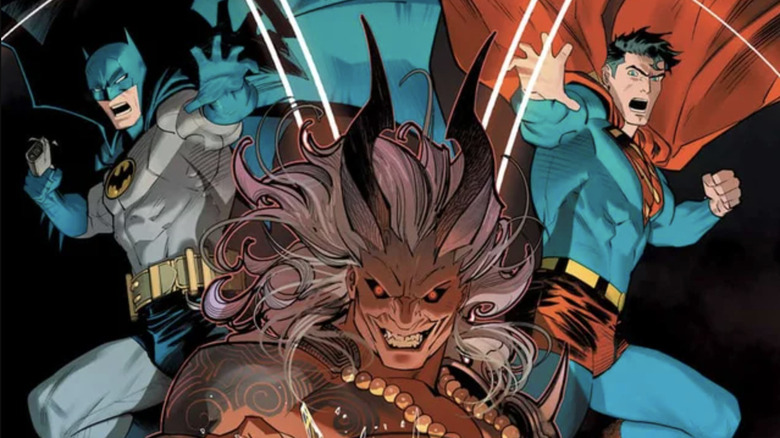 DC Comics
There have been plenty of Batman and Superman team-up books over the years. The most famous was probably "World's Finest Comics," which starred the two heroes and Batman's sidekick Robin. The original series ran from 1941 all the way through 1986, and since then there have been plenty of attempts at relaunching the collaboration between the Dark Knight and the Man of Steel. Most recently, that has been the Mark Waid-written and Dan Mora-penciled "Batman/Superman: World's Finest," and it's a delight.
This book is wild and pretty reminiscent of the zany world of Silver Age comic books that has been long gone. Following Batman and Superman during their earlier years as crime fighters, "World's Finest" pits them against interdimensional demons, their own allies in the Justice League, and even each other. From the first issue, "World's Finest" was an instant hit, and it's a monthly book that fans can't wait to pick up. Plus, Robin, Supergirl, the Doom Patrol, and countless other allies join our superhero dream team, which only further expands on this slightly out-of-continuity dreamscape.
Though this book has little connection to what's going on in current Batman or Superman stories — though, that recently changed — it's a refreshing take on our favorite superheroes as they're stripped back down to their roots. If you haven't read this one yet, it's absolutely a must-read. After all, who doesn't love a good Batman and Superman story?
Detective Comics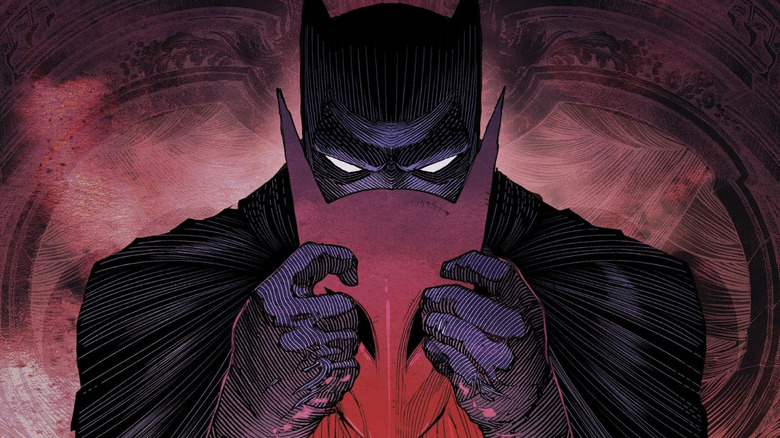 DC Comics
One of the oldest comics to still be published in the last century, and the namesake of DC Comics itself, "Detective Comics" remains one of the best comic books of the year. While this Batman-led book has been significant for a while, a new creative team of writer Ram V — previously known for "The Swamp Thing" — and artist Rafael Albuquerque — of "American Vampire" fame — was born in issue #1062 with a story that has complete rebranded DC's signature book as a "Gothic Opera." 
To understand what we mean, you've got to check out the book itself, but let's just say that Batman is working through the demons of Gotham City, which just so happen to tie into his own. "Detective Comics" is a beautifully drawn book, and its story will draw you back into the dark recesses of your mind. This "Phantom of the Opera"-ish story also includes the Dark Knight Detective's longtime friend and nemesis Harvey Dent aka Two-Face as Batman discovers whether music can physically alter a person.
If you're looking for a Gothic detective story involving Lovecraftian undertones and plenty of Batman material to go around, then look no further than 2022's "Detective Comics." Yes, there are plenty of other great Batman titles to choose from — including Chip Zdarsky's "Batman" — but "Detective Comics" takes the cake as the most interesting exploration of Bruce Wayne's detective prowess yet.
Devil's Reign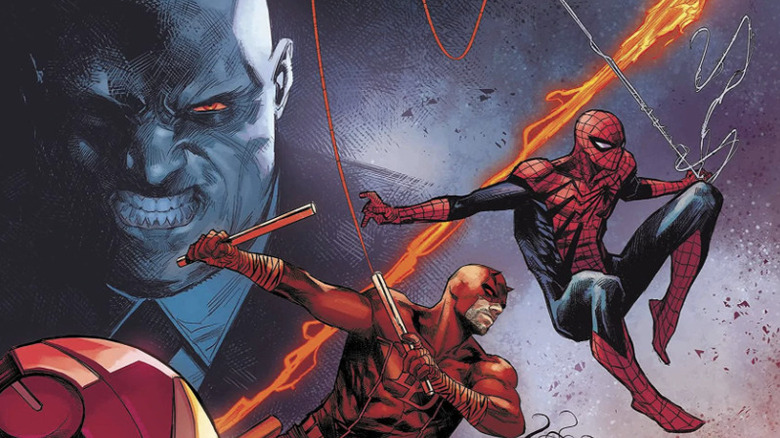 Marvel Comics
What would happen if the mayor of New York City turned on all the superheroes who have established themselves as the protectors of the Big Apple in the Marvel Universe? The answer can be found in Marvel's big 2022 tie-in crossover "Devil's Reign," a six-part event series that brings together all of Marvel's biggest heroes, from Spider-Man and the Avengers to Daredevil and the Fantastic Four, as they unite against a common enemy: Mayor Wilson Fisk aka the Kingpin.
Though there are a dozen different tie-ins that help tell the entire story, the main six-issue series (and the final "Omega" issue) is all you need. In a very "Civil War"-like fashion, Kingpin has deputized a number of supervillains — namely the Thunderbolts — to bring in and detain the likes of Captain America, Iron Man, Luke Cage, and more, seeing superheroes as a danger to society rather than a help. This shouldn't come as a surprise though, Wilson Fisk has always been a supervillain at heart.
Yes, technically "Devil's Reign" began in December 2021, but the vast bulk of the series ran through 2022, so we're counting it as a part of this year's best. Trust us, True Believer, this is one Marvel crossover you won't want to miss. 2022 has been a big year for Daredevil fans with Charlie Cox's return as Matt Murdock/Daredevil in "She-Hulk," but "Devil's Reign" brings the Man Without Fear to the forefront of the Marvel Comics universe in the best ways.
Exile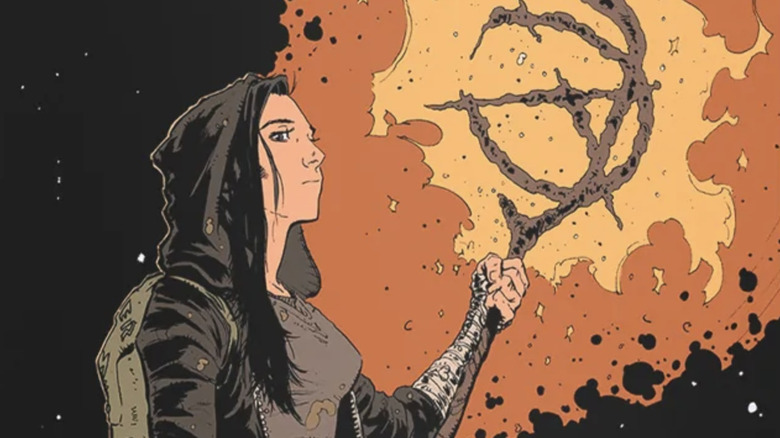 Weapons MFG
The only truly "indie" book on this list, "Exile" is a four-issue miniseries that was made in conjunction with the album of the same name by the heavy metal band Demon Hunter. Written by lead singer Ryan Clark in his comic book debut, with art by Image and Dark Horse artist Brent McKee and colors by the Eisner-nominated Bill Crabtree, "Exile" is a post-apocalyptic story set in a world overrun by technology and the oppressive M.A.S. aka the Ministry of Awareness and Sensitivity.
Though only the first issue is out, "Exile" has quickly become one of the best books of 2022, with beautiful artwork that captures the sand-ridden world that feels fairly reminiscent of "The Book of Eli" and a fascinating plot that's only just begun. Throughout the first issue — titled "Freedom Is Dead" — we follow Hunter Woodson as she travels across this wasteland in search of the mythical Ghost with her magical staff Pathfinder, her family's long-forgotten history, and the promise that the LOTUS — The Last of the Undying Spirit — will aid her along the way.
The story itself is promising — and Hunter herself is instantly likable — opening us up to this fantastical heavy metal-inspired world that fits right in with Demon Hunter's 2022 album. It's no wonder that they developed these narratives simultaneously as the themes overlap quite a bit. Here's hoping Ryan Clark and company get the next three issues out in no time, we can hardly wait!
Fantastic Four: Full Circle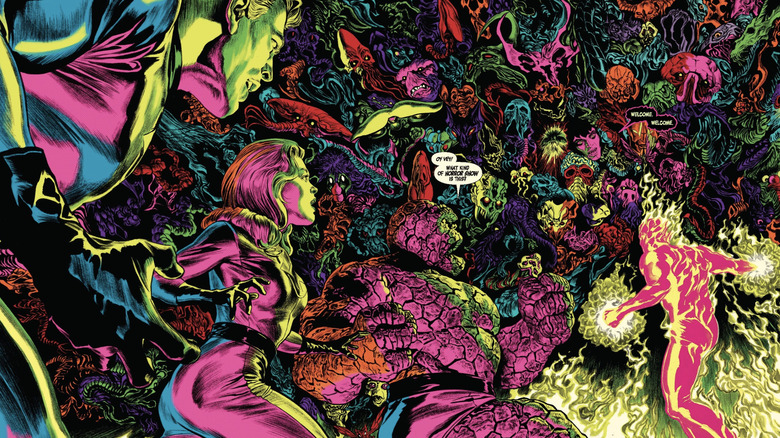 Marvel Comics
There isn't another comic book artist alive who's hotter than Alex Ross, and though he's been around the industry for decades, 2022's "Fantastic Four: Full Circle" only further proves this to be true. Though he usually only takes on artist duties, "Full Circle" features Alex Ross in a writing capacity as well, meaning that this Fantastic Four story is truly a Ross labor of love. Like most of his work, "Fantastic Four: Full Circle" goes back to a more traditional era of comic books, elaborating specifically on the time between Fantastic Four issue 51 and issue 52, which were originally written by Stan Lee and drawn by Jack Kirby.
Unlike the others on this list, "Fantastic Four: Full Circle" was released as a full-sized graphic novel straight from the get-go, but given the beautiful artistry within, it's understandable why. The book itself is mesmerizing and takes us back to the early years of the Fantastic Four, when these heroes were among the most important in all of comics. As Marvel's first family engages with the Negative Zone, they discover some pretty crazy creatures along the way.
If Marvel Studios could learn anything from the vast history of the Fantastic Four, it's that their wacky adventures are unlike any other. In fact, Alex Ross' "Fantastic Four: Full Circle" may be the perfect template for the studio to work from when rebooting these fan-favorite characters.
The Flash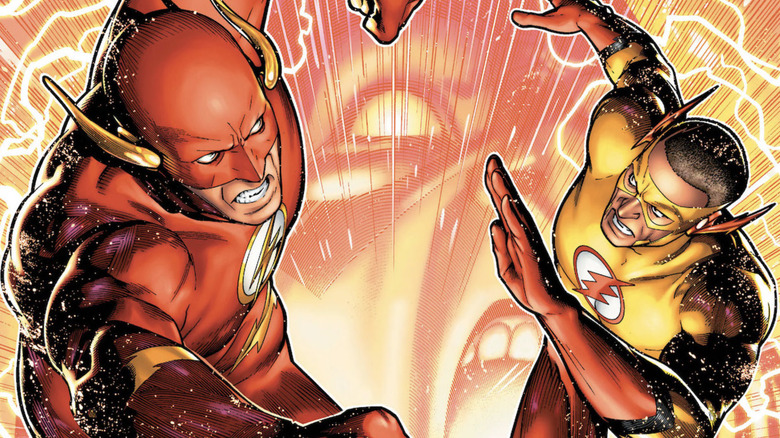 DC Comics
When Barry Allen died during the 1985 "Crisis on Infinite Earths" crossover, DC Comics rebranded Wally West from being the Kid-Flash to taking on his uncle's mantle as the Fastest Man Alive. Since then, there have been generations who've grown up with Wally West as the Flash, and though Barry Allen has returned from the grave — and largely taken over "The Flash" titles since — fans waited years for Wally's triumphant return as the series' headliner.
Well, in 2021, writer Jeremy Adams and artist Fernando Pasarin took over "The Flash" as the title was passed back to Wally West, and it quickly became one of DC's best books to hit the shelves. 2022 proved to be even better for the Scarlet Speedster and his Flash Family as they've traveled to magical worlds, alternate dimensions, and even spent some time with his own Kid-Flash, the other Wally "Ace" West. With some "Dark Crisis" crossovers in there and an exciting alien wrestling match, "The Flash" is on its way to being the funniest comic book that DC puts out — if it isn't already.
But don't take our word for it, go and read "The Flash" for yourself. If you're going through withdrawals now that The CW's "The Flash" series is headed into its final season, there's no way to continue following the Fastest Man Alive than via this bimonthly comic book. And it's great for kids too!
Immortal X-Men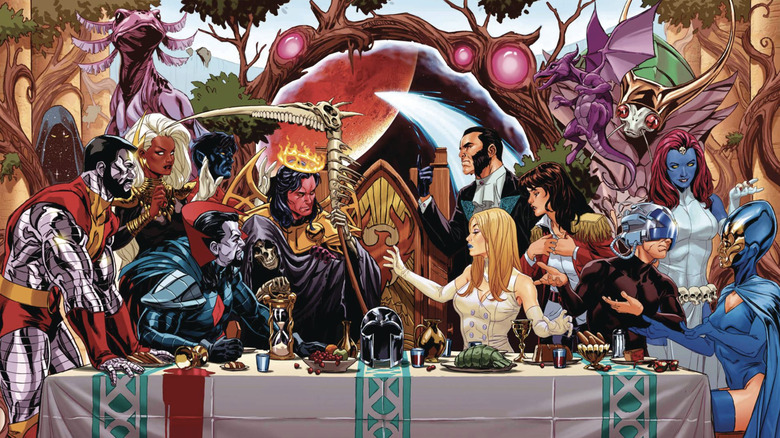 Marvel Comics
Of all the strange and confusing comic books out there, the X-Men comics are by far the most convoluted of the bunch. Yet we all love Marvel's favorite mutants and are beyond excited to see them return in the Marvel Cinematic Universe. But you're not here for the MCU, you're here for the best comic books of 2022! Among them is former "Star Wars: Darth Vader" scribe Kieron Gillen and artist Lucas Werneck's take on the fragile alliance between good and bad mutants in the "Immortal X-Men."
Centering around the Quiet Council — the governing body of the mutant nation of the living island Krakoa that includes the likes of Professor X, Storm, Mister Sinister, Mystique, and Sebastian Shaw to name a few — each issue of the "Immortal X-Men" centers around a different member of the group as they continue to fight for mutant-kind. While they're not your traditional X-Men team, the "Immortal X-Men" is a fascinating look at what Charles Xavier and Magneto's dreams would look like together. Ironic given that Magneto leaves pretty early on.
Keeping in tradition with all other Marvel Comics, "Immortal X-Men" ties into the other X-Men-related books including the X-Men, Avengers, and Eternals three-way crossover "A.X.E.: Judgment Day." Don't worry, you don't need to catch up on all those other books, "Immortal X-Men" does its best to remain its own thing — even if the Eternals are blatantly attacking Krakoa.
Monkey Meat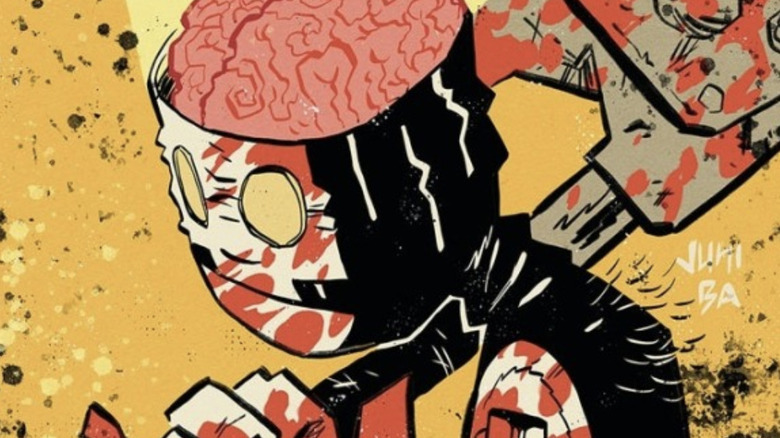 Image Comics
If you're wondering what a comic book miniseries called "Monkey Meat" might be about, you're not the only one. Created by writer-artist Juni Ba, this Image comic centers around the "Monkey Meat Company" as they do some pretty bizarre things on their Monkey Meat Island, a hyper-capitalistic place where the weird and unexplained can occur. An anthology series at heart, "Monkey Meat" tells a variety of stories over the course of these five issues, and you won't want to miss a single one.
Whether we're following a young boy with strange abilities, a young magician, or a woman forced to experience the hellscape that is Monkey Meat Island, everyone has an atypical story to tell that all comes back to the titular canned product. That's right, the Monkey Meat Company sells cans of monkey meat, which is what allows them the resources to produce wacky experiments on their not-so-deserted island. If anything, this short-form series isn't long enough.
If you're looking for an absurdist and satirical comic to get you through the hard nights, "Monkey Meat" is the fast-paced book for you. Between Juni Ba's clever scripting and unique interiors, it's one of the weirdest comic books that you'll probably ever read, but that's not at all a bad thing.
Newburn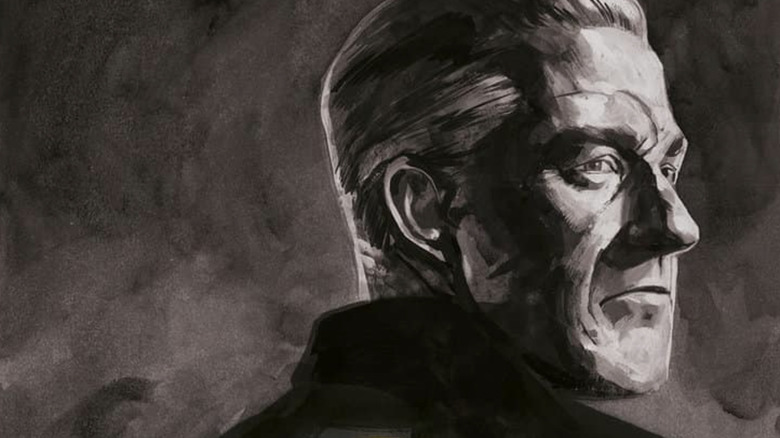 Image Comics
Do you love noir-infused crime thrillers with a hard-boiled protagonist and plenty of murder to go around? "Newburn" is exactly that and has quickly made itself known as one of Image Comics' best of the year. Written by Chip Zdarsky — yes, the same guy from "Batman" and "Devil's Reign" — with artwork by Jacob Phillips, "Newburn" follows Easton Newburn, a private detective with zero loyalties and plenty of enemies to go around. Like Newburn himself, this book has plenty of guts.
Working alongside his assistant, Emily, Newburn takes jobs for basically every criminal syndicate in New York City and ends up tracking down murderers, arsonists, corrupt cops, city officials, and, well, you name it. While the writing itself is enough to get anyone interested, "Newburn" is also beautifully drawn with artwork that enhances the crime-ridden atmosphere of this book. No wonder Phillips got involved, his aesthetic certainly helps this book thrive.
Each issue also features an exciting backup story that's bound to get your attention, but in truth, the main event is why "Newburn" is one of 2022's best. Regardless if you like crime dramas and mafia movies or not, "Newburn" is a treat that challenges your perceptions of right and wrong in all the best ways.
Sabretooth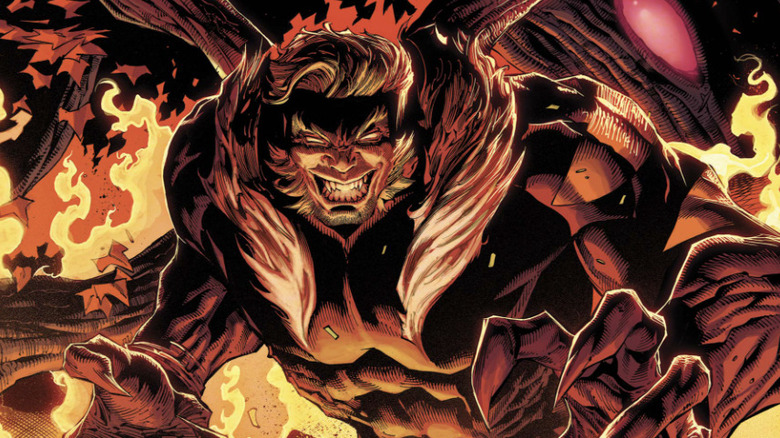 Marvel Comics
Another X-Men-related book, "Sabretooth" follows the titular mutant as he fights to escape his torment in the Pit, and it's a doozy. With his last solo series having ended in 2005, Victor Creed was long overdue for his own solo adventures, and "Sabretooth" doesn't disappoint. Written by novelist Victor LaValle and drawn by artist Leonard Kirk, this book takes Wolverine's sworn enemy and puts him in the deepest reaches of his own hell with only one way out.
As you can imagine, "Sabretooth" is a pretty strange book. As he rots in his prison beneath the mutant nation of Krakoa, Victor Creed creates a mental world for himself — with help from the mutant Cypher, a member of the Quiet Council we mentioned earlier — before he plans his escape. Between some interesting self-reflection on Creed's part, not to mention the greater narrative surrounding Krakoa that expands the "Immortal X-Men" story, "Sabretooth" is a compelling look at an otherwise one-note villain who's traditionally been poorly treated by film and animated adaptations of the character.
Although the series ended with its fifth issue, the story of Sabretooth is thankfully far from over. In November 2022, a sequel series — "Sabretooth and the Exiles" — was launched, picking up the story where we last left Victor off and will (hopefully) see him leading a band of mutant misfits beyond the regime of the Quiet Council.
Saga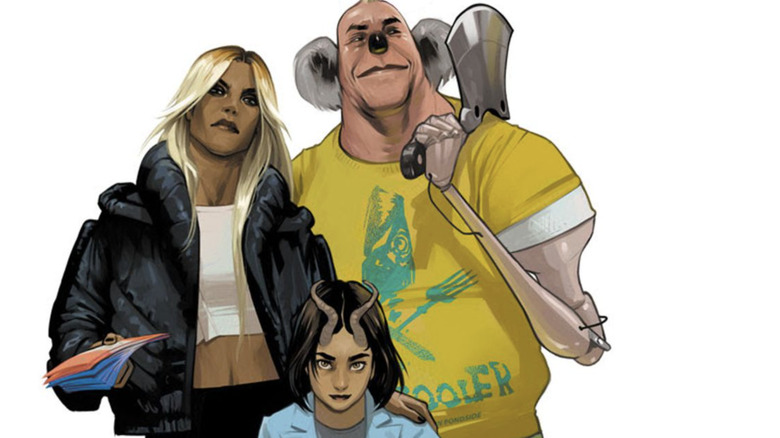 Image Comics
The award-winning comic book series has finally returned, and folks couldn't be happier about it. Written by critically acclaimed comic legend Brian K. Vaughan with artwork by Fiona Staples, "Saga" is one of the most beloved sci-fi and fantasy adventures of the past decade, and after a few years' hiatus, it's finally back with issue #55. Following parents Alana and Marko, two aliens from warring races, as they fight to protect their mixed daughter, Hazel, the series is something of a blend between the intergalactic world of "Star Wars" and the graphic fantasy nature of "Game of Thrones."
That said, "Saga" is not a book for everybody. Be warned, it's pretty graphic both in terms of violence and sexual content — it's certainly not for kids. But nevertheless, the adventures of this alien nuclear family are worth it as they run from the authorities on both sides of the intergalactic war they themselves ran from. The first compendium ran for 54 issues, while the second is set to run for another 54, totaling the complete series at 108 issues.
2022 saw the triumphant return of "Saga" which launched a new arc with a new cast of characters to boot, and we couldn't be more interested in what the future has to offer! No doubt, Vaughan and Staples have a lot still planned for "Saga" before it closes out.
That Texas Blood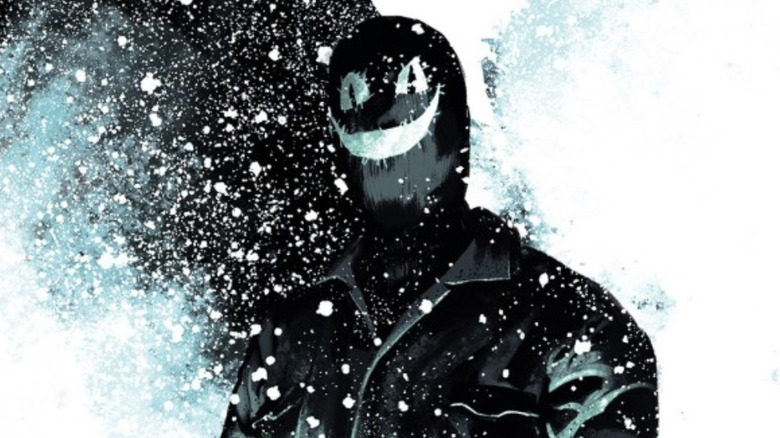 Image Comics
One of 2021's breakout comics, "That Texas Blood" is a dark neo-western crime thriller that has stayed just as strong this year as it was the last. Written by newcomer Chris Condon with art by "Newburn" penciler Jacob Phillips, this series looks and feels like West Texas in all the best ways. Though the first two arcs — which are incredible by the way — took place in 2021, the series' triumphant 2022 story arc is certainly nothing to sleep on.
After a six-month hiatus, "That Texas Blood" returned with their latest arc, "The Snow Falls Endlessly In Wonderland." Set in the winter of 1990s West Texas, this flashback tale tells of the elusive Red Queen Killer as he strikes fear into the hearts of those in Ambrose County. Though Sheriff Joe Bob Coates has experience with criminal syndicates and demonic occultists, serial killers are a whole new ballgame, but he's no doubt up for the challenge. After all, he'll do anything to protect his hometown.
If the beginning of this series was a bit of a slow burn, "The Snow Falls Endlessly In Wonderland" picks up the pace, throwing us into the deep end right up front. Condon and Phillips prove yet again that their work on "That Texas Blood" is a treat that deserved to be celebrated.
The Thing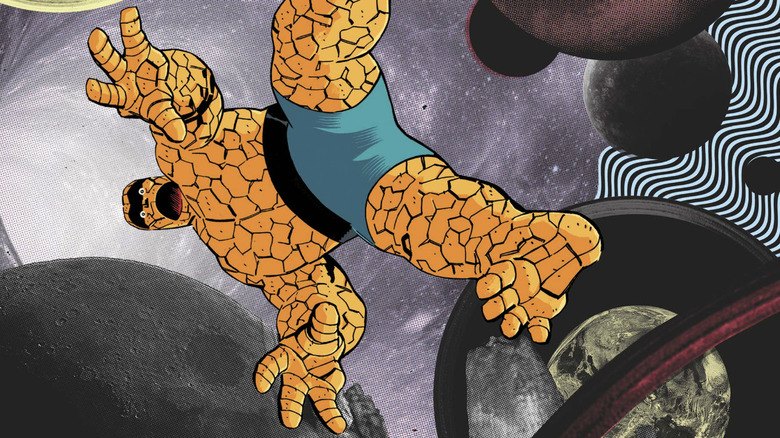 Marvel Comics
That's right, the ever-lovin' blue-eyed Thing is back in his own solo comic series, and it's been everything we could've asked for. Though the five-issue miniseries began at the tail end of 2021, the bulk of "The Thing" was released in 2022. Written by Walter Mosley with some stellar art by Tom Reilly, this book brings back Yancy Street's not-so-favorite son into the limelight for his own cosmic adventure. Move over Reed Richards, it's Ben Grimm's time to shine!
As Ben Grimm works through his own issues with self-worth, his love life, and being one of the strangest-looking superheroes out there, "The Thing" highlights everything we love about the character, and what he learns to love about himself. As one of the best superhero books published in 2022, it's finally clobberin' time, and while the Thing may not always be the most highlighted member of the Fantastic Four, Mosley and Reilly prove here why he's the very heart of Marvel's first family.
"The Thing" is a fantastic — ha, see what we did there — book and well worth tracking down either the individual issues or the collected trade. If you're looking to take a trip with Ben Grimm through his past, present, and straight into the future, then "The Thing" is the comic book for you. Trust us, it's among this year's best.