Chadwick Boseman's Widow Gave Lupita Nyong'o The Strength To Nail Her Wakanda Forever Performance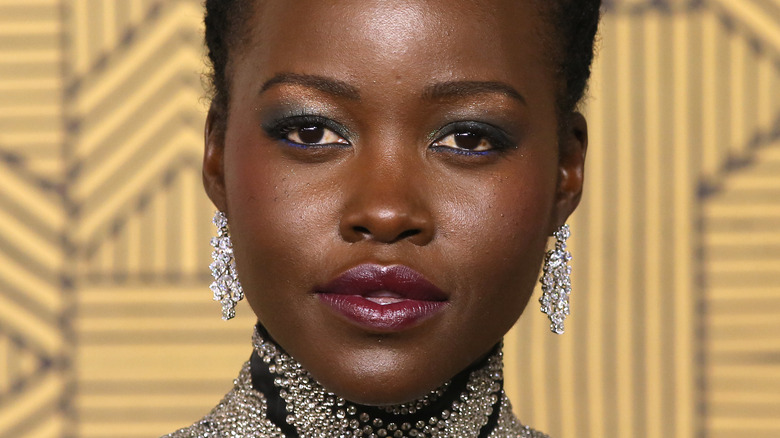 Lia Toby/Getty Images
Marvel's "Black Panther: Wakanda Forever" — the sequel to 2018's "Black Panther" — is finally in theaters. Directed by Ryan Coogler (who co-wrote the screenplay with Joe Robert Cole), the film follows the aftermath of King T'Challa's (the late Chadwick Boseman) death in Wakanda, as leaders of the nation find themselves facing a new threat: the hidden undersea city of Talokan, ruled by Namor (Tenoch Huerta). Many members of the first film's cast return, including Lupita Nyong'o, who plays undercover spy Nakia, who was also T'Challa's love interest in "Black Panther."
T'Challa's death in the sequel, of course, reflects Boseman's actual death; the actor died of colon cancer in 2020 at the age of 43. Boseman's passing definitely makes the release of "Wakanda Forever" bittersweet — for fans and actors alike. Nyong'o is among those mourning her co-star and friend and has recently revealed that she found inspiration in the person who was closest to Boseman: his widow, Simone Ledward Boseman. Specifically, Nyong'o says that Simone gave her the strength to nail her performance, without Boseman by her side as co-star, in "Wakanda Forever."
Nyong'o wanted to convey the strength that Simone showed after Chadwick Boseman's death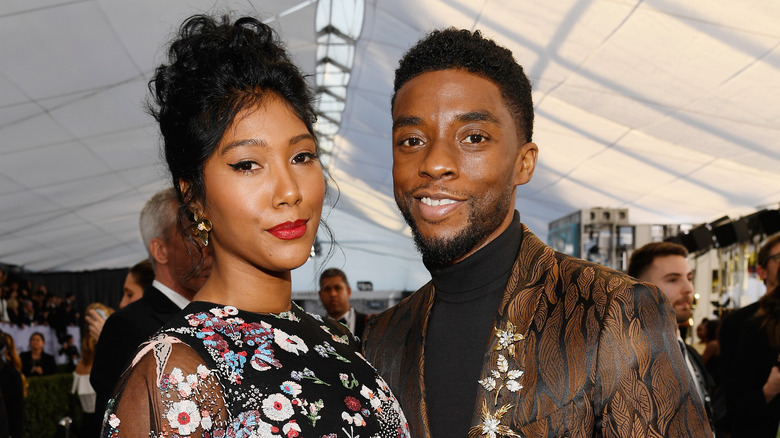 Kevork Djansezian/Getty Images
During an interview with The Hollywood Reporter, Nakia-portrayer Lupita Nyong'o opened up about what it was like to make "Black Panther: Wakanda Forever" without Chadwick Boseman. For Nyong'o, a huge part of moving forward was finding inspiration from Boseman's widow, Simone Ledward Boseman.
Nyong'o said, "It was very hard to lose Chadwick and he was not to me what he was to Nakia. I couldn't even imagine what it would be like to go on after losing the love of your life." The actor then went on to explain how she witnessed the strength that Simone conveyed at Boseman's memorial service, which shocked Nyong'o because she herself felt so broken. This, in turn, ended up inspiring her performance as Nakia. Nyong'o continued, "When I was getting ready [to play] Nakia, I thought about her a lot."
Back in May of 2021, before the cast and crew had filmed the sequel, Nyong'o spoke to IndieWire about what she expected the experience to be like without Boseman, emphasizing that it felt right to go on without him. Nyong'o said, "It feels spiritually and emotionally correct to do this ... [I look forward to] honoring what he started with us and holding his light through it. Because he left us a lot of light that we're still going to be bathing in. I know that for sure."
Simone Ledward Boseman wants to continue her late husband's legacy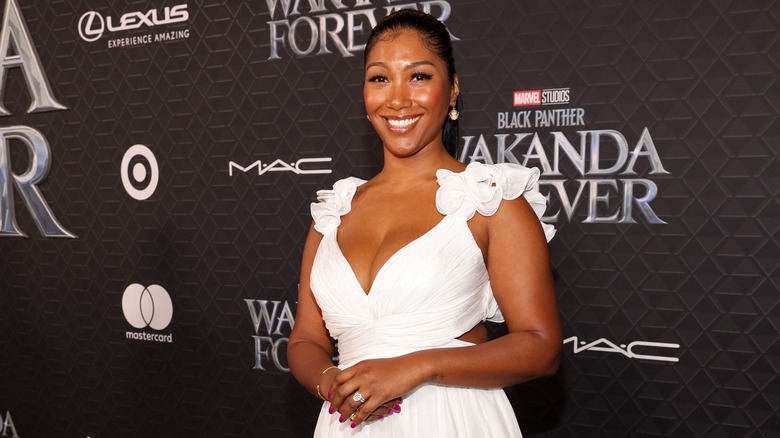 Jesse Grant/Getty Images
Chadwick Boseman's widow, Simone Ledward Boseman, wants to continue moving forward with strength, just as Lupita Nyong'o channeled in Nakia — specifically through the act of continuing her late husband's legacy. She attended the premiere of "Black Panther: Wakanda Forever," where she opened up to Entertainment Tonight.
Simone said, "Chad very clearly still has a huge impact on people and all we want to do is make sure that that legacy continues and we continue giving back and we continue moving with his ideals and with his beliefs and uplifting the community." Further, when asked what memories of her husband she is most fond of, Boseman revealed that she loved watching him work, specifically pointing out the way he was able to look at situations from all angles before making decisions. Nyong'o has also openly praised the late actor's leadership skills.
Simone also revealed that she is grateful that director Ryan Coogler — who, after Boseman's passing, called Simone to ask for her thoughts on the film — is the one who is continuing the story and legacy of "Black Panther." Simone continued, "I don't know that anyone else could do it but Ryan ... I think that he really has done a beautiful job of reflecting what the reality of grief is and it is that it doesn't leave, but other things happen in the world and we can't just lay down and stop our work. We really do have to keep moving."